During the holiday season, Disney offers an opportunity to get an up-close behind the scenes look at that magic during the holidays at Disney World. We were able to take part in a special preview of two-holiday tours offered by Adventures by Disney during the holiday season. We enjoyed the opportunity to go backstage and learn about some of the magic that goes into transforming Disney World during the holiday season. Catch all the details below.
1 – Holiday D-Lights Overview
We started with an experience of part of the Holiday D-Lights tour. Here are the tour details from the Disney:
Come celebrate the excitement of the holidays like only Disney Parks can with festive sights and sounds of the season. For 16 nights only, experience an enchanting evening where your "holiday host" will help unwrap some of the secrets behind our most spirited traditions in Epcot and Magic Kingdom park:
Kick-start your tour with an early, family-style barbecue dinner (included) at Whispering Canyon Cafe, located within Disney's Wilderness Lodge.
Go backstage at 2 Walt Disney World theme parks to learn, firsthand, how we bring to life some of our most cherished customs.
Interact with some of the talented folks who put together these remarkable events. Get your questions answered by some experts in their fields.
Meet the gifted Event & Decorating Support team responsible for adorning Cinderella Castle in hundreds of thousands of twinkling lights. Then, see the stunning display for yourself during our breathtaking lighting ceremony.
Put yourself in the action with exclusive photo opportunities.
Continue on to Epcot to witness the stirring Candlelight Processional, a retelling of the Christmas story brought to life by a 50-piece live orchestra, choir and celebrity narrator.
Experience Illuminations: Reflections of Earth with a special holiday finale.
Remember this occasion with a special takeaway token—each Guest receives a limited-edition keepsake pin that's exclusive to this tour!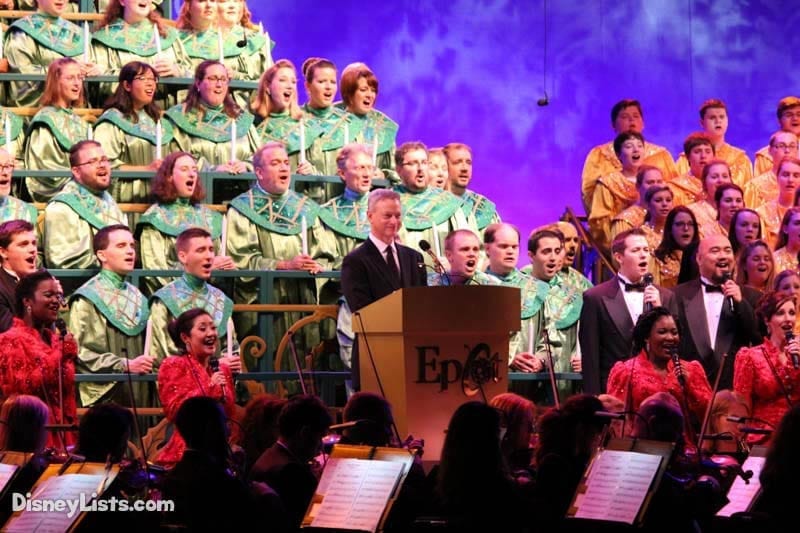 2 – Holiday D-Lights Highlights
Our next stop was backstage in the Disney Event Decorating Support building. In this building, there are amazing set designs for events and more. We were then taken to the front of the building where we heard from Cast Members who shared some very interesting facts about the work that goes into dressing up Cinderella Castle with all of those lights, as well as the planning and practice needed for the Candlelight Processional at Epcot.
Here are some of the facts we learned about the lighting of the castle:
The castle has 350,000 lights
There are plans that determine where every light goes including color coordinating, so the lights are not as obvious during the daytime
350 ft cranes are used to put up the lights at night over the course of six to eight weeks
The amount of energy used per night to light the castle is only 3 loads of laundry—it's very efficient
They keep the castle lights up until just after Marathon Weekend
It takes 14 days to get all the nets of lights down by a 16-man team
We also heard about the Candlelight Processional. There are three hundred people on stage every night with a 150-person orchestra. The people in the gold robes are students who have auditioned for local area schools and they use about 600 students a night. The people in the green robes are cast members who have auditioned. Cast members may choose three shows of their choice. They take the safety of the choir members seriously and have staff in place to help those who might not be able to finish the performance for various reasons.
The Holiday D-Lights tour is a six-hour tour and is available to guests ages 12 and older. It requires valid park admission to Epcot and Magic Kingdom, which is not included in the tour price of $279. The tours begin on November 26. To make a reservation call 407-WDW-TOUR (407-939-8687).
3 – Yuletide Fantasy Overview
Next, we were able to enjoy most of the Yuletide Fantasy Tour. Here are the details from Disney:
Enjoy the holidays like never before in a dazzling wonderland filled with stories and traditions.
This year, head backstage and get the scoop on the staggering logistics involved in the wintertime transformation of Walt Disney World Resort each and every holiday season! During this festive and fact-filled, 3.5-hour tour, you'll:
Discover how our Holiday Services Cast Members use themes to design the unique decorations that dress up the Resort
Explore the Floral Department with a behind-the-scenes look at how we create special displays for the holiday season
Whip up an edible holiday treat with a Disney Springs culinary artist
In addition, each Guest will also receive a special treat and a holiday keepsake! As Disney's Yuletide Fantasy is a seasonal event, the tour is offered only on select dates in November and December. Theme park admission is not required nor included.
4 – Yuletide Fantasy Tour Highlights
We visited the Holiday Services Building where Disney stores most of the Christmas decorations used around the Disney World property. This place was amazing. We saw row after row of decorations. These decorations were smartly organized around themes. It was very cool to see. We also toured a room where cast members were already busy decorating Christmas trees. We were not allowed to take photos because it is backstage, but this video below, from Travelocity, will give you a better idea of what is inside.
Here are some more fun facts:
Cast members transform Magic Kingdom park in two nights from Halloween to holiday decorations.
There are 170 Performers and 15 floats in the Once Upon a Christmas Parade.
The outdoor Contemporary Resort Tree is 70 feet tall and has 30,000 LED lights.
There are 8.5 million holiday lights around Disney World.
There are so many poinsettias installed around property during the holiday season

Magic Kingdom has 52,973
Epcot has 40,126
Disney Springs has 15,874
Hollywood Studios has 3574
Animal Kingdom has 1476
And the roads around property have 400
We then traveled by coach to the Disney Event Group building, where we explored the Disney Floral & Gifts department. This group has a lot of different jobs from delivering birthday cakes, gifts, and in-room celebrations to guests around property. The floral department was incredible to see and was wonderful to smell! It was great to see behind the scenes and see Disney magic in action!
Finally, we headed to Disney Springs for a culinary demonstration at Amorette's Patisserie. We learned about the patisserie and what makes it different from a bakery. They shared their plans for the 2018 holiday season which includes some very impressive gingerbread displays. We learned the complicated process of making gingerbread. Lastly, we were able to decorate a macaroon. On the actual tour, guests will decorate a holiday-themed food item. It was fun to decorate and even though I am not at all crafty, it turned out pretty well!
The Yuletide Fantasy tour costs $139 per person. Again, guests must be at least 12 years old. The tour runs on select dates from November 19 through December 29. For more information or to make your reservation, call 407-WDW-TOUR (407-939-8687).
I enjoyed both tours and recommend both of them for a special behind the scenes look at the magic that happens to transform Disney World into a holiday wonderland.
For a no obligation, FREE Quote on a Disney vacation package, please contact our travel partner Magical Vacation Planner at 407-442-0227 (407-442-0215 for Spanish). You can also request a FREE quote online by Clicking HERE.