Why do you schedule a Disney vacation? Is it to give Mickey a hug? Maybe you've been awaiting a ride on the Slinky Dog Dash? Or perhaps you just need to be part of that warm Disney bubble? We get it and are right there with you for all of the above. We will say, however, when you decide you need a vacation to Disney because you miss the incredible food, you've reached a new plethora of Disney "fan-ness"… you, my friend, are a Disney Foodie. Begin your foodie journey with a visit to Disney Springs – the hot spot of all things delicious. With so much food, entertainment, and shopping to explore here, why not take advantage of "quick eat" options. Let's get on the move with some of our very favorite "quick eats" at Disney Springs, awaiting our taste buds below.
12 – Onion Rings
@ D-Luxe Burger, The Landing
There's no better way to kick this list off than with a quick eat that's battered and deep-fried! If you don't have time to stop for one of D-Luxe Burger's famous patties, at least take a peek at their "Secret Menu" available for Mobile Ordering on the My Disney Experience App. Not only does Mobile Ordering make this one very fast to snag, but the Onion Rings are a great bite to enjoy on the go. Not in an onion ring mood? Mobile Order up the doughnut-breaded Chicken Breast Nuggets.
11 – Hop Salt Pretzels
@ The Polite Pig, The Landing
There is nothing Polite about this Pig. In fact, we find it oh so rude as to how willing this pig is to make our waistline grow! Just about everything at The Polite Pig is a winner but sometimes going simple is best for the moment. The Hop Salt Pretzels does the trick for a great quick eat. Don't forget the Beer Cheese Fondue and IPA Mustard that go with it!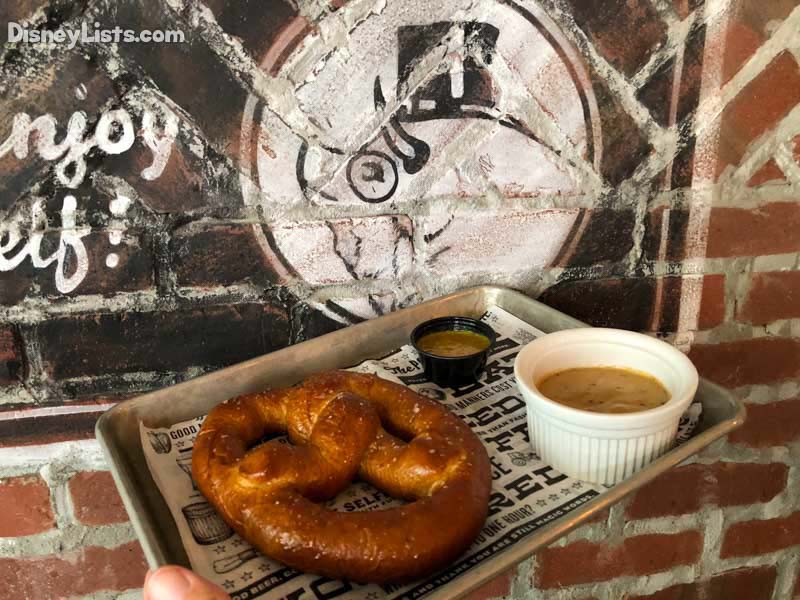 10 – Spicy Salame
@ Pizza Ponte, The Landing
We must say, our first pizza love is without a doubt Blaze pizza at Disney Springs. If you have the time to stop in and order something, by all means, that's your stop for pizza. BUT – if you're looking for a "quick-eat" that can get you in and out and on the go, check out the latest pizza joint called Pizza Ponte. Here you can scurry off with a pizza by the slice. The top pick at the Ponte goes to the Spicy Salame with mozzarella and tomato. If a pizza slice isn't cutting it for you, they also have an excellent Sandwich Ponte option with Parma Ham Cotto, Stracchino Cheese, and Pickled Vegetables on Roman Pizza Bread.
9 – Chicken Bacon Avocado Wrap
@ Earl of Sandwich, Marketplace
Earl of Sandwich is an oldie but goodie at Disney Springs. It remains a staple in the Marketplace, and we hope that's the case for many years to come! There are multiple quick eat options at Earl's, but keep in mind their yummy sandwiches can get messy, which makes eating on the go tricky. Try one of their wraps, such as the Chicken Bacon Avocado Wrap. This baby has grilled chicken, bacon, romaine, avocado, Roma tomato, cucumber, and balsamic vinaigrette – all great, fresh ingredients. Another option at Earl's would be their tasty Pizza Bread.
8 – Poke Bowl
@ YeSake Kiosk, West Side
The YeSake Kiosk may not impress in appearance, but it's what's inside that counts! And YeSake rocks it with their build your own Poke Bowl. Pick one of the many protein choices, then select your choice of topping and sauces. Are you in the mood for chicken, shrimp, tuna, salmon, and/or beef? We go for the chicken bowl, but definitely make it your own.
7 – Smoked Turkey Leg
@ The Smokehouse at House of Blues, West Side
Ah, yes… THE Turkey Leg. And get this, we aren't even at Magic Kingdom! The infamous Turkey Leg is a regular go-to quick-eat for Disney fans, but many aren't aware a Turkey Leg option is also available at Disney Springs. Head over to the West Side to The Smokehouse for that slow-smoked Turkey Leg seasoned with the perfect dose of House of Blues spices.
6 – Famous Fish & Chips
@ Cookes of Dublin, The Landing
We aren't overly huge fans of fish, but our minds are easily swayed when the fish is battered and deep-fried into sheer goodness. Cookes of Dublin is your easy grab and go spot for the Famous Fish and Chips. Dip these lovelies away in some tartar sauce, and they'll be gone before you know it.
5 – BBQ Chips
@ Chef Art Smith's Homecomin', The Landing
So, if we hear someone talk about Disney Springs dining these days, chances are Chef Art Smith's Homecomin' will come up in the discussion. When someone dines here – that's it. They're hooked! If you can't stay and devour all the home-cooked happenings, grab the BBQ Chips at the very least. Perfectly crispy and seasoned, the BBQ Chips will give you just a small take of the flavors this place has. Other quick eat options worth mentioning would be the Box of Fries. To share or not to share? The choice is yours. And finally, you could hit your sweet tooth with the Shine Cake… um, yes, that's a MOONshine cake
4 – 3 Little Pigs Trio
@ B.B. Wolf's Sausage Co., Marketplace
Big bad wolves are welcome! This simple kiosk knows their pigs for sure. B.B. Wolf's is popular for all the right reasons. Hands down, the top pick for us goes to the 3 Little Pigs Trio. This quick eat offers the perfect trio of hog dogs, including an Italian dog, Latin dog, and Greek dog. Delicious is an understatement!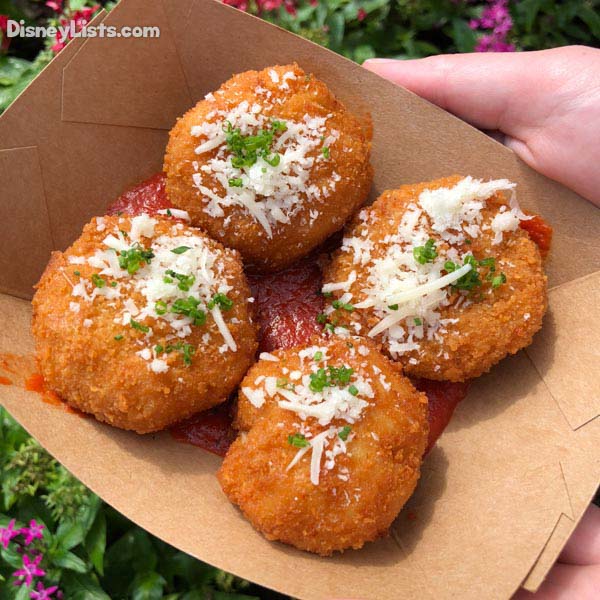 3 – Crispy Mac & Cheese Bites
@ The Basket at Wine Bar George, The Landing
Wine Bar George has arrived! While wine is what all the chatter is about at this trending place, you can still snag a great dish on the go at "The Basket" portion of Wine Bar George. The Crispy Mac & Cheese Bites are calling your name. What on earth are crispy mac and cheese bites? It's the Chef's masterful combination of grilled mac and cheese and tomato soup flavors wadded into a perfect bite-size ball of yum. Now, who doesn't LOVE that combo?!
2 – Pork Egg Roll 
@ Morimoto Asia Street Food, The Landing
When Morimoto Asia opened at Disney Springs, it was flooded with foodies eager to try this new twist on Pan-Asian inspired food. Well, Morimoto is now ridiculously popular because the Chef and staff here nailed their dishes. Time and time again, this is one of the most highly recommended places to dine at Disney Springs. If you can't dine in, but sure to check out the Street Food so you can enjoy the flavors on the move. Snag a two-piece Pork Egg Rolls which are stuffed with the ideal combo of pork and cabbage. Not in the mood for pork? The California Roll with guacamole and cucumber is perfect.
1 – Classic Poutine
@ The Daily Poutine, Marketplace
And, finally, #1 by a long shot, in our opinion, goes to the quick eats over at The Daily Poutine. French fries have never, ever, been so good! Order one of everything off the menu if you can – but realistically, at least order the Classic Poutine. When your cup of French fry goodness comes out the Poutine window, you'll be ready to dive in. The Classic Poutine is French fries topped with beef Poutine gravy and cheddar curds. Wash this down with their Fireball Sangria! What makes Poutine #1? It's the most memorable quick-eat dish to our taste buds in all of Disney Springs.
Did your favorite Disney Springs "quick-eat" make the list?
For a no obligation, FREE Quote on a Disney vacation package, please contact our travel partner Magical Vacation Planner at 407-442-0227 (407-442-0215 for Spanish). You can also request a FREE quote online by Clicking HERE.