We have always loved spending a day at the Disney Water Parks, but we've also always wondered what they would be like after dark. This summer, Disney offered a special hard ticket event called H2O Glow Nights that allowed guests to enjoy Disney's Typhoon Lagoon at night with reduced crowds, similar to Disney After Dark in the Magic Kingdom. We were finally able to experience this fun event and experience Typhoon Lagoon in an entirely new way. Catch our full review below.
1 – H2O Glow Night Party
As with most Disney parties, this one has a theme. You'll see some familiar faces from Toy Story, based on the Toy Story short film, Partysaurus Rex. Rex, the Dinosaur of Ceremonies, is throwing his biggest glow party yet. The atmosphere was bright with guests given glow sticks mood lighting throughout the water park. The party hours are from 8:00 pm – 11:00 pm, but guests are able to enter the park at 7:00 pm.
Earlier in the day, before the party, we had the chance to hear from Mark Dukes, General Manager of Disney Water Parks and his enthusiasm for the event was very evident. He was so excited to offer an event to guests that allows them the chance to experience Typhoon Lagoon after hours in a fun party environment. I asked him about whether or not any decisions have been made for next year's dates and he is hopeful that the party offerings will return next summer.
2 – Party Specific Activities
During the party, we were able to enjoy the regular offerings of the water park along with special activities created just for the party.
DJ-hosted dance party on the sandy beaches of the Surf Pool. Near the wave pool, you'll find Rex and a DJ creating the party atmosphere. Many guests were dancing throughout the night. It was a fun area.
Character Greeting with Buzz Lightyear, Woody, and Jessie. We met with all of the characters and there were very short lines. We met Buzz by himself with no wait, and we waited to meet Woody and Jessie together for about 5 minutes. Disney PhotoPass photographers were there to capture the photos, so no need for you to carry your camera or phone.
Special area—The Wharf—just for adult partygoers, featuring live entertainment and a bar with refreshing libations available for purchase.
3 – Special Food & Beverage Offerings
Earlier in the day, we also had the chance to hear from one of Typhoon Lagoon's chefs about the food offerings created just for the party. Chef Hal was excited to share his creations and ideas for creating the menu for this event. When asked about what menu item he was most excited about, he shared it was the Lagoona Delight Sunrise and Sunset treats found at Happy Landings Ice Cream. We tried the Lagoona Delight Sunrise (Cheesecake Vivoli il Gelato sandwiched between two freshly baked sugar cookies) and it was absolutely delicious. It was completely unique to anything you'll find on Disney property.
Here are some of the menu highlights:
Angus Cheese Burger

Served with lettuce, tomato on a brioche bun with french fries

Chicken Rice Bowl

Adobo chicken, steamed rice, black beans, corn, sweet plantains & pico de gallo

Smoked Sausage Sandwich

Caramelized onions, house pickles, mustard BBQ sauce and french fries

Impossible™ Burger

Crispy banana peppers, chipotle mayonnaise, and french fries

BBQ Sampler

Choice of smoked beef brisket or pulled pork served with baby back ribs, smoked sausage, baked beans, cole slaw and Texas toast

Rainbow Chips & Salsa Banana Foster Sundae

Vanilla ice cream, caramelized banana, rum caramel sauce served in a bathtub
Lagoona Delight Sunrise

Cheesecake Vivoli il Gelato sandwiched between two freshly baked sugar cookies

Lagoona Delight Sunset

Chocolate Vivoli il Gelato sandwiched between two freshly baked chocolate chip cookies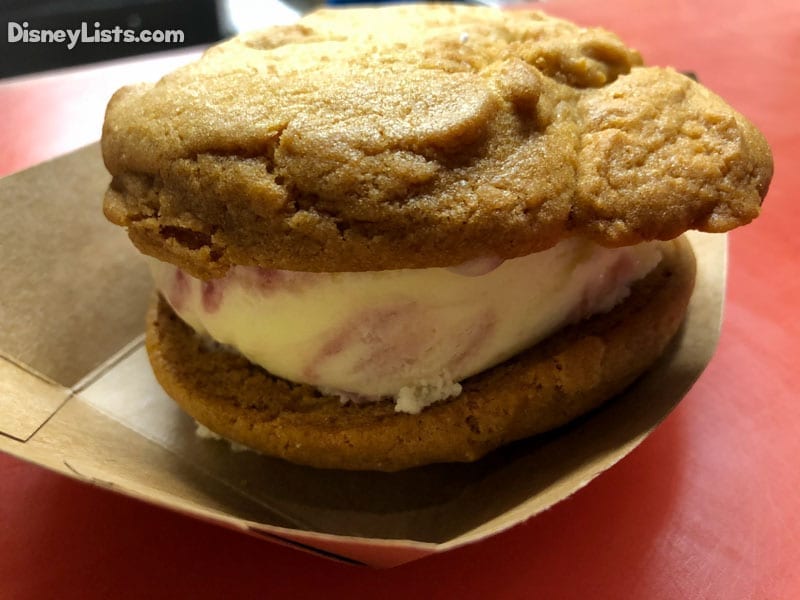 4 – Reduced Crowds
The biggest reason to come to this event is the reduced crowds. Mark Dukes, General Manager of Disney Water Parks, confirmed to us that the event is capped, and attendance is greatly reduced with the goal of most slides having a very short to no wait. We did enjoy short waits all night. We went to most of the attractions and waited only a few minutes for most and even walked on to some. The longest wait we had was seven minutes for Keelhaul Falls. The Typhoon Lagoon Surf Pool was also significantly less crowded than the daytime. I visited Typhoon Lagoon that same day at 2:00 and the pool was packed. During the event, it was much better and there was plenty of room to move around.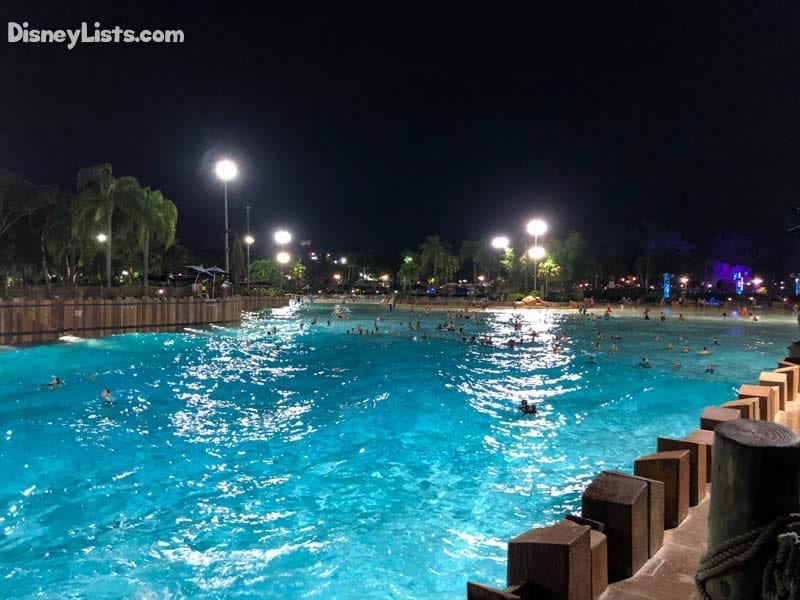 5 – Day Ticket or H2O Glow Nights?
When considering any special ticketed event, the question of whether or not it is a good value always comes to our mind. The price of an H2O Glow Night ticket is $55 for adults and $50 for children. A regular day ticket costs $65 for adults and $59 for children. That doesn't seem like much of a discount, but there are several reasons we feel a ticket to the H2O Glow Night is the better option. We've already talked about the reduced crowds. Here are more reasons why we think the party option is the way to go:
No burnt feet, sweltering sun, and no sunscreen needed. We love the water parks, but as locals, we usually visit them during the spring and fall. Why? Because it's crazy hot in the summer! Obvious, we know, but when it's that hot it's hard to cool off, even at a water park. The heat also makes the surfaces at the water parks really hot, making it very uncomfortable to walk without shoes. At night, it's warm, but not oppressively hot, and no sunscreen is required! Really, even though it was humid, as always, it was a pleasant evening. It was so nice to experience the water park that way!
Typhoon Lagoon is awesome at night! Beyond the relief from the sun, Typhoon Lagoon is so cool to experience at night. The lighting and atmosphere of the party were amazing and really added to the overall experience of the event—something you can't get in the daytime! Going through some of the slides in the dark added a whole new element to the ride. Also, some tubes had glow lighting, which also upped the awesome factor. Simply put the park is just fantastic at night!
Get more done in 3 hours! By now you know about the lower crowds. Again, this means you'll get more done than if you came during the day. You'll be able to experience most, if not all, of the water park in a much more enjoyable atmosphere.
Don't lose a Park day! Another great reason to get a party ticket over a full day ticket is that you don't lose a park day. You would be able to enjoy a Disney Park through dinner and then head over to Typhoon Lagoon for an evening of fun. You'll be able to experience the water park without sacrificing a morning or whole day you might need for other plans.
6 – Final Verdict: A Great Option for Guests Looking to Experience Typhoon Lagoon
We were really happy with this event and will definitely do it again. It's a really great option for guests looking for a chance to experience one of Disney's water parks without losing time in the parks. You get to experience lower crowds, enjoy special food and beverages, meet characters, and enjoy slides without the crazy summer sun. There are two more remaining dates in 2018: August 9 and August 11. Tickets are on sale at Disney's website.
Editor's Note: The Disney Company provided us with complimentary H2O Glow Night passes. However, the thoughts and opinions contained in this article are completely our own.
For a no obligation, FREE Quote on a Disney vacation package, please contact our travel partner Magical Vacation Planner at 407-442-0227 (407-442-0215 for Spanish). You can also request a FREE quote online by Clicking HERE.