Disney's Caribbean Beach Resort has been undergoing a large refurbishment and expansion. With rumors of Shutters restaurant not returning, we've been eagerly awaiting details on the new dining locations that will be coming to the resort. Disney has now released details on those dining locations! Catch all the details below.
Here are all the details from Disney Cast Member Gabriel Gibaldi:
We have news to share about two dining locations at Disney's Caribbean Beach Resort.
In just a few months when the reimagining of Old Port Royale is complete, the former Shutters table-service restaurant will open in an all-new location as Sebastian's Bistro!
Located along the Old Port Royale waterfront, Sebastian's Bistro will feature beautiful views, warm island hospitality and a menu that blends Latin and Caribbean flavors from market-fresh ingredients.
When you arrive at the casual, family-friendly restaurant, you'll see a blue shiplap marquee where everyone's favorite red crustacean invites you to dine on island time. Inside, you'll feel as though you've just stepped into a tropical beachfront home.
As you can see, every detail celebrates the natural beauty of the Caribbean – from coral patterns and kelp filigree, to lure-inspired art and nautical designs. All around the restaurant, you may even notice abstract artwork and – dare I say – under the sea landscapes featuring Sebastian and friends.
On a related note, we have new visuals showcasing the resort's quick-service dining location, Centertown Market.
As previously shared, Centertown Market will be expanded to create an indoor street market vibe.
You'll enter the space under a large palapa-like structure, accented with glowing, colored light pendants made from glass bottles. The market will feature open shutters, wooden light posts, awnings, ornamentation and unique seating areas. You will also have access to the Grab n' Go market for specialty coffee and quick bites.
I can't wait to try out both locations!
RELATED ARTICLE:  7 Reasons You'll Love Disney's Caribbean Beach Resort
by Jenn S.
Caribbean Beach Resort at Walt Disney World is in the moderate resort category and is located in the Epcot Resort Area. The resort itself offers quick access to Disney's Hollywood Studios, Disney Springs and ESPN Wide World of Sports Complex. Caribbean Beach offers the relaxing and beautiful theming of the Caribbean islands. Here are 7 reasons why you will love Disney's Caribbean Beach Resort.
1 – Theming
Disney's Caribbean Beach Resort is broken up into different "villages" each with its own architecture and colors. They include Trinidad North, Trinidad South, Martinique, Barbados, Aruba, and Jamaica. Each village has their own quiet pool, laundry facilities, bus stop, and beaches. Trinidad North and South, Barbados and Jamaica also each have a playground area as well. All of the shopping and dining locations are located at Old Port Royale. Old Port Royale is themed to look like a Caribbean port market, head from "shop" to "shop" with the blue sky and lantern lighting above you. You will feel as if you have stepped inside a Caribbean marketplace.
2 – Pirate Themed Rooms
The Pirate themed rooms at Caribbean Beach are perfect for any Pirates of the Caribbean fans. These special rooms are located in Trinidad South and are fantastically themed. The beds look like pirate ships, while the dresser appears to be old crates. Be sure to look around the room for all the special pirate touches!  These rooms will cost more than a non-pirate room, but it is worth the cost for a special trip!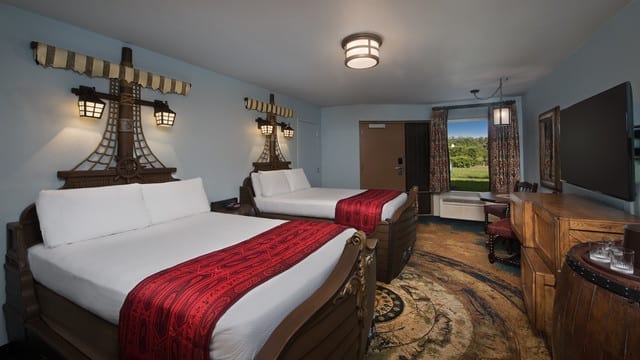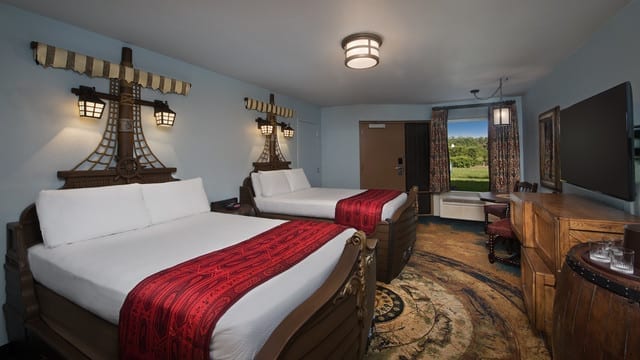 3 -Internal Resort Shuttle
Caribbean Beach is one of the largest resorts on Disney property. This resort offers an internal resort shuttle that stops at each village, the Custom House, and Old Port Royale. While you can certainly walk, it is nice to hop on the bus instead of walking across the resort to get to the food court or main pool. As with any Disney resort, transportation to Disney theme parks and Disney Springs is also available from the same stops as the internal shuttle.
4 – Fuentes del Morro Pool
The feature pool, Fuentes del Morro Pool is one of the best pools in the moderate resort category. The zero entry pool features shooting water cannons and not one, but two waterslides! There is also a wading pool with an aqua play area shaped like a pirate ship. It is the perfect place for your little ones with squirt hoses, kiddie slides and a bucket that dumps water from high above.  The area also has two Jacuzzi spas for the adults to enjoy. Guests can also enjoy several quiet pools throughout the resort if they are looking for a location with less action.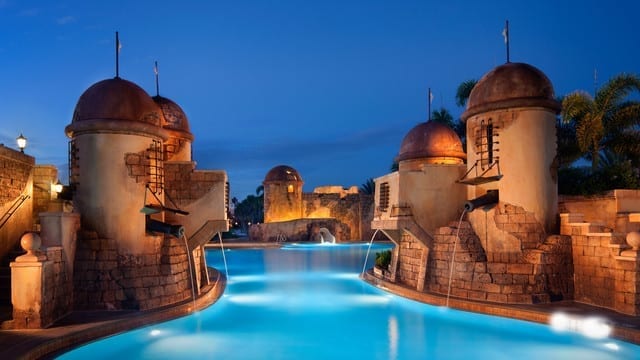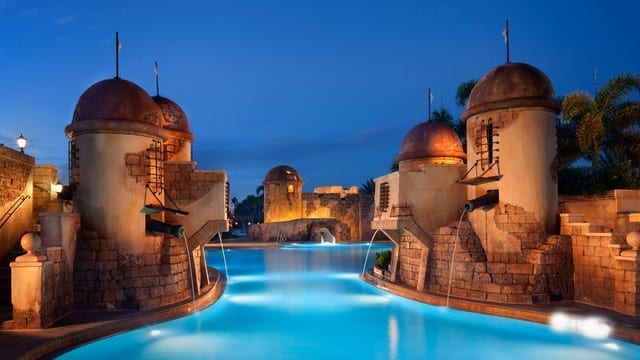 5 – Beaches
Caribbean Beach Resort is situated around a 45-acre lake known as Barefoot Bay. Each of the villages has a beach area along Barefoot Bay. Swimming is not permitted in Barefoot Bay but you will find volleyball courts, hammocks or lounge chairs to relax in. The hammocks are a great place to relax after a long day at the theme parks!
6 – Great Recreational Activities
Be sure to pick up a resort recreation schedule at check in to find out about all the great recreational activities offered at the resort. Each day there are poolside activities hosted by the children's activities staff and campfires are held nightly during peak seasons and several times a week during non-peak seasons. Be sure to check your recreation schedule for a weekly list of "Movies Under the Stars" held each night at the resort. For a fee, guests can also rent bikes and surrey bikes to pedal around the beautiful resort property.
7 – Children's Pirate Cruise Adventure
This adventure is a children only activity for ages 4 to 12 that is held a few days each week. Children will board a boat with 2 Cast Members to set sail on their pirate adventure. The tour is approximately 2 hours in length and a snack is provided. Tours can be booked through the Disney tour reservations phone number or by visiting your resort concierge.
If you are looking for a great moderate resort with great theming, activities and amenities, look no further than Disney's Caribbean Beach. Lovers of land and sea will find refuge at this Caribbean themed resort, whether it be sliding down one of its two water slides or relaxing in a beachside hammock. Have you stayed at Disney's Caribbean Beach Resort? Which Village is your favorite?
Photo Credit: Disney
For a no obligation, FREE Quote on a Disney vacation package, please contact our travel partner Magical Vacation Planner at 407-442-0227 (407-442-0215 for Spanish). You can also request a FREE quote online by Clicking HERE.