This past July we were able to experience Disney After Hours at Magic Kingdom. We weren't quite sure what to expect and frankly, we had our doubts it would be worth it. To our surprise, we had a fantastic time and went from questioning this kind of event, to fully endorsing it (see our review from that night below). Until now this type of after-hours event has only been available at Magic Kingdom. Disney has announced today the expansion of Disney After Hours to two other Disney Parks. Catch all the details below!
Here are all the details from Disney Cast Member Jennifer Fickely-Baker:
Disney After Hours events have been such a huge hit among Disney fans and we wanted to share this good news with you first: not only are more event nights set for Magic Kingdom Park but for the first time, Disney's Hollywood Studios and Disney's Animal Kingdom will join in on the fun!
In case you aren't familiar with Disney After Hours events, these evening events are your opportunity to experience the magic of a Disney theme park for three hours after regular park hours, which means little-to-no wait for attractions, experiences and character greetings! You can even enter the park early – at 7 p.m. on your event night – before Disney After Hours begins. Ice cream, popcorn, and select beverages are also included in your Disney After Hours admission, which is a separately priced ticket from daytime park admission.
Here's what to expect at each park:
Magic Kingdom Park
Enjoy classic favorite attractions from Haunted Mansion, Jungle Cruise, Pirates of the Caribbean, and Space Mountain as well as newer favorites like Seven Dwarfs Mine Train, plus many more. Event nights will run on: Nov. 26; and Dec. 3, 10, 2018; and Jan. 7, 17, 24 and 28, 2019; Feb. 7, 14, and 28, 2019; and March 7, 2019.
Tickets are currently available for Disney After Hours at Magic Kingdom Park at DisneyWorld.com/DisneyAfterHours.
Disney's Hollywood Studios
Imagine having little-to-no wait for newly opened Toy Story Land attractions, including Slinky Dog Dash, Alien Swirling Saucers and Toy Story Mania! Rockin' Roller Coaster, Tower of Terror and other attractions will also be available. Select quick-service food & beverage locations will also stay open for purchases throughout the night. Event nights at Disney's Hollywood Studios will be: Dec. 8, 15 and 22, 2018; and Jan. 5, 12 and 19, 2019; Feb. 2, 9 and 16, 2019; March 2, 9, 16, 23 and 30, 2019; and April 6 and 13, 2019.
Disney's Animal Kingdom
Enjoy the best Disney's Animal Kingdom has to offer at night, including heart-tugging Tree of Life Awakenings, the adventures within Pandora – The World of Avatar and more. Select quick-service food & beverage locations will remain open throughout the night for purchases. Dates at Disney's Animal Kingdom are: Dec. 4, 12 and 18, 2018; and Jan. 8, 16, 22 and 31, 2019; and Feb. 5, 6, 12, 13, 19 and 26, 2019; and March 5, 20 and 27, 2019; and April 3, 2019.
Tickets for Disney After Hours events at Disney's Hollywood Studios and Disney's Animal Kingdom will be on-sale November 15 through the Disney Reservation Center by calling 407-939-7795.
All Disney After Hours event tickets cost $125 + tax for advance purchase and $129 + tax for day-of purchases. Disney Vacation Club members and Annual Passholders do receive a discounted price $95 + tax.
RELATED ARTICLE: Disney After Hours Review – What You Need to Know About this Special Event
by Chad and Cindy Nykamp
While Mickey's Not So Scary Halloween Party and Mickey's Very Merry Christmas Party get all the attention, there is another after-hours special event held regularly at the Magic Kingdom that most guests have no idea exists. Disney After Hours is a special event that offers many of the perks of the holiday parties but promises much lower crowds. To be clear, this is not the same as Extra Magic Hours and it does not replace Extra Magic Hours.
Since its announcement, we've always been curious if this event is worth the cost. Recently, we had the opportunity to experience Disney After Hours for the first time. Here's what you need to know.
1 – Disney After Hours
Disney After Hours is a separate ticket event that began in April 2016. Offered on select nights throughout the year, guests pay to have access to twenty-five attractions with little to no crowds in the Magic Kingdom Park.
Here are the upcoming party dates:
12/3: 10 p.m. – 1 a.m.
12/10: 10 p.m. – 1 a.m.
1/7: 8 p.m. – 11 p.m.
1/17: 8 p.m. – 11 p.m.
1/24: 8 p.m. – 11 p.m.
1/28: 8 p.m. – 11 p.m.
2/7: 8 p.m. – 11 p.m.
2/28: 8 p.m. – 11 p.m.
2/14: 9 p.m. – 12 a.m.
3/7: 9 p.m. – 12 a.m.
2 – Not a Themed Party
Separately ticketed special events are nothing new at Disney World. For years Disney Parks have played host to events such as Mickey's Not So Scary Halloween Party, Mickey's Very Merry Christmas Party, and Star Wars: Galactic Nights. Held after the park's normal operating hours, guests can enjoy several hours of special entertainment, parades, fireworks and more in addition to the standard Magic Kingdom offerings. The parties also include free trick or treating in the case of the Halloween parties, or cookies and cocoa in the case of the Christmas party. The parties are wildly popular with most nights selling out.
However, there are a few key differences between this and the Halloween or Christmas party. The first difference, of course, is the lack of a holiday or special theme. The biggest draws for the holiday parties are the decorations and costumes, the generally amazing holiday atmosphere, and the top-notch entertainment. The theme of Disney After Dark is more about "open late with next to no lines". If you've ever been to a sold-out holiday party, you know that holiday parties are not about short lines. If anything, crowds are often heavier than during the day.
If your goal for the evening is to experience as many attractions as possible, then the Disney After Hours event might be exactly what you're looking for. We were skeptical that the wait times would really be that low. We were pleasantly surprised to find that Disney delivered on that promise. More on that in a bit.
3 – Price & Time Comparisons
When trying to determine if the party is right for you, the cost of the event needs to be compared to other special ticketed events. The Halloween Party runs from $89-$109 for most nights and is $125 on Halloween Night. The Christmas Party runs from $99-109 and is $125 on its last night, December 21. Finally, the last Star Wars Galactic Nights party was $129. The cost for the Disney After Hours is $119 for tickets purchased in advance. Its price is in about the same range as the other events. Disney Annual Passholders and DVC members may purchase Disney After Hours tickets for $95, while for the seasonal parties they only receive a small discount.
All of these events offer early admission into the park before the actual party time. The Halloween and Christmas Parties along with the Galactic Nights party runs from 7-12 pm and allow you to enter at 4:00 pm for a total of 8 hours. Disney After Dark allows you to enter the park three hours early, in our case 7:00 pm, for a total of 6 hours in the park.
We've already noted how busy the holiday parties are. In fact, they are packed. We hear more and more complaints on how crazy crowded those parties are. Disney After Hours is not crowded at all. There will be times where you'll feel like you have the park to yourself. Frankly, it's a bit weird. We strolled down Main Street USA around midnight and it was empty. Disney limits the number of guests that can enter during Disney After Hours and it really is a plus.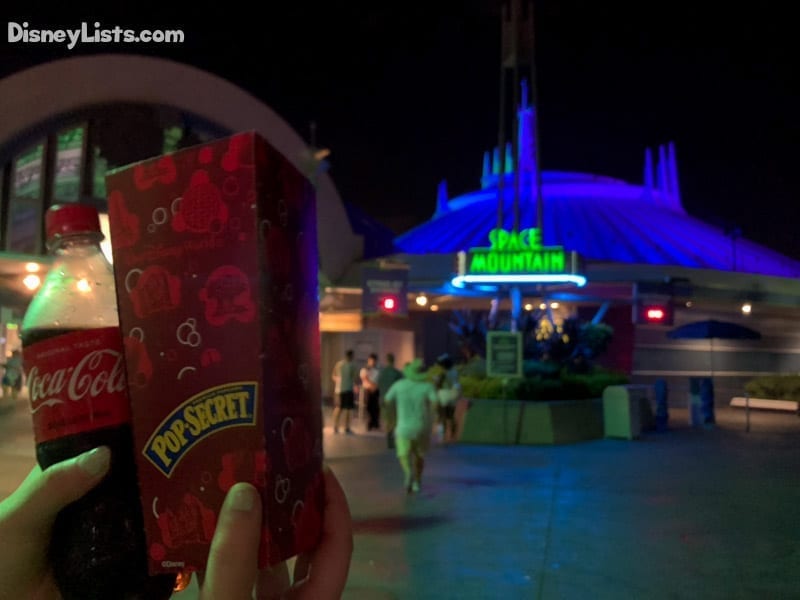 4 – Ice Cream, Popcorn, and Select Beverages Included
The Halloween Party gives out candy and the Christmas Party has complimentary cookies and hot chocolate. Disney After Hours includes complimentary treats during the party as well. We took advantage of this all night and it was awesome. Available treats include ice cream novelties like the Mickey Bar and Mickey Ice Cream sandwich, popcorn, and bottled beverages such as Coke, Diet Coke, Sprite, and Dasani water. These items normally range from $3.00-4.50 and are included in the cost of your ticket.
We certainly ate and drank more than we normally would if we had to pay for these items. This party feature is a great bonus to offset the ticket price. Between the two of us, we enjoyed 2 Mickey Bars, 3 Mickey sandwiches, 4 popcorns, 4 bottles of water, and 2 Cokes. We actually wanted more drinks, but at 12:55 am, they were all gone. Had we purchased these items we would have paid a total of $62 in snacks and drinks, averaging about $30-$35 per person. If you're a fan of Mickey Bars and popcorn, this is a significant added value for the event.
Future Event Tip: We had wanted drinks for the road and got in line at snack carts at 12:53 am and 12:57 am. Both were out of drinks. Had we known, we would have grabbed two bottles of water around 12:30 am. Don't wait until the very end to get your drinks for the road.
5-Open Attractions
Like the other parties, there are a limited number of attractions available to enjoy during the evening. Here is the full list of attractions open during the Disney After Hours event.
Main Street USA
Meet Mickey Mouse and Tinker Bell at Town Square Theater
Plenty of PhotoPass photographers on hand to take photos on Main Street and in front of Cinderella Castle with no crowds in the background!
Adventureland
The Magic Carpets of Aladdin
Jungle Cruise
Pirates of the Caribbean
Swiss Family Treehouse
Walt Disney's Enchanted Tiki Room
Frontierland
Big Thunder Mountain Railroad
Country Bear Jamboree
Splash Mountain
Liberty Square
Fantasyland
The Barnstormer
Dumbo the Flying Elephant (both sides were open)
"it's a small world"
Mad Tea Party
The Many Adventures of Winnie the Pooh
Meet Ariel in Her Grotto
Mickey's PhilharMagic
Peter Pan's Flight
Princess Fairytale Hall
Seven Dwarfs Mine Train
Under the Sea – Journey of the Little Mermaid
Tomorrowland
Astro Orbiter
Buzz Lightyear's Space Ranger Spin
Space Mountain (both sides were open)
Tomorrowland Speedway
Tomorrowland Transit Authority PeopleMover
6 – Pre-Event Game Plan
As we noted before, you may enter Magic Kingdom three hours early. We really encourage you to do so. We recommend you use this time to enjoy the Magic Kingdom attractions and/or fireworks that will not be available during the event hours, particularly if this is the one time you'll be visiting Magic Kingdom during your vacation. We used this time to ride attractions and enjoy the park.
Future Event Tip: When arriving at Magic Kingdom there were special areas to enter with the event ticket. We received a special party lanyard to wear throughout the evening. If you are already in Magic Kingdom that day you do not need to exit the park to get your party lanyard. Near the Hall of Presidents, there was a check-in location where guests already in the park could scan their event ticket and get the lanyard for the event.
7 – Short Wait Times?
For our event, the park closed at 10:00 pm. We noticed it took about 10-20 minutes for regular guests to be filtered out. So, at 10:00 the wait times were still a bit longer because the last of the day guests were still filtering through the lines. However, even with regular guests we only waited 5 minutes to ride Seven Dwarf Mine Train when we got in line around 10:15 pm. The rest of the evening we enjoyed walking on to every single attraction we wanted. The only time we had to wait longer than a few seconds, was again for Seven Dwarf Mine Train at 12:50 when a lot of guests were trying to get one more ride in before 1:00 am. Even with this, we waited only three minutes to ride!
When I heard about this event I really didn't believe the "short" wait times. What does that mean really? Is 15 minutes a short wait? Or 30 minutes when the wait for Mine Train is usually an hour? I'm very happy to report that for Disney After Hours because they limited the number of tickets sold, "short" wait times means that you literally walk onto the rides with a "waits" of less than a minute if that. The longest wait times you'll experience are at the snack carts!
8 – Getting So Much Done
What can you accomplish in three hours when you can walk onto every attraction? So much. In that time, we rode every attraction we wanted (some multiple times), met every single character, took multiple photos on Main Street USA, had plenty of snacks, and strolled while we did it. We did not rush, and we accomplished more than we could have during an entire day during normal operating hours.
Here is a comparison. Usually, the wait time for Seven Dwarfs Mine Train is around 60 minutes. Even if you have a FastPass, you'll usually wait about 10-15 minutes to ride. Both times we rode we waited under 5 minutes. That's a savings of 55 minutes with the standby line and about 10 minutes with the FastPass wait.
To be fair we'll compare only the standby waits. Let's assume on a regular day, after riding Mine Train with a 60-minute plus wait, we head over to the Peter Pan's Flight which is usually about a 70-90-minute wait. Then we head over to Space Mountain, which usually has over a 60-minute wait. On a normal day, the combined wait times for those three attractions range from 3-3.5 hours. During the event, the combined wait time for those three attractions is only about 7 minutes (and we're rounding up).
We hope you see the possibilities here. Even the time to walk to different areas of the park is reduced because you don't have to fight the crowds. The value of this party is the ability to get dozens of attractions and multiple characters done in a dramatically less amount of time.
 8 – You Do Need to Be a Night Owl
A final consideration in whether or not this party is right for you and your family is the ability to stay up late! West Coasters definitely have an advantage here! This event is perfect for guests who enjoy staying up late and can sleep in the next day. While we still saw plenty of strollers and young children, it may be difficult for families that have younger children who are not used to staying up late.
The party ended for us at 1:00 am with the Kiss Goodnight. We were able to get a few more photos in before we arrived in line for the Ferryboat at 1:20 am. Do note that the Express Monorail, Resort Monorail, and Resort boats were not in service. The only way to get back to the Ticket and Transportation Center was on the Ferryboat. Guests staying on Monorail Resorts were able to take buses back to their resorts. We arrived back at the TTC at 1:40 and were in our car at 1:50 am! That's crazy late! To fully take advantage of the event, you'll want to plan to stay to the very end. Plan on a very late night.
Future Event Tip: Plan on a late start in the morning after the party. Try to sleep in. Have a late breakfast. Don't have an 8:00 am breakfast reservation. Everyone in your party will thank you for it!
 9 – Final Thoughts
We hear lots of criticisms of Disney offering extra pay-to-play events. To be honest, when this event was first announced back in 2016, we were among those that didn't get the appeal. However, experiencing the event completely changed our minds. Again, I cannot stress how much you can experience during this time. The 3 hours of the event are easily equal to 6-8 hours of normal park time or more depending on the time of year you visit making this an excellent value.
We'd go so far as to say if you have to choose between a one-day ticket for Magic Kingdom and going to Disney After Dark, Disney After Dark wins hands down. You'll be able to experience every attraction and character in that time and get free snacks and drinks!
To be clear, this is not the same as Extra Magic Hours and it does not replace Extra Magic Hours. Free Extra Magic Hours are still offered to Disney Resort Guests and this event doesn't replace that. This offering is another way for guests to take advantage of time in the park outside of normal business hours. While there is no seasonal theme or special entertainment, if you are looking to maximize your time in Magic Kingdom and don't mind a late night, this party is for you.
For a no obligation, FREE Quote on a Disney vacation package, please contact our travel partner Magical Vacation Planner at 407-442-0227 (407-442-0215 for Spanish). You can also request a FREE quote online by Clicking HERE.
Editor's Note: The Disney Company provided us with complimentary Disney After Dark passes. However, the thoughts and opinions contained in this article are completely our own.