The dining options list at Disney Springs just keeps getting longer and longer. Disney has announced a new quick service restaurant that will open later this year. Catch all the details below.
Here are all the details from Disney Cast Member Sarah Domenech:
I'm a very big fan of Chef José Andrés and all of his restaurants, and I can't be more excited about the opening of Jaleo at Disney Springs.
But today, I'm so happy to announce that José Andrés' ThinkFoodGroup will also be opening one of the first-ever brick-and-mortar location of its beloved Spanish food truck, Pepe by José Andrés, inspired by the popular Washington DC food truck of the same name.
Pepe by José Andrés, located right next to Jaleo at Disney Springs, will feature an extensive menu of hot and cold Spanish-style sandwiches including bocatas and bikinis, showcasing the best of José's native country Spain.
Some of the delicious highlights include:
Pollo Frito, made with breaded chicken breast, alioli, bravas sauce, piparra peppers, gem lettuce, and sherry dressing
Serrano y Manchego, served on crispy Pan de Cristal with tomato fresco
Bocata de Vegetales, made with roasted peppers, onion, green asparagus, spinach, and manchego cheese on Pan de Cristal
In addition to the sandwiches, Pepe will serve salads, soups and sides along with Spanish sangria.
The walls of Pepe are decorated with an elaborate mural by Marc Jesús, a famous Menorcan painter, featuring his ever-happy, blue-skinned female characters. The space, as well as Jaleo, was designed by celebrated Spanish designer Juli Capella.
RELATED ARTICLE: 5 Best and 5 Worst Counter Service Restaurants at Walt Disney World
by Christy Caby
Counter service dining at Walt Disney World isn't the same counter service experience that you would expect while at a theme park.  There are locations that have amazing food that you wouldn't expect for the type of location.  Of course there are always locations that are better than others, so we have outlined the 5 best and 5 worst counter service restaurants for you below:
Best:
5 – D-Luxe Burger:  Disney Springs
If you want to enjoy a delicious burger that definitely isn't your typical theme park burger, then you definitely want to try D-Luxe Burger.  It is a great quick service spot in Disney Springs that will give you a great place to enjoy a delicious meal and then get right back out to the shopping and fun!
4 – Flame Tree BBQ: Disney's Animal Kingdom
If you walk by this location, you will want to stop just for the amazing smells.  Everything at the location smells amazing and tastes amazing, too.  There are a variety of options so you get to enjoy something unique and different for your meal.
3 – Casey's Corner:  Main Street, U.S.A., Magic Kingdom
This is a quick service location that you must experience when you visit the Magic Kingdom.  The restaurant is iconic and extremely popular, which is easy to see why.  You will find a variety of different hot dogs and other offerings, including the featured hot dog of the month.  If you visit at the right time you can enjoy the piano playing outside the front of the restaurant.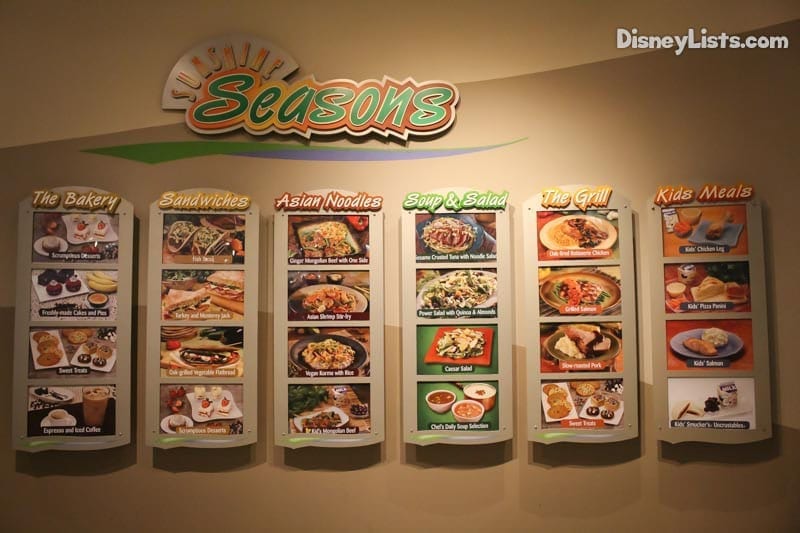 2 – Sunshine Seasons:  Future World, Epcot
We love all of the amazing options that this location has to offer.  There are different sections within the location that offer different types of dishes and cuisine, so there really is something for everyone.  There are even a variety of different dessert options, too.  The seating is completely indoors and air-conditioned, so it is a great place to cool off and relax while you eat.
1 – Be Our Guest (Lunch): Fantasyland, Magic Kingdom
You have to try out Be Our Guest for lunch.  This lunch quick service option is unique in that you can also make a reservation for lunch. You get to dine inside of Beast's Castle, which has been perfectly created to model the castle and scenes from Beauty and the Beast.  The food is French-inspired with some of the offerings.  The location is a table service location for breakfast and dinner, so definitely take advantage of the quick service lunch option!
Worst:
5 – Restaurantosaurus:  Dinoland, U.S.A., Disney's Animal Kingdom
This location is just not that exciting when the location could really embrace the dinosaur theme and do some cool stuff.  The food isn't all that great and is just mainly the typical, boring theme park food offerings.  We'd definitely recommend checking out a different option when in Animal Kingdom so you can enjoy something more exciting.
4 – ABC Commissary:  Disney's Hollywood Studios
The options at this location aren't very exciting and the flow of the seating at the location feels a bit awkward to navigate.  The menu changes often, but the food never seems to be all that good.  The location just can't seem to settle on something that is delicious and suits the location.  You may want to check out some of the other options or a table service restaurant.
3 – Liberty Inn:  America Adventure Pavilion, Epcot
This is definitely one of the most disappointing quick service restaurants in Walt Disney World. The location only serves items like burgers and chicken.  The American Adventure pavilion in the World Showcase area of Epcot is supposed to represent all of America and the food is mediocre and a boring example of America. With all of the other amazing options at the other World Showcase pavilions, there isn't much reason to stop and dine here.
2 – Pinocchio Village Haus:  Fantasyland, Magic Kingdom
From our experience, the food at this location just hasn't been that great.  When you have one of the best quick service lunch locations (Be Our Guest) right around the corner, it is hard to feel satisfied stopping at Pinocchio Village Haus.  The one cool thing about the restaurant is that you can enjoy views of It's A Small World from the seating inside the location, but the meal may leave you unsatisfied.
1 – Wolfgang Puck Express:  Disney Springs
The food is OK here and there is a variety of different items on the menu, but the prices are higher than many of the quick service locations.  For the prices, you could probably find a comparable table service restaurant, depending on what you would order.  We just haven't been very impressed the couple of times that we have tried this location.
For a no obligation, FREE Quote on a Disney vacation package, please contact our travel partner Magical Vacation Planner at 407-442-0227 (407-442-0215 for Spanish). You can also request a FREE quote online by Clicking HERE.