"Keep Moving Foward," is one of Walt Disney's famous quotes, and this philosophy can be found in action at Walt Disney World Resort. As part of the 50th Anniversary celebrations that will occur in 2021, Epcot is in the process of transforming into a park with a whole new identity. Disney has announced that the park will receive a new park entrance and more. Catch all the details below.
Here are all the details from Disney Cast Member Thomas Smith:
As many of you know, we've got BIG plans for our multi-year transformation of Epcot, with new experiences that'll "Wow!" guests while keeping true to the original vision of the park. Today, we're excited to share even more of what's to come.
The ongoing evolution of Epcot includes plans for a play pavilion that'll be unlike anything you've ever seen at the park. This new space will be devoted to playful fun and feature an innovative city that'll come to life under the dome of the un-named pavilion previously known as Wonders of Life. The pavilion's city will be bursting with interactive experiences, your favorite Disney characters, hands-on activities and engaging entertainment when it opens just in time for the 50th anniversary of Walt Disney World Resort!
"This innovative, new pavilion is beyond anything we've ever created and is completely unique to Epcot," said Zach Riddley, portfolio executive, Walt Disney Imagineering. "Built on the power of play, it introduces an immersive and interactive 'city' where you can explore, create, and interact with some of your favorite Disney characters. This is an experience worthy of our bold vision for Epcot – and another signature element of our transformation."
There will also be exciting changes to the way you come and go at Epcot! As you can see above, changes are coming to the Epcot main entrance, where the plaza will welcome guests with new pathways, sweeping green spaces and a newly reimagined fountain. This new design will pay homage to the original park entrance with fresh takes on classic elements.
As part of the new entry experience, Leave A Legacy photos will be moving into a beautiful setting just outside the park's gateway. Additional significant redevelopment will begin between Spaceship Earth attraction and the World Showcase Promenade. More details about the transformation of this area will be announced at a later date.
And if you're as excited as we are about these upcoming projects, you'll soon be able to look into the future with us at a new Experience Center coming to Epcot later this year. The Experience Center will be located in the Odyssey Events Pavilion and feature interactive exhibits to help visualize park projects throughout this unprecedented period of transformation.
Here are some of the other exciting Epcot experiences we've shared:
Guardians of the Galaxy-themed roller coaster in Future World
Epcot Forever, a 2019 limited-time nighttime experience over World Showcase Lagoon set to classic Epcot tunes, followed by an all-new nighttime spectacular debuting in 2020
Space-themed table-service restaurant adjacent to Mission: SPACE
Remy's Ratatouille Adventure attraction in the France pavilion, patterned after the number-one family attraction at Disneyland Paris
Circle-Vision 360 film for the China pavilion and updated O Canada! 360-degree show
Signature Dining experience inspired by the natural beauty of Japan
Beauty and the Beast" sing-along in the France pavilion, showing in addition to the pavilion's current film, Impressions de France
RELATED ARTICLE: 11 Things to Know Before You Go to Epcot
by Mike and Jamie Sylvester
Magic Kingdom is a true fantasyland. Hollywood Studios is action-packed. And Animal Kingdom is stunning. But, for some reason – if we ever have a situation where we're passing by Walt Disney World and only plan to drop into one park… Epcot is our pick. In our opinion, Epcot has that perfect dose of fantasy, action, and that stunning factor. Before you go to Epcot however, you'll want to understand a few things we feel are important in planning your big Epcot day!
1 – How To Get There & Best Resorts
Epcot is the easiest park to get to! There are plenty of transportation options that make your arrival an easy one. If you're driving, the parking lot and trams are well structured and easy to follow. If you're staying at a Disney Resort, jump on one of the many complimentary transportation options including buses from all resorts, Monorail from the Transportation Ticket Center, boats from surrounding resorts, and soon to be the Disney Skyliner transportation. If you're looking to take a leisurely walk to and from Epcot, stay at one of the Epcot resorts, including Disney's Boardwalk Inn, Disney's Yacht Club, and Disney's Beach Club. You can also walk from The Swan and Dolphin Hotels, but this can be a trek.
2 – Two Lands
Wear those comfortable walking shoes because if you've checked out a map of Epcot, you'll notice it's a rather large park. Despite its large size, Epcot is easy to navigate as it is divided into two different "lands" with each land offering different theming and experiences. Future World is where Spaceship Earth (the big Epcot ball) is located. Here you'll find popular attractions like Soarin' and Test Track. There are a couple of restaurants in this area and shopping venues. The World Showcase is the second land that provides guests an opportunity to stroll "around the world" with 11 countries/pavilions to explore. The World Showcase is where you'll find the best dining, "streetmosphere", and shopping. Both are unique in their own way and well worth spending time taking in all the details they have to offer!
3 – FastPass Tiers
Oh yes – FastPasses are a MUST at Epcot! FastPasses can be selected via your My Disney Experience account 60-days in advance for Disney Resort guests or 30-days in advance for non-resort guests. Some of the most popular attractions at Epcot include Soarin', Test Track, and Frozen Ever After. Unfortunately, Epcot's FastPasses are on a Tiered System meaning guests can reserve one Tier 1 FastPass and two Tier 2 FastPasses in advance for a single day. Of course, the three most popular attractions we mentioned are Tier 1.  Here's just one plan that we typically roll with: FastPass Soarin' early afternoon (11:00ish). Arrive at park opening and head directly to Frozen Ever After. After Frozen Ever After, go to Test Track. If the Standby line is long, use the Single-Rider line. Then, you'll have plenty of time left to hit your Soarin' FastPass. Great Tier 2 selections include Spaceship Earth and Mission: SPACE.
4 – Be Prepared to Mobile Order
Have you downloaded your MyDisneyExperience mobile app yet? If not, go ahead and do that right now! This app will make your life much easier in all of the Disney World parks. Several quick-service restaurants in Epcot offer Mobile Ordering. This means you can select your food and pay right from your phone. When your food is ready – you'll get a text telling you to come to the mobile window. You just pick up your food, wave to everyone in line (well, maybe not), then enjoy your meal! It's too simple and easy not to take advantage of.
5 – Lots of Characters… and Many Unique
Yes! One of our favorite things about Epcot is their hefty list of characters. And while we absolutely love seeing Mickey, Minnie, and Goofy at the Character Spot in Epcot – sometimes it's nice to visit with a character you can't find at any of the other parks. Be sure to visit with characters that only offer a meet and greet at Epcot, such as Anna and Elsa, Baymax, Joy and Sadness, Ralph and Vanellope, and even Mulan. Character dining is also available in Epcot at the Garden Grill (Chip & Dale and Friends) and Akershus Royal Banquet Hall (Disney Princesses).
6 – Plan to Keep The Kids Occupied
You may have heard Epcot is not for kids. Wrong! Epcot is totally for kids… just ask our kiddos who love the park! Outside of the kid-friendly attractions like Frozen Ever After, The Seas with Nemo and Friends, Journey Into Imagination with Figment, and more – check out the scavenger hunt options around the World Showcase. Collect stamps (stickers really) at Kidcot spots in each Pavilion. You can also play Agent P's World Showcase Adventure right from your phone on the Play Disney Parks app. Epcot may not be as kid-friendly as Magic Kingdom, but it's definitely a fun park for kids to explore!
7 – Be Wise about "Drinking Around The World"
Yes, Epcot's World Showcase is well known to guests as the perfect place to "Drink Around the World". We get it – there are 11 Pavilions and each one offers unique adult beverages that are delicious! Vacation is all about relaxing after all, right? Well, this is all fine and well, but let's not forget that families are present. If you're going to drink around the world, be sure you're eating around the world as well. Lots of water in between drinks will help too.
8 – Almost Always a Festival
Epcot is almost always having a festival to match the season! At the start of the year (January – February) Epcot holds their Festival of Arts. Festivities to celebrate the arts in sight, touch, and even taste are just about everywhere. Once spring rolls around (March – June), the Flower and Garden Festival is in full bloom… literally! If you want to see Epcot at it's most colorful, check it out at this time. Fall is the very popular International Food and Wine Festival (late August – November). Taste your way through numerous food and beverage kiosks. It's really a foodies heaven! Last but not least, the year ends with Epcot's International Festival of Holidays (late November – December). Bring in the holiday season with storytellers throughout the World Showcase Pavilions, traditional Holiday food, and of course – stunning decorations. Check out the festival schedule when planning your visit to Epcot to make the most of all the events and entertainment offered!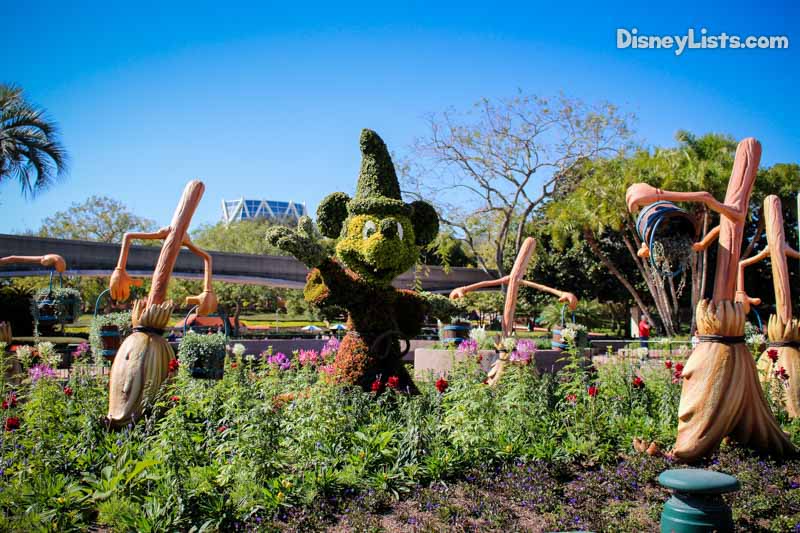 9 – Dinner Reservations Around The Fireworks
There are so many table-service restaurants in Epcot that it's almost impossible to pick just one! With the nighttime spectacular taking place on the water, why not take advantage of the great views you can catch from a few of the Epcot restaurants? We'd highly recommend booking a dinner reservation 45-minutes or so before the fireworks show takes place at restaurants that boast great views such as Rose and Crown Pub & Restaurant, La Hacienda de San Angel, and Spice Road Table. This way you can dine, have dessert, and a few drinks with great views to the nighttime spectacular!
10 – After Fireworks Stroll
IllumiNations, Epcot's nightly fireworks and projection spectacular, is a beautiful sight! As mentioned above, this goes perfectly with a dinner reservation. While the park is technically closed after the fireworks, there really is no reason to rush out of the park with the rest of the crowd. Take a nice, slow stroll and let the crowd clear out in front of you. You can do a little shopping and take in how beautiful Epcot is at night. Beats fighting the crowds!
11 – BIG Changes Coming!
It's an exciting time to visit Epcot, and it's only going to get more exciting in the next couple of years. Epcot's IllumiNations is ending with a new nighttime spectacular taking over at the end of summer 2019. The Disney Skyliner construction is looking great as we prepare for the opening of that form of transportation in Fall 2019. A new Space-themed Restaurant is currently being constructed in Future World between Mission: SPACE and Test Track attractions for a space-immersed dining experience – scheduled to open late 2019. In 2020, we can expect to take a ride with the "little chef", Remy, on his new attraction coming to the World Showcase featuring Ratatouille. Construction is also underway on a massive rollercoaster themed to Guardians of the Galaxy scheduled to open by 2021. Eek! It's all so exciting!
Get ready to have an exceptional Epcot visit!
For a no obligation, FREE Quote on a Disney vacation package, please contact our travel partner Magical Vacation Planner at 407-442-0227 (407-442-0215 for Spanish). You can also request a FREE quote online by Clicking HERE.