All four of Epcot's festival feature amazing food options for guests to try. The Epcot Flower and Garden Festival is no exception and this year there are so many great items to try! We enjoyed the opening day of the festival and have photos of the Outdoor Kitchen Menu Boards. Catch all the details below.
Below you'll find each of the 18 Outdoor Kitchen Menu Boards with pricing and details on which items are eligible for snack credits on the Disney Dining Plan. We hope this is helpful for planning out your time at the festival!
Click here for full menu descriptions and photos of some of the food items.
2019 Epcot Food and Wine Festival Menu Boards
RELATED ARTICLE: 26th Epcot Flower and Garden Festival at Epcot Now Open
by Chad and Cindy Nykamp
Call me crazy, but the Flower and Garden Festival is my favorite festival at Epcot. The sights and smells of the flowers, combined with (mostly) perfect spring Central Florida weather, make this a great time to visit Epcot. This year marks the 26th installment of the Flower and Garden Festival. It runs from March 6-June 3, 2019! We were invited to a special preview to get a glimpse of everything that is going to be offered. The festival is going to be amazing this year! Catch all the details below about what's back and what's new this year at the festival!
1 – Flowers Blooming
The 90-day event features seventy Disney-crafted topiaries and beds of multi-colored blooms that will transform the Epcot landscape into a floral extravaganza. As just one example of this metamorphosis, nearly 70,000 festival blooms will surround the lakes in Future World, while on the water, hundreds of colorful mini-gardens will be set afloat.
We had a chance to speak with Eric Darden, Horticultural Manager, and he was really excited about some of the new topiaries out this year. Bo Peep and her sheep, from Toy Story 4, can be found hanging out with Woody and Buzz at Bo Peep's Playtime Training Grounds near Test Track. Also new this year is Miss Piggy and Kermit the Frog in France. Darden shared there was an offhand suggestion by a Cast Member that Kermit should crash the scene on a bicycle, and it turned into a reality.  A new butterfly themed topiary display will greet guests when they enter Epcot at the main entrance. The many returning topiaries are in new locations, telling different stories, so there is always something new for guests who come and visit the festival every year.
2 – Garden Rocks Concert Series Returns
The popular Garden Rocks Concert Series will expand to every day of the festival, featuring chart-topping artists performing three shows daily on the America Gardens Theatre stage. That's 270 concerts– more than ever before – featuring new and returning fan favorites spanning multiple genres. Returning favorites like The Spinners and Herman's Hermits starring Peter Noone will be joined by artists new to the festival like TobyMac, Steven Curtis Chapman and Colin Hay of Men at Work. Click here to see the full concert line up.
We spoke with David Baldree, a Producer for Disney Parks Live Entertainment, about the expansion of the Garden Rocks Concert series. In previous years, concerts were only offered 4 days of the week. This year there will be concerts every day of the festival. Rather than just having the same artists add additional days, they took the opportunity to include more music genres to appeal to more guests. They did this by going from 17 to 36 artists! This year's concert series includes genres such as country, R&B, Christian, the sixties and seventies, yacht rock, Latin, and jazz. The goal was to bring in a wide variety of styles of music and a wide array of artists that span the decades.
3 – Outdoor Kitchens
Creative new culinary dishes and several new outdoor kitchens will debut this year. We had a chance to taste some of the food and beverages that will be available, and we can't wait to enjoy them all spring.  New this year, Advent Health is hosting a kitchen along with a nearby playground where the whole family can learn fun and interactive ways to stay healthy. Click here for the complete menu listing of the outdoor kitchens.
Watch this video below where a Disney chef shows off the new food at this year's festival:
Several Epcot food-and-beverage locations – including Taste Track and Refreshment Port– will offer festival-themed eats and libations. Additionally, guests can enjoy breakfast, lunch, and dinner at 15 popular Epcot restaurants and guaranteed seating for a nightly concert with a Garden Rocks Dining Package. Dining packages are now booking at FreshEpcot.com or by calling (407) WDW-DINE.
4 – Family Play Zones
Two different family play zones will allow families a chance to play together during the festival. Woody and Buzz Lightyear welcome Bo Peep and her sheep to their Toy Storytopiary near the Family Play Zone in Future World East. Also, guests can also play at the Play Full Garden near the Imagination Walkway. Here there are interactive activities that focus on nutrition and wellness.
5 – Scavenger Hunts
Spike's Pollen-Nation Exploration family scavenger hunt will be more fun than ever this year with new locations to discover along the garden pollination trail. Guests can also commemorate their scavenger hunt experience with select merchandise offerings featuring everyone's favorite bee, Spike. Another guest favorite returning to the festival April 5-21 (while supplies last) is the Eggstravaganza Scavenger Hunt, where guests can search for Disney character-themed eggs around World Showcase.
6 – Penguins!
In celebration of Disneynature's "Penguins," opening April 17, a 9-foot-tall art sculpture made from recycled marine debris will be on display in Future World featuring an adult and baby Adélie penguin. Created by the non-profit organization WashedAshore.org, this work of art is designed to inspire Guests to keep our oceans and waterways clear of plastic pollution.
7 – Gardens and Exhibits
Among the returning gardens and exhibits, guests will once again enjoy the Goodness Garden Butterfly House presented by GoGo squeeZ where nearly 1,000 native butterflies will fly among the garden's two dozen nectar plants. Additionally, several World Showcase pavilions will include gardens with floral life representative of plants in those countries, such as the Kokodema Garden and Bonsai Collection in Japan, the Urban Spice Garden in Morocco and the Alpine Container Garden in Germany.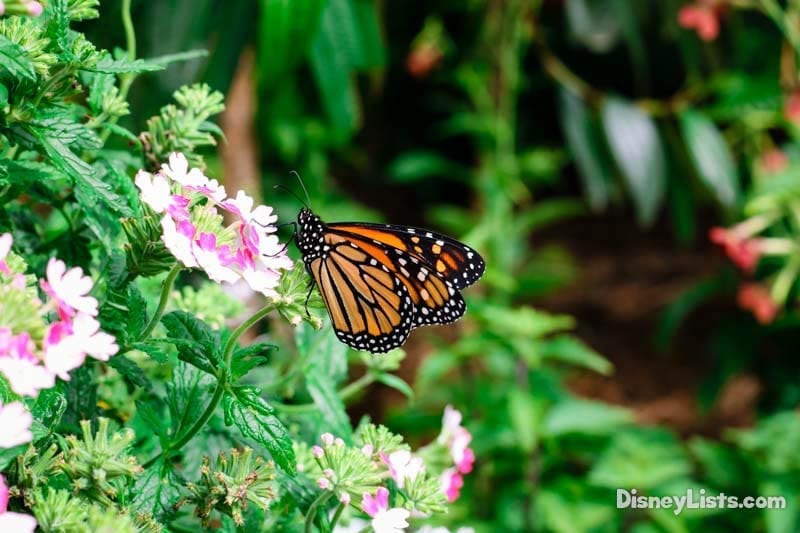 8 – Guided Tours
Guided tours are also available for guests interested in learning more about nature's magic. In Behind the Seeds – The Land, guests can explore the fish farm and four greenhouses that make up The Land at Epcot. Additionally, two guided experiences exclusive to the festival include:
We spoke with Liza, a Cast Member from the UK Pavilion, and she shared information about two different tours being offered during the Festival. The Royal Tea Garden Tour, presented by Twinings, takes place each festival morning at the United Kingdom and lasts around 45 minutes. For a small fee, guests can follow a knowledgeable guide through the tea garden setting to learn the history and artistry behind growing and blending tea. A post-tour treat of tea and scones is included. The shorter, complimentary English Tea Garden Tour also will be offered on select days and lasts about twenty minutes. We've done this in the past and loved it!
During the Gardens of the World tour, guests will join a Disney horticulturist for a three-hour walking tour to explore the award-winning topiaries and gardens that make the festival so special. Guests will learn about the unique role landscaping plays at Walt Disney World and discover new plant materials and gardening techniques to use for home gardens.
Guided tours are offered select days throughout the festival for an additional fee. Epcot admission is required. Reservations for tours open January 2019. For more information or to make a reservation, call (407) WDW-TOUR.
9 – Merchandise
What would be an Epcot festival without official event merchandise? This year you'll find a charming array of whimsical apparel and headwear designed to capture the splendor of spring, garden tools, and accessories, and magical Disney keepsakes to adorn your homes and gardens. There are five different themed lines for the festival:
Mickey's Garden Shed
Minnie's Garden Party
Violet Lemonade Collection
Spike the Bee and Donald
Figment – Let Your Imagination Grow Wild
There are so many items that have been added to my must-have list! Two new Spirit Jerseys will be available and a Minnie flower fanny-pack! There are two limited edition Magic Bands and some festival ears!
Click here to check out all of the merchandise for the festival.
10 – Passholder Exclusives
Walt Disney World Annual Passholders will have an opportunity to receive two new passholder magnets and purchase items from an exclusive passholder line. Here are all the details from Disney Cast Member Jennifer Fickely-Baker:
Passholders can add two new event-specific magnets* to their collection: a Pluto magnet will be available March 6-April 10, and Daisy will be available April 11-June 3 (both available while supplies last). This is the first time both of these characters will be featured on complimentary Passholder magnets. To pick yours up, stop into Mouse Gear or Port of Entry and show your valid annual pass card and photo ID.
There will also be Passholder-exclusive merchandise released throughout the festival. Starting March 6, Passholders can find a Figment t-shirt, Tervis tumbler, mug, and limited-edition MagicBand as well as two trading pins, a Pandora charm, a Donald and Spike mug and a Dooney & Bourke Tassel Tote. Then, on April 11, Passholders can return to find a Tervis stem glass, Minnie mug, ladies tank top and baseball cap as well as a Goofy mug, t-shirt, and baseball cap. Passholders can present their annual pass card to receive a 20% discount. Merchandise available while supplies last.
Passholders can also purchase an exclusive Pluto cookie at Taste Track on March 6, or an exclusive Daisy cookie for purchase at Taste Track on April 11 (both while supplies last).