News
NEWS: Changes Coming to ABC Commissary at Disney's Hollywood Studios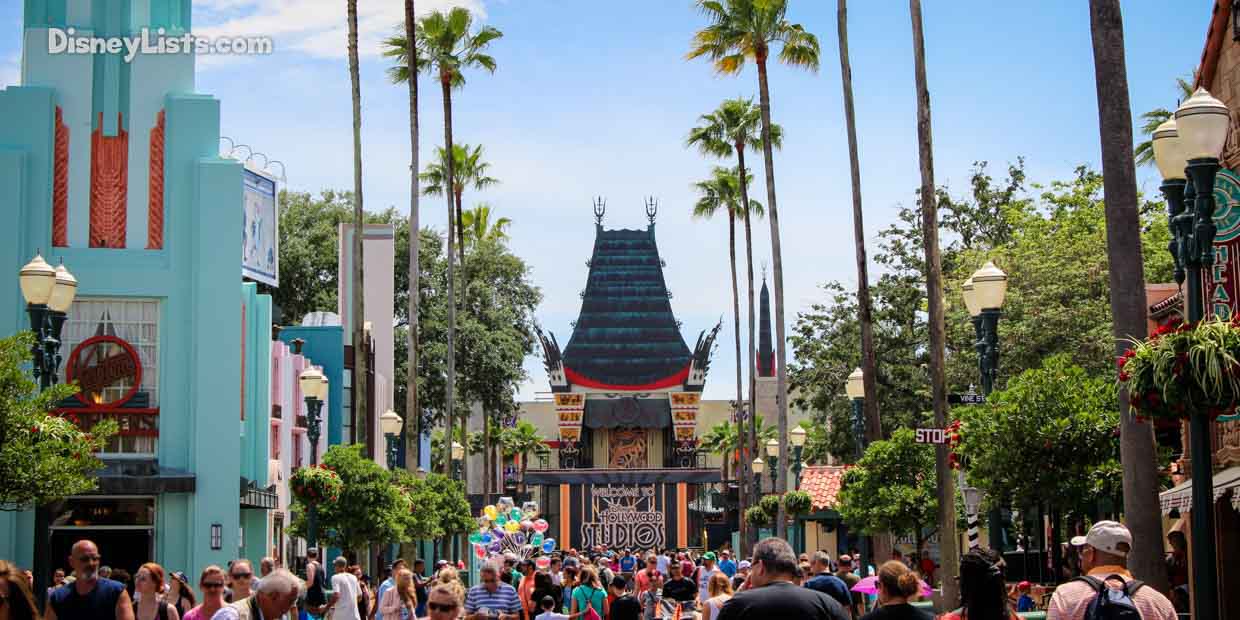 Disney's Hollywood Studios is celebrating its 30th Anniversary soon and the park is gearing up for a fantastic year! Ahead of those celebrations, Disney has announced some changes coming to ABC Commissary, one of the park's more popular quick service restaurants. Catch all the details below.
Here are all the details from Disney Cast Member Alex Dunlap:
ABC Commissary is one of the best places to grab a bite at Disney's Hollywood Studios, offering family-friendly lunch and dinner menus with a variety of delicious bites. You can gather with family and friends as you feast on dishes with classic and international flair amid the Art Deco setting of this Hollywood commissary.
The restaurant offers a quick-service lunch menu and a fast-casual dinner menu, featuring delicious entrées like the Vegan Burger, a mouthwatering plant-based burger topped with vegan mayonnaise-ketchup blend, spicy Sriracha mustard and griddled balsamic glazed onions and bell peppers, and the BBQ Rib Platter with tender dry-rubbed slow-smoked pork ribs tossed in a sweet BBQ sauce served with coleslaw, pickles, and steak fries. You can also try the popular Shrimp Teriyaki Bowl dinner entrée with stir-fried shrimp, Napa cabbage, snap peas, red peppers, carrots, onions, edamame, shiitake mushrooms, and broccoli tossed in a house-made teriyaki sauce and served over brown rice.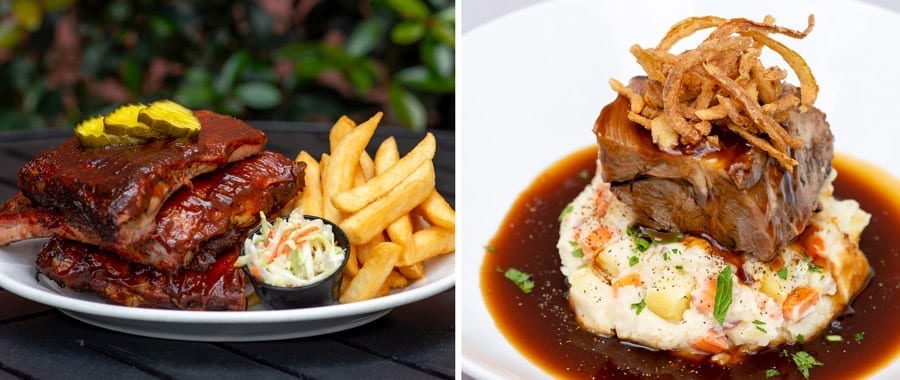 Over the next few months, the restaurant will be undergoing some exciting enhancements as part of the ongoing transformation of Disney's Hollywood Studios. Some of these enhancements include self-serve beverage stations, new Art-Deco-inspired elements and furnishings, and a savory new Pot Roast served over mashed potatoes and root vegetables with beef gravy and onion straws.
Another new offering coming to ABC Commissary is the ability to make reservations for dinner. Currently, starting at 4:00 p.m. daily, you can enjoy a fast-casual dinner experience allowing you to place an order at one of the cash registers, take a pager, and find a comfortable place to sit. Then, when the order is ready, we'll bring the food right to your table. With the addition of reservations, you can now enjoy this same fast-casual dining experience with guaranteed seating. Reservations are available starting today, with bookings beginning on June 2, 2019.
For more information and to make reservations, visit the Walt Disney World Resort website or call 407 WDW-DINE (407 939-3463).
Note if you make a dinner reservation at ABC Commissary it will count as one Table Service Credit on the Disney Dining Plan, not a quick service credit. We do not feel this is a good value for your dining credit as you can eat at many better restaurants and only use one credit.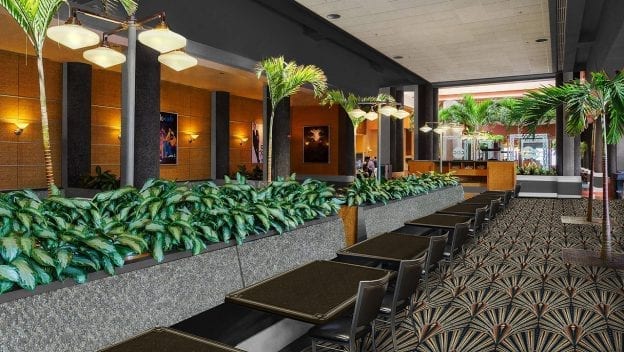 RELATED ARTICLE: Top 14 Themed Quick Service Restaurants at Disney World
by Mike and Jamie Sylvester
Just for a minute, let's forget our usual fast food and drive-thrus that we find ourselves heading to on a weekly basis. Forget the ball-pit arguments and the repetitive yellow arches inspired food. Instead, let's chat about quick food… done with Disney style!
That's right! There are well over 150 Quick Service Restaurants spread throughout the Walt Disney World property. It can be just as difficult picking a Quick Service spot to dine than it is picking a Table Service Restaurant. What's the difference you ask? Quick Service simply means you order your food and take a seat on your own. At Table Service Restaurants, you make reservations and have a server take your order and bring your food to the table. While we love Disney's Table Service Restaurants, we take advantage of Quick Service dining at least once a day, if not more, while on our Disney vacations.
Disney's Quick Service spots are themed to match their surroundings, but we have been challenged to make a top 14 list of the BEST themed Quick Service Restaurants at Disney World. Hopefully, this list will help you navigate through all the Quick Service options to get the best bang for your buck!
14 – Cosmic Ray's Starlight Café @ Magic Kingdom
So, we always say, let's try something new – but inevitably end up at Cosmic Ray's Starlight Café in Magic Kingdom's Tomorrowland! The menu is simple with good variety here making it easy to please the whole gang. Futurist themed tables and chairs await the flood of people that gather at this classic Quick Service spot. Our favorite part, however, is, of course, Sonny Eclipse! Sonny is a robotic alien entertainer that uses his astro-organ so we can enjoy fun songs and cheesy jokes while dining.
13 – Contempo Café @ Contemporary Resort
Super sleek and convenient, Contempo Café located at the Contemporary Resort makes our list for its unique atmosphere. Contempo is nestled up next to Chef Mickey's and offers wonderful views of the architecture of the Contemporary Resort. Our favorites are watching the Monorail breeze through the airy space and getting up close to the "It's A Small World" inspired 90-foot mural. Just stunning!
12 – Backlot Express @ Hollywood Studios
Even though we've been to Hollywood Studios numerous times, it took us a while to really notice Backlot Express and it's detailed theming. Cool food like the Dark Side Chicken and Waffles are tasty and filling. Be sure to explore Backlot's details, however, when selecting a seat. Different areas of the restaurant offer different themes truly making the space feel like a backlot full of stage odds and ends. Did you spot the yellow submarine, the stop light, and maybe even the sink full of water?
11 – Sassagoula Floatworks and Food Factory @ Port Orleans – French Quarter
Fat Tuesday is an endless celebration at Sassagoula in Port Orleans – French Quarter! Find Mardi Gras inspired food and even treat yourself to some yummy King Cake! Be prepared to allow yourself some time to look up and around at the crazy and colorful decorations providing the perfect Mardi Gras theme. We like to enjoy our meal with a game of I-Spy at this festive Quick Service spot.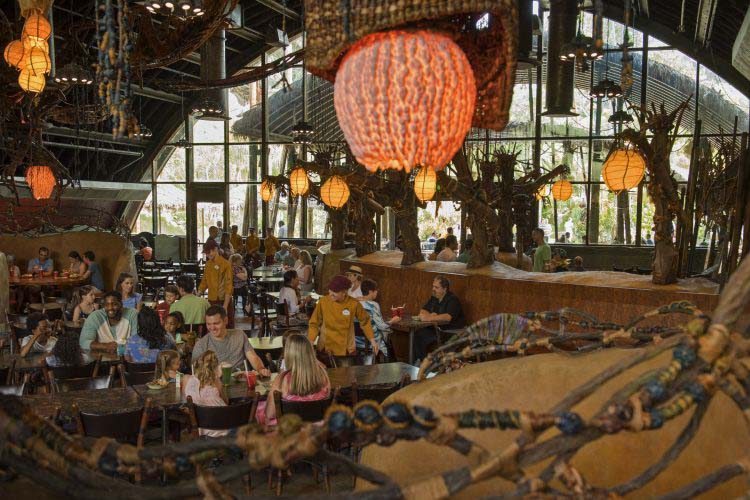 10 – Satu'li Canteen @ Animal Kingdom
One of the newer Quick Service Restaurant on our list, Satu'li Canteen is not to be missed! Located in Animal Kingdom's popular Pandora – The World of Avatar, we are huge fans of the food here as well as the theming. We were thinking Satu'li would be more extravagant but are satisfied with the interesting story of a mess hall turned into a beautiful Quick Service spot in a Quonset-hut structure. We especially like the added peaceful touches of Na'vi art and cultural items.
9 – Columbia Harbour House @ Magic Kingdom
We might not be huge seafood fans, but we still love a good meal from Columbia Harbour House located in Magic Kingdom's Liberty Square. The nautical theming here is spot on! From heavy woodwork and trim, to a Captain's wheel and everything in between, we love feeling like we are near the coast at this New England inspired restaurant. Don't forget to look for extra seating and more nautical details upstairs!
8 – Gaston's Tavern @ Magic Kingdom
While you're stopping off and visit the not-so-humble Gaston in Magic Kingdom's Fantasyland, you'll want to check out his fantastic tavern. This Quick Service spot doesn't offer big meals but rather snacks Gaston-style. That's right… the cinnamon rolls are as huge as his biceps! Even better however is how perfectly Gaston's Tavern matches that of the original Beauty and the Beast film. Handsome woodwork and antlers in all of his decorating – it's hilarious how spot on Disney got it. Plus, check out the details on the fountain out front!
7 – Flame Tree Barbecue @ Animal Kingdom
Chances are you won't be able to pass by Flame Tree Barbecue at Animal Kingdom without spotting it! This is not necessarily because of any extravagant entrance, but rather because of the amazing barbecue smell that exudes from this awesome Quick Service spot! Enjoy your mouthwatering goodness while sitting under one of the wood carved pavilions that is tucked away behind the restaurant. You can't miss nature here with the lush greenery, water views, and curious birds when dining at this peaceful oasis.
6 – Restaurantosaurus @ Animal Kingdom
Who knew the Jurassic period could be so hilarious?! Head over to DinoLand U.S.A. at Animal Kingdom for great American cuisine while exploring a paleontology student's humor. As if you're dining in a dino-themed dorm, be on the lookout for humor-filled fossils, lab equipment, paleontology tools, and detailed student handiwork. The jokes and puns here are DINO-mite (see what we did there!).
5 – Casey's Corner @ Magic Kingdom
Take me out to the ballgame… are at least to Casey's Corner! This timeless Quick Service location on Main Street U.S.A. is a must-do in our opinion. They may be serving up simple American baseball favorites, but we simply can't get enough of the hot dogs! From the lighting, to the floors, and everything in between, we love that Casey's is a fun corner restaurant to grab a bite. Enjoy the outdoor seating, stroll while eating, or stop and listen to Jim tickling the ivories to ragtime tunes!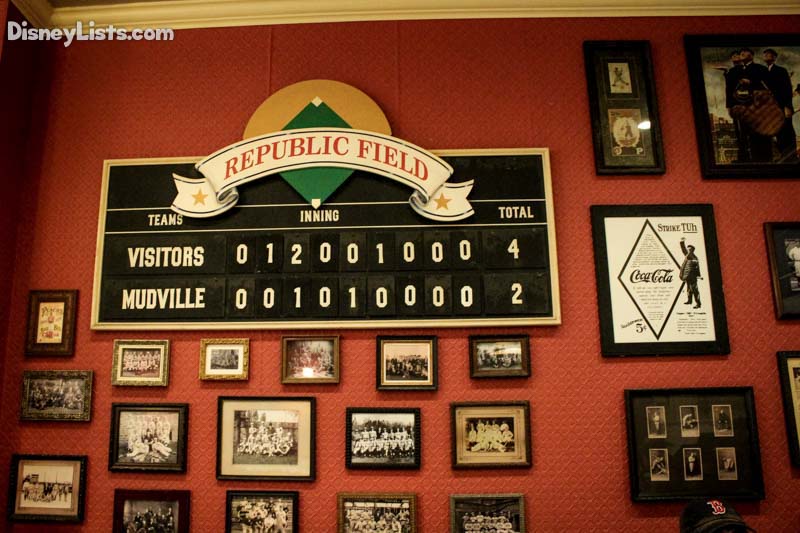 4 – Pinocchio Village Haus @ Magic Kingdom
Quaint and cute – the best words we can think of to describe Pinocchio Village Haus in Magic Kingdom's Fantasyland! Italian foods are the focus on the menu with a beloved Pinocchio themed exterior and interior. The cottage is wonderfully situated next to "It's A Small World" attraction which can even be seen once inside Pinocchio's! We love the Pinocchio art work on the walls spread throughout this restaurant and special attention to keeping the theme true through the stained-glass windows, columns, and archways. See if you can snag one of the few seats upstairs!
3 – Harambe Market @ Animal Kingdom
Forget you are visiting Orlando, Florida and be swept away to the streets of Harambe in Africa. The streets of Harambe are bustling with people trying one or more of the four distinctive food stations located within the Market. The theming here is created as an old train depot which makes Harambe Market an easy place to pick up the daily delivered goods! We give Harambe Market high marks, as it truly feels as if an African marketplace has arrived right in Animal Kingdom.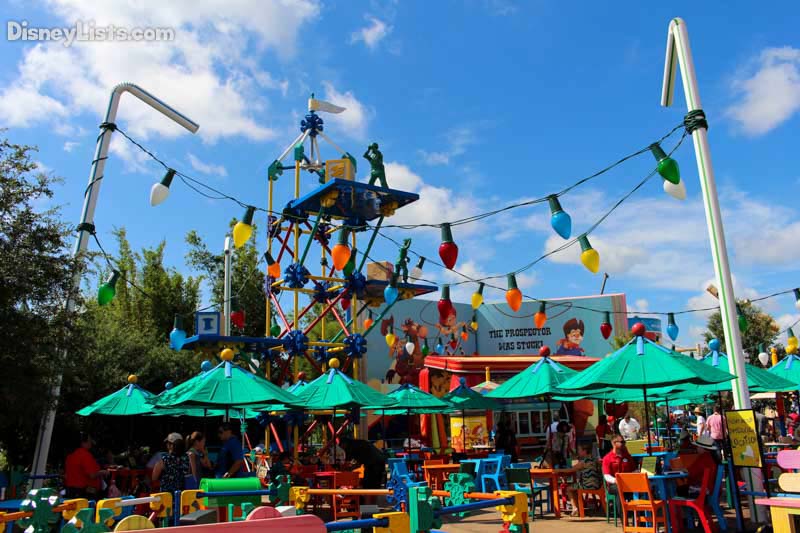 2 – Woody's Lunch Box @ Hollywood Studios
The fun extends to food in the new Toy Story Land where guests can grab a bit to eat at Woody's Lunch Box. Here, mealtime comes with a heavy helping of nostalgia, as Woody's Lunch Box serves up classic on-the-go menu items with a creative twist. Andy took a vintage Woody-themed lunch box and propped it open with a giant thermos to create a picnic for his Green Army Men. While Andy's away, Woody's Lunch Box serves up tasty meals and old-fashioned soda floats. Guests may even spot Sarge in a nearby lookout tower, standing watch for Andy's return.  Babybel cheese, the Official Snack Cheese of Walt Disney World Resort, also provides inspiration for fun chairs and tables nearby. Woody's Lunch Box and seating area are the perfect place for Andy's toys to get some food and take a break!
1 – Be Our Guest Restaurant @ Magic Kingdom
And #1 goes to Be Our Guest in Magic Kingdom! Breakfast and lunch are Quick Service options while dinner is Table Service. This is also one Quick Service location where you can make reservations for which is a nice touch as it can reach max capacity easily. While we highly prefer dinner at Be Our Guest, breakfast and lunch will at least get you in Beast's Castle to see all its splendor. Three themed rooms – Grand Ballroom, Castle Gallery, and West Wing – are all exquisitely charming and unforgettable. Truly feel like you are stepping into the Beauty and the Beast classic film!
For a no obligation, FREE Quote on a Disney vacation package, please contact our travel partner Magical Vacation Planner at 407-442-0227 (407-442-0215 for Spanish). You can also request a FREE quote online by Clicking HERE.