News
NEWS: Disney Announces Opening Date of New Disney Springs Experience

It's hard to believe but after almost four years, the transformation of Downtown Disney to Disney Springs is just about finished. One of the final new experiences, replacing Disney Quest, is preparing to open this summer. Disney has announced the opening date and more details on what we can expect to find. Catch all the details below.
NBA Experience, the brand-new destination coming to Disney Springs at Walt Disney World Resort, officially opens August 12, 2019. This announcement was made at Amway Center in Orlando, Florida, during the Orlando Magic – Philadelphia 76ers game, where Mickey Mouse made a surprise on-court appearance.
In collaboration with the NBA, Disney is developing NBA Experience as a one-of-a-kind environment packed with 13 interactive elements and hands-on activities across 44,000 square feet and two floors. NBA Experience will give guests the chance to feel like a basketball superstar.
"When we were young, we played basketball in our driveways or in the park, creating those imaginary moments of making the game-winning shot for a championship," said Stan Dodd, executive producer, Walt Disney Imagineering. "We want to take that energy and help you feel what it's like to be an actual NBA or WNBA player."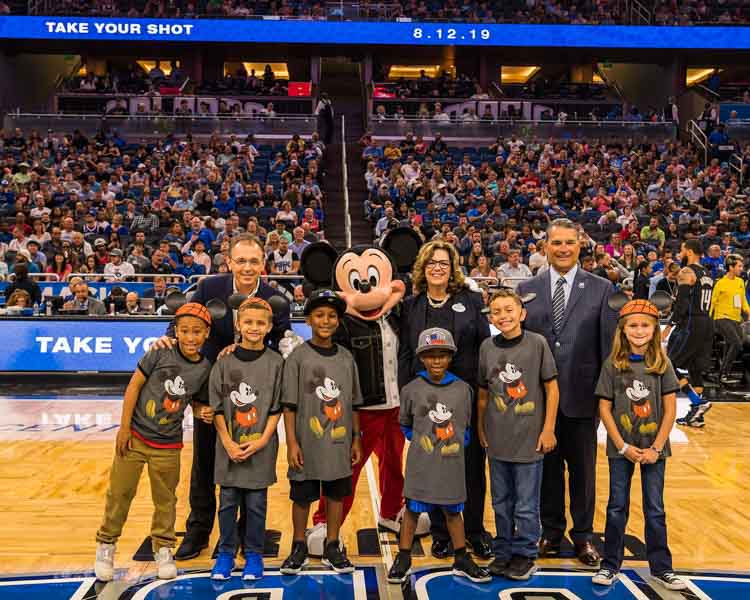 Upon entry to NBA Experience, guests will feel as if they're walking through the players' tunnel at an NBA or WNBA arena. A ticket to NBA Experience grants access to every activity, in any order guests choose, with the ability to return to stations to improve performances or learn even more about the game, players and teams they love. In addition to the competitions and games, the experience will also include a retail store featuring NBA-themed merchandise.
Additional elements of the destination include:
A slam dunk challenge, where guests can change the height of a standard 10-foot hoop to as low as seven feet to perform their own superstar moves – captured by burst photography.
An activity that tests shooting skills with spots on a court that light up as guests move from one location to another attempting to sink as many shots as possible in 15 seconds.
A way for guests to see how they stack up to some of the world's best basketball players by measuring their vertical leap, wingspan, shooting and dribbling.
Personalization for various activities with guests' names and associating the activity with their favorite NBA or WNBA teams.
Real-time technology to aggregate statistics of NBA and WNBA games and players for continuous updates, while leaderboards will track top NBA Experience performers throughout each day.
Check out the video below for more information!
RELATED ARTICLE: 11 Things to Know Before You Go to Disney Springs at Disney World
by Mike and Jamie Sylvester
When we think of Walt Disney World, our minds typically go straight to one of the four incredible theme parks filled with attractions and characters. But, let's not forget about what we call the "5thPark" of Walt Disney World… Disney Springs! When Disney Springs was "Downtown Disney", we found this area to be a great place to go shopping. Not everyone in our family is the shopping type however which left Disney Springs (Downtown Disney at the time) off our vacation plans most trips. With the recent transformation and loads of entertainment, dining, and yes – still shopping, available at Disney Springs, it has become an area we visit each and every trip. Taste new eats, explore new merchandise and be wowed by unexpected entertainment. Disney Springs is where it's at! BEFORE you embark on your adventure around the Springs, check out these 11 things you'll want to know before you go.
1 – It's Free!
Yep, no park ticket required here friends! There is no fee to enter Disney Springs, nor is there a parking fee (unless you valet). This makes Disney Springs an especially great place to visit in our opinion. Not many things are "free" at Walt Disney World, so take advantage of this opportunity and enjoy a day of exploring. Of course, you'll want to spend money on the delicious food you'll be smelling and that cute shirt you just have to have – but hey, at least you enter at no charge!
2 – Schedule a Full Day
Whether you are a local planning a quick visit or creating your itinerary for a week-long trip to Disney, you'll want to be sure you schedule a full day for Disney Springs. This wasn't always the case, but now you'll be surprised at how much time you can actually spend here! From an early brunch to a late night movie, drinks or entertainment – you'll easily be able to spend a full day at Disney Springs.
3 – Use Disney Resort Transportation
Complimentary Disney Resort transportation to and from Disney Springs is available, making the Springs easily accessible for Disney Resort guests that may or may not have a vehicle. Disney buses travel to and from each Disney Resort. Buses also travel from any of the theme parks to Disney Springs – but at the present time, you cannot catch a bus from Disney Springs to a theme park. If staying at Saratoga Springs, Old Key West, or Port Orleans Resorts, you can take a ride on a boat to reach Disney Springs. Saratoga Springs also offers a walking path which drops guests off in the Marketplace portion of the Springs.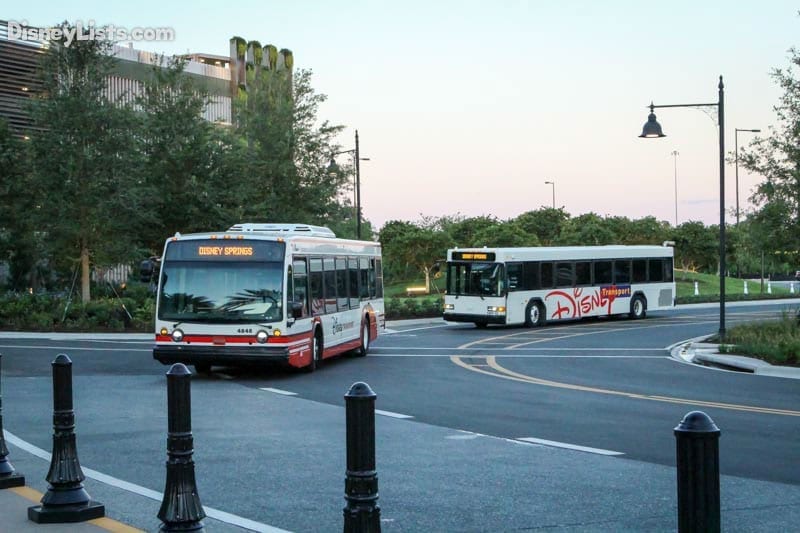 4 – The Parking Garages are "Smart"
Disney Springs currently has two parking garages (a third in the works!) – the Orange and Lime Garages. Check out a Disney Springs map to decide which garage to use according to where you plan to spend most of your time. We call them "smart" parking garages because they will actually tell you how many parking spaces are available on each floor and if there is a parking space down a particular lane. There is also some ground parking on the West Side of Disney Springs.
5 – Security is Impressive
The rule and regulations of what you can and cannot take into Disney Springs is the same as it is for all Disney theme parks. While they don't have a regular bag check as they do with the theme parks, you'll notice the high level of security throughout Disney Springs. Just think – as much security as you are seeing – there is that much if not more you aren't seeing! Measures to continually improve security across the Walt Disney World Resort property is a high priority – and it shows even at Disney Springs.
6 – You'll Want to Study the Map
Just like you would study the map for Disney's theme parks, you'll want to check out the map for Disney Springs as well. There is a total of four different sections (Marketplace, The Landing, Town Center, and West Side). Having an idea of what is in each of these areas and how to get to them easily will make your visit much more enjoyable in the long run. We use our My Disney Experience App to navigate the Springs as needed. Tip – don't forget to wear comfortable walking shoes.
7 – Dining Is No Joke!
Ok, honestly – if there is one reason to visit Disney Springs, we would say it would be for the food. The extraordinary eats in every form are incredible! This is truly a foodies oasis! Food trucks, kiosks, food carts, quick-service dining, table-service dining, and fine dining – Disney Springs has it all and in vast numbers. If you go hungry here, it's 100% your fault, and we mean that in the nicest way possible. This is the place to have your cake and eat it too! Just be sure to make dining reservations if you have your eye on a table-service restaurant you want to try. Even Disney Springs restaurants fill up fast!
8 – Shopping is Bountiful
Shopping isn't everyone's cup of tea, but we must say, Disney Springs has a way to appeal to the masses. If you want the best of the best Disney merchandise, this is the place to be. If you want to shop in an outlet style experience and practically forget you are in Walt Disney World, this is possible as well. You'll find more merchandise variety at Disney Springs then we have ever seen in a mall or outlet. Save those pennies and get ready to shop till you drop!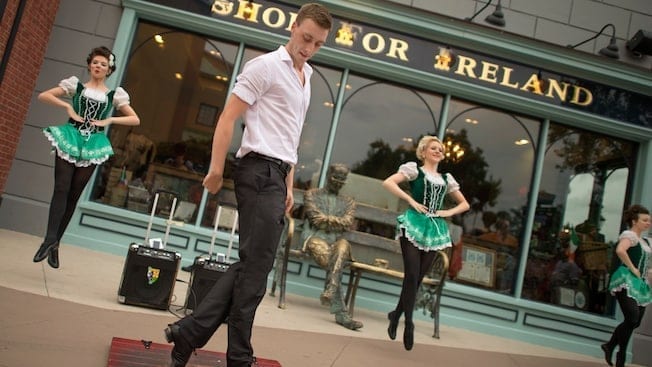 9 – Entertainment is for Everyone
Upon entering the Disney Springs areas, you may see a huge blue balloon floating in the sky. This beauty is known as Aerophile. It's a tethered helium balloon that lifts guests into the sky for outstanding views of the Walt Disney World Resort. Maybe heights aren't your thing – swing by The VOID for a virtual reality experience like to no other. We took one of our friends once to The VOID and he said it was his favorite "attraction" in all of Walt Disney World. We tried to explain that it technically isn't an attraction but he didn't care! Maybe the kids need a spin on the cute carousel or even a ride on a small train. Have a seat in the open atmosphere stage and listen to band performs and artists entertain. Or better yet – if you need some adult time, check out the drinks and nightly entertainment at the Edison. Raglan Road's Irish dancers and music, Splitsville's bowling, and real-life statues in surprise locations… you'll have no trouble finding entertainment for everyone at Disney Springs.
10 – Get Disney Perks at "Offsite" Disney Springs Hotels
Did you know there are seven resorts located on Hotel Plaza Boulevard (walking distance to Disney Springs) that receive some of the same Disney Perks you'll find while staying as a Disney Resort Guest on-site? Guests staying at a Disney Springs Hotel receive two benefits which include booking FastPass Reservations 60-days in advance (unlike other off-site guests' 30-day window) and Extra Magic Hours (access to a theme park before or after regular park hours). These are HUGE perks! Plus, typically, you can find room rates to be more affordable than you may find on-site. Check out disneyspringshotels.com for booking options and details.
11 – Newbies on the Horizon!
Lastly, we are excited to say there are many new things in the works at Disney Springs that we can expect to see in the near future. In Fall 2018, The VOID welcomed "Ralph Breaks VR" just in time for the debut of the new film, "Ralph Breaks the Internet". Another exciting experience opening Summer of 2019 and is known as the "NBA Experience". The location of the NBA Experience is taking the place of the now-closed DisneyQuest. We were sad when La Nouba at Cirque du Soleil closed, but that's not the last of Cirque du Soleil at Disney Springs! A new show is in the works. While there is no set date for the opening, this too is expected to debut in 2019. We can't wait to experience these newbies along with several others to come!
Now that that's out of the way… grab those walking shoes and some spending money, and let's go to Disney Springs!
For a no obligation, FREE Quote on a Disney vacation package, please contact our travel partner Magical Vacation Planner at 407-442-0227 (407-442-0215 for Spanish). You can also request a FREE quote online by Clicking HERE.