News
NEWS: Disney World Announces Major Policy Changes- Strollers, Smoking, Prohibited Items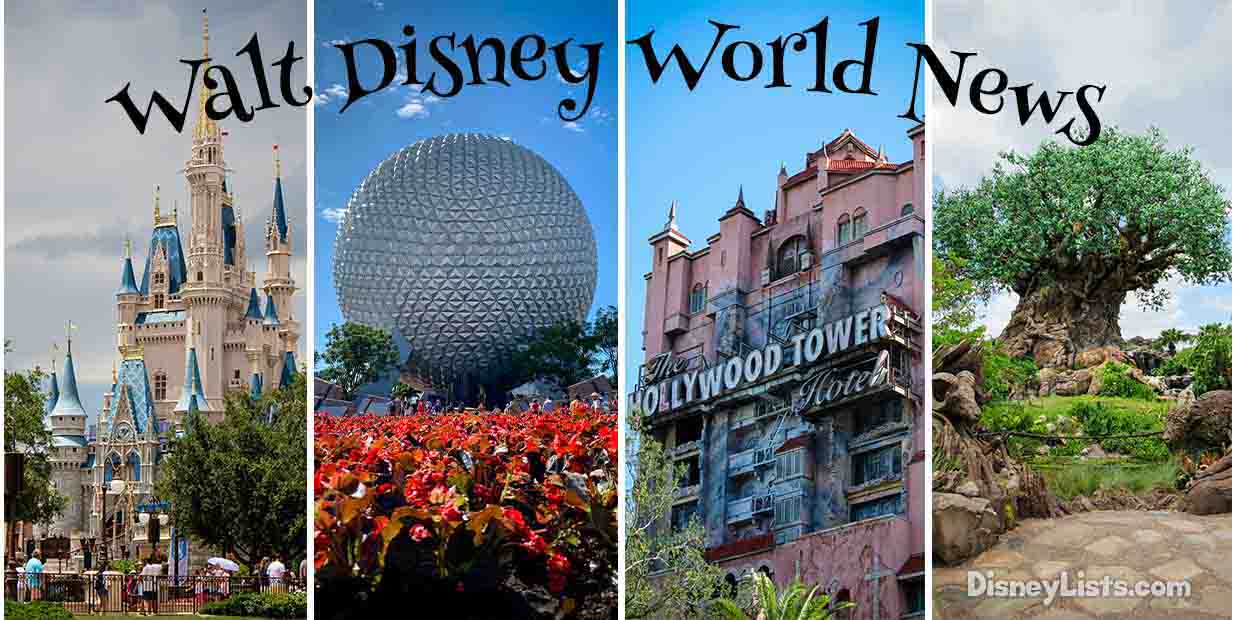 Planning is apart of any Walt Disney World vacation. It's always good to be aware of rules including what you can bring into the parks, etc. Disney is updating many policy changes on strollers, smoking areas, and prohibited items. Catch all the details below:
New policy changes going into effect soon at Walt Disney World:
STROLLERS
Beginning May 1, we are adjusting our guidelines on stroller sizes, which will require them to be no larger than 31″ (79cm) wide and 52″ (132cm) long or smaller. The good news – many of the strollers on the market, including many double jogging strollers, fit within these size guidelines. Also, just a reminder that wagons are not permitted in our parks. Beginning May 1, stroller wagons will also no longer be permitted. These updates are designed to help guest flow and ease congestion, making the parks more enjoyable for everyone.
TIP: The smaller your stroller, the easier it is to navigate and maneuver the parks. At Walt Disney World Resort, guests can rent a single or double stroller once they arrive, and they can be rented each day. Or, you can choose a Length of Stay Rental, which will save time and money.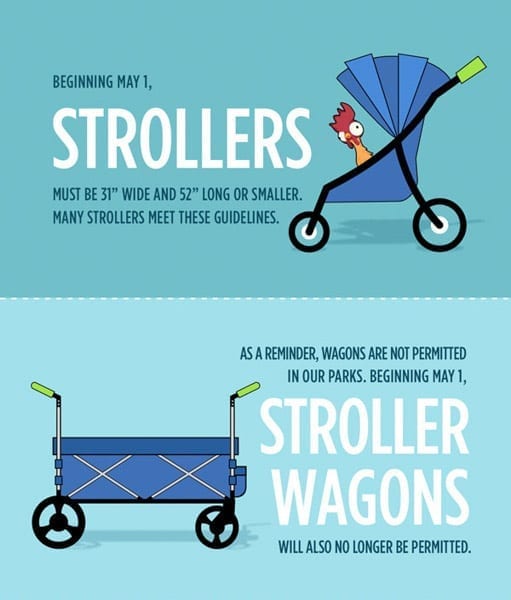 SMOKING
Also beginning May 1, smoking areas will no longer be present inside Walt Disney World or Disneyland theme parks, water parks, ESPN Wide World of Sports Complex or Downtown Disney in California.
TIP: Designated smoking areas will be available outside the entrances to the areas listed above, and at Disney Springs in Florida. For guests who have room or dining reservations, smoking areas are also available at Disney Resort hotels.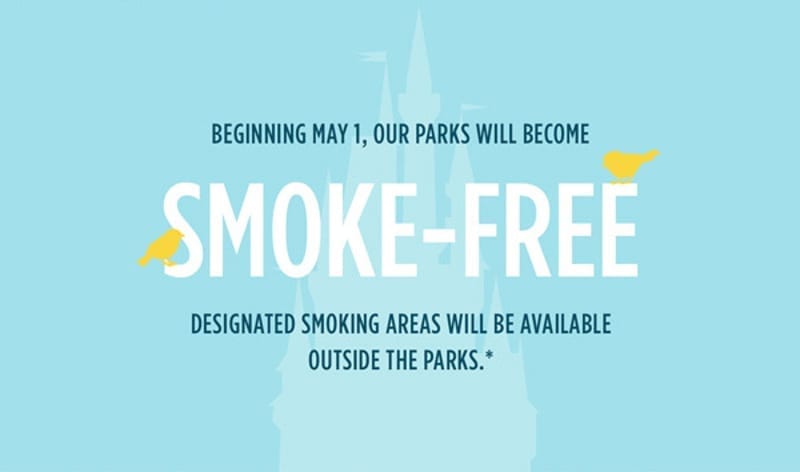 LOOSE ICE
Beginning today, if you plan to bring a cooler or cooler bag to store snacks and drinks for theme park or water park adventures, it's important to know that loose or dry ice are no longer permitted.
Disney further clarified that ice inside water bottles and even resealable bags are ok. "The new rule applies to ice that is loose within a container such as a cooler."
TIP:  We recommend guests use re-useable ice packs instead. Complimentary cups of ice are available at Food & Beverage locations inside the parks if needed.
For additional information about these updates, visit our FAQs at DisneyWorld.com/RulesFAQ and Disneyland.com/RulesFAQ.
RELATED ARTICLE: 10 Things You Actually Can't Bring Into the Disney Parks
The park rules at Walt Disney World address security risks, safety concerns, and the enjoyment of visitors. For this reason, Disney prohibits guests from bringing certain items into the theme parks. Obviously, they ban all weapons and illegal substances, but what about those things that don't seem to be a threat? You might think it silly to exclude some of the items on this list, but Disney doesn't randomly restrict them. Usually, one or more incidents involving these things warrant them being banned.
10 – Toy Weapons
While it is clear that guns and knives should be restricted (even for those with conceal carry permits), toy blasters and squirt guns seem harmless enough, right? Disney disagrees, and for good reason. Many replica toy guns appear realistic, and with the outbreak of public gun violence around the world, Disney isn't willing to take chances. To show their commitment to this policy, they have ceased selling toy guns at all theme parks. You'll notice that the entire arsenal at the Pirates of the Caribbean gift shop has disappeared.
9 – Alcohol
Though all parks but the Magic Kingdom sell alcoholic beverages to guests of legal age, Walt Disney World won't let you bring in your own. Some believe that greed motivates the policy, since beer, wine, and cocktails are expensive, but safety is the true purpose. Disney prices alcoholic beverages high and limits purchases to two drinks per person in an effort to slow down the rate of consumption. Guests bringing in their own alcohol wouldn't be subject to these controls. While Disney wants visitors to relax and enjoy themselves, they also want to prevent excessive drunkenness to avoid heat exhaustion, bad behavior, and dangerous risk-taking. There have been more than a few inebriated visitors who have demonstrated out-of-control behavior.
8 – Wheels
Wheels may make it easier for you to get around, but they often cause accidents in a crowded environment. Forget about bringing skateboards, inline skates, scooters, or shoes with retractable wheels. Wheel boards are out of the question. Wagons and other objects towed by a vehicle or pulled by a person won't be allowed in the parks, either, since they are bulky and can be difficult to control in a crowd. Naturally, some park guests will have difficulty getting around, so disabled guests may bring their own wheelchairs. Other mobility devices with at least three wheels are also permitted as long as they serve a single rider, maintain stability and balance when stopping, operate at walking speed, and aren't larger than 36″ by 52″. Larger devices are not able to safely access all areas of the park. Also, make sure your baby stroller is smaller than the indicated size if you want to bring it in, otherwise, you'll need rent one.
7 – Folding Chairs
While you're standing around waiting to watch IllumiNations or Wishes, your legs will likely ache from overuse, and you'll wish you had something to sit on.  Whether it's a beach chair, camping chair, hunting blind chair, or one of those clunky, metal chairs, leave it at home. They appear on the ban list to protect other park guests from injury as you lug it around all day. Also, they're unsightly in the magical atmosphere of Walt Disney World. Instead, look for an empty bench, though they're scarce during parades and firework shows.
6 – Baggage and Coolers
Many people like to bring their backpacks or coolers with them into the parks. Inside, they may pack food and drinks to curtail spending or store souvenirs purchased at gift shops. If you want to carry or pull your suitcase, cooler, or backpack around all day, you need to make sure it isn't larger than 24″ long by 15″ wide by 18″ high. Don't try to bring in a mountain pack or a massive cooler; they belong to hiking trails and campgrounds, not theme parks. 
5 – Selfie Sticks and Tripods
Though the Selfie Revolution has spread all over the world, it's limited at Disney theme parks by the selfie stick ban. Disney isn't trying to force you to use their PhotoPass service. The ban actually resulted from several accidents involving selfie sticks on rides. The ride's structure can easily entangle or collide with these sticks, thereby putting park guests at risk for injury. Also, Disney disallows tripods and monopods that don't fit into your bag or backpack. In particular, large tripods take up quite a bit of space, becoming safety hazards to both visitors and cast members. Sure, they work fine for snapping shots all around Walt Disney World, but what do you do with them while you're riding Space Mountain?
4 – Remote Controlled Devices
Even if your child wants to bring his Lightning McQueen remote controlled car into Magic Kingdom, he won't get it past security. The same goes for remote controlled planes and drones. Perhaps you were hoping to capture remarkable footage and aerial photos with your camera-mounted drone. No matter how fantastic the idea sounds, Disney won't permit you to do it. Despite being called "remote controlled," these devices are known for crashing and causing uncontrolled accidents.
3 – Balloons and Straws
Disney's Animal Kingdom doesn't allow balloons or plastic straws through the main gate. You won't find them inside the park, either. These items sometimes end up as litter, and even though cast members are good at cleaning the park, they can't catch everything. Animals may mistake a busted balloon or a discarded straw for a meal and suffer injury or death when they consume them. Though it may seem easy to slip these items into your pocket to avoid security, you're endangering Disney's wildlife by doing it.
2 – Glass Containers
Disney's screeners will allow you to carry water bottles or other containers into the parks, as long as they aren't made of glass. Shattered glass causes bleeding injuries to visitors, animals, and cast members when they make contact with it. It doesn't take much to drop a glass or have it bust in your bag while you're on a ride. Even when a cast member sweeps up the shards, small pieces may remain, putting others at risk for cuts and infections. Baby food jars remain the only exception to this rule, since they're made of glass, and nobody wants to starve a baby. However, consider buying plastic packs of baby food in order to avoid a mishap in the theme parks.
1 – Pets
Some of us can't get away from our pets for too long. Either the cherished animal feels abandoned and becomes depressed while we're away or we miss them dearly. No matter how much we're attached to our family pets, we cannot bring them into the theme parks. Only service animals are permitted, and they must be controlled and leashed at all times. In any case, the whole business of dealing with animal waste can be difficult. Luckily, Walt Disney World has provided a solution to the problem, offering pet lodging and care services right on the property. You can enjoy the theme parks as long as you want and then visit your pet afterward.
For a no obligation, FREE Quote on a Disney vacation package, please contact our travel partner Magical Vacation Planner at 407-442-0227 (407-442-0215 for Spanish). You can also request a FREE quote online by Clicking HERE.