No matter when you come to Walt Disney World you can be sure to find delicious food all over the resort. April is no different as there are so many great restaurants to visit and experience. Keep reading below for April's Best Bites at Disney Parks and Resorts!
Here are all the details from Disney Cast Member Alex Dunlap:
This month's Best Bites is filled to the brim with new menus, savory dishes, and even a few sweet offerings sprinkled in! At both Disneyland Resort and Walt Disney World Resort, there are new breakfast, brunch, and lunch offerings as well as some DELISH items for Dapper Days, new dishes at Lamplight Lounge, a tasty cupcake at Disney's Port Orleans Resort – French Quarter, and even a new coffee bar at ESPN Wide World of Sports.
Starting at Walt Disney World Resort, the recently-opened Jaleo by José Andrés and its attached quick-service restaurant, Pepe, are now open for lunch and dinner daily starting at 11:30 a.m. Just head on over to Disney Springs to feast on the flavors of Spain at both of these locations, offering authentic Spanish tapas, paella, sandwiches, gazpacho, and more.
Over on The Landing at Disney Springs, Wine Bar George is now serving brunch! You can now enjoy Wine Country Brunch on Saturdays and Sundays from 11 a.m.-3 p.m. Menu highlights include savory dishes such as Burrata with avocado and bacon, Wine Country Omelet with artichoke, asparagus, and an olive and tomato medley, and Eggs Benedict with house-made chicken sausage, hollandaise, and crispy polenta cake. There's also the classic Sausage Gravy and Biscuits plate which comes with house-made biscuits and bacon.
For a hearty option, the mouthwatering Steak & Eggs Frites is a great option with skirt steak, eggs, and sriracha hollandaise served over warm steak fries. On the sweet side, you'll love the French Toast dish with brioche, mascarpone, and caramel sauce. And of course, it wouldn't be a brunch without a fresh mimosa! Featured on the brunch menu is the Frozcato Mimosa made with Dole Whip Pineapple, Moscato, and prosecco – YUM. Other refreshing beverages include the Aperol Rosé Spritz, sangria, frosé with rosé, vodka, and strawberry, and the Wake Up Call with espresso-infused barsol pisco and espresso liqueur.
In addition, you can now purchase a Wine Bar George limited edition stemless cup (that keeps drinks chilled for up to 9 hours!) and your cup will be filled with Frozcato, a refreshing beverage made with Dole Whip Pineapple, Moscato, and Vodka at no charge. Your beverage will include a festive paper pineapple straw and is available daily for $35 while supplies last.
Speaking of wake up calls – if you're looking for a great way to start your day at Disney's Wilderness Lodge, Whispering Canyon Cafe recently debuted an amazing array of breakfast skillets. There's something for everyone, from the Heritage Skillet and the Carnivores Skillet to the Lighter Side Breakfast Skillet with egg white spinach frittata. Oh, and did I mention that there are MICKEY WAFFLES, too?
Next up, Joffrey's Coffee & Tea Co. has opened a brand-new location at ESPN Wide World of Sports Complex. This new quick-service location is located at the former Welcome Center and offers a variety of beverages and menu items. Sip on artisan roasted coffees, teas, and lattes as well as pastries and other specialty items including breakfast sandwiches, acai bowls, and other healthful alternatives. Exclusive to the location is "The Game Changer" – a new cold brew specialty beverage with a shot of espresso and light cream.
Last up at Walt Disney World Resort, Mardi Gras might be over, but did you know you can celebrate it year-round at Disney's Port Orleans Resort – French Quarter? In addition to classic Cajun dishes and sugar-dusted beignets, you should definitely try the Mardi Gras Cupcake. This vanilla cupcake comes filled with chocolate buttercream and is topped with vanilla buttercream icing – you can find it at Sassagoula Floatworks and Food Factory!
Okay, I don't know about you but I am DEFINITELY hungry after writing about all of this delicious Disney food! If you're wanting to try it out for yourself, you can find out more info and make reservations calling or going online. Visit the Walt Disney World Resort website or call 407 WDW-DINE (407-939-3463). Happy snacking!
RELATED ARTICLE: 10 Places to Get Brunch at Walt Disney World
by Mike and Jamie Sylvester
Whoever created the whole concept of "Brunch" is one of those brilliant minds in the world! They thought to themselves – I want breakfast AND lunch, all at the same time! And ta-da… BRUNCH was born! It's especially loved by people like us that enjoy breakfast food but sometimes crave an addition of lunch items in mix. Well, Disney recently jump on board with the whole brunch trend, opening more and more brunch specific venues throughout their resorts and Disney Springs. There are several places you can get a good mix of breakfast and lunch selections such as Cape May Café and Tusker House for examples, but if you're looking for a designated brunch line up – here are 10 places you'll want to check out for the beloved brunch.
10 – Paddlefish
Our kids have a fascination with Paddlefish as it's the great, big boat that sits on the water in Disney Springs! It truly is a beautiful sight and with recent refurbishments from Fulton's to Paddlefish, the interior received a modern and much-needed makeover. Every Sunday between 11:30 am and 4:00 pm a bunch menu is available. Brunch here is unique because while a brunch menu is offered, the lunch menu is still readily available as normal. It's really just like having extra entrees to choose from on Sundays. There is a limited list of special brunch entrees (six actually): Crab & Asparagus Benedict, Corned Beef Hash, The King Meets The Captain (peanut butter stuffed French toast), Steak & Eggs, Monte Cristo, and The Omelet. With so many great options on the normal lunch menu, brunch is really not a super exciting addition but will help get that brunch fix resolved if that's what you're craving.
 9 – STK Orlando
This one is unexpected in our opinion. You might not think of a high-end steakhouse being a brunch hot spot – but here we are at Disney Springs' STK Orlando! Brunch is severed Saturdays and Sundays between 11:00 am – 3:00 pm. The brunch menu is slightly limited but the options are definitely high-end in taste and in price. Start off your meal with Cinnamon Monkey Bread and cream cheese icing. Follow that appetizer up with an entrée such as the Fried Chicken and Funnel Cake (yep, FUNNEL CAKE), Crab Cakes Benedict, and even Lobster with eggs, bacon, and potato fries. On top of the food (and cocktails), the atmosphere is still a trendy place to be during the brunch hours with a DJ keeping the vibe moving.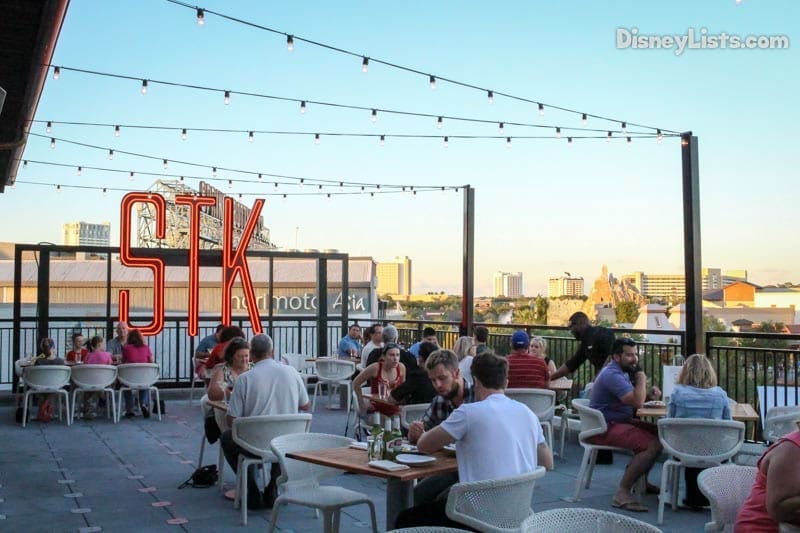 8 – Raglan Road Irish Pub and Restaurant
May your brunch be filled with good food and fantastic entertainment! You can't go wrong with "The Rollicking Raglan Brunch" held at Raglan Road Irish Pub and Restaurant in Disney Springs on Saturdays and Sundays between 10 am – 3 pm. The impressive brunch menu has a large array of items to choose from, many with a Celtic flare like an Irish Egg, Shepard's Pie, Fish and Chips, Bangers and Mash, and Pork Belly Hash. On the flip side, you can stick with American favorites like a burger your way, house salad, shrimp and chicken breast. Don't forget to add a "Boozy Brunch Beverage" into the mix – such as the Strawberry Fields Mimosa and Grapefruit and T. Price varies depending on your menu selections. Just try to make your brunch reservation for right around 12:00 pm as that's when the entertainment hits the stage with exciting Irish dancing and music.
7 – Olivia's Café
Anyone that knows us knows that Olivia's Café at Disney's Old Key West Resort is one of our absolute favorite resort restaurants. It's the perfect quiet restaurant and brunch here is the icing on the cake! Saturday and Sunday brunch is available from 7:30 am – 3:00 pm. Taste the Florida Keys with picks like banana bread French toast, crab cakes eggs benedict, and southernmost buttermilk biscuits. Plus, enjoy the usual favorites like pancakes, bacon, and salad. And finally, truly feel like you're at the beach with a Tequila Sunrise. Christmas and New Year's Brunches are also available with a holiday twist! No set buffet price here. Price varies depending on what you select from the brunch menu.
6 – Chef Art Smith's Homecomin'
Wake up! It's time to delight in "The Rise 'n Shine Brunch" at Chef Art Smith's Homecomin' located at Disney Springs. Every Saturday and Sunday between 10 am – 2 pm, foodies are welcome to devour their share of some yummy southern-style brunch selections. The brunch menu includes what Chef Art calls "feel-good" food such as Church Lady Deviled Eggs, house-made doughnuts, fried green eggs and ham, French toast, fried chicken (and doughnuts!), grits, bacon, country ham, and even rib hash. Plus, the full lunch menu is available at 11 am. Wash down all this good stuff with "Rise 'n Shine" Cocktails like Proud Mary, Princess Mimosa, and Sweet Tea Shine. This brunch is not a buffet style, so prices vary depending on which apps, entrees, sides, desserts, and beverages you decide to choose.
5 – House of Blues Restaurant & Bar
Need a spiritual boost while dining on some soul-filled food? Look no further than House of Blues in Disney Springs for the well-known Sunday Gospel Brunch. Brunch is served every Sunday from 10:30 am – 1:00 pm but the food isn't the only reasons to select this brunch option. Each Sunday, Gospel performers take the stage for a joyful Sunday celebration. The food itself is wonderfully hearty with southern favorites like BBQ, chicken and waffles, jambalaya, eggs, biscuits and gravy, and even bread pudding! An admission ticket is required however so book well in advance to purchase tickets which can cost around $45 each. The true Southern food and Gospel music will leave you shouting AMEN!
4 – Trail's End Restaurant
Saddle up and head on over to Trail's End Restaurant located at The Campsites at Disney's Fort Wilderness Resort. Here you'll find a "bountiful brunch" served up on Saturdays and Sundays only between 7:30 am – 2:00 pm. Brunch includes favorite hearty breakfast and lunch items such as Mickey and Belgium waffles, carving stations with ham and bacon, omelets made to order, pasta, fried chicken, mashed potatoes, shrimp, salads, desserts, and more. Expect to pay right around $25 per adult (ages 10+) and $15 per child (ages 3-9) for this brunch buffet – which in the world of Disney buffets, is a great bang for your buck. A perfect way to fill up before hitting the trail to the park!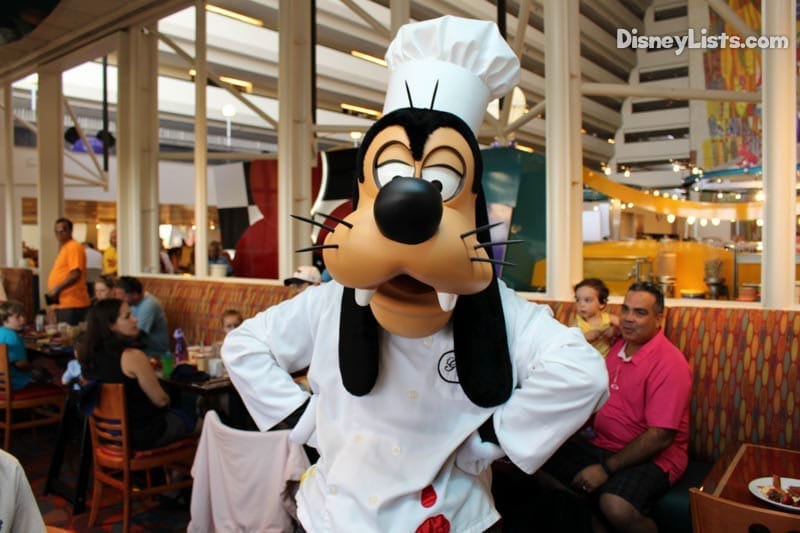 3 – Chef Mickey's
If you're looking for that perfect opportunity to dine on some great food AND visit with favorite Disney Characters while you eat – look no further than Chef Mickey's at Disney's Contemporary Resort! Chef Mickey and his pals (such as Minnie, Pluto, Goofy, and Donald Duck) are inviting you to enjoy a fantastic brunch with goodies like baked salmon, casserole, eggs, biscuits and gravy, Mickey waffles, macaroni and cheese, chicken nuggets, and plenty of sweet desserts. The brunch time frame is between 11:30 am – 2:30 pm with a price range of around $45 per adult (ages 10+) and $27 per child (ages 3-9). Be sure to book your dining reservations 180-days in advance as this popular restaurant does tend to fill up quickly.
2 – Maria & Enzo's Ristorante
What's better than a Sunday brunch? A Sunday brunch with Italian food! Enjoy an elegant brunch experience called "Buon Giorno Brunch" on Sundays from 10:30 am – 2:35 pm. For $35 per person (ages 10+) or FREE for kids (9 and under), this is a great way to taste many of the savory dishes coming out of the kitchen a Maria & Enzo's Ristorante in Disney Springs. French toast, poached eggs, carved NY strip, pastries, and even a chocolate fountain… so much goodness to fill your stomachs with. For an extra $15, you can add endless mimosas and bellinis. With the right price, right atmosphere, and right food – Maria and Enzo's is a high ranking brunch pick on our list!
1 – California Grill
Have you ever wanted to dine with spectacular views of Magic Kingdom at the very top of Disney's Contemporary Resort? Sometimes snagging a dinner reservation at California Grill is nearly impossible! It is THE place to dine after all. But – here's a perfect chance! Book a "Brunch At The Top" reservation on Sunday between 10:00 am – 1:00 pm. If the view isn't enough, the live entertainment is excellent on top of the complimentary mimosas! While some items come straight to the table (such as pastries), there are several self-serve selections such as deviled eggs, bacon and egg salad, spicy tuna tekka maki rolls, salmon, quiche, French toast, pancakes, steak and eggs, and much more. Then be sure to top off the brunch with sweet treats like macarons, chocolate truffles, and sweet minis. This brunch will cost you, however… being right around $80 per adult and $48 for kids (ages 3-11). You're paying for true elegance, unmatched cuisine, and an unforgettable experience.
Forget dinner. Brunch connoisseurs… let's do this!
For a no obligation, FREE Quote on a Disney vacation package, please contact our travel partner Magical Vacation Planner at 407-442-0227 (407-442-0215 for Spanish). You can also request a FREE quote online by Clicking HERE.