News
NEWS: Disney Announces New Fireworks Show for Mickey's Not-So-Scary Halloween Party!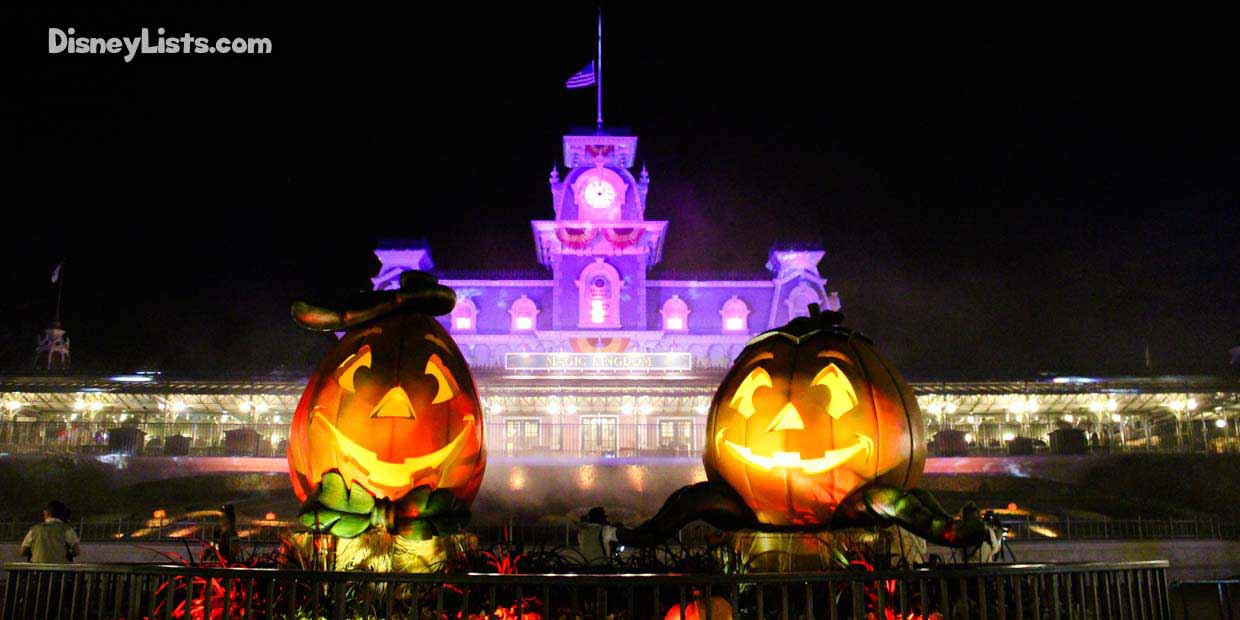 It seems like yesterday was Christmas, so it is hard to believe that fall will be here before you know it. Fall is our favorite time to visit Walt Disney World mostly because of Mickey's Not So Scary Halloween Party! And now we have even more to look forward to with this year's party! Disney has announced a new fireworks spectacular is coming! Catch all the details below!
Here are all the details from Disney Cast Member Sarah Domenech:
For the first time in 14 years, we're introducing a brand-new, Halloween fireworks spectacular to Mickey's Not-So-Scary Halloween Party at Magic Kingdom Park!
The spooky fun event, that happens on select nights from August 16 to November 1, will feature returning favorites along with all-new experiences, including the debut of an incredible new fireworks spectacular.  As you can see above in the very first scene to be released, this new show will feature state-of-the-art projection effects, lasers, lighting and dazzling fireworks that come together to tell a not-so-scary story about how anything can happen on Halloween night. The show will take guests along on a trick-or-treating adventure, where four friends – Mickey, Minnie, Donald and Goofy – find themselves drawn into a mysterious haunted house. The journey takes them from one room of the house to another, encountering dancing skeletons, waltzing ghosts and a whole series of troublemaking Disney villains.
I'm already so eager to see this new show! And if you are looking for an extra special way to celebrate the brand new show in its first year, our fireworks dessert parties are the perfect option! You can add on this experience to savor frightfully delightful treats – including chocolate-dipped strawberries, cupcakes, ice cream, seasonal fruits, cheeses, sparkling cider, signature lemonades and other ghoulish goodies – and take advantage of dedicated, dazzling views of the new Halloween fireworks spectacular.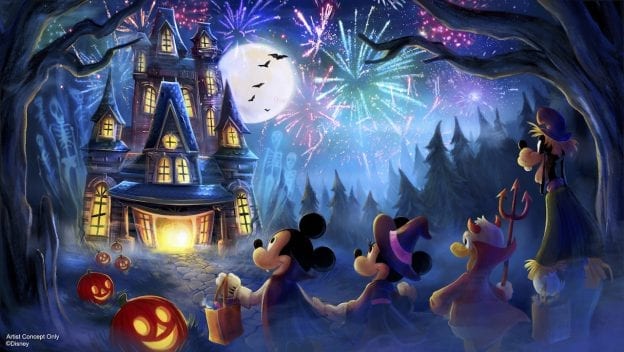 And there's more! Returning to Mickey's Not-So-Scary Halloween Party are the popular live show "Hocus Pocus Villain Spelltacular," featuring the Sanderson Sisters and Disney villains the likes of Oogie Boogie, Dr. Facilier and Maleficent.
Other returning favorites include:
·     "Mickey's Boo-to-You Halloween Parade," which happens twice nightly and features favorite Disney characters dressed in their Halloween best, along with the Disney villains and a cavalcade of fiendishly fun floats.
·     Storybook Circus Disney Junior Jam in Fantasyland is the spot for all of the young partygoers to get their groove on with favorite Disney Junior characters like Doc McStuffins and Vampirina.
·     In Frontierland, prospector Cactus-Flower Cate rounds up youngsters for the "Frontierland Costume Promenade," encouraging them to show off their costumes in a quest for the greatest treasure in the land – candy! The "Frontierland Costume Promenade" takes place just prior to each run of Mickey's "Boo-to-You" Halloween Parade.
·     Trick-or-treating throughout the park!
And last but not least, the parties will feature attraction enhancements just for the Halloween party! Mickey's Not-So-Scary Halloween Party tickets start at $79. To buy tickets, visit Disneyworld.com or call the Disney Reservation Center at (407) 827-7350.
RELATED ARTICLE: Top 13 Do's and Don'ts for Mickey's Not-So-Scary Halloween Party
by Mike and Jamie Sylvester
Mickey's Not-So-Scary Halloween Party is to DIE for! (Insert creepy laugh here!) Ok, but honestly, Mickey's Not-So-Scary Halloween Party (MNSSHP) is an absolute MUST in our opinion and by far our favorite party at Disney World. Magic Kingdom is happily haunted by Villains that don't come out too often, funny monsters, and even regular characters in their best Halloween attire. Creepy (but not so creepy) music, lights, fog, and decorations fill Magic Kingdom – setting the stage for a delightfully spooktacular time!
Keep in mind MNSSHP is a special ticketed event. This means it is not included in your normal theme park admission. In fact, if you are visiting Magic Kingdom the day of a party, you will be required to leave at 7pm, when MNSSHP officially begins if you don't have a ticket to the party. You'll notice ticket costs vary depending on select party nights and get more expensive as Halloween approaches. The good news is you don't need to have the MNSSHP ticket plus park admission. All you need is your special event ticket to gain access to the party.
Thirteen seems like the best haunting number for these top do's and don'ts for Mickey's Not-So-Scary Halloween Party (MNSSHP)!
1 – DO Dress Up
You're never too old to dress up for Halloween, and MNSSHP Party embraces that as children and adults are welcome to dress up for the party! Get creative and think of unique costume ideas that will work for your family. Since we are absolute Disney nerds, we start planning our costumes months in advance. We've gone as the Seven Dwarfs, Peter Pan characters, and most recently as the Disney Resorts! Just be assured your costumes fall within the Disney costume guidelines found here. Extra tip – remember it's Florida which can still be super hot even in late fall. We'd recommend keeping your costume light if at all possible! 
2 – DON'T Wait Until 7pm To Arrive
MNSSHP technically begins at 7:00pm, but guests are welcome to enter Magic Kingdom as early as 4:00pm, even if they don't have a normal park ticket for that day. Arriving at 4:00pm will give you plenty of time to obtain your special MNSSHP wrist band, snag a MNSSHP map, and enjoy the park before it shifts to party mode. We highly recommend scheduling a few FastPass+ selections, as FastPass+ is not available during the party. This means if you plan in advance, you can schedule three FP+ selections from 4-5pm, 5-6pm, and 6-7pm.
3 – DO Get in Line Early for Characters
Favorite Disney Characters are spread throughout Magic Kingdom, and some are more popular than others. Getting in line early for characters is especially important during MNSSHP because many of the characters are rarely seen outside of the party and even our regular favorites are dressed to impress. The most popular characters seem to be the Seven Dwarfs (ALL 7 together!) in Fantastyland, Moana in Adventureland, and Jack Skellington and Sally in Liberty Square. We also love seeing unique characters like Cruella DeVil, Queen of Hearts, Lotso Bear, Anastasia and Drizella, Tarzan and Jane, Abu, Genie, and Jafar, and even Jack Sparrow! Some of our absolute favorite "characters" that don't require a line are the Cadaver Dans. This deathly barbershop quartet sing a few times throughout the night in Frontierland and are truly worth stopping for.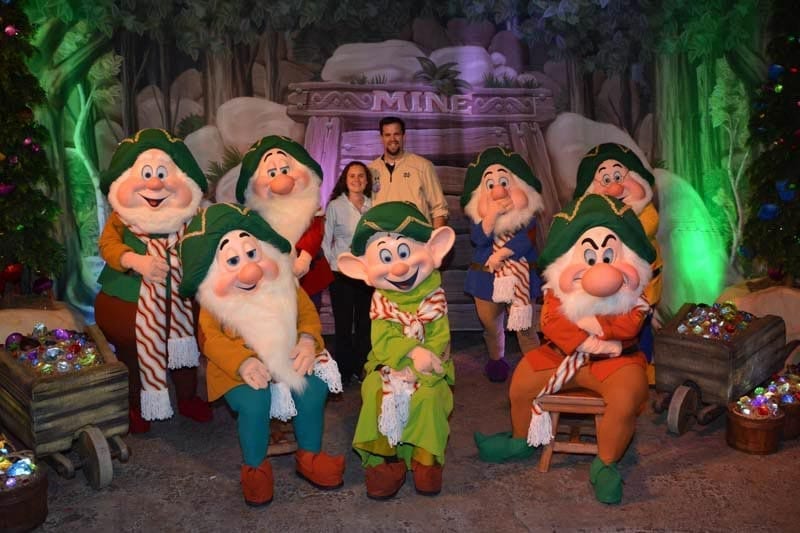 4 – DON'T Trick-Or-Treat Right Away
It's SUPER tempting to be drawn to treat locations right at the get go… BUT, we'd recommend holding out to trick-or-treat later in the night if possible. The lines at the start of the night are rather lengthy, plus you have to carry all that candy around with you through the night. No worries – Disney is NOT going to run out of candy. You will still get unbelievable loads of sweets to take home! Have an allergy? Be sure to request a teal colored trick-or-treat bag. Cast Members will fill your bag with tokens which can then be exchanged for allergy safe goodies at the Allergy-Friendly Center in Liberty Square before you decide to leave.
5 – DO Enjoy the Specialty Food and Merchandise
Sure, Magic Kingdom has no shortage of awesome snacks and memorable merchandise on a normal basis. Now, visit during MNSSHP and get ready for the specialty food and merchandise to be stepped up a notch! Specialty food includes Jack Skellton Dessert, Haunted Mansion Portrait Desserts, Pumpkin Cheesecake Dome, and Candy Corn Soft-Serve Ice Cream! Absolutely awesome sweet treats that are an extra cost, but totally worth it. Snag your favorite MNSSHP merchandise at locations like the Emporium, Big Top Souvenirs, Frontier Trading Post, and Mickey's Star Traders.  
6 – DON'T Make Dining Reservations
Now this one may be slightly controversial, so just hear us out but do what is best for you and your family! We feel like we pay enough for MNSSHP that we don't want to spend our short period of time at the party eating at a table service restaurant. We've always made sure to have a big lunch/dinner meal around 2:30pm, then snack through the evening during the party. Others, however, might prefer to make dining reservations which can be done at some wonderful table service restaurants such as Be Our Guest, Cinderella's Royal Table, or the Crystal Palace. You can even make a reservation for the HalloWishes Dessert Party which provides desserts and prime firework views at an additional price. Again, a wonderful experience but the firework viewing areas are less crowded during the dessert party than during normal park days and sweet treats are flowing for free all around the park!
7 – DO Dance with the Monsters
Oh come on, you aren't too cool to bust a move with favorite characters such as Mike Wazowski and Sulley from the film, Monsters, Inc! Head over to the Monstrous Scream-O-Ween Ball at the Rockettower Plaza Stage in Tomorrowland. Shake your hips, no matter how scary you may think you look, and enjoy dancing with these cute monsters.
8 – DON'T Watch the First Parade
Watching the Mickey's Boo-To-You Halloween Parade is our absolute favorite part of the entire MNSSHP! We're pretty certain this is the case for just about everyone else at the party because the parade route does get packed with MNSSHP guests. The costumed Cast Members, spookily detailed floats, enticing music, and of course our favorite… the Headless Horseman – just whatever you do, don't miss it! Since the party typically offers two parades, we recommend skipping the first parade. The second parade maybe later in the evening but the crowds dwindle drastically.
9 – DO Arrive Early for the Stage Show and Fireworks
As we mentioned above, the crowds for the fireworks aren't as massive at MNSSHP as you'll find during a normal theme park day. With that being said, we still suggest arriving early for both the Hocus Pocus Villain Spelltacular stage show in front of the Castle and the Happy HalloWishes Fireworks. You'll want a good viewing area close to the Cinderella Castle hub. Keep in mind, the Hocus Pocus Villain Spelltacular is typically offered three times throughout the night. The fireworks are only offered once. While the Hocus Pocus stage show is fun, it's not a huge must-do in our opinion. The HalloWishes Fireworks on the other hand should be in your plans!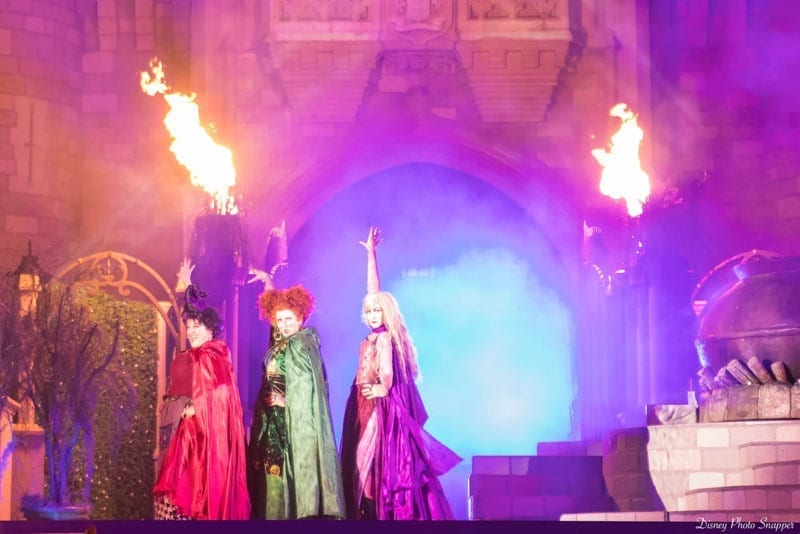 10 – DON'T Skip Magic Spot Photos
Magic Spot locations are available throughout Magic Kingdom during MNSSHP. These are especially fun because you stand and pose for a photo taken by a PhotoPass Cast Member, only to find later that something or someone magically appears in the photo with you! The Headless Horseman Magic Spot is our favorite at the entrance of the park. We also love the Magic Spot outside of the Haunted Mansion which features the Hitchhiking Ghosts. Magic Spots are especially great if you already have Memory Maker which includes all these photos for one set price.
11 – DO Pick Up the Sorcerers of Magic Kingdom Special Edition Card
Sorcerers of the Magic Kingdom is a fun and free Magic Kingdom interactive experience that allows guests to join in a quest to stop Disney Villains from taking over. Guests collect cards and visit different portals throughout Magic Kingdom to defeat the Villains. While this game can be played any day at Magic Kingdom, it's especially fun to collect the MNSSHP special edition Sorcerers card at the Firehouse on Main Street, U.S.A. One card per guest, so just show your event wristband to obtain a free card.
12 – DON'T Wait to Purchase Your Ticket
This tip may be number twelve on the list, but it's just as important as the rest! If you're considering going to MNSSHP you'll want to purchase your ticket as soon as possible. This is especially important the closer you get to Halloween as the party gets more and more popular. Pick a spooktacular night that works best for you and purchase the ticket online.
13 – DO Ask for a Rain Check
We've entered MNSSHP then have been rained out shortly after arriving. No parades, no stage shows, and navigating around in a poncho was especially hard in a costume. Since we were only in the park briefly and there was no sign of the storm letting up, Cast Members sent us to Guest Services inside the park where we were rescheduled for an upcoming party. No reimbursement, but at least we were rescheduled! In the situation of a hurricane treat, guests with MNSSHP have been given options to select from since their party night has been cancelled. While this isn't the case for every party and every situation (especially if you've been in the park enjoying the party for a while), it's worth checking in with Guest Services to see if a rain check is at all possible.
Spend a frightful night in Magic Kingdom for the Mickey's Not-So-Scary Halloween Party and be sure to tell us all about it!
For a no obligation, FREE Quote on a Disney vacation package, please contact our travel partner Magical Vacation Planner at 407-442-0227 (407-442-0215 for Spanish). You can also request a FREE quote online by Clicking HERE.