News
NEWS: Disney Announces New Rivers of Light Show Debuting This Summer
Rivers of Light is Disney's Animal Kingdom's Nighttime Spectacular is a nighttime show that features amazing technology and storytelling that is perfect for this nature loving park. Just after two years the show is getting an update this summer. Catch all the details below.
Here are all the details from Disney Cast Member Shawn Slater:
Since its introduction more than two years ago, "Rivers of Light" has enchanted Disney's Animal Kingdom guests with a nighttime pageant of beautifully illuminated lantern floats, grand theatrical imagery, a soaring musical score and innovative special effects. This summer, the next chapter of this spectacle will unfold with the debut of "Rivers of Light: We Are One."
"Rivers of Light: We Are One" introduces additional, stunning imagery and familiar animal characters from Disneynature films, along with a colorful tapestry of classic moments from Disney animation, to express our connection with animals and the emotions and milestones we all share in our journey through the great circle of life.
The music of "Rivers of Light: We Are One" weaves together the original musical score and familiar Disney themes to create a powerful arrangement that inspires and carries us through moments of discovery, fun, friendship, fear, love and family.
"Rivers of Light: We Are One" comes to the Discovery River Amphitheater at Disney's Animal Kingdom, beginning Memorial Day Weekend 2019.
RELATED ARTICLE: Rivers of Light: Everything You Need to Know About Disney's Animal Kingdom's Nighttime Spectacular
by Mike and Jamie Sylvester
After years of being a daytime only park and the only park with no signature evening show, Walt Disney World's Animal Kingdom added Rivers of Light – Animal Kingdom's first nighttime spectacular! Before you flock, soar, or stampede into Animal Kingdom with your family and friends, check out this "everything you need to know" list as you take a journey with Rivers of Light.
1 – What Exactly Is Rivers of Light?
You've heard the excited chatter, but what exactly is Rivers of Light? With nighttime entertainment doing exceedingly well at Magic Kingdom, Epcot, and now Hollywood Studios – Animal Kingdom was missing out! While keeping the animals in mind (fireworks are too loud), Animal Kingdom set in motion a nighttime show that features technology such as lasers, floating set features, water fountains, mist screens, fog, lights, fire effects and more all in an amphitheater setting. The outdoor theater is situated in Discovery River lagoon nestled between Discovery Island and Expedition Everest. In a few simple words – Rivers of Light is the newest outdoor show which tops off Disney World's already paramount entertainment options.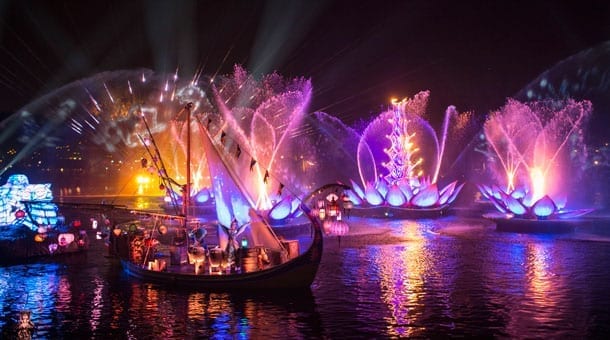 2 – The Story Behind the Show
Have you ever heard of the Northern Lights? In some cultures, these Northern Lights are known as "Aurora Borealis" or "Rivers of Light". Taking center stage, the "Rivers of Light" (represented by fireflies in flight) is a celebration of all living things – shared in four elements which are represented in four animal spirits. The four elements and their animal spirits are:
Earth – Represented by an African elephant and her calf
Water – Represented by a turtle and her baby
Sky – Represented by a great horned owl and her owlets
Fire – Represented by an Asian tiger
These animal spirit guides are brought forth in the form of four, impressively large Asian-inspired lantern floats. Mystical "storytellers" named Aseema and Aditya (with an apprentice at each of their sides) don't verbally tell a story with words, but rather set out on their vessels to bring the gift of light to the river through an incredible musical score, theatrical imagery, and detailed special effects. Watch as the Discovery River lagoon truly becomes the "Rivers of Light" as light is shown on the animals and nature being celebrated as one.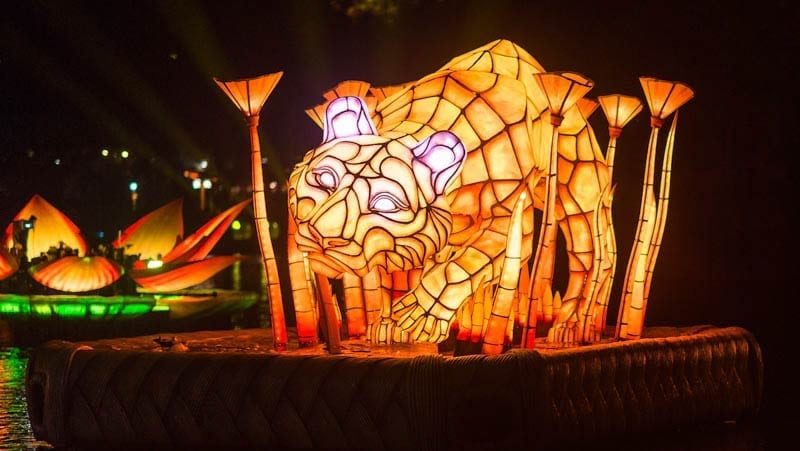 3 – Impressive Amphitheater
The moment you gaze upon the Rivers of Light Amphitheater, you'll be in awe of the intricate details that exude from something as simple as seating! In fact, the seating is part of the storytelling! Disney Imagineers say that this amphitheater is split by the Discovery River, which forms two "villages" on the two separate embankments – the Serka Zong Marketplace and the Discovery River shoreline. Join the show and you'll be seated in one of the amphitheaters 5,000 seats in these areas and even "welcomed" into the village. Be especially on the lookout for lotus flowers which are important symbols throughout Asia representing enlightenment. Even gates and doors have special symbols such as a "skydoor icon" that is supposed to protect from evil spirits. Tiered stacked stones, colored prayer flags, garlands, lanterns, tangled wire, and bells all share a sense of Eastern World culture.
4 – Keep Show Times in Mind
As with any new addition to Disney World, you can expect show times to vary depending on popularity and crowd size. There are nights where Rivers of Light is scheduled for two shows (typically 7:15 pm and 8:30 pm). Each show runs roughly 15 minutes. We have however seen on the calendar when it is scheduled for one performance per night which will likely be held at 7:15 pm. Be sure to check your Times Guide upon entrance to Animal Kingdom for the most up-to-date schedule.
5 – Check Out the Dining Package
Animal Kingdom is matching the Fantasmic Dining Package at Hollywood Studios idea with a Rivers of Light Dining Package now available. This simply means you can purchase the Rivers of Light Dining Package and receive a great meal and premium seats at the show. The two restaurants participating are Tusker House and Tiffins. Here are the package details:
Tusker House (African flavors in buffet style)
Breakfast: $39 adults / $24 children (3-9)
Lunch/Dinner: $52 adults / $32.00 children (3-9)
Tiffins (Around the globe flavors with an appetizer, entrée and dessert)
Lunch/Dinner: $68 adults / $26 children (3-9)
This is an especially great way to see Rivers of Light if you were planning to have a meal at either of these restaurants anyway! Plus, Tusker House and Tiffins are Dining Plan eligible. Plan to make your dining package reservation 180-days in advance.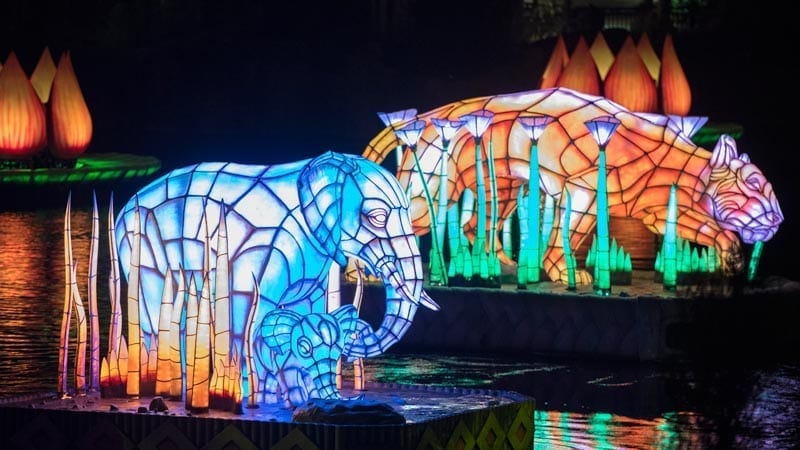 6 – Merchandise "Made with Magic"
Remember that lotus flower symbol mentioned above? You'll immediately begin to see this symbol representing the Rivers of Light through the variety of merchandise recently released. Lotus logo products include attractive apparel for both adults and children, magnets, pens, trading pins, bottle stoppers, and so much more! Annual Passholder? Check out the unique t-shirt created especially for passholders. The most exciting merchandise in our opinion is the new animal-themed totem pole wand joining the "Made with Magic" collection. This wand allows guests to become a part of the show by lighting up in time with or in the same color scheme at select nighttime spectaculars at Disney Parks.
7 – Stunning Facts
To wrap up this "everything you need to know" guide for Rivers of Light – we feel it's important to throw out some awesome facts that make Rivers of Light truly spectacular!
The Elephant, Owl, Tiger and Turtle spirit animals we mentioned above are larger-than-life lantern floats, some of which measure 15-feet-tall and 30-feet-long.
Innovative LED technology is used to illuminate the animals from within that suggests not only color, but changes in movement within these lanterns.
The four costumes worn by the storytellers have a combined 81 different embroidery motifs, 180 different fabrics and more than 250 various bead designs.
Disney's Imagineers received help from several masters of the arts such as cultural experts, costume designers, master puppet designers, musical score composers, and Disneynature filmmakers – just to name a few!
We know we aren't the only ones excited that the long-awaited Rivers of Light has finally arrived! We'll see you at the show!
For a no obligation, FREE Quote on a Disney vacation package, please contact our travel partner Magical Vacation Planner at 407-442-0227 (407-442-0215 for Spanish). You can also request a FREE quote online by Clicking HERE.