Sometimes we see commercials of Disney's competitors featuring teens that are too mature or grown up for Disney. We giggle a little as they obviously haven't had the chance to experience Walt Disney World with a teen by their side! Don't ever let someone tell you a teen is too old for Disney World. Instead, check out this list of top attractions and more that your teenager is sure to love.
1 – Magic Kingdom:
Let's kick off this list with the park many assume their teenagers will enjoy the least – Magic Kingdom. Sure, your teen may have no desire to take a ride on Dumbo the Flying Elephant, but they are never too old to experience a park full of fantasy and wishes.
The Mountains: First up – get ready to conquer the three "mountains" of Magic Kingdom which include Space Mountain, Splash Mountain, and Big Thunder Mountain Railroad. Space Mountain is a dark ride that makes you feel like you are reaching top speeds as you dip and dodge around turns you can't see coming ahead of you. Splash Mountain is a soothing ride for the most part until you realize you are about to get soaked as you drop 50 feet into the water below. Big Thunder Mountain Railroad is especially fun at night as the ride is known to move faster once the rails have been ridden on all day. Set your teen up to challenge the mountains at Magic Kingdom!
Haunted Mansion and Memento Mori: Next, head over to Liberty Square to experience a few happy haunts. Haunted Mansion likely won't scare your teen but will give them an interestingly chilling ride through the mansion. After you exit, stop by Memento Mori where your teen can try out the Spirit Photography. Take a normal photo only to see it transformed into what the ghostly after-life would look like on you!
Arcade Style Experiences: Does your teen have a competitive side? Visit Buzz Lightyear Space Ranger Spin in Tomorrowland. Your teen may be thinking, Buzz Lightyear? Really? But once they start gaining points for shooting at different targets, they'll let loose and have some fun! If they want target shooting without a ride, they can also visit Frontierland Shootin' Arcade.
The Extras: Have your teen meet Gaston over in Fantasyland! Of all the characters in Magic Kingdom, Gaston really knows how to work a crowd. He usually makes for a hilarious meet and greet and a great photo to go along with it. Lastly, be sure to let your teen try a Dole Whip… because, well, no trip to Magic Kingdom is complete without one.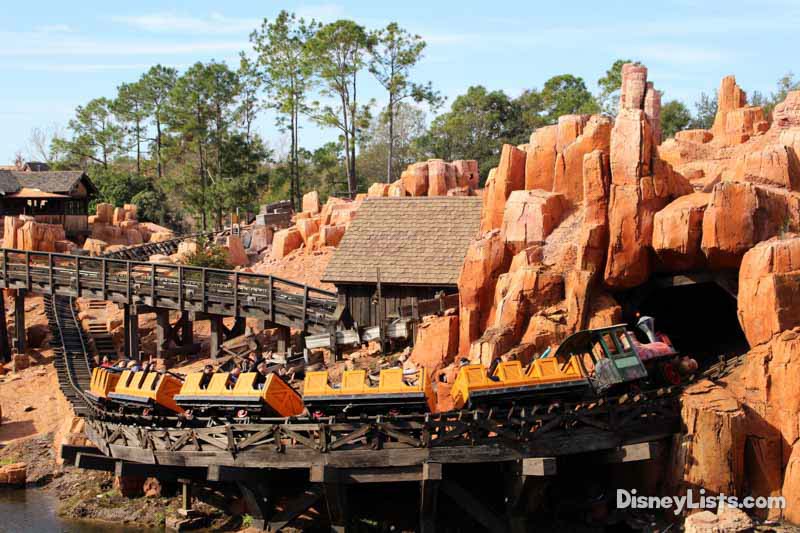 2 – Epcot:
Editor's Note: During the phased reopening of Walt Disney World, live entertainment is temporarily suspended. 
Epcot is up next! While we eagerly await the Guardians of the Galaxy themed-coaster coming soon, there is still plenty for your teen to check out in Epcot.
Top Attractions: We'd recommend three top attractions for teens at Epcot including Mission: SPACE, Soarin' Around the World, and Test Track. Mission: SPACE offers a chance for your teen to go into space. If they are a thrill seeker, have them try the Orange team instead of the Green. The Green team will orbit the Earth for a tame ride, but the Orange team really kicks you out into space… to Mars actually! There are loads of g-forces so read all the warning signs before you board for Orange Team. Soarin' Around the World will have you flying as well, but through beautiful scenes in what feels like a hang-gliding sensation. This attraction is peaceful and a favorite to experience among teens. Finally, we recommend a ride on the Test Track. Design a vehicle then board the attraction to experience the wind in your hair, as the fastest ride in all of Walt Disney World.
World Showcase Entertainment: As you stroll around the World Showcase, take time to stop and see the live entertainment. Teens may especially like The British Revolution band located in the United Kingdom Pavilion.
The Extras: If your teen has a sweet craving, make a pit stop or either (or both) Kringla Bakeri Og Kafe in Norway and Les Halles Boulangerie-Patisserie in France. Their eyes will widen at the sight of all the treats!

3 – Hollywood Studios:
Editor's Note: During the phased reopening of Walt Disney World, character greetings are temporarily suspended.
This park has undergone a major transformation recently with more to come! There is PLENTY for your teen to enjoy here.
Star Wars: This is the place to be for all things Star Wars. The newest land, Star Wars: Galaxy's Edge has two not-to-be-missed attractions. First up is Star Wars: Rise of the Resistance the most ambitious, immersive, advanced, action-packed attraction created for a Disney Park. Next, Millennium Falcon: Smugglers Run an exhilarating ride through space in none other than the Millennium Falcon! Teens can also set their sights on the galaxy with Star Tours – The Adventure Continues located in Echo Lake on the way to Galaxy's Edge. Lastly, meet the fur-covered Chewbacca in Star Wars Launch Bay. While you're there meet the Star Wars villain, Darth Vader.
Thrilling Attractions: Two of the most thrilling attractions in all of Walt Disney World are located in Hollywood Studios at the end of Sunset Boulevard. Rock 'n' Roller Coaster blares Aerosmith music as you cruise in a stretch limo coasting through the streets of L.A. at night. Kicking you out from 0 to 58 mph in 2.8 seconds is no joke even for teens! Get ready as this coaster has flips and turns you'll want to hold on for. Just across the path, you'll hear the screams coming from Twilight Zone Tower of Terror. Travel up a haunted elevator only to be dropped down, shot back up, and dropped again over and over! Easily a teen's favorite.
Toy Story Land: When your teen hears "Toy Story Land", they may be thinking it's all for kids. Toy Story Land proves differently! While it's not the extreme thrill rides mentioned above, there are two attractions here that your teen will love. The first is Slinky Dog Dash. This is a mild coaster, but incredibly fun as it smoothly soars around Toy Story Land. After you ride the coaster, head over to Toy Story Mania for an arcade-style ride. Use your shooter to aim at the interactive screen before your ride vehicle shoots you off to the next game. Points are totaled so go ahead and make a true game out of it!
4 – Animal Kingdom:
The last, but not the least of the four theme parks is Animal Kingdom. Sure, Hollywood Studios may have our top picks for thrilling attractions for teens, but Animal Kingdom is a close second.
Expedition Everest: Here your teen will love a ride on Expedition Everest. Climb aboard a roller coaster that may not take you upside-down but will have you holding on for dear life! The Yeti is roaming the mountain and you'll see when certain areas of the track have no way to go forward… you are just going to have to go backward!
Pandora – World of Avatar: The newest land in Animal Kingdom is an exceptional one! A must-do for your teen in this land is the star attraction called Avatar Flight of Passage. With the help of special glasses, motion, and triggers for all the senses, your teen can literally feel like they are flying on the back of a banshee. Be sure to stop back by Pandora at night to experience the bioluminescent lighting that fills the land with beauty at nightfall. Even your teen will be in awe!
More Attractions: If the two above aren't enough, your teen should try their chance at Kali River Rapids– the park's water attraction. Float downriver and keep your fingers crossed that you aren't the one to get soaked. Just plan on being drenched when exiting the attraction. Lastly, head over to DINOSAURfor a bumpy and scary ride on a time-rover through a meteor shower with large dinosaurs right on your tail!
5 – Outside of the Parks:
Editor's Note: During the phased reopening of Walt Disney World, Typhoon Lagoon is closed, however, Blizzard Beach is now open. Click here to learn more about visiting Blizzard Beach during the phased reopening. Both The VOID and the NBA Experience are temporarily unavailable.
But wait! Your teen doesn't have to just count on the four theme parks for their entertainment!
Water Park Attractions: Two water parks are located on Disney property including Typhoon Lagoon and Blizzard Beach. At Typhoon Lagoon be sure to let your teen have a try at the Surf Lessons which they can attempt in the Surf Pool. If at Blizzard Beach, the tallest and fastest freefall body slide around known as Summit Plummet will challenge their bravery. This one takes thrilling to the next level!
Disney Springs Experiences: Disney Springs has free admission and isn't all about the shopping. Make a stop off at The VOID for your teen to experience a Virtual Reality experience unlike any other. Looking for more gaming options? The NBA Experience opens on August 12 and will put your teen right in the middle of all the basketball action. If your teen likes a good meal and bowling, Splitsville is a perfect stop. And lastly, your teen can defy gravity by taking flight in the Aerophile – The World Leader in Balloon Flight that soars high above Disney Springs for views all over Disney property.
Should we stop there? To be honest, we could easily keep going with attractions and activities teens would love across Walt Disney World – but alas, the above are the highlights!
For a no obligation, FREE Quote on a Disney vacation package, please contact our travel partner Magical Vacation Planner at 407-442-0227 (407-442-0215 for Spanish). You can also request a FREE quote online by Clicking HERE.