On May  1, 2019, Disney's Hollywood Studios celebrated its 30thanniversary in a grand style befitting the glamorous Walt Disney World Resort theme park. The day began with Mickey Mouse and Minnie Mouse leading a cavalcade of Disney characters down Hollywood Boulevard, followed by the introduction of a new logo for the park, and then concluded with the debut of a new projection show on the iconic Chinese Theatre. Catch all the details below.
1 – May 1 Celebrations
The park's past, present and exciting future are recurring themes during the celebration. It was May 1, 1989, when Hollywood celebrities walked the grand-opening red carpet. The park has evolved since those early days when it was a fully functioning television and movie production studio providing a peek behind the scenes at moviemaking magic. Disney's Hollywood Studios today brings more stories to life in new ways, inviting guests to let their own adventures begin in immersive new worlds.
For the park's 30th anniversary celebration, Disney lifted the curtain on an array of special experiences, merchandise, culinary delights and more. Guests attending on May 1 received a special 30th anniversary button, map, and poster.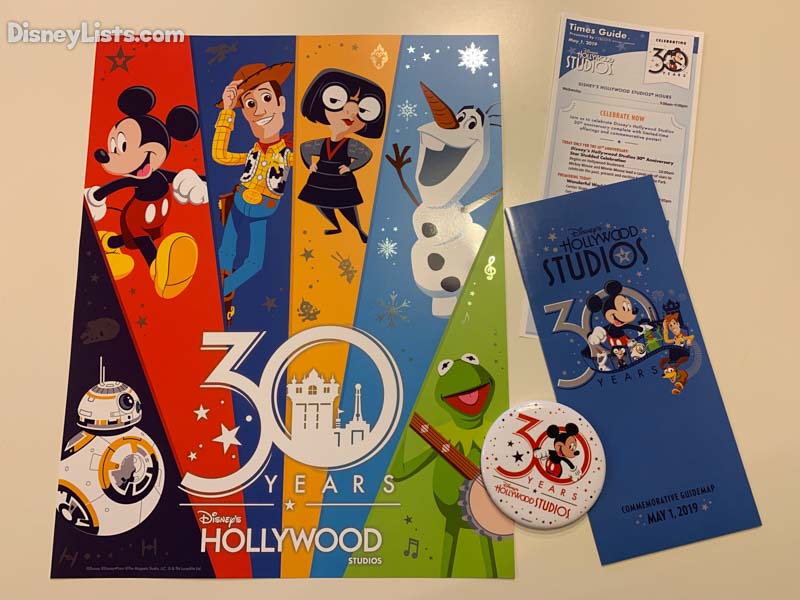 2 – A 30th Anniversary Star-Studded Celebration
In a special ceremony Wednesday morning, "A 30th Anniversary Star-Studded Celebration" rolled down Hollywood Boulevard, fittingly led by Mickey Mouse and Minnie Mouse. In addition to those true originals, the parade featured beloved characters found throughout the park, including Indiana Jones, Belle, and the Beast, Woody and Buzz Lightyear, and more.
To watch this celebration on our Instagram Account click the following links – Part 1 and Part 2
3 – New Logo Announced
The star-studded cavalcade closed with a ceremony revealing the park's new logo, which emphasizes the transformation Disney's Hollywood Studios is undertaking. The logo features the Mickey Mouse, Woody, and BB-8. We really like the new logo!
4 – 30th Anniversary Merchandise
Commemorative merchandise including trading pins, tumblers, apparel, ornaments and MagicBands (available while supplies last) are available to purchase. Lines were long for most of the day for merchandise. This morning we saw waits for merchandise up to two hours long. Cindy got in line around 12:00 pm and waited about 75 minutes to purchase her items. While some limited edition items will sell out quickly, there will be plenty of merchandise available throughout the year. We had a chance to speak with Disney Cast Member Marcella and she walked us through the event merchandise. Check out the video below.
4 – 30th Anniversary Food & Beverage
In honor of the park's 30th anniversary, guests for a limited time (not just May 1) can indulge in specially themed cocktails as well as sweets including Incredibles Macarons, Kylo Ren Cupcakes and Lightsaber Churros. Click here to learn more about the food items available. The Sorcerer Hat dessert sold out today by lunchtime but should be available soon. If you have your heart set on a particular item, best try and get the item early in the day so you are not disappointed!
5 – More Love for Toy Story
The park also announced enhancements coming to Toy Story Land. A new table-service restaurant, Roundup Rodeo BBQ, will make guests feel like honorary toys in a Western-themed play set created from a colorful mash-up of fun, oversized toys, and cardboard boxes. And in celebration of the June debut of Disney and Pixar's "Toy Story 4," a pop-up merchandise location will be opening soon at the exit of Toy Story Mania!, featuring a variety of products commemorating the new film.
6 – The Wonderful World of Animation
"Wonderful World of Animation" is a new show projected onto the Chinese Theatre. This journey through 90-plus years of Disney and Pixar animated films includes blasts from the past and rarely seen characters, as well as new favorites and classic stories. Each night, this delightful new show will lead into the popular "Star Wars: A Galactic Spectacular."
Here are more details on the new show from Disney Cast Member Shawn Slater:
"Wonderful World of Animation," the all-new cinematic nighttime experience, leverages state-of-the-art projection mapping technology and other effects to take guests on a magical journey through more than 90 years of Disney animation.
The team at Disney Parks Live Entertainment has been working on the show for months and are now in the final stages of programming and preparation. Over the last couple weeks, the production team and creative designers, representing audio, video, lighting, music and special effects disciplines, have gone in after the park is closed for the day, fine-tuning everything to get it just right for the grand opening.
"Wonderful World of Animation" begins with the one-and-only Mickey Mouse, celebrating his starring role in "Fantasia" before launching into other sequences filled with magic, family, adventure, romance, villainy and friendship. Each theme is brought to life through unforgettable moments from Disney and Pixar animated films, from "Coco" and "The Incredibles" to "Sleeping Beauty" and "Ralph Breaks the Internet."
With nods to the vast library from Disney and Pixar Animation Studios' long legacy, "Wonderful World of Animation" is the perfect complement to an exhilarating day of adventures at Disney's Hollywood Studios and a great way to celebrate the park's 30th anniversary.
We were able to catch a sneak peek of the show on April 30. Catch video of the all-new show below:
7 -So Much to Do at Disney's Hollywood Studios
There are new and upcoming experiences coming to the park that is undergoing a historic transformation, including the recently opened Toy Story Land, Lightning McQueen's Racing Academy, An Incredible Celebration on Pixar Place, and Disney Junior Dance Party! On Aug. 29, 2019, Star Wars: Galaxy's Edge will allow guests to live their own Star Wars adventures in a new, 14-acre immersive land, followed in spring 2020 by the planned opening of Mickey & Minnie's Runaway Railway, the first ride-through attraction in Disney Parks history to feature Mickey Mouse and Minnie Mouse.
RELATED ARTICLE: Top 10 Tips for the Perfect Day at Hollywood Studios
By Mike and Jamie Sylvester
Have you ever gone into a theme park and dashed all around from one ride to another, stressed about where and what to eat, literally felt like you were melting from the ridiculous heat, and quoted Toy Story's Sherriff Woody in saying "the word I'm searching for, I can't say because there are preschool toys present"?!
Ugh – it stresses us out just thinking of a day like that! But, let us tell you – it DOESN'T have to be that way. Honestly, there's a way to have a day as close to perfect as possible. Let's have a perfect day at the very popular Hollywood Studios! Just remember these 10 tips and don't forget to pack a good attitude to bring along with you.
1 – Select Headliner FastPasses in Advance
Disney Resort guest? You have a fantastic 60-days prior to arrival opportunity to select three FastPasses. If you aren't a resort guest, you'll have 30-days prior to arrival to select your FastPasses. Tier 1 FastPasses include all three Toy Story Land attractions: Slinky Dog Dash, Alien Swirling Saucers, and Toy Story Mania. Our recommendation on Tier 1 is to snag a Slinky Dog Dash FastPass for late morning. The two Tier 2 FastPasses we'd recommend are the popular Rock 'N' Roller Coaster and Twilight Zone Tower of Terror. After you finish using these three FastPasses, be sure to use your My Disney Experience App to schedule a 4thFastPass and so on until the park closes.
2 – Arrive Well Before Park Opening
This past summer, Hollywood Studios offered Extra Magic Hours for resort guests from 7am-8am. No matter what time Extra Magic Hours is offered, plan to be there about a half-hour before this time starts! Arrive closer to 6:30 am and be ready to head in at 7 am. This is prime time to be in the park which is just one of the many perks of staying at a Disney resort. This will give you an opportunity to walk straight to the two Tier 1 Toy Story Land attractions you don't have a FastPass for (Alien Swirling Saucers and Toy Story Mania), before riding the third Toy Story Land attraction (Slinky Dog Dash) with your late morning FastPass.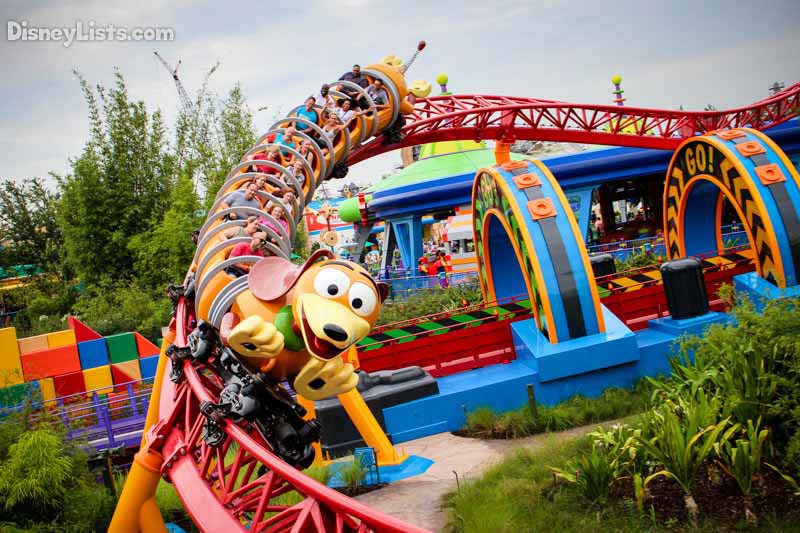 3 – Use Rider Switch
Since Hollywood Studios is the Disney park with the most "thrill" style rides, we'd highly recommend taking advantage of the Rider Switch available for families with young children that are either too short to ride these attractions or too scared. When you go to ride the attraction, see the Cast Member at the entrance of the line whether it's via the FastPass line or Standby line. Have your whole party together (including the child that doesn't want to go on the ride). The Cast Member will then place a Rider Switch (acts like a FastPass) on the MagicBand of the person not riding that is staying with the child and two other guests that want to go on the ride again with you. Our son is too young for the thrill attractions so when one of us wants to go on them we take our older daughter. When we get off, she gets to go right back on with whichever one of us stayed back with our little guy. It's a great way to not have to ride solo!
4 – Mobile Order a Quick Lunch or Snack
Time is important when it comes to a perfect Hollywood Studios day! While waiting in line for an attraction or strolling from one attraction to another, use your My Disney Experience App to Mobile Order either a quick snack or lunch. It's as simple as the push of a few buttons and you'll get to skip the long quick service restaurant lines all together! Mobile Order locations throughout Hollywood Studios include: ABC Commissary, Backlot Express, Catalina Eddie's, Fairfax Fare, PizzeRizzo, Rosie's All-American Café, and Woody's Lunch Box. We especially recommend using Mobile Order for Woody's Lunch Box. Regular waits for ordering and food pickup are normally 20-30 minutes!
5 – Plan Ahead for Showtimes
We mentioned the thrill rides above, but Hollywood Studios' shows shouldn't be missed! You'll want to plan which show to do at which time in advance because not all the shows go late into the evening. Hollywood Studios' prime shows include: Beauty and the Beast – Live on Stage, For the First Time in Forever: A Frozen Sing-Along, Indiana Jones Epic Stunt Spectacular, Star Wars: A Galaxy Far, Far Away, and Voyage of the Little Mermaid. Check out their showtimes well in the advance and make a game plan to tackle these after exploring Toy Story Land.
6 – Have a Sweet Treat!
The perfect day at Hollywood Studios must have some sweetness to it! Hollywood Studios is loaded with incredible specialty cupcakes that can be found at locations such as The Trolley Car Café. Not in a cupcake mood? Try the ever so popular ice cream sandwiches at Hollywood Scoops. Go ahead and indulge your sweet tooth!
 7 – Explore a Classic
Hollywood Studios has a few "classic" attractions that may not be as thrilling as the headliners, but are definitely a great way to cool down and take in all the attraction offers. One of our favorite attractions to explore is Walt Disney Presents. Here you'll walk through Walt's vision coming to reality and see models of what's unfolding at Hollywood Studios, such as the incoming land, Star Wars: Galaxy's Edge.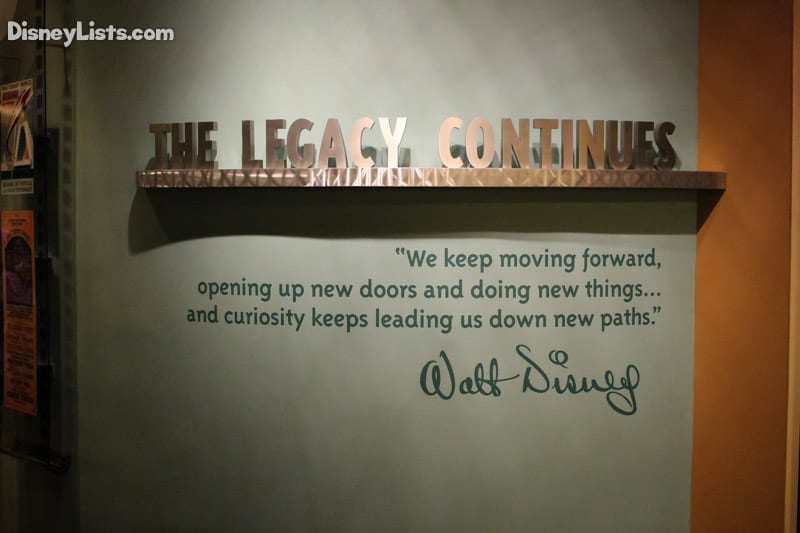 8 – Make a Table Service Restaurant Reservation
If you're planning to open and close Hollywood Studios, keep it a perfect day with a little time to rest your feet and enjoy air-conditioning. Make a table service restaurant reservation 180-days in advance of your arrival. Hollywood Studios has some of the very best restaurant theming with hot spots like Sci-Fi Dine-In Theater, 50's Prime Time Café, Hollywood and Vine, and Hollywood Brown Derby.
9 – Fantasmic! OR Star Wars: A Galactic Spectacular?
"Life's full of tough choices, isn't it?" Oh, Ursula was totally right. Hollywood Studios has two incredible nighttime entertainment options. Fantasmic! encompasses all things classic Disney. A true battle of good versus evil – and Mickey takes center stage of it all. Two shows of Fantasmic! are presented nightly. Right in between those shows is Star Wars: A Galactic Spectacular. This is an awesome projection and fireworks show that is a must for Star Wars fans in particular but we've found it's impressive to just about everyone! The trick is the Galactic Spectacular is presented one time, in between the two Fantasmic! shows. This makes it almost impossible to catch both shows because you're fighting crowds both ways. Do your best to catch as much as possible of both, but come with a plan as to which one you REALLY want to see and keep that as your focus for the nighttime entertainment.
10 – Let the Crowds Go Before You
We get it – when the park is closed, the park is closed… right? Well, not exactly! While the attractions and restaurants close down, you can still take your time shopping on Hollywood Boulevard. Let the crowds after the nighttime spectaculars push towards the exit while you stroll through the different shops and merchandise. No need to rush. Find some fun merchandise to remember your perfect Hollywood Studios day by!
For a no obligation, FREE Quote on a Disney vacation package, please contact our travel partner Magical Vacation Planner at 407-442-0227 (407-442-0215 for Spanish). You can also request a FREE quote online by Clicking HERE.