It's been a busy week at Walt Disney World! Guests will finally have more options when it comes to MagicBands with a discounted upgrade offer and the Disney Skyliner gondolas were unwrapped this week (and we have a lot of photos to share!). With the Epcot Flower and Garden Festival ending in just about three weeks, we are already looking forward to the Food and Wine Festival, and there are new details about the festival to get excited about. The anticipated NBA experience opening is coming closer, and tickets are now available! To learn about this exciting news and more, read below!
1 – Disney World Adds New MagicBand Options for Resort Guests!
MagicBands have always been a fun and convenient Disney accessory and a lifesaver when vacationing at Disney World. Until now, guests and passholders have had 8 solid colors to choose from. This week Disney announced that guests will now be able to upgrade to MagicBands featuring a variety of characters, attractions and more. Click here to learn more!
2 – Disney Characters Fill Up the Skies with Unwrapping of 55 Themed Skyliner Gondolas at Walt Disney World Resort
When Disney announced they would be adding another transportation option we got excited, and now we are one step closer to being able to experience the Disney Skyliner that is scheduled to open this fall. Until now, the gondolas have been under wraps (literally). This week, Disney finally unwrapped 55 new themed gondolas including a variety of characters and themes such as the Haunted Mansion, Beauty and the Beast, Star Wars and many more. Click here to see over 45 close-up photos of the character gondolas!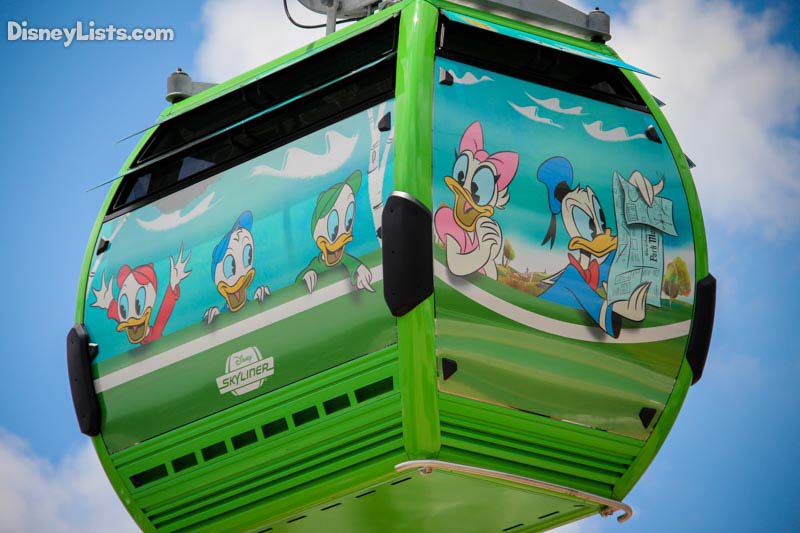 3 – New Details on 2019 Food & Wine Festival Released
We are already counting down the days until the 2019 Epcot Food and Wine Festival! It's our favorite time of year. This year's festival is going to be HUGE, and we cannot wait for everything Disney has to offer. This week, Disney released new details about the festival that you don't want to miss! Click here to learn more!
4 – Get a Taste of Magic Kingdom Park with New VIP Tour
What do we love most about Disney? Food! Food lovers, get excited because Disney has announced a brand new VIP tour that will allow you to go behind the scenes and learn all about magical treats at Magic Kindom! Click here to learn more about this tasty event!
5 – New Details About Space-Themed Restaurant Coming to Epcot
We all know and love Mission: SPACE at Epcot. Now, get ready for a space-themed restaurant! Guests will be able to blast off and enjoy an out of this world experience and the new dining location adjacent to the Mission Space pavilion. We now have an idea when we can expect the new restaurant to open. Cast Member Thomas Smith has all the details below:
Dining team, this is Mission Control. You are clear for 2019 entry into the new space-themed restaurant coming to Epcot at Walt Disney World Resort.
That's right, the new table-service experience will open later this year adjacent to the Mission: SPACE attraction! No dining experience on Earth can match what's in store, because this new restaurant will take you into outer space for incredible dining experiences that are "out of this world."
Our friends at Patina Restaurant Group will operate the new restaurant, and they've developed a menu that features internationally-inspired cuisine, more than 1,000 bottles of the world's finest wines and a wide selection of craft beer.
6 – Swish! Tickets Now Available for New NBA Experience at Disney Springs
Attention basketball fans – the NBA experience is almost here! Disney announced this week that tickets for the special sports experience are now available for purchase online. Disney Cast Member Jeremy Schoolfield has all the details you need to know below:
It's almost game time, because tickets are now officially on sale for NBA Experience at Disney Springs!
This new destination at Walt Disney World Resort will hold its grand opening Aug. 12, when you can feel what it's like to be a real basketball star by participating in 13 interactive and hands-on activities. With a ticket to NBA Experience, you will test and improve your shooting and dribbling skills, get your photo taken while throwing down a rim-rocking dunk, and feel like a top draft pick, just to name a few of the immersive opportunities that will blend Disney magic with the high-caliber action of the NBA and WNBA.
Tickets to NBA Experience are $34 (plus tax) for guests ages 10 and older, and $29 (plus tax) for children ages 3-9. They are available wherever Walt Disney World tickets are sold, including Disneyworld.com/NBAExperience or any Walt Disney World ticket window.
As you're planning your visit, I'd recommend bringing athletic shoes, as you'll be moving around quite a bit while you're inside NBA Experience (footwear will be required for entry). You'll also be asked to sign a waiver prior to starting your activities; children under 18 will need a parent or guardian to sign the waiver for them.
For more about NBA Experience, check out my previous story here. See you on the court!
Note: Tickets are valid through Dec. 31, 2020 and provide one admission to NBA Experience; re-entry is not permitted. Age restrictions may apply. For convenience, you may view the waiver in advance at disneyworld.com/expwaiver. Prices do not include tax. All tickets are non-transferable and non-refundable and exclude activities/events separately priced. The amount paid for any unused ticket may be applied toward the purchase of a new ticket at the current price.
7 – Online Reservations Now Available for Multiple Magical Experiences at Walt Disney World
In addition to amazing theme parks and resorts, Disney World offers some pretty cool special experiences for kids from the always popular Bibbidi Bobbidi Boutique to sweet pirate cruises. Reservations for these experiences can be hard to come by, but making appointments just got a lot easier! Cast Member Steven Miller has all the details below:
One thing I love about working at Disney is seeing how Cast Members find ways to make our Guests' experiences even better. A few years ago, my son was magically transformed into a brave knight at the Bibbidi Bobbidi Boutique in Disney Springs Marketplace. To make his appointment with a Fairy Godmother-in-Training, I called the Disney Reservation Center to check availability. Fast forward to today, guests now have an even easier way to make appointments for this and other experiences using a new online reservation system available on Disneyland.com and DisneyWorld.com.
With the online system, you can quickly search for available dates or make cancelations to existing appointments at the Bibbidi Bobbidi Boutique locations in domestic U.S. Parks, and at The Pirates League and Harmony Barber Shop in Magic Kingdom Park at Walt Disney World Resort.
The site will seem familiar to anyone who has made an online dining reservation as it contains a similar layout and features (just create or sign into your Disney account to get started).
Guests are strongly encouraged to make reservations in advance for these experiences as they are quite popular and appointment times fill up quickly. Reservations can be made up to 60 days in advance for the Bibbidi Bobbidi Boutique (ages 3-12) in Disneyland park. At Walt Disney World Resort, reservations can be made up to 180 days in advance for the Bibbidi Bobbidi Boutique (ages 3-12), The Pirates League, or Harmony Barber Shop.
Looking at photographs of my now teenage son from that knightly experience at the boutique, I'm reminded of how much fun we had that morning, and how Disney helped create memories for us that will last a lifetime.
8 – There's Still Time to Enjoy Flower and Garden Festival
Springtime is still in the air, and the Flower & Garden Festival is a great way to spend a spring day enjoying amazing botanical displays, sunshine, and delicious food. Saturday, May 4 we spent the day enjoying everything that Flower and Garden Festival has to offer! Click here to learn more!
9 – New Food and Merchandise to Enjoy at Walt Disney World
On our Instagram Page, we love sharing photos of the latest Walt Disney World food and merchandise. There's an awesome new celebration donut you don't want to miss, some fabulous new ears, and some great new park buttons. Disney is really making it hard to stick to a diet and a budget!
10 – Celebrating Mother's with Masai Giraffe Moms and Babies at Disney's Animal Kingdom
Disney is celebrating Mother's in the cutest way possible! By showing off their new Masai Giraffe babies and their moms! Cast Member Scott Terrell has all the details below:
As a Dad myself, I appreciate how special Mother's Day is and think it's the perfect time to take a moment to celebrate our Masai giraffe calves and their mothers at Disney's Animal Kingdom. The pitter-patter of little hooves has made for an exciting year on the Kilimanjaro Safari savanna and our animal care team. We are currently overseeing the care of five young Masai giraffes, ranging in age from newborn to 10 months old.
Here's a closer look at these babies and their mothers:
First, let me introduce you to our youngest calf Acacia and her mother, Stephanie. This little one was born in early April. She may be small now, but she's growing quickly, and if she's anything like Stephanie, she'll be very independent and bravely exploring the savanna on her own very soon.
Next, meet Violet and her mother, Willow. Violet was born on Feb. 11, and has reached all her developmental milestones under Willow's watchful eyes. She has taken well to the savanna and enjoys exploring with her mom and the other calves in the tower.
Now for the giraffe calves and moms you already know and love.
You may recall Jabari made an exciting entrance into the world in January when his mom Mara gave birth right on savanna at Kilimanjaro Safaris. Now that the duo has joined the rest of the tower, you'll find both tucked into the middle of the action. Mara likes to be near other giraffes while she bonds with her calf – so Jabari has quickly become part of the herd.
And, of course, there are the two older calves, Aella and Amira. Aella and her mom Lilywere on the front end of the baby boom in the giraffe tower in June 2018, and Amira followed shortly after, in October 2018, born to mom Kenya. The two girls love to play together, leading the other calves around the savanna, and Lily and Kenya bring a great calm presence to the entire tower, serving as excellent aunt figures to the rest of the herd.
These five Masai giraffe calves are important to the future of their vulnerable species. Found primarily in Kenya and Tanzania, there are roughly 32,000 Masai giraffes left in the wild, and their population continues to decline because of poaching and habitat loss. All of the Masai giraffe births at Disney's Animal Kingdom are the result of the Species Survival Plan (SSP), which is overseen by the Association of Zoos and Aquariums and ensures responsible breeding of threatened and endangered species.
The SSP is just one of the ways Disney is contributing to giraffe conservation. Watch this episode in our Caring for Animals video series to learn about how Disney is helping with the care and conservation of giraffes in the wild.
11 – Walt Disney World Resort announces $1.5 million investment in Valencia College for state-of-the-art culinary arts and hospitality facility in downtown Orlando
As part of Orlando Mayor Buddy Dyer's vision of an educational ecosystem in the downtown Orlando area, Walt Disney World Resort announced today a $1.5 million investment in Valencia College to help fund the transformation and relocation of their culinary arts and hospitality program. This significant investment will help fund state-of-the-art classrooms and cutting-edge equipment for students at the reimagined Walt Disney World Center for Culinary Arts and Hospitality, providing a foundation that will open many doors to the future as local students pursue their dreams.
"We're proud to support Valencia College's endeavor to provide affordable culinary and hospitality education opportunities to the downtown Orlando area, which will benefit our entire city," said Walt Disney World Resort President George A. Kalogridis. "We know how important it is to invest in our talent, and this new campus will help develop the leaders of tomorrow for our thriving and growing city."
Walt Disney World Resort has been an integral part of Central Florida's thriving culinary arts and hospitality industries for decades, employing thousands of world-class culinary chefs and hospitality leaders. With its continued commitment to fostering education and employment opportunities, Walt Disney World Resort is helping aspiring students achieve their career dreams.
The Valencia College Downtown Campus, a shared campus with the University of Central Florida, will open to students for the fall 2019 semester and serve the downtown Orlando community to improve countless lives through the power of affordable education. The campus will serve as the heart of Valencia's culinary and hospitality programming, offering degree programs, certificates, and workforce training.
"We couldn't ask for a more creative and innovative partner than Walt Disney World Resort, and we're so glad they've supported us in our efforts to provide revolutionary learning facilities and educational opportunities," said Dr. Falecia Williams, campus president of West & Downtown Campuses at Valencia College. "Our latest endeavor to reimagine our culinary arts and hospitality campus and programming will be a transformational experience for our current and future students."
In addition to the $1.5 million investment announced today, the Walt Disney World Resort culinary team has partnered with Valencia College to provide expertise and experience as they refresh their culinary arts curriculum. Valencia College also recently joined the ever-growing network of schools included in the Disney Aspire program. Along with the University of Florida, University of Denver, Bellevue, Brandman and Wilmington Universities, Disney will offer its eligible Cast members the opportunity of 100-percent paid tuition upfront for a variety of degrees and programs through Valencia College—including culinary arts and hospitality programs.
12 – Walt Disney World Resort honors top Disney VoluntEARS with $2,500 grants to gift to the nonprofit organizations of their choosing
While Walt Disney World Resort VoluntEARS are recognized year-round for their dedication to serving the Central Florida community, it's only once a year top Disney VoluntEARS receive the highly sought-after title of "VoluntEARS of the Year."
Each year, Walt Disney World Resort honors a VoluntEAR of the Year, VoluntEARS Team of the Year and VoluntEAR Family of the Year for taking their Central Florida community commitments above and beyond.
The 2019 VoluntEAR of the Year, VoluntEARS Team of the Year and VoluntEAR Family of the Year recipients were surprised and recognized in a ceremony held at Disney's Yacht Club Resort on May 7, where they each were awarded a $2,500 grant to gift to a nonprofit organization of their choosing.
"Our Disney VoluntEARS bring their compassion for others beyond theme parks and out into the Central Florida community each and every day," said Tajiana Ancora-Brown, director of external affairs at Walt Disney World Resort. "We are thrilled to celebrate this year's VoluntEARS of the Year for their amazing work supporting local children and families and leaving cherished impressions on the place we call home."
The 2019 recipients are:
VoluntEAR of the Year: Debbie Weber, assistant operations manager on the animal nutrition center management team at Disney's Animal Kingdom Theme Park
Debbie volunteered a total of 354 hours in 2018, taking her passion for nature into the Central Florida community by gathering supplies for animal care, tending to butterfly gardens at Lake Louisa State Park and educating fellow Cast Members on how to become a Disney VoluntEAR.
Debbie chose to gift her $2,500 grant to The Friends of Lake Louisa State Park, a nonprofit organization that supports the preservation and protection of Lake Louisa State Park. In addition to being a board member for the organization, Debbie also frequently dedicates her time volunteering at the 4,372-acre park
VoluntEARS Team of the Year: Revenue Management and Analytics team, Walt Disney World Resort

This team of 16 Cast Members participated in over 20 VoluntEARS events together throughout 2018 and united to support various causes, including gathering more than 800 toys for the U.S. Marine Corps Toys for Tots drive over the holiday season and collecting over 2,300 items for Walt Disney World Resort's annual Back-to-School Drive benefitting A Gift For Teaching.
The team is also an active supporter of Quest, Inc.'s Camp Thunderbird — an organization that provides caregiving and recreational programs to children and adults with development disabilities — and has identified the organization as the recipient of their $2,500 grant.
VoluntEAR Family of the Year: Jordan Baszner, education manager at Disney's Animal Kingdom Theme Park, and family

The Baszner family completed over 300 volunteer hours in 2018. Jordan works with his family to maintain a Purple Martin habitat in his family's neighborhood and educate neighbors and local students on species conservation.
Through volunteering together, the Baszner family has developed an even stronger bond and a shared passion for serving others. This inspired their decision to gift their $2,500 grant to Embrace Families, an organization that shares a long-standing relationship with Disney and offers support and services to children in need to ensure they receive the brightest possible future.
Together, the entire Walt Disney World Resort VoluntEARS team dedicated more than 360,000 hours of service to the Central Florida community.
Thanks to their many efforts and contributions, Disney VoluntEARS continue to make lasting change in the Central Florida community. Since the program was founded in 1983, Disney VoluntEARS around the world have dedicated over 8 million hours of service to those in need, bringing Disney magic into their local communities with passion and dedication.
For a no obligation, FREE Quote on a Disney vacation package, please contact our travel partner Magical Vacation Planner at 407-442-0227 (407-442-0215 for Spanish). You can also request a FREE quote online by Clicking HERE.