May the 4th, or Star Wars Day, is rapidly approaching. As they have in past years, Disney World is releasing exclusive merchandise and offering an out of this world day at Disney's Hollywood Studios. Catch all the details below.
Here are all the details from Disney Cast Member Thomas Smith:
Attention Star Wars fans! May the 4th will soon be here and today we have an early look at exclusive Star Wars merchandise and a few of the out-of-this-galaxy park experiences to celebrate the day with us at Walt Disney World Resort.
During the annual fan-proclaimed "Star Wars Day," we're releasing several new items, including a Star Wars T-shirt, drinkware and several pins.  The special themed merchandise will be available on May 4 at Disney's Hollywood Studios at Tatooine, Launch Bay and Mickey's of Hollywood and at Disney Springs at Star Wars Galactic Outpost and Star Wars Trading Post.  Merchandise available while supplies last.
Also, tickets are now on sale for a special Disney After Hours celebration of May the 4th at Disney's Hollywood Studios.  If you aren't familiar with Disney After Hours events, they're your opportunity to experience the magic of a Disney theme park for three hours after regular park hours, with limited attendance, which means little-to-no wait for attractions, experiences and character greetings.
On May 4, you'll have the opportunity to encounter Chewbacca with Rey, Kylo Ren with Captain Phasma and more at the park during Disney After Hours! There will also be themed merchandise and special treats available for purchase. You can grab Disney After Hours tickets for May the 4th right now.   *Be sure your costume fits within these park guidelines.
During May the 4th, it's also a great time to ride Star Tours – The Adventures Continue at Disney's Hollywood Studios and enjoy other Star Wars experiences, including:
Star Wars Guided Tours – The full Force of Star Wars fun happening at Disney's Hollywood Studios with this all-access tour.
Star Wars: Galactic Spectacular Dessert Party at Disney's Hollywood Studios – Enjoy Star Wars-themed desserts and drinks (with a souvenir stein) while watching the show from a reserved viewing area.
Star Wars Launch Bay: Meet Chewbacca –  Get ready for a rebel rendezvous with this legendary Wookiee warrior.
Jedi Training: Trials of the Temple – Train in the ways of The Force and put skills to the test against the Dark Side.
March of the First Order – Clear the way for Captain Phasma as this ruthless commander leads her squad of stormtroopers up Hollywood Boulevard.
May the 4th Be With You!
RELATED ARTICLE: Star Wars: A Galactic Spectacular at Disney's Hollywood Studios – What You Need To Know
by Mike and Jamie Sylvester
There is no doubt about it – "the FORCE" has officially taken over at Hollywood Studios! Star Tours, Jedi Training, Launch Bay, March of the First Order, Kylo Ren, Chewbacca… Hollywood Studios is just getting started. To cap off an excellent Star Wars filled day at the park, Hollywood Studios presents an epic nighttime experience known as Star Wars: A Galactic Spectacular. Here's what you need to know!
1 – The Basics
End your evening at Hollywood Studios by heading over to Animation Courtyard located in front of the Chinese Theater – home of The Great Movie Ride. This large area that once held the Sorcerer Mickey hat icon Hollywood Studios used to be known for, has now become a place of gathering for this 14-minute nighttime spectacular that takes place at park closing. More than just a simple fireworks show, Galactic Spectacular boasts state-of-the-art projection effects, incredible lighting, lasers, fire, hair standing on the back of our next awesome music, and yes… fireworks!
 2 – The Show
Be part of the show with the large Chinese Theater turning into a wall of projection in front of you! The palm trees that make Hollywood Studios so iconic might sway into your view slightly, but for the most part they go unseen as if they too are blending in with the show. A Galactic Spectacular is almost like a mini-movie with highs and lows that are portrayed through the projected battle scenes, favorite Star Wars character conversations, and famous character one-liners. Most importantly, the fireworks, lasers, fire, and especially the music make the Star Wars saga come to life. Catch glimpses of Tatooine's twin suns, battle droids, an asteroid field, the Death Star – plus all the favorite Star Wars characters.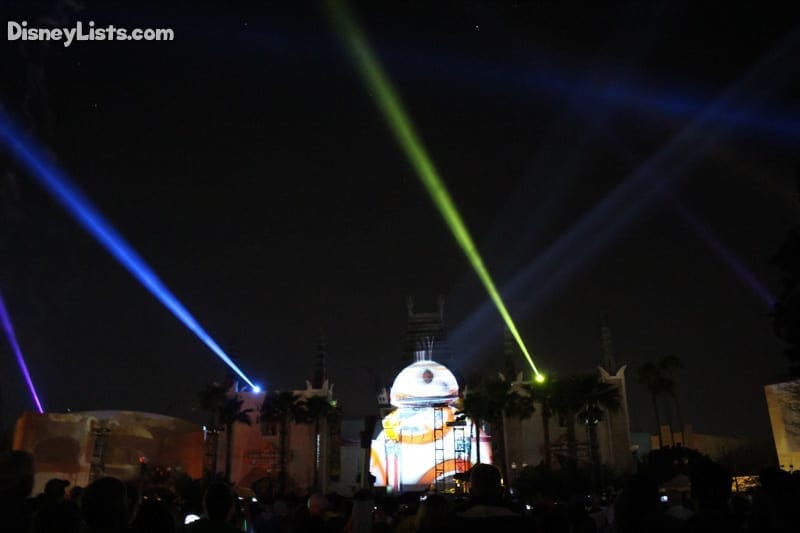 3 – Best Viewing
We highly recommend arriving 30-40 minutes in advance of the show to grab a primo standing spot directly in the center of Animation Courtyard, with the Chinese Theater in front of you. We actually don't suggest getting too close to the Chinese Theater, but rather stand towards the back of the taped viewing area. We've learned that standing back is actually better viewing because of the mass size of the projection. Your best bet is to look to see where the Galactic Spectacular Dessert Party reserved viewing space is and try to stand close to that! Before you get to your viewing area, you might want to grab a snack at one of the local spots to bring with you as a great way to distract both yourself and your party until the show begins!
4 – Dessert Party
Looking for some "out of this world" Star Wars desserts, drinks, and even better… reserved viewing location?! The Star Wars: Galactic Spectacular Dessert Party is the way to go! We personally thought this special ticketed party was an absolute blast. The food (Darth Vader cupcakes!) and drinks (alcoholic beverages included) are fantastic. Plus, being treated like a VIP is also nice every now and then! The current cost is $69 per adult (10+) and $39 for children (3-9) – with tax and gratuity included. We especially loved our souvenir Chewbacca steins! If it's in the budget or if you are just looking for a good splurge – this might just be the way to go for your family.
 5 – Galactic Spectacular VS. Fantasmic
Well, we hate to be the bearer of bad news – but sometimes in life, you have to choose! Hollywood Studios nighttime entertainment is one of these moments. We believe for crowd size reasons, Fantasmic usually takes place 30 minutes before park closing. Galactic Spectacular takes place at park closing. With Fantasmic being a 30-minute show, it is impossible to finish Fantasmic and hurry through the crowds over to catch all of Galactic Spectacular. That doesn't mean Fantasmic folks won't have a chance to catch a glimpse of the closing of Galactic Spectacular, but you can count on missing most, if not all of it. Talk it over with your party to see which show is a priority before arriving!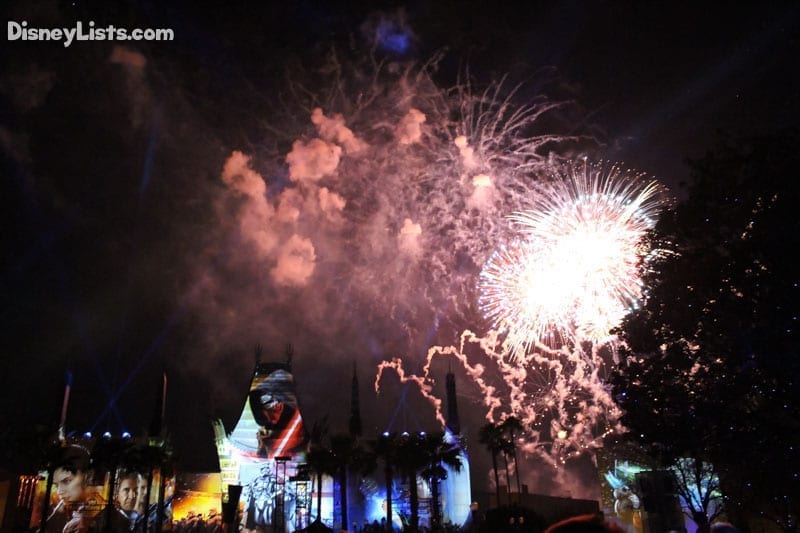 6 – Extras!
A couple of simple extras we've learned along the way…
Check showtimes well before your park arrival and again once you are in the park to be sure the schedule is as you're expecting.
The show can be canceled due to weather so check the forecast in advance. If you are having any doubts about the weather chat with a Cast Member for guidance.
The show can be heard throughout the park. So, if you've seen the show before you can jump on all the last-minute attractions you'd like while hearing the incredible Star Wars music along the Hollywood Studios streets.
Take your time when the show ends and it's time to leave the park. Let the crowd rush out and maybe even do a little shopping! Yes, the park is officially closed so you won't be able to get on rides, but they do allow time for guests to channel out of the park leisurely.
For a no obligation, FREE Quote on a Disney vacation package, please contact our travel partner Magical Vacation Planner at 407-442-0227 (407-442-0215 for Spanish). You can also request a FREE quote online by Clicking HERE.