One of the best things about a trip to Walt Disney World, aside from the rides, the hotels, and the restaurants, are the snacks! Not only are they delicious, but they look amazing- especially those that come in cute Mickey shapes or are served in souvenir containers. The best thing about Disney snacks is that you don't have to worry about making a table-service dining reservation to enjoy them; when you've worked up an appetite and want something savory right away, look no further than the nearest snack cart. When you aren't in the mood for sweets, here are some of the best salty snacks found around the parks.
9 – Popcorn
The most iconic salty snack at Disney World is, without a doubt, the popcorn. The smell hits you as you soon as you step foot in any of the parks, and it's an easy, no-mess snack to enjoy on your way to a ride, or while watching a show or parade. The popcorn is warm and full of buttery goodness, and if you don't want it served in the classic Disney popcorn box, you can take it home in a refillable, themed, collectible container (which come shaped in a variety of themes and characters, some of which are limited-edition). If you do want something sweeter, you can get caramel corn at Big Top Treats in the Magic Kingdom.
8 – Mickey-Shaped Pretzels
If popcorn is the first, then Mickey-shaped pretzels have got to be the second most iconic Disney snack. What's not to love? They're soft, chewy and warm, with a fresh sprinkle of salt on top, and they're in the shape of a giant Mickey head. You can even try them with a side of cheese. And, if you're especially adventurous, you can get a Pepper Jack Pretzel at the Lunching Pad over at Magic Kingdom. However, if you're just looking for a classic pretzel, they can be found at numerous stands all over the parks.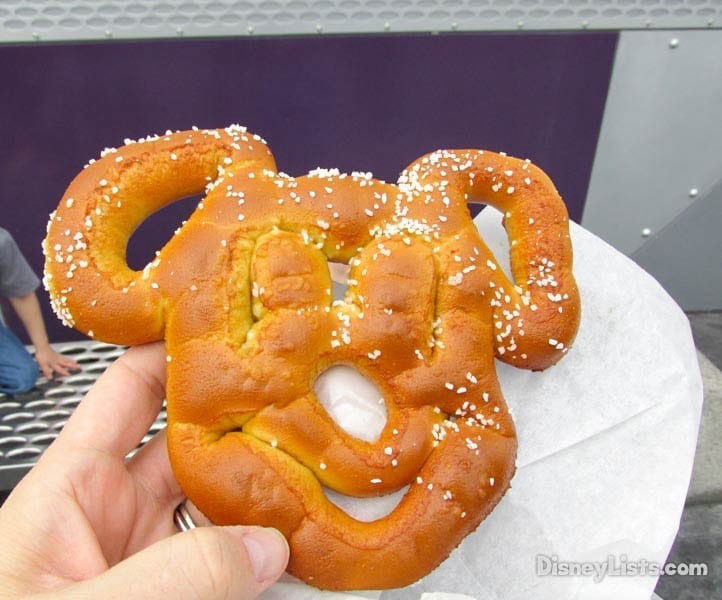 7 – Eggs Rolls  
I'll admit, egg rolls aren't the first thing that comes to mind when picturing the perfect Disney World snack. But honestly, the egg rolls served in the parks are delicious! My favorites are the kung pao beef and pork egg rolls found in Animal Kingdom at the Yak and Yeti Local Foods Café. Grab some of those with a side of sauce, take a seat on any of the benches around Asia, and watch the scenery as you chow down- it's delightful and delicious!
6 – Spring Rolls
If you can't get enough of egg rolls, then you definitely have to try the spring rolls at the cart located on the path between Pirates of the Caribbean and Jungle Cruise in the Magic Kingdom! These spring rolls are unique, and new variations are constantly being offered. My favorite is the Cheeseburger Spring Rolls, but depending on the current menu, you may also be able to try the Buffalo Chicken Spring Rolls, the Reuben Spring Rolls, and the Philly Cheesesteak Spring Rolls. These rolls are fresh, handmade, and seriously savory. I enjoyed the Cheeseburger Spring Rolls so much that I even followed a copycat recipe to make them at home! This cart is truly a hidden gem, so keep an eye out for it on your next visit to Adventureland.
5 – Fries 
Fries aren't just the perfect companion to a burger- they're also a great snack in their own right, especially if they come loaded with delicious toppings. My favorite fries are the ones at Casey's Corner, where you can pile them with onions, ketchup, and mustard. Then there are the Chili Cheese Fries at Cosmic Ray's, and the Pulled Pork French Fries at Flametree Barbecue over at Animal Kingdom. Of course, there are tons of wonderful fry menu options all over Disney World, so you have plenty of options to choose from. If you want some classic theme park food without splurging on a full quick-service meal, fries are always a good choice.
4 – Nachos
There are surprisingly a lot of nachos to be found at Disney World, and they make for a great snack if you don't have the full appetite (or time) for a sit-down meal. My favorites are the ones served at La Cantina de San Angel at the Mexico Pavilion in Epcot, but there are also the Chili-Cheese Nachos with Pico de Gallo and Jalapeno at Herbie's Drive-In (a small stand in Hollywood Studios that can be easily missed if you're not looking for it). You can definitely share these with a friend or family member, and they're great if you're just looking for something to tide you over until your table-service dinner reservation.
3 – Waffle Sandwiches
The Sleepy Hollow food cart at Magic Kingdom is a true gift. They serve the best waffle sandwiches; you can get egg and ham, or chicken waffle sandwiches for the perfect snack. They're big enough to be shared but small enough to munch on while waiting for the parade (as luck would have it, Sleepy Hollow is right on the Festival of Fantasy parade route). Every time I walk by the Sleepy Hollow cart, I swear my mouth starts watering.
2 – Roasted Corn
I love corn on the cob; I could eat it all the time, and not just when it's socially appropriate (like at picnics). Luckily, the perfect buttery, slightly charred hunk of corn can be found in Liberty Square Market at Magic Kingdom, located by the Hall of Presidents. The corn is roasted on the premises, and spices are available in shakers to make the snack all the more savory and flavorful. If you're at Animal Kingdom, you can also get roasted corn at the Harambe Fruit Market in Africa. It may sound like an unusual snack to some, but it fits the atmosphere of both lands perfectly- and it's tasty!
1 – Turkey Legs
I'll confess, I am not the biggest fan of turkey legs. But they truly are the ultimate Disney World salty snack, and no list would be complete without them. They can be found all over the parks, but my favorite place to get them is at the Fife and Drum Tavern in Epcot. It's impossible to eat a Turkey Leg and not look like you've turned into a caveman; you involuntarily hunch over while tearing strips of meat from the bone with your teeth, and wolfing them down as you stroll around the parks. Nonetheless, it's delicious and fun, and by eating a turkey leg, you officially turn into a Disney theme park professional.
For a no obligation, FREE Quote on a Disney vacation package, please contact our travel partner Magical Vacation Planner at 407-442-0227 (407-442-0215 for Spanish). You can also request a FREE quote online by Clicking HERE.