Rafiki's Planet Watch has been closed for refurbishment and we're so excited that it is about to re-open. Rafiki's Planet Watch gives the opportunity to learn more about the animals that live at Disney's Animal Kingdom, including how they are fed, their habitat and how to conserve and protect the environment that they live in. It is a great place with a lot of interactive components. In addition to a re-opening date, Disney has announced a new experience coming to Conservation Station. Catch all the details below.
Here are all the details from Disney Cast Member Scott Terrell, DVM, DACVP, Director of Animal & Science Operations, Walt Disney Parks & Resorts:
Back in March, I shared exciting news about the reopening of Rafiki's Planet Watch, Affection Section and the Wildlife Express Train this summer including all of the offerings our guests love. Today, I am happy to announce that we'll also be introducing a brand-new additional experience drawing on our rich heritage of wildlife animation, inspired by Walt Disney's own passion for ensuring his animators could develop realistic characters and settings by spending time with animals.
In honor of our celebration of Disney's "The Lion King," we'll be launching The Animation Experience at Conservation Station, offering our guests the opportunity to learn how live animals have inspired some of the most iconic characters from this beloved "tail." You'll learn more about some of the animals who call our park home and then have the chance to create a personalized piece of Disney art through an instructor-led animation class. As you'd expect, some of your favorite characters from "The Lion King" will be the stars of The Animation Experience, which will start when Rafiki's Planet Watch reopens on July 11. Come learn how to draw Simba, Zazu, Pumbaa, Timon and more. Each session will be different so be sure to visit often to complete the collection. Disney FastPass+ Service will be offered for the experience, and you can make those selections now.
For more than 60 years, animals have been a part of Disney storytelling, and these stories continue today alongside efforts to protect wildlife and habitats around the world, as well as provide immersive experiences that connect kids and families with the magic of nature. We look forward to offering guests this new way of connecting with the animals in our park in addition to the other unique opportunities that Rafiki's Planet Watch offers. We are excited to welcome guests back to greet and hug the animals at Affection Section, catch a glimpse of medical procedures at our veterinary treatment window, learn how our animal care experts prepare meals for and care for the park's animal residents and more.
RELATED ARTICLE: 5 Things You'll Love About Africa in Animal Kingdom
by Cindy E. Nykamp
It's no secret that I love Animal Kingdom Park and that I think it should be a stop on everyone's itinerary (Here's why). Once inside the park, Africa is by far my favorite section. I could spend hours here (and I have). The theming is everything and more that you expect from Disney! It feels so authentic and I love it. Here are the 5 things I love about Africa in Animal Kingdom Park.
5 – Zuri's Sweets Shop
The sweetest shopping destination at Animal Kingdom is Zuri's Sweet Shop. If you are looking for some unique and tasty desserts, then you'll want to stop in for almost 80 products, including Africa-themed cookbooks and housewares. The shop is right behind Mombassa Marketplace and across the street from Harambe Market.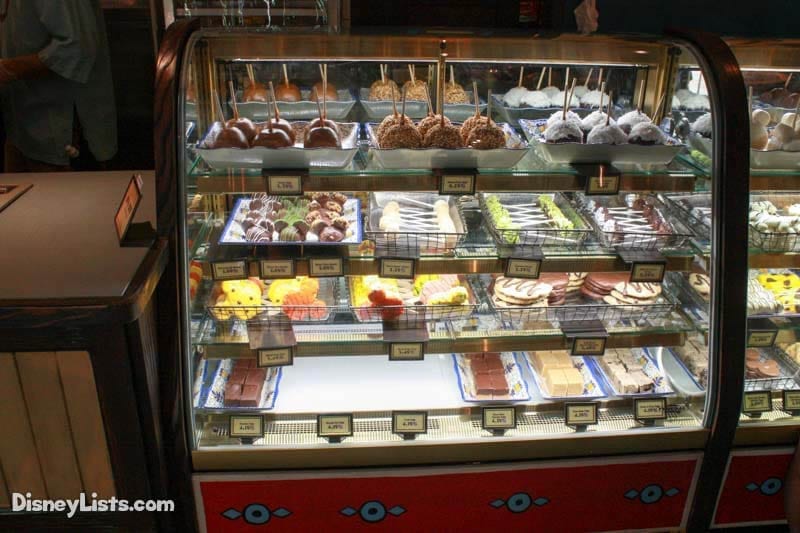 4 – Harambe Market
Harambe Market is a fantastic dining option in the Animal Kingdom and is located in the ever-expanding African Village of Harambe. Harambe Market is actually multiple food counters with unique offerings at each stand. The flavors are very similar to what you would get at either Boma of Tusker House, just in counter service form. If you are a fan of either of these restaurants, then Harambe Market will be a great quick service choice for you. For more information about Harambe Market read our 7 Things You Need to Know About Harambe Market.
3 – Gorilla Falls Exploration Trail
Kilimanjaro Safari exits into Gorilla Falls Exploration Trail where you can explore and interact with many different animals. Follow the trail along winding paths where you'll be treated to exotic animals and birds in their natural habitats. The gorilla habitat is my absolute favorite place to visit. First, you find the "family" group. You'll be treated to many young gorillas, the youngest having been born on May 1, 2019. It's such a treat to see these young gorillas close up. Follow the path over the bridge, and you'll get to observe the "Bachelor group" of five male gorillas. With playful and unique personalities, the gorilla habitat could provide hours of entertainment over and over.
Note: You do not need to ride Kilimanjaro Safari to explore the trail. To go directly to Gorilla Falls Exploration Trail, walk past the entrance to the Safari and Rafiki's Planet Watch. You'll be walking against traffic, but don't worry. The Trail entrance will be ahead on your right.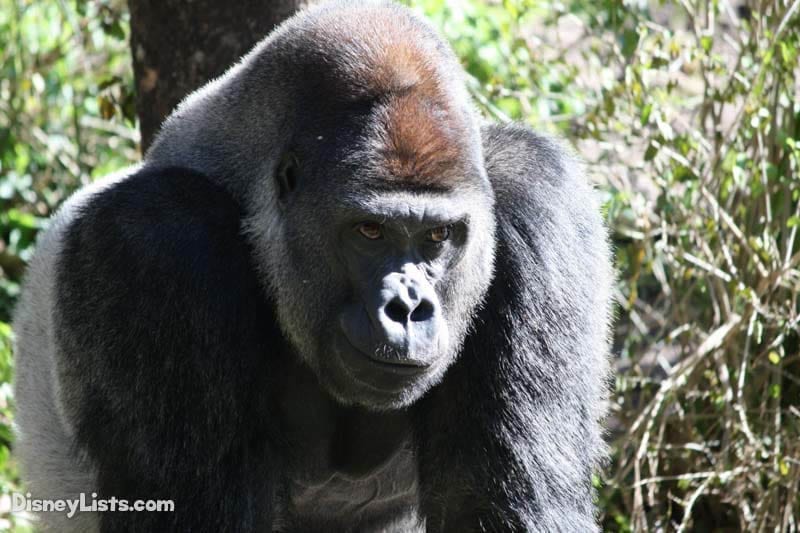 2- Kilimanjaro Safaris
If you love animals, then a ride on the Safari is a must. The sheer size of Kilimanjaro Safaris is terrific. The Safaris, at roughly 110 acres, occupies almost the same area as the entire Magic Kingdom Park. That size allows guests a way to observe and interact with animals like never before. We've had giraffes come up right to the truck. At the end of the Safari, you'll be treated to a Pride Rock type habitat with the lions. You may not see a lion every time, but when you do, it's a real treat.
Tip: Have your cameras ready by putting them in a "sport" or "action" mode. If you have more controls on your camera, then make sure to choose a high shutter speed since this ride is very bumpy! Click away, and you may find a real winner in the bunch!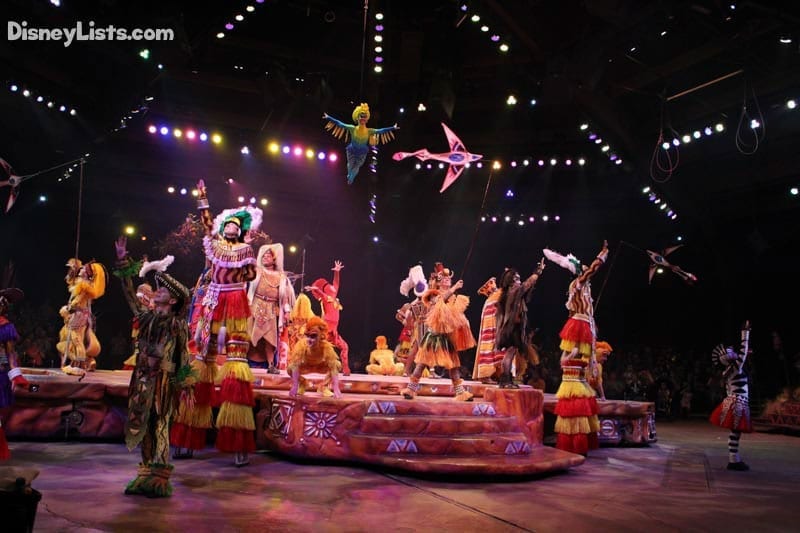 1 – The Lion King Festival
The Festival of the Lion King is hands down the best Disney show. Ever. This is not an opinion; this is a fact. 🙂 The stage production, dancing, and singing inspired a Broadway show, but this one is good enough to be on Broadway. There is something about that show that makes me cry almost every time we see it. 'Amazing' doesn't begin to describe it. You won't want to miss this incredible show!
What did I miss? What do you love about Animal Kingdom's Africa?
For a no obligation, FREE Quote on a Disney vacation package, please contact our travel partner Magical Vacation Planner at 407-442-0227 (407-442-0215 for Spanish). You can also request a FREE quote online by Clicking HERE.