We love food, and we love Florida! That's why we were thrilled to hear that the restaurants of Disney Springs are featuring a Flavors of Florida special event all summer. From now until September 4, 2019, guests will have a chance to taste some of the dishes that make Florida cuisine so unique. Check out all the details below!
Here are all the details from Disney Cast Member Alex Dunlap:
Summer is here and we're celebrating in true Floridian, citrus-lovin' style. You can come and experience Disney Springs Flavors of Florida with a delicious selection of perfectly paired Floridian-inspired plates, cocktails, and brews across 20 dining locations located throughout the popular shopping and entertainment district.
This event begins today and runs through September 2, 2019. You can even grab a guide to help you discover all of the Florida freshness. Pick it up at any participating location as well as the Disney Springs Welcome Center. See below for a list of all the menu items and restaurants!
Jock Lindsey's Hangar Bar
Fountain of Youth Chicken Wings – Chicken wings served with St Augustine Datil Pepper Sauce
Florida Rain – Orange vodka, gin, coconut rum, blue curaçao, and sour mix
D-Luxe Burger
Southern Burger – Signature beef blend patty topped with a fried green tomato, pimento cheese, lettuce, grilled onion, and bacon
Orange Crème Milkshake – Vanilla gelato blended with zesty orange flavors and topped with whipped cream
Amorette's Patisserie
Blood Orange Mousse – Lemon chiffon cake with grapefruit gelée
The Ganachery
Disney Springs Dark Chocolate Bar – Dark chocolate bar with orange
Florida Orange Ganache Square – Dark chocolate blended with Florida orange juice and orange zest
Key Lime Ganache Pop – White chocolate blended with Key lime juice and fresh lime zest covered with dark chocolate
Rainforest Cafe
Conch Fritters – Conch fritters served on a bed of tropical slaw with Key lime tartar sauce
Funky Buddha Floridian Hefeweizen
Wine Bar George and The Basket at Wine Bar George
Frozcato Cookie Sandwich – Frozen pineapple frozcato sandwiched between two house-made sugar cookies
Frozcato – Moscato, vodka, and Dole Whip Pineapple
Polite Pig
Smoked Prime Rib Slider – Prime rib served with a citrus aïoli and a green papaya horseradish slaw
Florida Mango Frosé – Fresh mango purée, sparkling rosé, and citrus
House of Blues – The Smokehouse
Key Lime Pie – Key lime pie with graham cracker crust and toasted coconut
Sandbar Sunday Islamorada Beer Company American Pale Wheat Ale
Splitsville
Tuna Poke Tower – Seared ahi tuna, spicy crab mix, diced Florida avocado, and Asian slaw stacked and served with crispy wonton chips
Strawberry Sake Spritzer – Local strawberries, lemon juice, elderflower liqueur, and rosé-infused sake garnished with a whole strawberry and mint
YeSake
Fresh Tuna Tekka Don – Fresh, customizable poke bowl featuring sushi-grade tuna on a bed steamed rice topped with avocado, cucumber, seaweed salad, tempura crunch, and a zesty house-made yuzu aïoli
Violet Sake Slushie – Japanese sake, prickly pear, and lime topped with konpeito candy
Frozen Beer Shandy – Kirin draft beer with fresh-squeezed orange juice topped with frozen Kirin foam
T-REX
Boom Boom Alligator Tacos – Flour tortillas, fried alligator, and tropical fruit slaw topped with micro cilantro and spicy garlic sauce
Sailfish Brewing Co. Tag & Release Amber
The Ice Age – Rum, blue curaçao, piña colada purée, and orange juice
Chef Art Smith's Homecomin'
Key West Shrimp Cocktail – Seasoned shrimp hand tossed with avocado, mango, cucumber, and house-made cocktail sauce and served with buttermilk crackers
Blood Orange Madras – Blood orange moonshine, freshly muddled strawberries, pineapple purée, and cranberry juice
Wolfgang Puck Bar & Grill
Local Buratta – Buratta made in Pompeo Beach, Florida served with prosciutto, arugula, fresh peaches, and basil pesto
Cigar City Jai Alai IPA
Paddlefish
Crab Ceviche – Blue crab, avocado, bell pepper, jalapeño, cilantro, and lime served with tortilla chips
Key Lime Wheat Ale
The BOATHOUSE
Steamed Peel and Eat Florida Shrimp – Florida shrimp dusted with Boathouse seasoning and served with drawn butter
Conch Republic Key Lime Wheat Ale
Pizza Ponte
A Zesty Slice of Florida – Pizza bianca with Florida lemon, ricotta cheese, arugula, and black pepper
Guyebera Citra Pale Ale
STK Orlando
Market or Fresh Catch Ceviche – Ceviche with passion fruit, lime, and chilis
La Playita Lager
Paradiso 37, Taste of The Americas
Florida Scorpion Shrimp Paella – Colossal gulf shrimp, mussels, pancetta, peas, crushed red pepper, tomatoes, and savory Key lime butter tossed with Calasparra rice and broiled to perfection
Sunset Margarita – Tequila, cointreau, and fresh-squeezed Florida orange juice
Planet Hollywood
Citrus Kale Salad – Superfood blend of kale, julienned broccoli, slivered Brussels sprouts and cabbage, feta, fresh grapefruit and oranges, cranberries, sunflower seeds, and agave dressing
Key Lime Martini – Vodka, ice cream, fresh lime juice, and simple syrup with a graham cracker crumbs rim
Morimoto Asia
Orange Gator & Waffle Cone – Tempura alligator wok-tossed with a sweet Florida orange sauce and served in a house-made waffle cone
Pulp Friction Grapefruit IPA
Come on out and celebrate summer with us and enjoy Disney Springs Flavors of Florida. Remember, this event runs through September 2, 2019, and you won't want to miss it! For more information and to make reservations, visit the Walt Disney World Resort website or call 407 WDW-DINE (407 939-3463).
RELATED ARTICLE: Top 10 Quick Service Restaurants at Disney Springs
by Mike and Jamie Sylvester
Visiting Disney Springs? Well, we hope you're hungry! With over 60 eateries, we are sure you'll find the food you're craving among the vast shopping and entertainment available at Disney Springs. If you don't want to take the time for a table service restaurant or simply didn't get the dining reservation you were hoping for, check out the over 25 quick-service venues offered. This is a perfect way to get your meal quickly but take time to savor the deliciousness! While it's tricky to narrow the list down – check out our top 10 picks for quick service restaurants at Disney Springs.
10 – The Basket at Wine Bar George
Wine Bar George is a fairly new table service restaurant to The Landings area of Disney Springs. But, if you're looking for the quick service version of this European eatery, The Basket should be on your dining list. Sandwiches like the Goat Cheese, Fig, Arugula and Ficelle take the taste buds to the next level. Or get one of the Bites and Boxes with items like Crispy Mac and Cheese Bites or Chicken Skewer. You can even select "The Basket" menu item which is like an actual picnic with sandwiches, bites, cookies, and wine all to go. It's a quick service stop that will have you feeling like you are at a marketplace in Europe!
9 – Wolfgang Puck Express
Looking for variety? Look no further than Wolfgang Puck Express located in the Marketplace of Disney Springs. Serving breakfast, lunch, and dinner – foodies will especially enjoy the different bites available here. At breakfast, we'd recommend the Belgium Waffle, Corn Flake French Toast or even one of their omelets. Lunch and dinner are where it gets hard to choose with menu items including sandwiches, wraps, soups, pizza, salmon, meatballs, pasta, chicken, meatloaf and more! This isn't your typically quick-service stop as the menu and food are made to impress as if it were a table service restaurant.
8 – The Polite Pig
No worries, you don't have to be polite with your appetite here! Let that growling stomach have it with some Florida inspired barbecue. Located in Town Center, you'll smell The Polite Pig before you see it. Barbecue is what's on the menu and it ranges with all sorts of meats onto your plate in a sandwich, salad, soup, rib, and even side form. The barbecue here has a southern taste where low and slow cooking is ready for your indulgence. Oh, and let's not forget to mention the Bourbon Bar because barbecue and bourbon is the new peanut butter and jelly!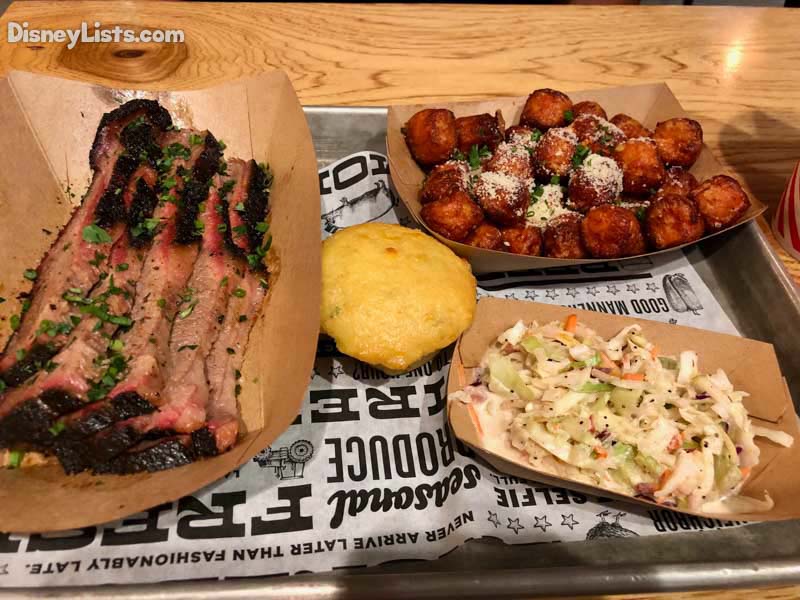 7 – Morimoto Asia Street Food
Chances are if you've strolled through Disney Springs, you've spotted the stunning Morimoto Asia Restaurant located in The Landing. While this table service restaurant is one worth snagging a reservation for, sometimes you just need to eat on the move. Get your Pan-Asian dishes at the Morimoto Asia Street Food. Ramen, egg rolls, sushi, and noodles – you're sure to get that Asian flavor fix in a quick-service way.
6 – Earl of Sandwich
One of the oldies on this list… Earl of Sandwich has been located at Disney Springs Marketplace before it was known as Disney Springs! You know it's an amazing quick service restaurant when it's been around for this long yet still draws a crowd. Standing the test of time, the hot and cold sandwiches, wraps, salads, soups, and easy grab and go sides and drinks at Earl of Sandwich make it a place we stop at regularly when visiting Disney Springs. Have some breakfast, lunch or dinner on the go, or take a break at one of their many tables located inside or outside. Earl of Sandwich remains a family favorite of ours for taste, variety, and convivence.
5 – Chicken Guy
Why, hello Guy Fieri! The Food Network Channel Star and Chef has stepped into Disney Springs with a bang. Not only are we fans of what he's done with the Planet Hollywood renewal, but we must also say he hit it out of the park with Chicken Guy located just below Planet Hollywood in Town Center. "Welcome to flavor town" as Chicken Guy is the place for all things chicken and the opportunity to mix and match flavorful sauces along the way. The sandwiches, chicken tenders, and salads are on the affordable side as well, which surely makes it all taste even better. We especially love the Sauce Boss Sandwich and always feel a need to wrap up our meal with one of Chicken Guy's Triple Double Mint shakes.
4 – D-Luxe Burger
Any burger fans out there? Located in Disney Springs Town Center, D-Luxe Burger is a burger fan's place to be. The meat is fresh, seasoned and cooked perfectly every time we eat at D-Luxe. Our only complaint here is trying to select which burger to throw down! If you aren't in the mood for one of their signature burgers, you can select a chicken sandwich. Around for breakfast? D-Luxe has you covered with breakfast items like their Classic Breakfast Burger. The burgers are obviously the stars here, but the fries and shakes are worth enjoying as well.
3 – 4 Rivers Cantina Barbacoa Food Truck
Food trucks are what's trending right now! Thankfully, Disney Springs has upped their food truck game with the addition of 4 Rivers Cantina Barbacoa Food Truck. 4 Rivers is located on the Marketplace side of Disney Springs and can't be missed with their vibrant, red colored truck. If you get anything here, we'd recommend trying the Taco Cone! You read that right. It's a taco, shaped in a cone for easy holding. You pick your fillings and they create the masterpiece. If the Taco Cone is too much of a challenge, enjoy their nachos, quesadilla, or bowls. Someone put a boot on this truck – we want 4 Rivers to stay around for a long time!
2 – Pepe by Jose Andres
Check out this newbie at Disney Springs! It's bringing the heat – savory Spanish heat that is, to the West Side. Nestled next to the table service restaurant, Jaleo, both share food by the famous Chef, Jose Andres. Jose knows what he's doing with a packed quick-service menu at Pepe where you can take control your Spanish cuisine cravings. Serving up lunch and dinner, the sandwiches are outstanding! Pick from cold and hot sandwich options that are anything but the norm with their unique Spanish twist. Not the "BLT" but try the "B.E.L.T" with bacon, egg, lettuce and tomato fresco. Another popular sandwich is the Bikini Quatro Quesos which is a grilled cheese with a side of honey mustard. The salads, hot dogs, and even soft serve ice cream are worth a try too. Put Pepe on your list for your next visit to Disney Springs.
1 – Blaze Fast-Fire'd Pizza
Wait, what? Yep – a pizza joint is our number one pick for quick service restaurants at Disney Springs. Of all the cuisines available, we narrow our top pick to Blaze Fast-Fire'd Pizza in Town Center for numerous reasons. First, this pizza is GOOD… and we mean, really, extremely, good! Fresh ingredients and a wide selection of toppings and sauces offered, it's all about the taste here. Build your own pizza or choose from one of their signatures like their yummy BBQ Chicken! If the taste isn't enough of a reason – it's truly fast, a filling meal on a budget, and the atmosphere is on point. This isn't your everyday pizza joint, so step in and get your fill!
Happy eating Disney Springs travelers!
For a no obligation, FREE Quote on a Disney vacation package, please contact our travel partner Magical Vacation Planner at 407-442-0227 (407-442-0215 for Spanish). You can also request a FREE quote online by Clicking HERE.