Imagination Pink is one of the hot new color trends at Walt Disney World this summer.  In addition to some great merchandise, you can now find some Imagination Pink inspired treats throughout the Walt Disney World property. Check out the Imagination Pink Foodie Guide below!
Here are all the details from Disney Cast Member Alex Dunlap:
It's time to get your PINK ON with our new set of Imagination Pink treats at Walt Disney World Resort! They're yummy and delicious AND they go great with the newly released Imagination Pink merchandise collection. So grab your spirit jerseys, headbands, backpacks, and your friends to try these adorable new treats! Here's my latest Foodie Guide to help you find all of the Imagination Pink items we're offering this summer.
Imagination Pink Piñata – Available at The Ganachery at Disney Springs – Chocolate sphere filled with vanilla bean marshmallows and crispy pearls and decorated with an Imagination Pink Minnie Ears headband
Imagination Pink Ganache Square – Available at The Ganachery at Disney Springs – Summer berry ganache enrobed in dark chocolate and topped with an imagination pink Mickey stamp
Strawberry Rose – Available at Amorette's Patisserie at Disney Springs – Chocolate-covered strawberry decorated with pink modeling chocolate
Imagination Pink Champagne – Available at Amorette's Patisserie at Disney Springs – Pink champagne garnished with edible Minnie Mouse topper
Imagination Pink Cocktail – Dockside Margaritas at Disney Springs – Pineapple juice, coconut rum, peach schnapps, and sweet and sour
Imagination Pink Churro – Outdoor Vending Carts at Disney Springs – Classic Disney churro dusted with pink cinnamon sugar
Imagination Pink Cupcake – Available at Contempo Café at Disney's Contemporary Resort – Strawberry cupcake filled with pink sprinkles and topped with vanilla buttercream icing
Hot Pink Cupcake – Available at Everything POP Shopping & Dining at Disney's Pop Century Resort and Landscape of Flavors at Disney's Art of Animation Resort – Yellow cupcake with guava filling and topped with cream cheese buttercream and chocolate mouse ears
Imagination Pink Cupcake – Available starting June 30 at Centertown Market at Disney's Caribbean Beach Resort and Sassagoula Floatworks and Food Factory and Riverside Mill Food Court at Disney's Port Orleans Resort – Vanilla confetti cupcake with raspberry cheesecake filing, two-tone raspberry buttercream, pink crispy pearls, and pink sparkly chocolate mouse ears
Pretty in Pink Strawberry Tart – Available at World Premier Food Court, Intermission Food Court, and End Zone Food Court at Disney's All-Star Resorts – Strawberry popping pearls, strawberry-raspberry mousse, pink glitter glaçage, chocolate ears, pink crispy pearls, and a pink chocolate bow
Imagination Pink Cotton Candy Cocktail – Available at Oasis and Barefoot Pool Bars at Disney's Polynesian Village Resort – Cherry vodka, almond liqueur, and strawberry purée topped with whipped cream
Imagination Pink Cupcake – Available at Capt. Cook's at Disney's Polynesian Village Resort – Vanilla cupcake with red berry cheesecake filling
Imagination Pink Macaron – Available at Roaring Fork at Disney's Wilderness Lodge – Pink macaron with blackberry lemonade ganache filling
Imagination Pink Lemonade – Available at Block & Hans at Epcot – Frozen lemonade with watermelon and desert pear (also available with blackberry moonshine whiskey)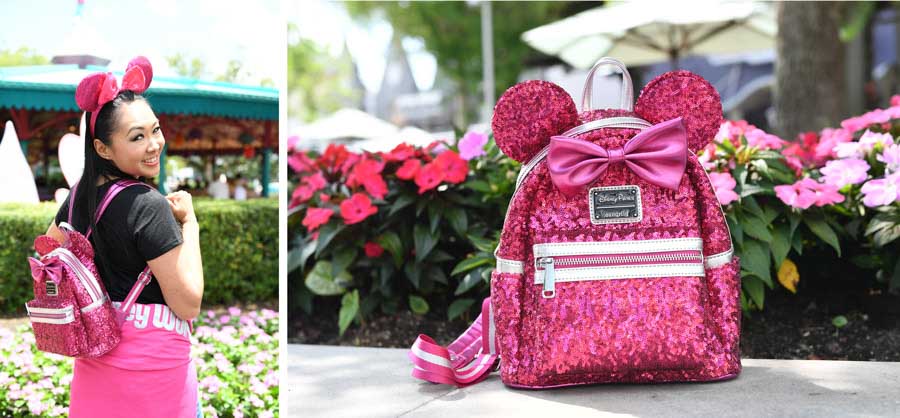 While you're out there snacking away, if you're interested in taking some pics with the bright and vibrant Imagination Pink merchandise, you can find it all at various merchandise locations through Disneyland Resort and Walt Disney World Resort as well as shopDisney.com. The collection includes a variety of items including a spirit jersey, a backpack (decorated with a bow and ADORABLE mouse ears), and a sparkly headband!
For more information on our food & beverage offerings at Walt Disney World Resort, visit the Walt Disney World Resort website or call 407 WDW-DINE (407 939-3463).
RELATED ARTICLE: 10 Best Snacks at Hollywood Studios in Walt Disney World
by Mike and Jamie Sylvester
In the midst of transforming into a toy in Toy Story Land; using the "Force" while exploring Star Wars Launch Bay; and holding on for dear life on Twilight Zone Tower of Terror – chances are you'll easily work up an appetite while visiting Disney's Hollywood Studios. Check out these 10 best snacks you don't want to pass on!
1 – Cupcake at The Trolley Car Cafe
If there is any place on Walt Disney World property to try a cupcake – we find Hollywood Studios to be that place! Whether you are doing a Cupcake Crawl or simply just need one cupcake, you'll be able to find multiple cupcakes to enjoy throughout the park. Our first stop for cupcakes is typically at The Trolley Car Café so we can get some Starbucks coffee to go along with it. Specialty Cupcakes change regularly. Previously, Hollywood Studios had a stunning Toy Story Land cupcake as well as a couple of Star Wars themed and Olaf cupcakes. Be sure to stop in to try the latest cupcake on your next visit.
 2 – Lunch Box Tart
Toy Story Land is the popular place to be in Hollywood Studios at the present time. In between riding along on Slinky Dog Dash and taking a spin on Alien Swirling Saucers, keep your stomach from growling with a delicious Lunch Box Tart located at Woody's Lunch Box. The two Lunch Box Tart options are Raspberry and Chocolate-Hazelnut. We personally favor the Raspberry Tart for its sweet marmalade and strawberry fondant coating. We will say, however, the maple fondant and candied bacon on the Chocolate-Hazelnut is also delicious. We also like the price point of the Lunch Box Tart at a little over $4.
3 – Fried Onion Straws
If you crave that salty, fried flavor – look no further! We absolutely love picking up the Fried Onion Straws from Rosie's All-American Café to scarf down while spending a day at Hollywood Studios. Stroll along while dipping your fried onions in the yummy Texas petal sauce. Just be sure to snag a drink while you're there as this one does make you thirsty!
4 – Churro with Chocolate Sauce
Because what trip to Walt Disney World is complete without a churro… or two?! You can't go wrong with having a churro for a snack. We especially love how easy churros are to grab on the go. The cinnamon and sugar along with the chocolate dipping sauce will easily make you want to go back for seconds. Head to Anaheim Produce for your delightful churro.
5 – Potato Barrels
The tarts mentioned above aren't the only snacks to be desired at Woody's Lunch Box. There is this entrée called "Totchos" which are potato barrels on overload (beef and bean chili, cheese, queso, tomatoes, corn chips, sour cream, green onions). It is fantastic but doesn't fall too well into the snack category. It's definitely more of a meal. If you want a snack option, however, that will give you a similar taste, go for the Potato Barrels. You don't get all the extra stuff on top, but you'll still get your fill of potato goodness.
6 – Ice Cream Sandwich
At Disney, cookies and ice cream can count as a snack instead of a dessert! Two cookies with an ice cream flavor of your choice sandwiched in between awaits at Hollywood Scoops on Sunset Blvd. Ice cream flavors include chocolate, vanilla, orange sherbet, strawberry, cookies n' cream, mint-chocolate chip (our fave!), and butter pecan. This is an especially fun snack for young ones to enjoy that may not be able to join your travel party for the nearby attractions like Rock 'n' Roller Coaster and Twilight Zone Tower of Terror.
7 – Bavarian Pretzel
There is the beloved Mickey Pretzel to be found throughout the park, but then there's the Bavarian Pretzel not to be missed at Baseline Tap House. This pretzel is wonderfully filling for a snack and comes with a tasty beer cheese fondue and spicy mustard. The best way to enjoy this pretzel is to pair it with one of BaseLine Tap House's unique and refreshing beers. The perfect duo!
8 – Peanut Butter & Jelly Milk Shake
Peanut butter and jelly is a great snack! It's even better however when it's combined in a milkshake! While we were super unsure when trying Tune-In Lounge's non-alcoholic Peanut Butter and Jelly Milk Shake, we must say the flavor is one we were surprisingly pleased with. This is an especially great snack option if you are craving something cooler on a warm Hollywood Studios day. Have a reservation at 50's Prime Time Café? You can also order one of these while seated in the restaurant.
9 – Cookies n' Cream Funnel Cake
We can't help but wonder if whoever created the funnel cake had any idea it would be transformed into so many tasty options. Hollywood Studios has the regular funnel cake option, as well as a strawberry funnel cake… but now they are offering a Cookies 'n Cream funnel cake too! This funnel cake comes with soft-serve vanilla ice cream, chocolate sauce, crumbled cookies all over, and two full cookies to make Mickey ears for an extra cute snack. Head on over to Oasis Canteen and get ready for a snack you'll be ready to Instagram about.
10 – AT-AT Popcorn Bucket
Much like the specialty cupcakes at Hollywood Studios we mentioned above, Hollywood Studios is fantastic for their unique selections of specialty popcorn buckets. Our favorite popcorn bucket currently is the AT-AT Popcorn Bucket available at most all of the popcorn stands throughout the park. The Star Wars fans are going crazy over this awesome bucket! While they can get pricey, it's a fun souvenir to take home.
What's your favorite Hollywood Studios snack?
For a no obligation, FREE Quote on a Disney vacation package, please contact our travel partner Magical Vacation Planner at 407-442-0227 (407-442-0215 for Spanish). You can also request a FREE quote online by Clicking HERE.