Summer is here, and now, more than ever, is the time to visit Walt Disney World Resort before the clock strikes midnight on limited-time magical moments across all four theme parks.
But if fall is the fairest time of all for some, never fear – several recently opened experiences will extend their stays. Here's a look at what's happening over the next few months across the Walt Disney World Resort theme park. Catch all the details below.
Now It's Time to Say Goodbye …
 Mickey & Minnie's Surprise Celebration at Magic Kingdom Park
Meet Mickey Mouse and Minnie Mouse together – in special celebratory outfits – in Town Square Theater as part of Mickey & Minnie's Surprise Celebration. (Ends Sepember 30)
Discover seldom-seen Disney friends at the flagpole in Town Square. (Ends Sepember 30)
Entertainment at Epcot
Bid a fond farewell to "IllumiNations: Reflections of Earth," as the nighttime spectacular's nearly 20-year run at World Showcase Lagoon draws to a close. (Ends September 30)
Take a musical journey through the cosmos with Star-Lord and Gamora during Guardians of the Galaxy – Awesome Mix Live! at the America Gardens Theatre. (Ends August 18)
An Incredible Celebration at Disney's Hollywood Studios
Leap into action at Pixar Place during "The Super Shindig" dance party with Mr. Incredible, Mrs. Incredible and Frozone. (Ends September 30)
"Hakuna Matata Time Dance Party" at Disney's Animal Kingdom
Walk on the wild side during this raucous celebration where young adventurers let their inner animals roam free on the dance floor along with their pals Timon and Rafiki. (Ends September 30)
… And There's Still Plenty of New Magic in Our World
Several special experiences new to Walt Disney World in 2019 will continue into the fall and beyond, including:
Dance with favorite Disney pals in front of Cinderella Castle during "Move It! Shake It! MousekeDance It! Street Party" at Magic Kingdom.
Become a rookie racer and learn the rules of the road during Lightning McQueen's Racing Academy at Disney's Hollywood Studios.
Also at Disney's Hollywood Studios, step into the world of Disney and Pixar's "Monsters, Inc.," or meet Edna Mode from Disney and Pixar's "The Incredibles."
Take in the grandeur of the Tree of Life at Disney's Animal Kingdom as it awakens anew each night with scenes inspired by "The Lion King," or snap a photo in front of special "Lion King" backdrops perfect for sharing on social media.
Also at Disney's Animal Kingdom, see the nighttime show "Rivers of Light: We Are One," now featuring additional imagery and familiar animal characters.
Special Ticket Offers Available this Summer
The Summer One World Ticket is a great way for guests to experience all this excitement at Walt Disney World, available for purchase now through Aug. 23, 2019. For only $74 per admission (plus tax) – a total price of $444 (plus tax) – guests receive one admission to each of the resort's four theme parks and two water parks.*
Florida residents can purchase Get Your Ears On Tickets now through Aug. 25, 2019, for as low as $55 per day (plus tax). The 3-Day Get Your Ears On Ticket is $199 (plus tax, while the 4-Day Get Your Ears On Ticket is $219 (plus tax).**
* Summer One World Ticket valid 6/4/19 – 8/28/19 for one admission to Magic Kingdom® Park, one admission to Epcot®, one admission to Disney's Animal Kingdom® Theme Park, one admission to Disney's Hollywood Studios®, one admission to Disney's Typhoon Lagoon water park, and one admission to Disney's Blizzard Beach water park. Each park may be visited only once. Tickets are nonrefundable, nontransferable and exclude activities/events separately priced. Admission is subject to capacity closures and other restrictions. Water parks are subject to rehabilitation, seasonal and weather closures. After the expiration date, the price paid for a wholly unused ticket can be applied to the purchase of a new ticket with an equal or higher price.
** Get Your Ears On Ticket must be used by Aug. 28, 2019. Proof of Florida residency required. Tickets are nonrefundable and nontransferable. Tickets valid for one theme park per day. Tickets exclude activities and events separately priced.  
RELATED ARTICLE: 10 Things to Know Before You Visit Walt Disney World in the Summer
by Arielle Tuan
There are a lot of basic things that guests can expect when visiting Disney World in the summer. Mainly, the heat and the crowds. Temperatures can climb into the 90's (with a heat index into the 100's), and crowd levels can build steadily throughout the day. When you take into account that kids are on break from school, it goes without saying that June, July, and August are some of the busiest months of the year in Orlando. However, if you do your research and planning beforehand, and come with the right attitude, visiting Disney World during the summer can be more than worth it!
10 – Longer Park Hours
One of the best things about visiting Disney World in the summer is getting extended park time. To accommodate hordes of guests, all of the Disney parks will open around 9 a.m., and will often stay open past 9 p.m. Each park will offer Extra Magic Hours on select mornings and evenings, which you can take advantage of if you're staying on-property. This gives you even more time in the parks, with opening times around 8 a.m. for morning EMH, and closing times around 11 p.m. or later for evening EMH. When the sun goes down, you can usually expect cooler temperatures and lower crowds. Definitely, plan on rising early or staying late to get the most out of your park days during the summer.
9 – Book Hotel and Dining Reservations Early
Before arriving at Disney during the summer, make sure you've booked your hotel and dining reservations in advance. You may be able to get some good FastPass+ selections on the fly, but getting a good rate on a hotel room, or a table at a popular Disney dining establishment, is near impossible during the busy summer season. Disney will sometimes offer summer deals on hotel rooms and ticket packages, so make sure to take advantage of those. Next, start making dining reservations as soon as you're able- there is a slim chance you'll be able to walk up to a restaurant and get a same-day table. Preparation is key for a summer in Disney!
8 – Prepare for the Heat
 This one is obvious, but a lot of guests visiting from out of state usually don't realize just how hot Florida can get. On some days, it can feel like you're walking on the surface of the sun. Heat can not only bring out bad tempers in both adults and children, but it can also be dangerous- you want to avoid getting heat stroke on your vacation! Make sure to constantly stay hydrated (you can ask for free ice water at select Starbucks and counter-service restaurants in Disney if you forget to bring a refillable water bottle). Wear sunscreen and light clothes, and bring sunglasses and hats. Take advantage of shady areas, and visit indoor shops and attractions as often as possible. Don't underestimate just how hot it can get during the summer in Orlando.
Pro-Tip: Keep in mind that glass bottles and containers are not allowed in the Disney parks. If you bring a refillable water bottle, make sure it's plastic or made out of another sturdy material.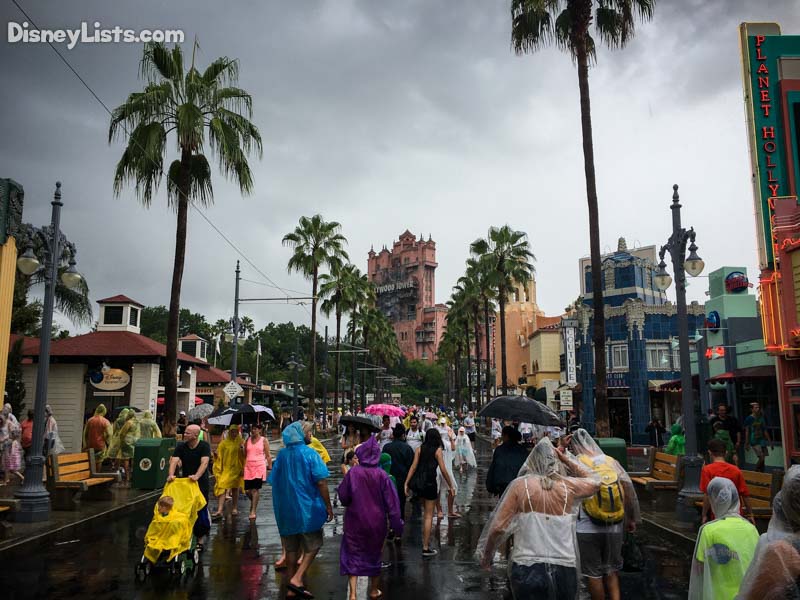 7 – Brave the Rain
In the summer, torrential rainstorms are to be expected as much as the heat. Usually, it will storm pretty bad for a few hours in the middle of the day, every day- but don't let that stop your fun! Of course, take shelter if it gets really bad, but if it's just rain, then put on a poncho and continue to enjoy the parks! A lot of guests will clear out during bad weather, making the lines shorter and the parks more bearable. There are a lot of indoor activities all over Disney property, which you can partake in during rainy days. Make sure you come equipped with a good weather app loaded on your smartphone and check the forecast before your trip. This way, you won't let the rain put a damper on your summer vacation!
Pro-Tip: Carry an umbrella and flip-flops with you, if you can- no one likes walking around in wet sneakers! Also, bring a jacket- indoor areas at Disney will have the A/C cranked WAY up during the summer, which can freeze you to the bone if you're soaking wet. A jacket may be the last thing on your mind during the summer, but it's a lifesaver!
6 – Take Breaks at the Hotel
During the summer, the hottest time is usually smacked in the middle of the day, from 12 p.m. to around 3 or 4 p.m. Use this time to take a break at your resort hotel. Go swimming, take a nap, or play in the arcade. This is a favorite practice of mine no matter what time of year it is, but a nice refreshing swim or nap (before returning to the parks in the evening) can make all the difference. If you are staying off-property and can't get to your hotel easily, then find a nice shady area in the park (preferably with benches) or a restaurant, and just chill out for an hour or two. It's important to recharge your batteries, and not to overdo it. It's tempting to want to power through the day, but listen to your body if it's telling you to take a break.
5 – Visit the Water Parks
Summer is a great time of year to visit both Disney water parks- Typhoon Lagoon and Blizzard Beach. The water will feel refreshing, and the slides provide amazing thrills. During the winter season, it's not uncommon for one of the water parks to close for refurbishment. However, both are sure to be open during the summer! Even if it rains during a water park day, you can usually take shelter and wait for the storm to pass, before the slides reopen. You can add a water park option when purchasing tickets, and I have to say, I've never been disappointed after experiencing Typhoon Lagoon on a hot day. I highly recommend visiting at least one of the water parks!
4 – Prepare for Tour Groups 
Along with heavier crowds, there is an influx of South American tour groups visiting Disney World during the summer. July is their winter break, so be prepared for groups made up largely of younger guests. They're here to enjoy the parks same as you, so just go in with an open mindset and expect that the lines and park pathways may be more filled up than usual. If you search online, you'll see a lot of discussion topics expressing frustration toward these tour groups in Disney. However, patience is key; if you see a large tour group in Fantasyland, maybe try to avoid that area and come back later. It's easy to get agitated, but as long as you have a good plan and touring strategy in place, you'll be alright!
3 – Get FastPasses for Long, Indoor Attractions
 Stepping into an air-conditioned attraction while visiting Disney during the summer is one of the best feelings ever. That blast of cool air, and the promise of a long slow-moving vehicle or boat ride is probably just what your body needs. My favorite attractions to go on to escape the heat (and to relax) are as follows:
Magic Kingdom- Mickey's Philharmagic, Carousel of Progress, Pirates of the Caribbean, the Haunted Mansion, and "it's a small world."
Epcot- Soarin' Around the World, Living With the Land, Spaceship Earth, and Frozen Ever After.
Hollywood Studios- Star Tours, Voyage of the Little Mermaid, A Frozen Sing-Along Celebration, and Toy Story Mania.
Animal Kingdom- It's Tough to be a Bug, Na'vi River Journey, Avatar: Flight of Passage, and Festival of the Lion King.
2 – Special Events at Epcot 
Typically during the summer, Epcot celebrates with their annual Sounds Like Summer Concert Series, where guests can rock along with lively tribute bands. These take place in the America Gardens Theater and are included with park admission to Epcot. In the past, bands have included Hotel California- A Salute to the Eagles and DSB- A Tribute to Journey (among many others).
Also, Guardians of the Galaxy- Awesome Mix Live! Is set to return to Epcot in 2019, and will take place June 14ththrough August 18th. During the show, Star-Lord and Gamora from the film Guardians of the Galaxy perform songs for the crowd from Star-Lord's Awesome Mixtapes. If you're in Epcot and are looking for something to enjoy while giving your feet a break, these concerts are must-sees!
1 – Experience 4thof July at Disney
If you visit Disney during the summer, chances are you may be there for the 4thof July. All Disney firework shows are spectacular, but Disney's Independence Day fireworks are out of this world! Special 4thof July firework shows take place at Epcot and Magic Kingdom, so expect those parks to be especially busy on Independence Day (and get a spot for the fireworks super early). Luckily, Magic Kingdom also shows their 4thof July fireworks on July 3rd, so you have two chances to watch the show! I'd also recommend watching the Magic Kingdom fireworks from the Polynesian Resort beach if you can; with perimeter fireworks, you'll be able to get a good view from there. And if you can't be at the parks during 4thof July (or don't want to battle the crowds), then just grab a computer- Disney usually live-streams their Independence Day celebrations. I love watching them from the comfort of my bedroom and laptop screen!
For a no obligation, FREE Quote on a Disney vacation package, please contact our travel partner Magical Vacation Planner at 407-442-0227 (407-442-0215 for Spanish). You can also request a FREE quote online by Clicking HERE.