One of the benefits of staying at a Disney World resort is that you are able to make your FastPass selections beginning 60 days in advance of your arrival day. Now that August 29, the opening day of Star Wars: Galaxy's Edge, is less than 60 days away, guests are seeing changes to the FastPass options for Disney's Hollywood Studios beginning with August 29. Check all the details below.
At Disney's Hollywood Studios, Epcot, and Disney's Animal Kingdom, Disney has attractions grouped into two different tier groups. Guests can only select one attraction from Tier 1 and two Tier 2 attractions. Unfortunately, at Hollywood Studios, Disney has now moved almost every ride into Tier 1. See the new groupings below.
Disney's Hollywood Studios FastPass+ Tier 1
Rock 'n Roller Coaster
Alien Swirling Saucers
Slinky Dog Dash
Twilight Zone Tower of Terror
Toy Story Mania
Disney's Hollywood Studios FastPass+ Tier 2
Star Tours
Frozen Sing-Along
Disney Junior Dance Party!
Indiana Jones Epic Stunt Spectacular
Muppet Vision 3D
Voyage of the Little Mermaid
FANTASMIC!
So although there will not be a FastPass option for Millennium Falcon: Smugglers Run, the only attraction that will be operating when Galaxy's Edge opens, changes have been made to the rest of the park's FastPass tiers as the park gets ready for an influx of a lot of guests. (Rise of the Resistance will open later in the year). We are hopeful that FastPasses for the two Star Wars: Galaxy's Edge attractions will be made available at some point.
If you are visiting Disney's Hollywood Studios this fall, you'll want to book your FastPasses for Hollywood Studios as soon as you are able to — 60 days out for resort guests, and 30 days out for all other guests. Set alarms and be online right at 7:00 am to make your selections. Remember that as a resort guest, you can make FastPass selections for your entire trip beyond 60 days, which gives you even more of an advantage. FastPasses for Slinky Dog Dash will likely continue to be the hardest one to get.
Keep in mind that Extra, Extra Magic Hours will be available for Walt Disney World Resort guests from September 1-November 2 from 6:00-9:00 am at Disney's Hollywood Studios. You can use this time to enjoy the attractions you didn't get a FastPass for since the wait times during this time should be lower than during the normal operating hours.
RELATED ARTICLE: 13 Things to Know Before You Go to Disney's Hollywood Studios
by Mike and Jamie Sylvester
Welcome to Disney's Hollywood Studios where "Lights. Camera. Action!" take center stage! The past few years have brought several changes to Hollywood Studios which have made many Disney fans feel due to the large amount of construction, this has become a half-day park. These changes at Hollywood Studios have all been for the better however as Disney is now unleashing new and exciting experiences that are making everyone stop in their tracks and take notice! As you plan to embark on your Hollywood Studios day, here are a few things to know before you go.
1 – Galaxy's Edge Opens August 29
Thursday, August 29 is going to be an epic day at Disney's Hollywood Studios! This is the day "Phase 1" of the newest land, Star Wars: Galaxy's Edge, is scheduled to open to guests including the attraction, Millennium Falcon: Smugglers Run. "Phase 2" is scheduled to open later in the year which will include the opening of the second attraction, Star Wars: Rise of the Resistance. This 14-acre land will undoubtedly be the most popular place to be in all of Walt Disney World on this day and for many days to follow as guests are eager to get a look at what all the hype is about. Two new attractions, dining options, and shops – everyone (Star Wars fan or not) are expecting to be impressed at the immersion of this galaxy right within Hollywood Studios! If you're planning to visit on or after this date, the planning of your Hollywood Studios day(s) just got a lot more important as crowds will be a massive factor. Keep reading below to learn more!
2 – But, Let's Not Forget Toy Story Land!
And we thought Toy Story Land which opened in June 2018 was impressive enough! Star Wars: Galaxy's Edge is riding on the coattails of Toy Story Land, but this doesn't mean planning for Toy Story Land isn't important. Toy Story Land will likely lessen in crowds for the earlier part of the morning when Star Wars: Galaxy's Edge opens, making it a prime time to visit this land first thing if you aren't planning to make Galaxy's Edge your first stop. With three attractions and Woody's Lunch Box, it's 11-acres (compared to Galaxy's Edge's 14-acres) is still without a doubt worth the time. We especially recommend a ride on the Slinky Dog Dash coaster! Drop by again at night to see the lights glow in Andy's backyard.
3 – Arrive WELL Before Park Opening
Ok, now that we've talked about the two most popular areas of the park, it's extremely important to know that you should arrive well before park opening. This means at least an hour (especially once Galaxy's Edge opens). With the large crowds flocking to new lands, Disney is known to open their gates a little earlier than the official park opening time to alleviate the crowd flow. Arrive early in an attempt to be among the first wave of guests entering.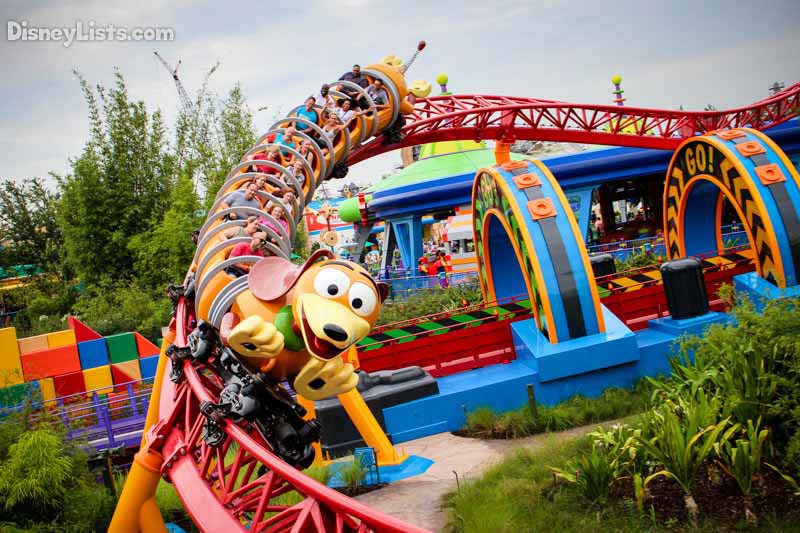 4 – Get FastPasses… But Not for Galaxy's Edge
Ugh – well, let's chat FastPasses! FastPasses are a free Disney perk that can be used to bypass the normal standby line for certain attractions. Three FastPasses can be selected in advance… 60-days in advance for Disney resort guests and 30-days in advance for non-resort guests. These are like Disney gold because of all the time you save skipping the line! With that being said, when Galaxy's Edge opens, no attractions in this land will have a FastPass option (ugh!!). So, what this means is that all guests will likely immediately make a mad dash for that area of the park, so they don't have to wait in 4-8 hour lines later in the day. Rumor is this will change and FastPasses will eventually be offered for Galaxy's Edge. In the meantime, the FastPasses we would recommend snagging in advance include Tier 1: Slinky Dog Dash, Rock 'n' Roller Coaster, or Twilight Zone Tower of Terror. We'd recommend these for early to late afternoon, so you'll have a chance to tackle Galaxy's Edge and some of the other attractions in Toy Story Land before using your FastPasses.
5 – MDE App is a MUST-HAVE!
If you haven't already, go ahead and download the My Disney Experience (MDE) App. This app will be your park map, times guide, reservation/food ordering option, FastPass finder, and numerous other things while in Disney's Hollywood Studios. For example, when you finish with your three initial FastPasses we mentioned above, go ahead and book a fourth FastPass from your MDE App if one is available and so on until the park closes.
6 – Now More Than Ever – Take Advantage of Extra Magic Hours
Disney's Hollywood Studios is working hard to alleviate crowds, and this includes offering Extra Magic Hours (EMH) to Disney Resort guests only. This means if you are staying at a Disney Resort, you will be allowed to enter Hollywood Studios an hour before park opening and/or remain in the park an hour after park closing. Check the EMH schedule in advance of your trip to see if this is being offered during your visit so you can plan accordingly. Disney has announced Galaxy's Edge will be available during EMH as well as Toy Story Land.
7 – Max Capacity (oh geez!)
"Max Capacity" … two words that get us a little nervous! When Disney announces "Max Capacity" it means it doesn't matter who you are or what kind of ticket you have, you won't be allowed in. Disney typically closes the park in capacity stages meaning if you have a dining reservation, they may still let you in at certain stages. But once, they've reached MAX capacity, there is simply nothing you can do about it. Typically, we have never had to worry about max capacity at Hollywood Studios, but this will likely change with Star Wars: Galaxy's Edge. Disney is especially warning guests that they will only allow a certain capacity within Galaxy's Edge, likely for safety reasons of course. Whether this means there will be a line that forms outside of this land, we are uncertain, but again – the more the reason to arrive early and take advantage of EMH if available.
8 – Must-Hit Shows
We've been talking so much about Toy Story Land and the preparation of Star Wars: Galaxy's Edge, that we feel we must turn our focus to the must-hit shows you can find at Hollywood Studios! The timeless, "tale as old as time", Beauty and the Beast – Live on Stage, is by far our favorite show at Studios. We also recommend the Frozen Sing-Along Celebration and the classic Indiana Jones Stunt Spectacular.  Check your MDE App for show times which are usually between late morning and early evening.
9 – Check Out New Characters!
It seems like there is a new character strolling into Hollywood Studios each day! Pixar Characters are especially popular right now including Edna Mode from The Incredibles; Buzz Lightyear, Woody, and Jessie from Toy Story; and even Mike and Sulley from Monster's Inc. Star Wars characters will be in full force, including Stormtroopers, Kylo Ren, Chewbacca, and BB-8. If you have a little one who loves Disney Junior, they can meet a few Disney Jr. favorites near the Disney Junior Dance Party, including the newest arrival of "Fancy Nancy."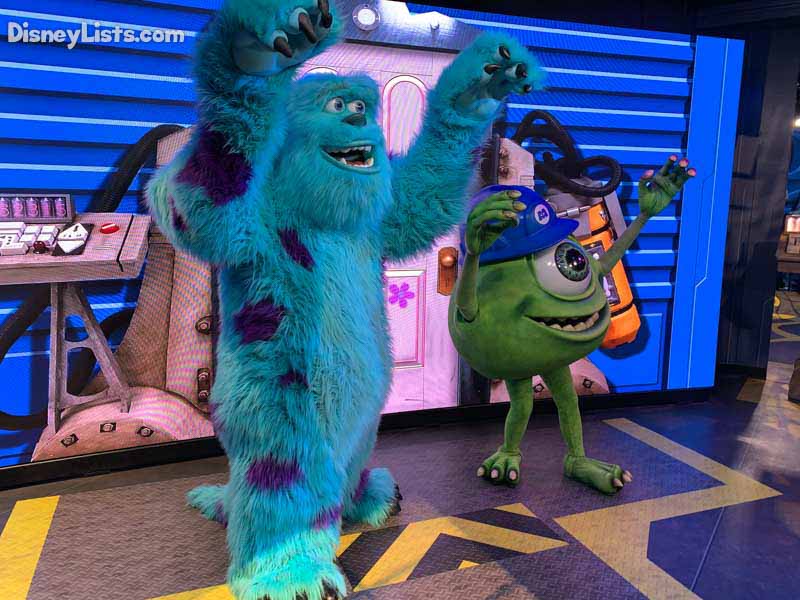 10 – Forget the Diet – A Foodie's Paradise
Hollywood Studios has stepped up their "eats" game! You may know they have some of the best themed-dining on Disney property including fun table service spots like 50's Prime Time Café and Sci-Fi Dine-In Theater Restaurant. But they've also become a foodie's paradise with multiple quick-service spots offering decadent sweet and salty treats to match whatever the taste buds are craving! Get ready to eat plenty and drink your share as menus are constantly changing and being enhanced with dining favorites. Just don't forget to make your table-service reservations 180-days in advance as space does go fast. If you're going the quick-service route – Mobile Order from your MDE app to avoid the lines.
11 – Decide Which Nighttime Spectacular
Decisions. Decisions! Disney's Hollywood Studios currently offers a few nighttime spectaculars, making it impossible to fully enjoy them all with a good view/seat. Do your researcher and try your best to make a decision on which of the nighttime spectaculars to experience. A new nighttime spectacular is being projected on the Chinese Theaters called "Wonderful World of Animation". Remaining at this location as well is the 14-minute projection and fireworks show called "Star Wars: A Galactic Spectacular". Then, of course, there is the beloved "Fantasmic!" show and fireworks located in the amphitheater off Sunset Blvd that is not to be missed. Tough decisions!
12 – Arrival via the Disney Skyliner
Have you thought about how you'll arrive to Disney's Hollywood Studios? Complimentary bus transportation is available from all Disney Resorts. Complimentary boat transportation is readily available from close-by Disney resorts. As of this fall (no official opening date yet), the Disney Skyliner – a gondola style transportation system – will be transporting guests to and from Hollywood Studios and Disney Resorts including Art of Animation, Pop Century, Caribbean Beach, and the soon to open Riviera Resort. Will you be taking to the sky?
13 – But Wait… There's More
Before we leave you to your successful Hollywood Studios day, we must mention that there always seems to be something MORE at this park! Check out the newly opened Lightning McQueen Racing Academy experience. You'll also want to get ready to experience Mickey and Minnie's Runaway Railway attraction with a scheduled opening time frame of this May.
As ALL these changes unfold at Disney's Hollywood Studios, keep an eye on DisneyLists.com as we keep you updated on the most recent news so you'll know before you go! Ready. Set. Go enjoy your Studios visit!
For a no obligation, FREE Quote on a Disney vacation package, please contact our travel partner Magical Vacation Planner at 407-442-0227 (407-442-0215 for Spanish). You can also request a FREE quote online by Clicking HERE.