It may be hard to believe, but we're more than half-way through 2019! That means it's already time to start planning your New Years Eve celebrations at Walt Disney World! Visiting Walt Disney World between Christmas and New Years has its own special challenges, and that includes getting those advance dining reservations! New Years Eve celebrations are vey popular, so now is the time to make those reservations! Catch all the details below.
Here are all the details from Disney Cast Member Alex Dunlap:
Get ready to ring in 2020 with one of these fabulous New Year's Eve events at Walt Disney World Resort. From rooftop celebrations, Champagne toasts, and exquisite meals to fun dance parties and character greetings, there are many ways to celebrate the night in true Disney fashion! To help plan your festivities, I've put together this list of New Year's Eve events happening throughout our resort hotels. And remember, these popular events fill up fast, so be sure to book your reservations now by visiting the links below. More details and pricing can be found by visiting the Walt Disney World Resort website or by calling the numbers listed below.
First up, we are proud to announce Walt Disney World Resort now features three amazing rooftop New Year's Eve celebrations – at Disney's Contemporary Resort, Gran Destino Tower at Disney's Coronado Springs Resort and at Disney's Riviera Resort (scheduled to open later this year).
Rooftop Celebrations
Feliz Ano Nuevo: A New Year's Eve Party at Disney's Coronado Springs Resort
Celebrate the New Year with an elegant party at Tolédo – Tapas, Steak & Seafood, the new rooftop restaurant at the top of Gran Destino Tower at Disney's Coronado Springs Resort. This special celebration features a savory menu inspired by traditional Spanish New Year's cuisine. Entertainment includes an electric flamenco guitarist who will delight you during your meal with exciting melodies alongside a DJ in Dalhia Lounge who will lead the New Year countdown! And from the windows of the restaurant and the Dalhia Lounge balcony, you'll take in spectacular views of Walt Disney World Resort with glimpses of incredible Disney fireworks displays in the distance.
Mezzanotte at Topolino's: An Italian Masquerade at Disney's Riviera Resort
Wear your most luxurious red finery as you step into this elegant rooftop restaurant and don custom colorful masks at this special New Year's Eve party. This Italian masquerade ball comes alive with an exciting DJ, Champagne toasts, and traditional musicians and vocalists from the Italian Riviera, all while featuring buffet displays, á la carte tapas-style dishes, and action stations where our Disney chefs create your dish right in front of you! You'll also enjoy spectacular sights as neighboring Disney fireworks displays light up the night.
Elegant Evening Under the Stars at California Grill at Disney's Contemporary Resort
Ring in the New Year at Disney's Contemporary Resort with An Elegant Evening Under the Stars at the California Grill. Take in a bubbling Champagne toast in a setting inspired by the twinkling lights and lush greenery of California wine country. Be mesmerized by a sleight-of-hand magician, or have your portrait drawn by an artist on hand. Indulge in decadent delicacies as you mingle with a host of eccentric personalities, and marvel at the dazzling view of fireworks from one of the most sought-after lookouts in Central Florida. You might even catch a glimpse of a few familiar pals as they make a special appearance to celebrate the New Year!
Make your reservations by calling (407) WDW-DINE
New Year's Eve Celebrations Throughout The Walt Disney World Resort Hotels
Countdown to Midnight: A New Year's Celebration at Disney's Contemporary Resort
This extraordinary soiree will be filled with sensational cuisine, live music, dancing and unique photo opportunities. The Fantasia Ballroom at Disney's Contemporary Resort becomes the setting for a sensational evening where you can wander through tempting tasting stations and indulge in an assortment of libations for party-goers of all ages before partying it up on the dance floor. Delight in a stunning display of culinary sorcery and personal interactions with the Disney Chefs as they build sensational bites right before your eyes inspired by Disney signature restaurants from across Walt Disney World Resort. With a live band providing the backdrop, you'll be able to dance and dine all the way to the New Year. At midnight, celebrate with a toast at a special ground-level viewing area near the porte cochére while you take in the spectacular sights of the famous New Year's Eve fireworks display at Magic Kingdom Park
Make your reservations online today or by calling (407) WDW-DINE.
Ink & Paint Club at Disney's Contemporary Resort
You can book a pre-party add-on for the Countdown to Midnight: A New Year's Eve Celebration. This special reception is inspired by the iconic Walt Disney Animation Studios Ink and Paint Department. You'll also enjoy a private area throughout the evening and, after 11 p.m., an exclusive outdoor private viewing of the Magic Kingdom Park fireworks complete with desserts and a Champagne toast. You might even see some familiar friends hanging out for fun photo opportunities!
NOTE: This experience is only available as a combined event ticket with Countdown to Midnight: A New Year's Eve Celebration. For further details and to make reservations, visit the Disney Ink & Paint Club page or call (407) WDW-DINE.
Pixar Party: A New Year's Celebration
Take a trip down memory lane to your own playful beginnings with the Pixar friends. From toys and monsters to supers and adventurers, ignite your childhood memories at this exciting event filled with family fun and delicious food!
Located on the second level of Disney's Contemporary Resort, you'll find two ballrooms have been transformed to immerse you in the imaginative world of Pixar.
Meet some of your favorite characters, dance with an interactive DJ, go to Boot Camp with Sarge and enjoy other fun-filled activities. You can also chow down on a Pixar-inspired buffet featuring dishes like Ratatouille, white cheddar baked mac and cheese, slow roasted beef tenderloin, crème brûlée tarts and much more. At the end of the night, step outside to enjoy the spectacular New Year's Eve fireworks display at Magic Kingdom Park
This event occurs on Dec. 30 (reservations still available) and Dec. 31 (SOLD OUT). Make your reservations online today or by calling (407) WDW-DINE.
Disney's BoardWalk Countdown to 2020 at Atlantic Dance Hall
Tons of fun and a late-night party will be on tap at the Atlantic Dance Hall this New Year's Eve! Kick off the brand-new year with rockin' music, tasty treats, and a dash of Disney magic as you count down to midnight. This festive holiday celebration includes views of the Epcot Fireworks a live DJ, party hats and horns, a confetti drop, a mouthwatering light-bite menu with savory and sweet eats, and a complimentary Champagne toast at midnight.
Booking information will be available soon on the Walt Disney World Resort website.
New Year's Eve at Flying Fish
Celebrate the arrival of the New Year with family and friends surrounded in an atmosphere of elegance as you dine on a multi-course, prix fixe menu created by award-winning Chef Tim Majoras. Seatings are available from 5-6:30pm and 8:30-10pm on Dec. 31, with a sustainable seafood tower and intermezzo included in the second seating.
Booking information for New Year's Eve at Flying Fish will be available soon on the Walt Disney World Resort website.
A New Year's Eve Celebration at Disney's Grand Floridian Resort & Spa
Be sure to check out this incredible opportunity to revel in the festivities while tantalizing your taste buds with a special New Year's Eve dinner waterside at Narcoossee's at Disney's Grand Floridian Resort & Spa. Reserve an earlier dinner time for a relaxed, casually elegant experience. Later dinner times amp up the fun with an upbeat three-piece band and a dance floor.
Make your reservations by calling 407 WDW-DINE (407 939-3463).
Victoria & Albert's New Year's Celebration at Disney's Grand Floridian Resort & Spa
Delight in New Year's Eve festivities at the only AAA Five Diamond and Forbes Travel Guide Five Star restaurant in Florida. Enjoy melodies from a live harpist while dining on exquisite cuisine. Start the evening with a Champagne reception and then enjoy a dégustation wine dinner.
Booking information will be available soon on the Walt Disney World Resort website.
RELATED ARTICLE: Survival Guide: 10 Tips & Tricks to Visiting Disney World During Christmas Break
by Mike and Jamie Sylvester
Ready for a magical Christmas at Disney World? Well, we're sure you've heard that Christmas break is one of the most crowded times to visit. The parks are packed, the resorts are full, and trying to get a dining reservations is as challenge as convincing Gaston that he needs to move on from Belle! So, to make your Disney Christmas break experience the best possible – check out this survival guide with 10 tips and tricks to visiting Disney World during Christmas break.
1 – Study the Parks
When thinking of a vacation, the last thing you want to hear is to "study"! But, to make the most out of the crowded Christmas break, our top tip is to know the parks inside and out. Don't wait to arrive at the park to look at a map for the first time. The most current maps are available on Disney's website just ready for you to explore! The better you know the park, the easier it will be to dodge crowds, find the easiest route to an attraction or restaurant, and easily change plans when needed. You'll be a Disney park pro!
2 – Make a Must-Do Attraction List
Attractions are some of the best parts of visiting Disney. During Christmas break, the lines and wait times are longer than Rapunzel's hair! So, first and foremost – make those FastPass selections in advance. We repeat – FastPass selections in advance! Besides attractions you have a FastPass for, you will want to make a must-do attraction list (including character meet and greets). These are the handful of attractions that you and your family simply must-do. Make the list simple and hopefully you'll have time to hit them all. If you get in any extra attractions, you can count them as icing on the cake!
3 – Be Smart About Dining
Of course, we first must recommend advanced dining reservations – 180 days in advance. If you don't have an advanced dining reservation, chances are you'll be unable to walk up to one of Disney's table service restaurants in the park to dine. It is very likely restaurants will not be accepting walk-ins due to the volume of advanced reservations. Quick service will be your best option which can be tricky with the Christmas break crowds. Be smart about dining and do your best to dine during off hours – such as 10am for lunch or 3pm for dinner. Plus, don't forget about Disney's many snack kiosks that might be a great option to tide you over until the next meal. Mickey pretzels – here we come!
4 – Make a FULL Day of It
If a theme park fills to capacity due to the volume of guests, Disney will close the entrance and no one else will be allowed in. This means that if you leave the park for a mid-day break, you might not be able to get back in. We always say no to park hopping during this busy time! If you are a resort guest, be sure you take advantage of any Extra Magic Hours. Keep in mind by coming and going, you will also have to fight the transportation crowds which will forfeit much time. Arrive early and plan to stay late. In other words – get some rest the day before.
5 – Arrive Early for Parades, Fireworks, Shows
Some of the most popular activities are the parades, fireworks, and/or stage shows probably because they feel like the most magical moments! During Christmas break, you will need to plan to be at a viewing spot likely an hour to 45 minutes early. We recommend that you watch the crowds and see if they are gathering even earlier in some cases. It will be crowded, but getting to your spot early enough will at least provide you with a spot to see. Another tip – after the fireworks are over and the park is closing, you'll want to let the crowd rush out. Go shopping or hold tight for a little bit in your spot, then you'll be able to exit the park without the great push!
6 – Prepare for Transportation Time
Whether you are staying at a Disney Resort or driving in from offsite, be sure to allow yourself plenty of transportation time. Traffic will be heavy on all forms of transportation from cars on the road to long lines to get on a Disney's buses, boats, or monorail. Just a courtesy tip – if you are in standing room only transportation and are healthy and able to stand, you might want to think about offering your seat to an elderly person, child, or someone pregnant. You will make their day even more magical!
7 – Prepare for Children in Tow
If you have a child cruising through the park with you during Christmas break, the very best thing you can do to survive the crowds is be ready for their inevitable meltdowns. Pack a backpack with simple new toys (Dollar Store!), plenty of snacks, and lots of water to keep them hydrated. Prepare for the weather being warm or cold with sunscreen and jackets. And most importantly, let them rest when needed. This means someone might have to sit with them in a quiet space to let them nap in the stroller or in your arms – but it will be worth it when they wake up refreshed.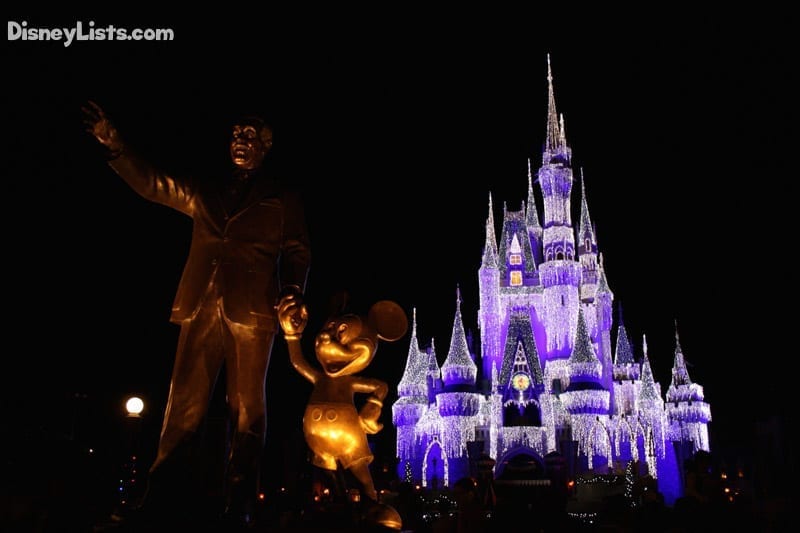 8 – Avoid the Iconic Spots
We understand that you'll want to capture that magical family photo in front of iconic spots such as the Cinderella Castle. Snap a photo early if possible and move on from these popular areas. If you are traveling with a large family or group, you'll want to arrange meet up spots that are not considered the popular areas. For example, instead of meeting up in front of the Cinderella Castle, meet up in front of Country Bear Jamboree. Love those cute bears!
9 – Enjoy a Resort Day
One of the best things about Disney Resorts is that they are full of activities and entertainment over Christmas break! Not only are the resorts decorated beautifully but Cast Members make fun experiences for their guests. We suggest planning a resort day if it works in the plans to rest and relax for a day during your Christmas break vacation. If a resort day isn't in the plans, prepare for a time to rest while in the park by finding a quiet corner or somewhere to tuck yourself away for a little break.
10 – Prepare for the Unexpected
Unfortunately, the unexpected will happen. By this we mean you will have a grand plan (Plan A) and a back-up plan (Plan B) – but suddenly you'll find yourself needing a Plan C! A heavy dose of patience is key to any kink in the plans. If you go in expecting that your day will most likely have some hiccups and moments of not so merry feelings, you'll be able to handle the unexpected with a deep breath and easily adjust as needed.
We hope you have the most magical Christmas possible at Disney World!
For a no obligation, FREE Quote on a Disney vacation package, please contact our travel partner Magical Vacation Planner at 407-442-0227 (407-442-0215 for Spanish). You can also request a FREE quote online by Clicking HERE.