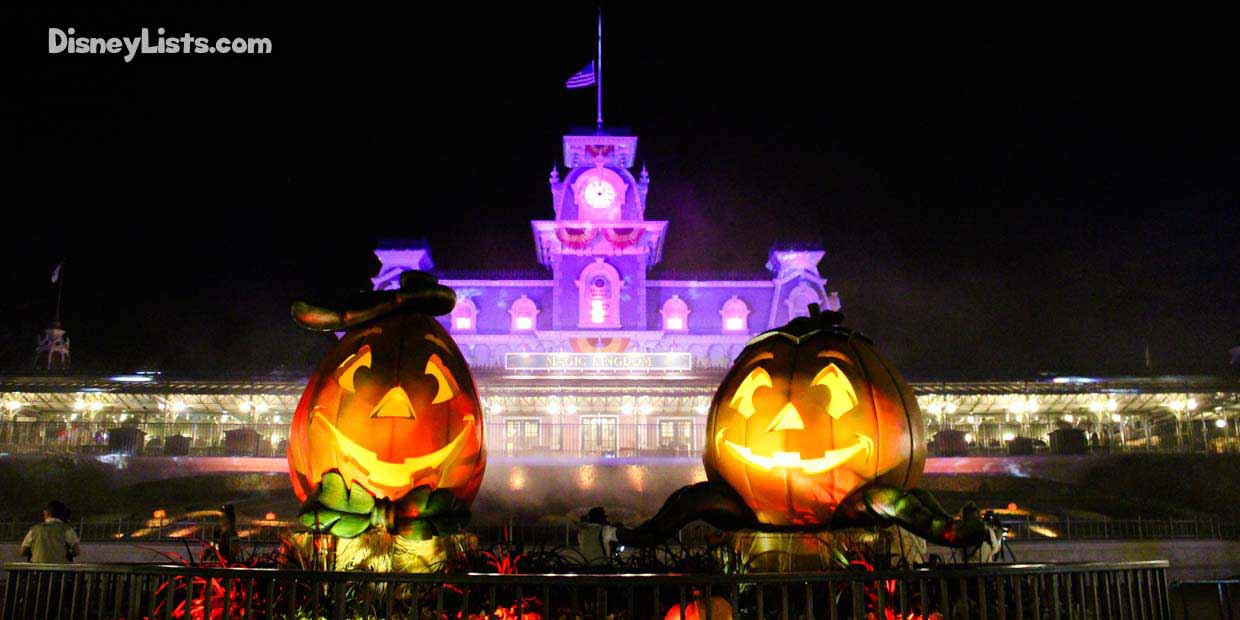 Halloween in August? Yes, please, and thank you! The first Mickey's Not So Scary Halloween Party was held on August 16, 2019. We were there and enjoyed it immensely. We've been to countless Halloween parties, and yet it's something we look forward to every fall. This year there are some new things you're going to love. Keep reading to discover the top 11 can't miss experiences at the 2019 Mickey's Not-So-Scary Halloween Party!
1 – More Party Nights & An All-New Season Pass!
This year the party is being held for a record-breaking 36 nights from August 16-November 1. The remaining dates in 2019 for Mickey's Not-So-Scary Halloween Party are:
August 20, 23, 27, 30
September 2, 6, 8, 10, 13, 15, 17, 20, 22, 24, 27, 29
October 1, 3, 4, 6, 8, 10, 11, 14, 15, 17, 18, 20, 21, 24, 25, 27, 29, 31
November 1
Tickets for Mickey's Not-So-Scary Halloween Party start at $79 (plus tax) and can be booked through Disneyworld.com or the Disney Reservations Center at (407) 827-7350. Children are encouraged to dress in costume and enjoy the fun of Halloween with their families.
For the 2019 not-so-spooky season, Walt Disney World Resort is introducing the new Mickey's Not-So-Scary Halloween Party Pass, allowing families to experience Mickey' s-Not-So-Scary Halloween Party at Magic Kingdom Park for up to 35 nights. The season pass costs $299 per adult (plus tax) or $284 (plus tax) for children. Note: This pass is not valid for admission on October 31, 2019. This is an excellent value for Florida residents and families. A limited number of season passes are available, and can only be purchased at Walt Disney World theme park ticket windows; guests with an existing, unused event ticket can upgrade to a Mickey's Not-So-Scary Season Pass by calling (407) 939-4295 or visiting any Walt Disney World theme park ticket window.
2 – NEW! 'Disney's Not So Spooky Spectacular'
Earlier this year, Disney announced that HalloWishes had ended its run and a brand-new fireworks show would debut. I am a huge fan of HalloWishes and was a bit concerned the new show wouldn't live up to the very high HalloWishes standard. I'm happy to report that I didn't need to be worried. The new show is amazing.
The new "Disney's Not So Spooky Spectacular" lights the night sky with projections and fireworks. As host of the spectacle, Jack Skellington from Tim Burton's "The Nightmare Before Christmas" spins a not-so-scary tale about how anything can happen on Halloween night. Jack's ghost dog, Zero, brings everyone along on a trick-or-treating adventure where four friends – Mickey Mouse, Minnie Mouse, Goofy, and Donald Duck – find themselves drawn into a haunted house. Encounters with dancing skeletons, waltzing ghosts, and wickedly troublemaking Disney villains make for a hair-raising adventure. It all comes to life with state-of-the-art projection effects, lasers, lighting, and dazzling fireworks.
This new show is not to be missed. It runs at 10:15 pm. The best viewing is in front of Cinderella Castle, much like Happily Ever After. When choosing when and where to find your spot for the fireworks, keep in mind that the entire Hub area in front of the castle will be packed with people the whole night from people watching Hocus Pocus Villain Spectacular at 8:30 pm and Mickey's Boo to You Halloween Parade at 9:15 pm.
Click here for a short clip of the new fireworks show! We'll be sharing more of the fireworks show, so be sure to follow us on Instagram!
3 – Mickey's Boo-To-You Halloween Parade – New Additions
Mickey's Boo-To-You Halloween Parade has new updates this year. Your favorite galloping Headless Horseman is, of course, back and gallops through the streets of Main Street USA to set the spooky tone for the parade. Next, you'll see your beloved Disney friends, including Mickey Mouse and Minnie Mouse in new Halloween costumes. The best new addition is the Spectral Bride from The Haunted Mansion. She appears in the parade alongside waltzing spirits and those famous Hitchhiking Ghosts. There is also a new collection of Tomorrowland themed floats with Pixar pals including The Incredibles and designer extraordinaire Edna Mode, as well as Buzz Lightyear and alien explorers on a planetary playset float inspired by Pixar's Toy Story films. It was great to see updates to the parade. We've always loved the Haunted Mansion grave diggers, so the Bride was my favorite new addition. She really adds to an already fantastic section of the parade.
Wreck-It-Ralph, Vanellope von Schweetz and the girls from Sugar Rush make sure there's plenty of candy to go around during the parade. In addition, pirates sail in from Adventureland, Clarabelle Cow hosts a square dance during a Frontierland hoedown, and a wicked assortment of Disney Villains reigns over a Fantasyland-inspired grand finale.
4 – Party Exclusive Food, Beverage, & Novelty Items
Every year we look forward to trick or treating during the party, but we save our appetite for the specialty food and beverages you can only get during party hours. We had a chance to speak with Chef Julie, who walked us through the awesome items you can get at the party. Catch the video below.
Click here for the complete Foodie Guide with details on where you can purchase the items. While most items are party exclusives, there are a few items that are available at Magic Kingdom during normal hours. Check the guide for details.
5 – NEW! Monster World at Monsters, Inc. Laugh Floor
Also, new this year is a trick or treat trail into the Monster World at Monsters, Inc. Laugh Floor. When you visit this trail, you'll interact with a comic entourage of monsters who are learning about the curious human-world holiday called Halloween. It's a great addition to the party.
6 – Returning Attraction Enhancements
Back this year are the returning "Halloween Twists" to three popular Magic Kingdom attractions. Space Mountain turns out the lights, going completely dark and hurtles guests through the blackness of deep space to the sounds of a new hard-rockin' soundtrack. Guests embarking on Pirates of the Caribbean will encounter a crew of live pirates engaged in a whole new swashbuckling quest for treasure. Finally, at the Mad Tea Party, special lighting and music enhance the nighttime experience to bring out the maddest hatter in everyone. You'll want to carve out time to ride these attractions as these twists really enhance your ride experience. We absolutely love Space Mountain in complete darkness. It's a whole new ride experience, and it's our favorite way to ride Space Mountain.
7 – Merchandise
You'll likely want to pick up souvenir items from the party, and this year there are some fantastic choices. The collection includes apparel for the entire family. You'll find the entire collection of items at Emporium and Big Top Souvenirs. Head to Frontier Trading Post for the full event Trading Pin assortment and MagicBands. We had a chance to speak with Steven Miller, External Affairs Manager, who shared with us some of what you can find at this year's party.
8 – Characters
Many people attend the party solely for the outstanding collection of party-exclusive character meet and greets. You'll be able to meet with hard-to-find characters, and Disney favorites dressed up in their Halloween best. Characters include: Jack and Sally, Mickey Mouse, Captain Jack Sparrow, Moana, "Aladdin" and "Tarzan," Br'er Bear and Br'er Rabbit, Donald Duck, Daisy Duck, Minnie Mouse, Goofy; Cruella de Vil, Princess Elena, Princess Tiana, Rapunzel, Lotso and Stitch, the Seven Dwarfs; and friends from "Alice in Wonderland," "Beauty and the Beast," Disney Junior, "Cinderella," "The Little Mermaid," and "Winnie the Pooh". Check the MyDisney Experience App for character locations during the party.
 9 – Cruella's Halloween Hide-a-Way at Tony's Town Square Restaurant
There is also a new extra dining experience you can add to your evening. In addition to Disney's Not So Spooky Spectacular Dessert Party, there is a new option with a pretty special lady. Host Cruella de Vil invites guests to mix and mingle during Cruella's Halloween Hide-a-Way at Tony's Town Square Restaurant. This new reservations-only social provides a fun, festive atmosphere with themed music and décor matched with divine hor's d 'oeuvres, sweets and drinks (including beer, wine, and hard cider). There is a wide variety of food, including many items that could count as your dinner such as pizza, meatballs, and more. Cruella pops in and out throughout the evening for a photo opp.
Unlike the dessert party, guests can come and go as they please throughout the night. This provides guests a great place to rest, eat, and drink throughout the evening in between attractions and entertainment.  Also included is a prime parade-viewing spot reserved just for Hide-a-Way guest for the 11:15 pm parade. Another benefit is the party keeps rolling until 12:30 am, which gives guests an extra half-hour to get that last drink or snack before the night ends.
Cruella's Halloween Hide-a-Way is an add-on at an extra cost and is not for everyone. However, given that this event could count as dinner and includes alcohol, it offsets the cost a bit. If you're a fan of Cruella, want a reserved spot for the parade, and a place to enjoy food and drinks, then this might be an excellent option for your family.
Cruella's Halloween Hide-a-Way ($99 per person, plus tax) is available only during Mickey's Not-So-Scary Halloween Party. Reservations are required and can be made at Disneyworld.com or by calling Disney Dining at (407) 939-3463.
10 – Dance Party Fun
A new DescenDANCE Party takes the stage at Cosmic Ray's Starlight Café in Tomorrowland, where guests can groove to a beat inspired by the "Descendants" Disney Channel movies. For young park-goers, the Storybook Circus Disney Junior Jam in Fantasyland is the place to party with favorite Disney Junior characters like Doc McStuffins, Timon and Vampirina. Also new this year, Nancy Clancy from the hit Disney Junior series "Fancy Nancy" joins the fun.
11 – Disney PhotoPass Party Exclusive Shots
While attending the party, you'll want to take advantage of some really unique photo opportunities that are exclusive to the party! These special shots are available all over the park. You'll find numerous Disney PhotoPass photographers ready to take photos on Main Street USA and with some Disney characters. These make great keepsakes of the evening! Click here for the complete Photopass guide for the evening.
Mickey's Not So Scary Halloween Party has been a favorite of ours for years. We've come to have high expectations. Disney announced a lot of changes to the party this year, and they really delivered! If you've been on the fence over attending the Halloween party, we can't recommend enough adding it to your plans.
Editor's Note: The Disney Company provided us with complimentary Mickey's Not So Scary Halloween tickets. However, the thoughts and opinions contained in this article are completely our own.
For a no obligation, FREE Quote on a Disney vacation package, please contact our travel partner Magical Vacation Planner at 407-442-0227 (407-442-0215 for Spanish). You can also request a FREE quote online by Clicking HERE.