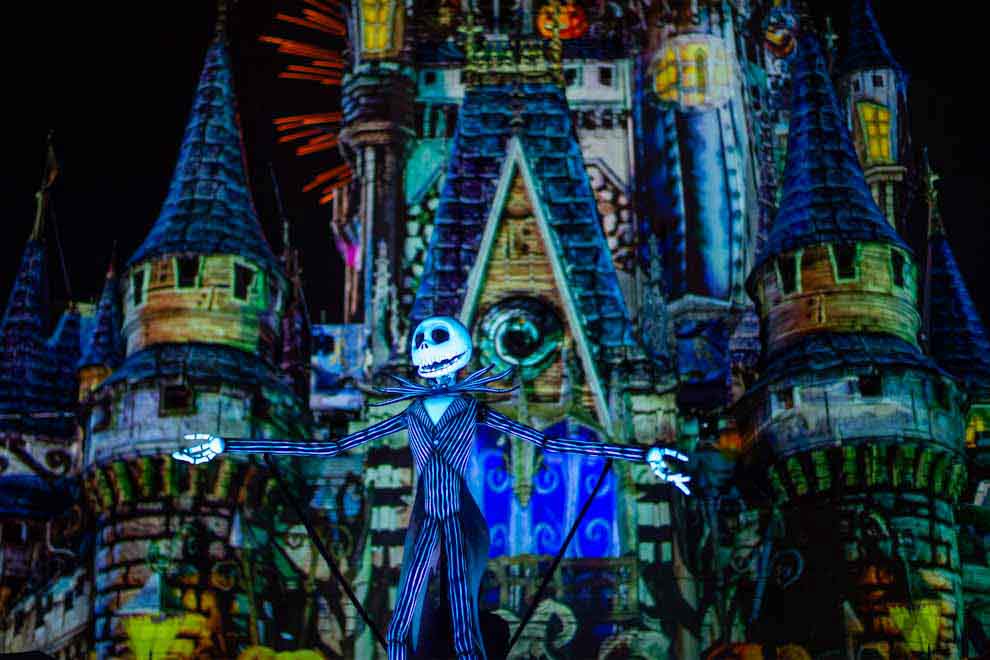 Mickey's Not So Scary Halloween Party is Disney World's most popular special ticket event, and it's not hard to see why. This party is awesome! Many dates sell out, particularly in October, so if you're interested in going book soon. If you're heading to a Halloween party, here are 13 tips and tricks for the best Mickey's Not So Scary Halloween Party possible!
1 – It's Very Popular (It's Going to Be Crazy Busy)
The Halloween party is very popular. It's on most people's must-do list when they are visiting Disney World in the fall. The first party in October 1995 and it only occurred on one night. Since 1995, the party has grown. In 2018 there were a record 34 parties. In 2020 (and 2019) there are a total of 36 parties, two more than in 2018. We think it's helpful to have the right expectations on crowd levels so you can have the best night possible. It will be busy. Main Street USA will be packed most of the night. The unique party activities draw the crowds, so you'll see reasonable waits for attractions. However, expect very long waits for characters, especially the most popular characters such as Jack Skellington and Sally. That doesn't mean you won't have fun, but do not expect an empty park where you will walk onto attractions.
2 – The Weather is Not So Perfect for Halloween
Think of Halloween weather, and you may picture a crisp, chilly fall night. Not at Disney World. Expect a very warm party evening, especially in August and September. In both of these months, highs are still in the lower 90s, so the party will begin in the upper 80s and stay there. It will also be crazy humid through early October. In October, you may find some relief, (one year we went to the party, and it was in the 60s!) but usually, you should expect a very warm evening. You'll want to dress accordingly!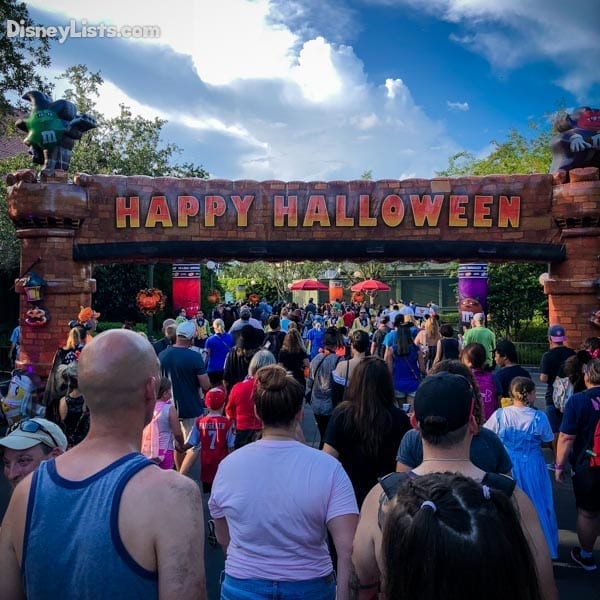 3 – Be Prepared to Come Early
While the Halloween Party hours are from 7:00 pm – 12:00 am, guests can arrive and enter Magic Kingdom at 4:00 pm with their party tickets. We highly recommend that you do this! Enter as soon as you can, and ride attractions that are on your must-do list. Also, eat your dinner before 7:00 pm so when the party begins you can focus on the party only options for the evening. The park closes at 6:00 pm to regular day guests and this really helps clear out the park just in time for the party to begin at 7:00 pm.
Again, this year, you'll find Market Street entry. To help the flow of day guests exiting the park party guests are being led to the right of Main Street USA to a backstage area usually used to relieve Main Street crowding on busy days. Here, guests receive treat bags and go through a few Treat stops so you'll begin the evening with candy right off the bat! It works nicely. However, if you want to experience walking down Main Street USA, you'll need to hang a left and go back down Main Street.
This set up certainly helped alleviate the traffic jam that usually takes place while many people are trying to enter and exit the park at the same time. Note that this Market Street entry is open through 8:00 pm. If you come to the party after 8:00, you'll just be able to walk down Main Street as usual.
4 – Be Prepared to Stay Late
On the flip side, to get everything you can out of the evening, plan on staying very late. The party officially ends at midnight, but there are a few reasons to stick around after that. First, you can plan on catching the fantastic stage show, "Hocus Pocus Villain Spelltacular," at midnight – the last show. The show is about 25 minutes long, and by catching the midnight performance, you'll free up time during the party to do other things. Also, as long as you are in line for an attraction by 11:59 pm, you'll be able to ride that attraction. While most shops and restaurants close promptly at midnight, shops along Main Street USA, including Main Street Bakery and Emporium, remain open.
From 12:00-1:00 am, there are usually a lot of people around. Disney PhotoPass photographers were also still on Main Street taking photos, as well as out near the Magic Kingdom Entrance. Feel free to take time to get these last photos and enjoy the party ambiance!
5 – Don't Miss the Amazing Entertainment
The entertainment options for the Halloween party are amazing. In fact, there is so much to do, you'll have to be picky and decide beforehand what your must-dos are. At the party, you'll enjoy Mickey's Boo to You Halloween Parade (9:15 and 11:15), Disney's Not So Spooky Spectacular (10:15), the Monstrous Scream-O-Ween Ball (7-12), Storybook Circus Disney Junior Jam (7-12), Disney's Descendance Party (7-12) and the stage show Hocus Pocus Villain Spelltacular (8:30, 10:45, 12:00).
We feel the Halloween party offers the best entertainment of all special events, period. The parade is a must-do, especially since there is no nighttime parade anymore in the Magic Kingdom. The new fireworks are fantastic, and Hocus Pocus is frightfully good!
We think the Boo to You Halloween Parade is the best parade Disney has ever put together (yes, better than the Christmas parade). However, the best part comes shortly before the official start of the parade when the Headless Horseman rides the parade route. DO NOT MISS THIS! This is the highlight of the party and is worth the price of admission. Seeing the Headless Horseman atop his huge, beautiful black stallion is breathtakingly eerie.
Click here for the 11 Can't-Miss Experiences at the 2019 Mickey's Not So Scary Halloween Party for more information, photos, and video, about the excellent entertainment options.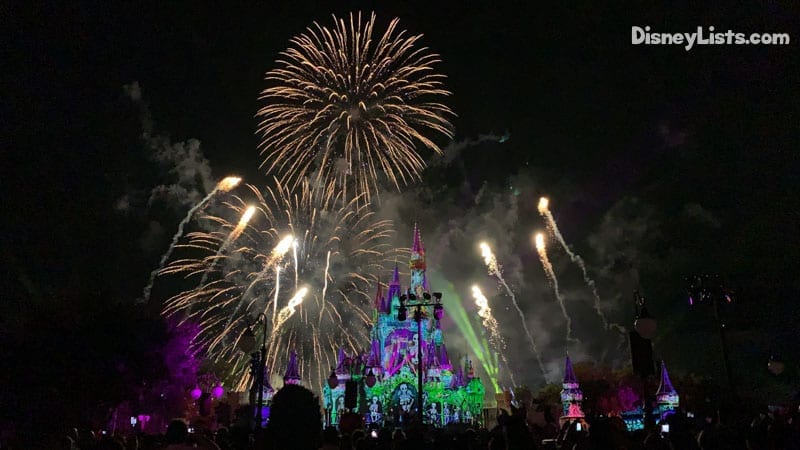 6 – Check out Attractions with a Halloween Twist
Once again three attractions have been given a "Halloween Twists," that you don't want to miss. On Pirates of the Caribbean, you can interact with live pirates who encourage everyone to be on the lookout for Gunpowder Pete, a scoundrel with an eye on the same treasure sought by Captain Jack Sparrow. Over at the Mad Tea Party takes guests on a colorful teacup ride, as special lighting and other effects, put a glowing new spin on the attraction at night. And finally, explorers visiting Space Mountain will hurtle through the blackness of deep space to the riffs of a new hard-rockin' soundtrack.
7 – Meet Unique and Hard to Find Characters
The Halloween Party offers a chance to get some photos with some very rare characters and some of our favorite characters in Halloween costumes. Wait times for these can get very long, especially for Jack and Sally, so be prepared for some pretty long waits! Here are some of the characters you can find at the party:
Main Street, USA.
Jack and Sally
Mickey Mouse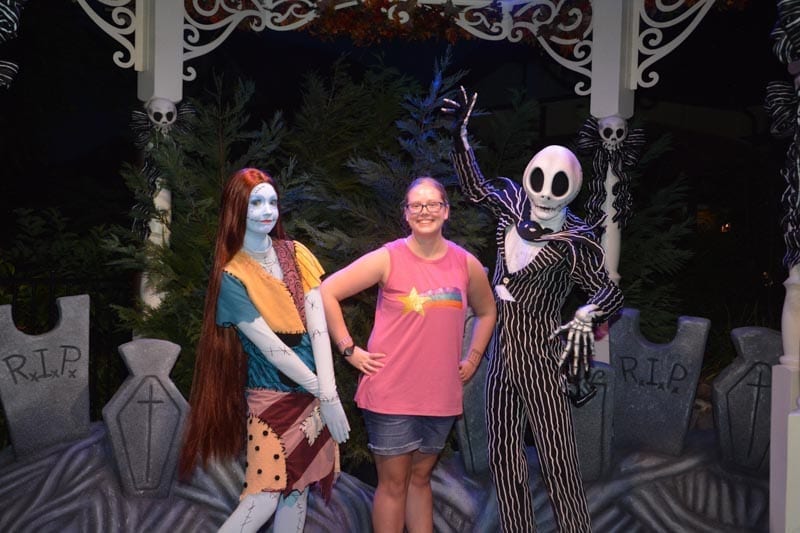 Adventureland
Captain Jack Sparrow
Moana
"Aladdin"
"Tarzan"
Frontierland
Br'er Bear and Br'er Rabbit
Fantasyland
Donald Duck
Daisy Duck
Minnie Mouse
Goofy
Cruella de Vil
Princess Elena
Princess Tiana
Rapunzel
The Seven Dwarfs
"Alice in Wonderland"
"Beauty and the Beast"
"Cinderella"
Disney Junior
"The Little Mermaid"
"Winnie the Pooh"
Tomorrowland
Lotso and Stitch
Monsters, Inc.
Character appearances are subject to change.
8 – Come Hungry
We've already suggested you come to the party early to eat dinner, but you'll want to save some room for the many treats available only at the party. Below you'll find a video highlighting the dining options from a Disney Chef. For complete details on where to find the items, be sure to read the Foodie Guide for Mickey's Not So Scary Halloween Party for all the details!
9 – Wait a bit to Trick or Treat
14 different treat locations around the party will distribute candy throughout the evening. How much candy you receive is up to you. Obviously, the more stations you go to the more candy you'll get. Right at the beginning of the party, the lines for candy are longer. You are free to go through the lines as many times as you like, and candy is given by the handful. We recommend you wait a bit until you can walk through the treat lines with no waits. Finally, don't worry about getting the garbage candy, the mean old lady down the street always gives out. The party features top-shelf candy choices such as M&M's, Snickers, Skittles and more. There is a large variety of premium choices, so everyone will find something they like.
10 – Check out the Exclusive Party Merchandise
In addition to the fabulous food choices, there are a lot of great merchandise options available. Get your wallets ready! To get these party-specific event merchandise head over to either Emporium on Main Street USA or Big Top Souvenirs. Both have the full event collection. You can find Event Trading Pins at Frontier Trading Post. Please note that some event merchandise will sell out. If there is something you really want, head to the stores as soon as possible for the best selection! Check out the video below highlighting some of the options this year!
11 – You Can't Do It All in One Night
We've described some really amazing offerings. The truth is that 5 hours is not enough time to get it all done. We'd love it if we could meet all the characters and see all the entertainment, but it's just not possible—at least not without going to the party on multiple nights. It's best to know before you go that you'll have to pick and choose what you want to enjoy during the party. Which leads us to our next point…
If you're planning on visiting the party multiple nights, then you'll want to check out the new Mickey's Not So Scary Halloween Party Season Pass. This pass allows you to enjoy every party except Halloween night. Click here for all the information!
Editor's Note: The Season Pass has not been announced for 2020. We will keep you updated on if it will be available or not this year. 
12 – You Really Need a Plan
You can certainly just show up at the party without a plan and have a good time. However, we feel if you want to maximize your time at the party and get the most accomplished, it's best to have a plan. Think about what you absolutely want to do and see. What characters are you dying (see what we did there?) to meet? What entertainment do you have to see? What items can be saved for another time? The planning process doesn't have to be overly complicated. Even just taking a few minutes and asking yourself questions like these can help you make a tentative plan for the evening. Even with a plan, you'll want to be flexible and go with the flow.
Our best suggestion to get the most out of your party experience is to skip the attractions that you can ride on any normal day. Focus on the party specific experiences first.
13 – The Party is a Whole Lot of Fun!
The main takeaway we want you to have is that Mickey's Not So Scary Halloween Party is a whole lot of fun and a fantastic way to spending an evening at Magic Kingdom. Between the special event entertainment, food, merchandise, rare characters, and atmosphere it's really worth the extra money for the party ticket. It's our favorite hard ticket event, and it continues to improve every year! We highly recommend it, and we hope knowing these 13 tips will help you have a spooktacular evening!
Editor's Note: The Disney Company provided us with complimentary Mickey's Not So Scary Halloween tickets. However, the thoughts and opinions contained in this article are completely our own.
For a no obligation, FREE Quote on a Disney vacation package, please contact our travel partner Magical Vacation Planner at 407-442-0227 (407-442-0215 for Spanish). You can also request a FREE quote online by Clicking HERE.