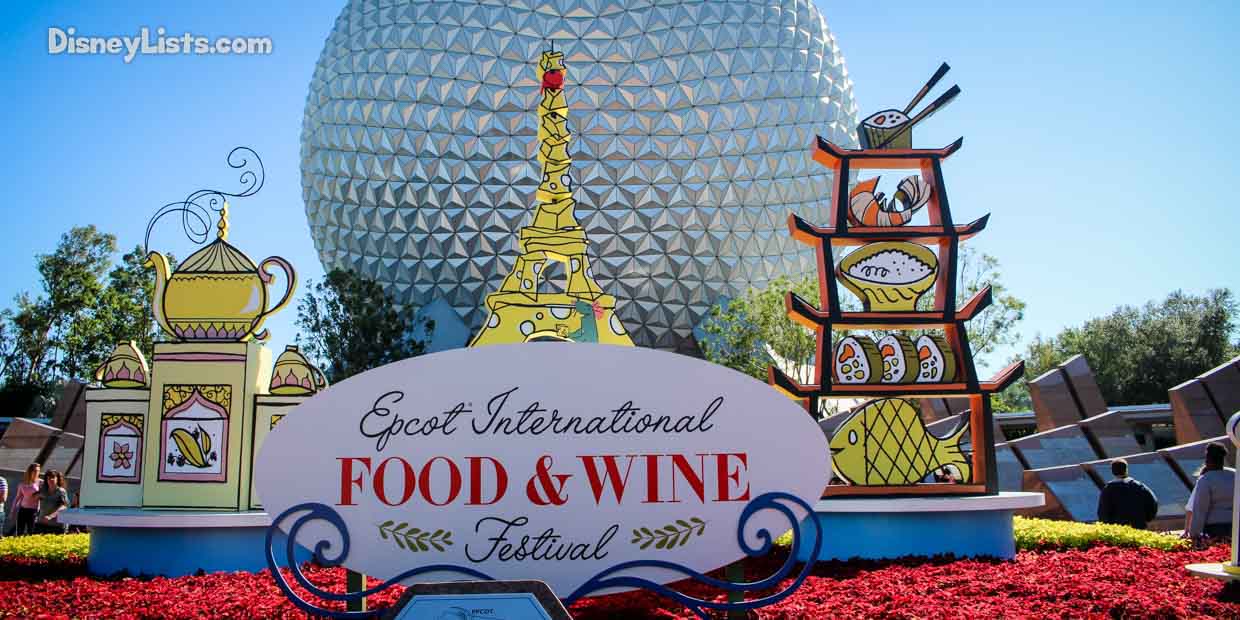 The 24thEpcot International Food & Wine Festival is almost here, and we're so excited. This year the festival will run a record-breaking 87 days and will bring irresistible bites, sips, entertainment, and family fun. We got a sneak peek at the many different things this very popular festival has to offer.  Keep reading to discover everything there is to do at the Epcot International Food & Wine Festival.
1 – Festival Overview
The Epcot International Food & Wine Festival has so much to offer. Disney Cast Members, Chelsea Florig, Project Manager, Epcot Food & Beverage, and Rick DeCicco, Proprietor, Epcot Food & Wine Festival, gave us an excellent overview of festival activities. Check it out below:
2 – Global Marketplaces
Thirty global marketplaces, plus additional locations across the festival, will present fresh flavors at a variety of marketplaces such as Africa, featuring the new Kenyan Coffee Barbecue Beef Tenderloin with sweet potato and corn mealie pap with Kachumbari slaw. At the Earth Eats marketplace, guests can dig into the new plant-based Cottage Pie with carrots, mushrooms, and peas topped with mashed cauliflower and white beans.
New marketplaces include the Appleseed Orchard Marketplace, where guests can pair apple-inspired beers, ciders, and cocktails like the Apple Blossom Sky while nibbling on Charcuterie and Cheese. Brews, ciders, and wines will be offered individually or as flights, and kids of all ages can enjoy a deliciously sweet Frozen Apple Pie drink.
More sweet and savory treats will debut at The Alps Marketplace, a tasty new spot where guests can conjure a snow-capped setting while dipping into a dish of Warm Raclette Swiss Cheese with Baby Potatoes, Cornichons, and Baguette, or Venison Stew with Crushed Potatoes paired with refreshing Frozen Rosé.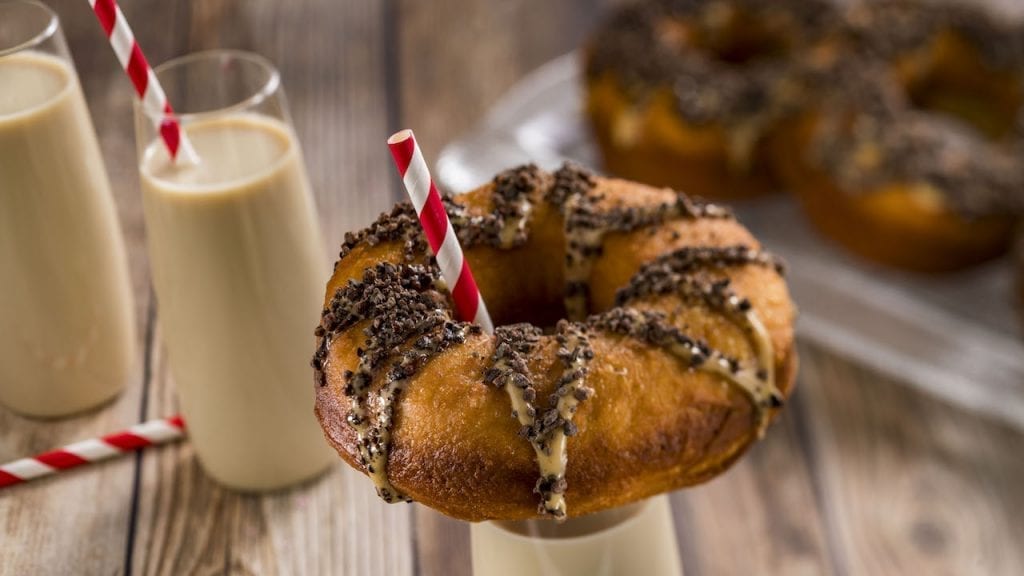 Disney Cast Member Jennifer Fickely-Baker shares more:
Two additional new marketplaces – The Donut Box and Cool Wash – will debut October 1 with sweet eats and refreshing sips. Disney chefs have harnessed their creative energies for a festival spin on the donut craze, producing irresistible marketplace goodies that include a Black and White Coffee Cocktail garnished with a fresh yeast donut sprinkled with chocolate espresso bean crumbles. Yes, please! And, there's more – The Donut Box also will feature a Sweet Corn Fritter with Fresno and red pepper jelly, plus Strawberry-dusted Yeast Donut Holes. Also on the menu is a Strawberry Smoothie made with Blue Diamond Breeze Almondmilk® and an exclusive festival beer called Boston Cream Donut Ale (yes, we said "donut ale"!) from Central 28 Beer Company, located in DeBary, Fla.
Cool Wash will be a chill stop where you can create your own frozen beverages with slushy flavors ranging from Blue Raspberry to Orange Cream. Then, go crazy with mix-ins: Swedish Fish, Jelly Drops, Boba Pearls and – wait for it — Pop Rocks! Talk about a taste-bud party!
Click here to see some of the dishes available at this year's festival from our Instagram account.
3 – Eat to the Beat Concert Series
Three times nightly, the Eat to the Beat Concert Series – 249 concerts in all – will rev up fans at the America Gardens Theatre stage through November 19, with the biggest musical menu of top talent in the festival's history, including new acts Spanish Harlem Orchestra, Lauren Daigle (contemporary Christian), Kris Allen (pop, alt-rock), Sawyer Brown (country) and Boyce Avenue (rock, pop). Returning festival favorites spanning a broad range of eras and genres include Plain White T's, Sugar Ray, Hanson, Sheila E. and Boyz II Men. Showtimes Sundays through Thursdays will be 5:30, 6:45 and 8 p.m.; Friday and Saturday shows are slated for 6:30, 7:45 and 9 p.m. The Eat to the Beat concerts run through November 19, 2019, only.
During the preview we were treated to a surprise visit from Joey Fatone, who shared the news that he would be performing November 12-14 as Joey Fatone and Friends, featuring Chris Kirkpatrick and Ryan Cabrera.
Eat to the Beat Dining Packages will let guests choose their favorite restaurant for a delicious breakfast, lunch, or dinner. Dining packages are available at select table-service locations and include guaranteed concert seating.
 Disney Cast Member David Baldree, Producer, Disney Parks Live Entertainment, shares his excitement about the concert series below. Check it out.
3 – Family Fun
Back by popular demand, the Disney du Jour Dance Party in Future World will expand to seven days a week. Sundays through Thursdays, a DJ will lead the interactive fun. Fridays and Saturdays, Radio Disney stars will pump up the mix with live performances. The celebrity lineup includes:
30-31 – Actress-singer Meg Donnelly ("With U," Disney Channel's "Zombies")
13-14 – Jenna Raine ("A Letter to Me")
Sept. 27-28 – Isabella Nicole ("Headphones")
Oct. 4-5 – Avenue Beat ("Delight")
11-12 – Sky Katz ("Like This," Disney Channel's "Raven's Home")
18-19 – JAGMAC ("Like a Band")
Nov. 1-2 – AJ Mitchell ("All My Friends")
Nov. 8-9 – Kylie Cantrall ("That's What I'm Talkin' Bout")
Nov. 15-16 – Erin Bowman ("Keep Me Warm")
Nov. 22-23 –Tegan Marie ("Horses")
Other family activities on tap are Remy's Ratatouille Hide & Squeak scavenger hunt and the popular Candy Sushi interactive experience.
Check out this video with Disney Cast Member Bruce Skinner-Light, Producer, Disney Parks Live Entertainment, discussing the family-friendly entertainment offerings:
4 – Emile's Fromage Montage
New this year, families can also enjoy Emile's Fromage Montage, where they can sample a variety of delicious cheeses served in inventive ways. Guests can purchase any five cheese dishes from the official global marketplaces listed in the festival passport and collect a stamp for each cheese dish purchased. Once guests collect all five stamps, they can take the stamped festival passport to Shimmering Sips for a complimentary specialty cheesecake unique to the Epcot International Food & Wine Festival.
5 – Sunday Brunch with the Chef
The back-by-demand Sunday Brunch with the Chef series in World Showplace Events Pavilion will kick off September 1 with Chef Jamie Deen and continue on select Sundays through November 17. The chef lineup includes Cat Cora, Carla Hall, Fabio Viviani, Andrew Zimmern, Buddy Valastro, Richard Blais, Robert Irvine, David Burtka, Graham Elliot and Aarti Sequeira. Click here to learn more.
6 – Tailgate Tasting
Tailgate Tasting hosted by ESPN's Monday Night Football will be available select Sundays September 8-November 17. The 45-minute program will pair gridiron grub with a beverage tasting inspired by the cities of pro teams playing each Monday night. Guests will also learn how to prepare the dishes for their next tailgate party. Click here to learn more.
7 – Party for the Senses
The grandest of the festival's hot-ticket tasting events, Party for the Senses at World Showplace Events Pavilion, will welcome acclaimed chefs and vintners September 21, October 5, 12 and October 19 (All Disney Chef Night!). This event showcases creative bites and palate-pleasing sips with sensational live entertainment featuring Femmes of Rock, who wowed guests last year with their blistering solos and innovative arrangements. (Note: The November 9 event is sold out.) Click here to learn more.
8 – Workshops, Demonstrations & More
"Mix It, Make It, Celebrate It!"hands-on workshops on select Mondays and Thursdays through November 14 will offer new opportunities for guests to work side-by-side with visiting chefs, bakers, mixologists, and other pros. Click here to learn more.
Book & Bottle Signings by some of the world's top vintners and chefs will return on select dates this year, in addition to the popular The Chocolate Experience: From Bean to the Bar, hosted by Ghirardelli, offering guests samples.
Culinary Demonstrations (available through November 16) and Beverage Seminars (available through November 17) will offer learning and tasting sessions select days throughout the festival. Click here to learn more.
Food & Beverage Pairings. Learn the fundamentals of flavorful food and beverage pairings. Disney's notable chef will collaborate with a beverage expert to whip up a delicious pairing, all while imparting years of industry knowledge. Click here to learn more.
There are also Beverage Seminars and & Cheese Seminars.
9 – Merchandise
And don't forget about the exciting new merchandise to commemorate the festival, as Chef Minnie will join Chef Mickey this year to bring a "sprinkle" of fun. This new merchandise line depicts those true originals busily making cupcakes and other delectable desserts with ingredients that include rose-gold accents and a little sparkle. Chef Minnie will also bring her sense of style to a new cupcake headband and other festival apparel. Guests can also celebrate the festival with returning favorites including the Taste Your Way Around the World, Brews, Figment, and Remy collections.
Take a look at some of the items available by clicking here.