The Haunted Mansion is a classic attraction at Walt Disney World that is a must-do for most guests. The attraction is celebrating its 50th Anniversary in Disneyland. Here at Walt Disney World, there will be celebratory merchandise and themed treats on August 9! Catch all the details below.
Here are all the details from Disney Cast Member Sarah Domenech:
Disneyland is celebrating the 50th anniversary of the beloved Haunted Mansion with commemorative special anniversary merchandise! We are excited to share today that this collection will also be available at Walt Disney World where we will also be celebrating the anniversary on August 9 at Magic Kingdom Park! Celebratory merchandise and a themed treat will be available.
Memento Mori, Ye Olde Christmas Shoppe and Frontier Trading Post are your key locations for these haunting must haves!
Make your way to Memento Mori to discover our brand new Host-A-Ghost collection! From her Séance Circle, Madame Leota invites all the guests of the Haunted Mansion to become caretakers to one of its "999 Restless Spirits." With a simple tap, and a ghostly giggle, Leota, as the head spiritualist, will channel your spirit to materialize for you. You will receive a "death certificate" that officiates your role of caretaker for a resident and happy haunt from the Haunted Mansion. Guests can choose from a selection of dearly departed souls, including Constance Hatchaway, Professor Phineas Plump, The Hatbox Ghost, among others
You can also find commemorative items such as an ear hat, ornament, mug, magnet and even a toy replica of the doom buggy vehicle with glow and new sound features at Memento Mori. If you're looking to complete your cadaverous look – keep an eye out for a PANDORA charm set*, ALEX AND ANI bracelet, light up headband and 50th anniversary apparel at this location.
At Ye Olde Christmas Shoppe, you can find a Haunted-Mansion inspired Dooney & Bourke collection including a tote and cross body bag. And Passholders, the collection will have an exclusive satchel just for you!
And of course, there are also keepsakes for every type of collector. Check out Frontier Trading Post for the commemorative "day of" pin, mystery pin collection and a glow in the dark Madame Leota Funko Pop!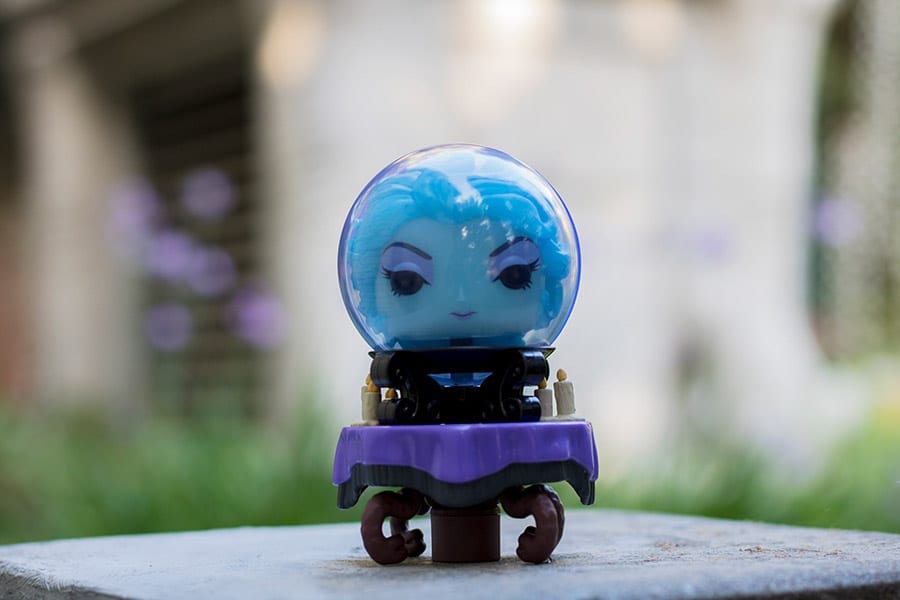 As part of the celebration, you can enjoy special Disney PhotoPass Magic Shots featuring your favorite Haunted Mansion residents that will be sure to put some fright in your fun!
Looking for a sweet treat while you're enjoying all the frights? Make your way to the Haunted Mansion ice cream cart for the Host-A-Ghost chocolate cupcake made with a dark chocolate truffle filling, crispy pearls, buttercream icing, and milk chocolate decoration. Delicious enough to bring you back to life!
For guests of this special merchandise event at Liberty Square, all of these ghoulish goodies will be available for purchase at 7:45 a.m.! Guests will also have early access to the Haunted Mansion attraction at Liberty Square during this time. So hurry on over, we would like your company!
But, that's not all! While all guests will have access to this merchandise starting with the special event on August 9, guests attending Disney Villain After Hours on August 8 will have access to certain items in advance. The Funko Pop, pins and Dooney & Bourke handbags will all release on the morning of August 9 and will not be available during Disney Villains After Hours.
For more information on Disney Villains After Hours and to purchase your tickets, visit DisneyWorld.com/VillainsAfterHours or call the Disney Reservation Center at (407) 939-2742. Disney Villains After Hours tickets cost $139 plus tax in advance and $144 plus tax on the event night. Annual Passholder and Disney Vacation Club Members can take advantage of a $30 discount and purchase tickets for $109.
So, who else is going? Will I see you out there?
As a reminder, merchandise is available while supplies last and admission to Magic Kingdom Park is required.
** Pandora charm set available at Uptown Jewelers on August 8 & 9.**
RELATED ARTICLE: 10 Things You May Not Know About Haunted Mansion at Walt Disney World
by Cindy E. Nykamp
Of all the rides at Disney World, few are more iconic than the Haunted Mansion. It is simply the best-haunted house attraction in the world. While this ride should be approached with caution when it comes to young children, rest assured that this is not a horror house. The haunting is combined with some good humor, and most people find it pleasantly entertaining rather than frightening. The fun begins when you step into line and continues out past the exit. With so many different parts of this ride, amazing effects and subtle jokes, there is a lot to love. Every visit brings new discoveries. Here are some things you may not know about this classic attraction.
1 – Spooky Interactive Queue
You may not mind a wait in this attraction's ride queue because there is so much to see! You'll discover a musical crypt. Tap any of the embossed musical instruments on the crypt to hear a haunted tune mysteriously play. Check out the tomb of the Sepulcher of the Sea Captain, which leaks water and bubbles rise as the Captain sings a long-lost tune. On the tomb of Posthumous Poetess, words inexplicably appear! Finally, in the Secret Library push in the books that mysteriously pop out at this haunted bookcase. Lot's of fun surprises await in this line so you may want to take the long way.
2 – The Tombstones
Of course, don't miss the tombs to your left just before you enter the Mansion. Be on the lookout for some spooky sights and some laughs as well. The highlight of the graveyard is the Madame Leota tombstone. A tribute to Disney Costumer Leota Toombs (what a great name!) who portrayed the spiritual medium Madame Leota in the séance scene, this headstone might surprise you if you look carefully. Toombs was honored with this unique tombstone in 2001. Interestingly, the names on the other tombstones are those of Disney Imagineers who helped create the Haunted Mansion. Marc Davis (Grandpa Mark), Fred Joerger (Good Old Fred) and Yale Gracey (Master Gracey) are all Imagineers who left their mark on the attraction.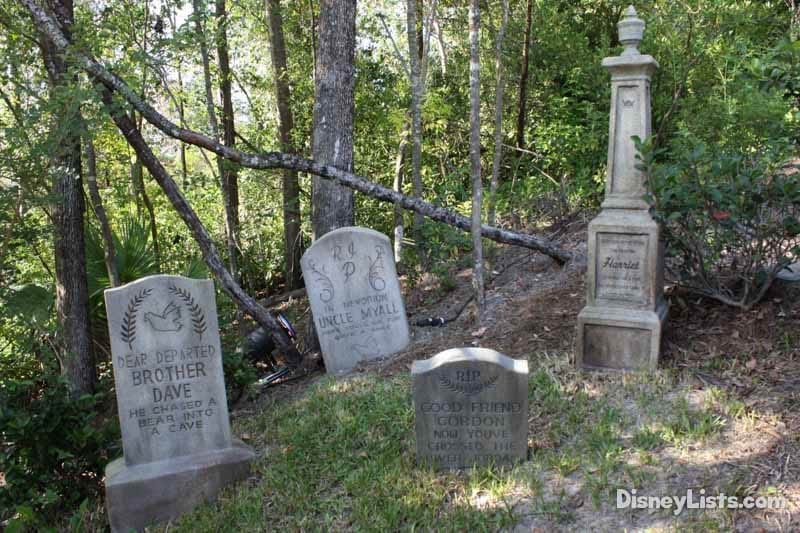 3 – Stretching Room
The ride portion of the Haunted Mansion is preceded by the famous Stretching Room where you are introduced to your Ghost Host. Is this room actually stretching? At Disney World, the answer is actually sort of. In the original Haunted Mansion at Disneyland, the stretching room as born of necessity. The actual ride is housed in a building on the other side of the Magic Kingdom Railroad tracks. The California Stretching Room is actually an elevator that moves guests from the entrance to the lower level below the tracks. In the Disney World version, the ride itself is housed in a hidden building directly behind the facade you see from the queue area well within the Magic Kingdom Railroad tracks. Since there is no need for an elevator (unlike at Disneyland), the ceiling just goes up! But that's okay because the stretching room is fantastic and it just wouldn't be right without it.
4 – The Song "Grim Grinning Ghosts"
Can you imagine visiting the Haunted Mansion without hearing the spooky, yet merry theme song, "Grim Grinning Ghosts?" Neither can I. The success of the theme song, "Yo Ho Yo Ho (A Pirate's Life for Me), at Pirates of the Caribbean, was the driving force behind creating another compelling tune for the Haunted Mansion attraction. Buddy Baker and X. Atencio wrote the song, while voice actor Thurl Ravenscroft sang for the track. Thurl's quartet, The Mellomen, contributed harmony to "Grim Grinning Ghosts."  Buddy Baker, X. Antencio and Thurl Ravenscroft have all been named Disney Legends in years past for their contributions to Disney Parks and films.
5 – Home to 999 Happy Haunts
The Haunted Mansion is based on 19th century Hudson River Dutch Gothic architecture. This architecture makes sense since it resides just beyond the burgeoning harbor town of Liberty Square. Since this home was abandoned, it has become home to 999 specters. Though there is room for 1000 if you'd like to volunteer. You'll be delighted to meet your, Ghost Host, who is your helpful guide through the 15 rooms that are waiting to be explored. Paul Frees, voice of the Ghost Host, also provided voices for Ludwig Von Drake, Boris Badenov, the Pillsbury Doughboy and many of the Pirates of the Caribbean, including the famous Auctioneer. Madame Leota, the disembodied head inside the crystal ball, is the voice of Eleanor Audley, who also provided the voices of Maleficent in Sleeping Beauty and the Wicked Stepmother in Cinderella.
6 – Dancing Ghosts
A trick that has been around since the early 1800s creates the dancing ghosts in the ballroom scene. The trick, called the Pepper's Ghost illusion, is where illuminated objects are reflected onto a pane of glass, making them appear translucent. The ghosts are images of real animatronics, which are hidden out of sight just below and above the ride vehicle track.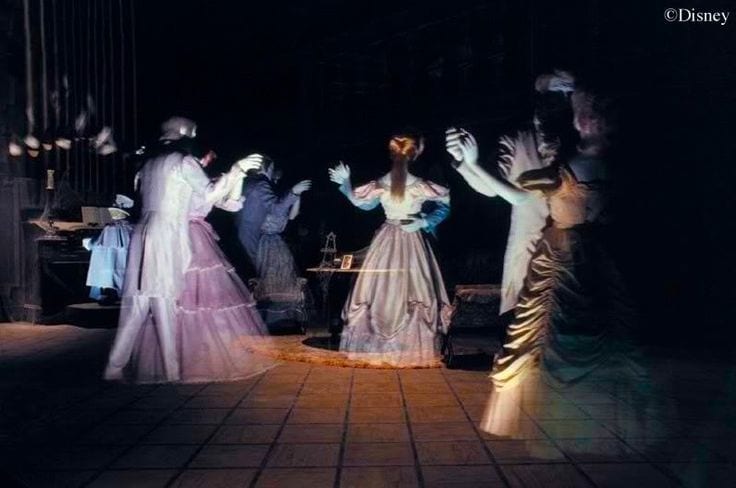 7 – Singing Busts
"Grim Grinning Ghosts" comes alive in the graveyard scene, where a set of singing busts will "shriek and harmonize." Each of the busts has a name. They are Rollo Rumkin, Uncle Theodore, Cousin Algernon, Ned Nub, and Phineas P. Pock. The face of singer Thurl Ravenscroft appears on one of the singing busts – Uncle Theodore, which at Disney World is the "broken" bust.
8 – The Haunted Mansion Bride
The Mansions in Disneyland, Disney World, and Tokyo Disneyland all have their own Brides, and she is a central character in the Phantom Manor at Disneyland Paris. The Disney World Bride was recently updated into a more ominous, hatchet-wielding figure named Constance, who speaks grim twists on traditional wedding vows. Portraits of her in the attic show Constance and her ill-fated husbands, whose heads disappear from the portraits before your very eyes.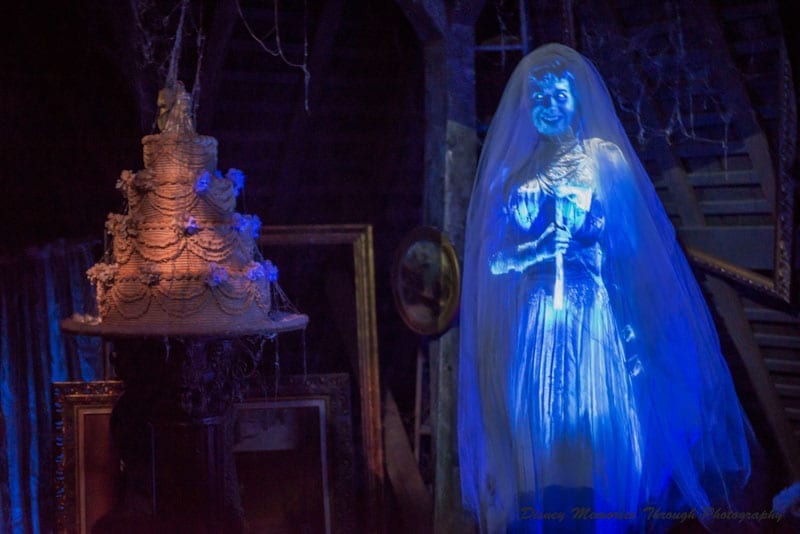 9 – Hitchhiking Ghosts
One of the most popular scenes in the Haunted Mansion comes at the end when your Doom Buggy gets one of three additional passengers that are sure to follow you home. The original effect was kind of a "Pepper's Ghost" in reverse since you're seeing the real animatronic figure sitting next to your reflection in the glass. Recently, the sequence has been upgraded — the ghosts now move around and interact with guests from either inside or atop the Doom Buggies.
10 – Pet Cemetery
On your way out don't miss the pet cemetery on your left. Look way in the back for a newer addition to the gravestones: Mr. Toad. The Disney World version of Mr. Toad's Wild Ride was closed and reworked into the Many Adventures of Winnie the Pooh, so the repurposed Toad figure is a tribute to a lost ride.
This is such a rich ride experience with so many things to see, you can spot something new every time you ride it. What's your favorite part of the Haunted Mansion!
For a no obligation, FREE Quote on a Disney vacation package, please contact our travel partner Magical Vacation Planner at 407-442-0227 (407-442-0215 for Spanish). You can also request a FREE quote online by Clicking HERE.