August is starting out with a bang with some really exciting foodie news at Walt Disney World. We're so excited about three new dining options coming to Disney Springs, along with some other great offerings this month. Calories don't count at Disney World, right? Catch all the details below.
Here are all the details from Disney Cast Member Alex Dunlap:
This month I have several new offerings at Walt Disney World Resort to share with you! With new eats at both Epcot and Disney Springs as well as a yummy new plant-based treat at Disney's All-Star Music Resort, you'll definitely want to come and snack with us!
First up, though, is some exciting news direct from the Japan pavilion at Epcot. This morning, all sorts of dignitaries gathered to celebrate the official grand opening of Takumi-Tei. In attendance were, of course, Mickey and Minnie Mouse! Takumi-Tei is the newest signature table-service restaurant at Epcot. It is truly an upscale, immersive, Japanese dining experience offering a premium multicourse tasting menu featuring traditional tea service and wagyu beef, as well as an á la carte menu and more. Inside, the restaurant's tranquil interior features five dining rooms, each inspired by one of five natural elements: water, wood, earth, stone, and washi paper. Congratulations to both the Epcot and Mitsukoshi teams on the opening of this amazing new restaurant!
While we're on the topic of Epcot, you should definitely check out Coral Reef Restaurant. They recently added a few new items to the menu. On the appetizer list – you can try the new Seared Sea Scallops with saffron butter broth, tomato bruschetta, and crostini. New entrées include the Lobster Seafood Boil (with lobster, Jonah Crab claw, shrimp, mussels, Andouille sausage, corn, potatoes, ouzo-garlic butter, and spiced cioppino broth) and Grilled Swordfish (with warm white beans, roasted Cipollini onions, arugula, and lemon-herb vinaigrette). You'll also find a new enhancement featuring one pound of steamed Maryland-style Snow Crab legs served with lemon and butter. And for dessert, try the seasonal cheesecake with a shortbread cookie and fruit compote.
To make reservations for either of the restaurants listed above, visit the Walt Disney World Resort website, the My Disney Experience app, or by calling 407 WDW-DINE (407 939-3463).
At Disney Springs, I have lots of news including three new additions as well as new offerings at D-Luxe Burger and Earl of Sandwich. The first of the new additions is a new food truck called "Cookie Dough and Everything Sweet" featuring – you guessed it – COOKIE DOUGH! That's right, you can soon find edible cookie dough desserts at Disney Springs! On the menu:
Springs Candy Taco – Candy Monster Cookie Dough, chocolate sauce, whipped cream, sprinkles, and a cherry served in a waffle taco
Minnie Mouse Taco – Peanut Butter Fluff Cookie Dough, caramel sauce, whipped cream, a cherry, and a chocolate Minnie bow served in a waffle taco
Celebration Parfait – Celebration Cookie Dough with Celebration Mickey cake, vanilla custard, strawberries, whipped cream, and a cherry
Mickey or Minnie Funnel Cake – funnel cake topped with powdered sugar and Mickey or Minnie-shaped cookie dough
Cookie Dough Cup or Cone – Flavors include Chocolate Chip, Peanut Butter Fluff, Celebration, Cookies and Cream, Candy Monster, and Cold Brew
This new cookie dough-themed food truck will open later this month and will be parked near the other food trucks across from Candy Cauldron at Disney Springs West Side.
Also coming later this month, a guest favorite from the Downtown Disney District at Disneyland Resort is heading to Disney Springs: Sunshine Churro! You'll find Sunshine Churro carts at the Marketplace and West Side. These carts serve up a variety of classic and gourmet churros with flavors like watermelon, salted caramel, strawberry cheesecake, fruity cereal, and cookies and cream. You can even try churros dipped in milk chocolate or chocolate-hazelnut spread.
And coming soon, I'm excited to share that Ample Hills Creamery will be opening a brand new location at Disney Springs West Side. The scoop shop will offer their popular handcrafted ice cream and mix-ins (like brownie bites, oatmeal lace cookies and butter pecan brittle) similar to the offerings available at the Ample Hills Creamery located at Disney's BoardWalk. At Ample Hills, every component tells a story — from the ingredients, to the design of the pints, making it another "Instagrammable" foodie destination.
On the savory side, you'll find a new Pepperoni Pizza Burger at D-Luxe Burger topped with artisan pepperoni, fried mozzarella and Pomodoro sauce. And at Jock Lindsey's Hangar Bar, if you haven't had the new "Temple of Bacon" dish, then you're totally missing out! It comes with thick-cut Applewood-smoked bacon dipped in milk and chipotle chocolate ganache from The Ganachery.
At Earl of Sandwich, try one of their new cheesesteak sandwiches! Choose between the Philly Cheesesteak Sandwich with tender chopped beef steak or the Chicken Cheesesteak Sandwich with grilled chicken. Both are served on freshly-baked artisan bread and topped with provolone, mushrooms, sautéed green peppers, and onions. There's also a Veggie Cheesesteak Sandwich featuring provolone, mushrooms, sautéed green peppers, onions, and HP sauce.
Finally, at Disney's All-Star Music Resort, if you're looking for a unique plant-based treat, you should definitely try the Sweet Thai Coconut Mickey Onigiri at Intermission Food Court. It features coconut sticky rice with poppy seeds stuffed with roasted mangos, mandarins, apples, and carrots wrapped in nori and is served with a sweet and sour fruit dipping sauce. Also at Intermission Food Court, you'll find a Hades Cupcake offered the entire month of August. This chocolate cupcake comes with blue sour candy buttercream and a chocolate Hades piece.
For more information, all of the locations listed in this month's Best Bites, visit the Walt Disney World Resort Dining Page or check out the My Disney Experience app.
RELATED ARTICLE: Top 10 Quick Service Restaurants at Disney Springs
by Mike and Jamie Sylvester
Visiting Disney Springs? Well, we hope you're hungry! With over 60 eateries, we are sure you'll find the food you're craving among the vast shopping and entertainment available at Disney Springs. If you don't want to take the time for a table service restaurant or simply didn't get the dining reservation you were hoping for, check out the over 25 quick-service venues offered. This is a perfect way to get your meal quickly but take time to savor the deliciousness! While it's tricky to narrow the list down – check out our top 10 picks for quick service restaurants at Disney Springs.
10 – The Basket at Wine Bar George
Wine Bar George is a fairly new table service restaurant to The Landings area of Disney Springs. But, if you're looking for the quick service version of this European eatery, The Basket should be on your dining list. Sandwiches like the Goat Cheese, Fig, Arugula and Ficelle take the taste buds to the next level. Or get one of the Bites and Boxes with items like Crispy Mac and Cheese Bites or Chicken Skewer. You can even select "The Basket" menu item which is like an actual picnic with sandwiches, bites, cookies, and wine all to go. It's a quick service stop that will have you feeling like you are at a marketplace in Europe!
9 – Wolfgang Puck Express
Looking for variety? Look no further than Wolfgang Puck Express located in the Marketplace of Disney Springs. Serving breakfast, lunch, and dinner – foodies will especially enjoy the different bites available here. At breakfast, we'd recommend the Belgium Waffle, Corn Flake French Toast or even one of their omelets. Lunch and dinner are where it gets hard to choose with menu items including sandwiches, wraps, soups, pizza, salmon, meatballs, pasta, chicken, meatloaf and more! This isn't your typically quick-service stop as the menu and food are made to impress as if it were a table service restaurant.
8 – The Polite Pig
No worries, you don't have to be polite with your appetite here! Let that growling stomach have it with some Florida inspired barbecue. Located in Town Center, you'll smell The Polite Pig before you see it. Barbecue is what's on the menu and it ranges with all sorts of meats onto your plate in a sandwich, salad, soup, rib, and even side form. The barbecue here has a southern taste where low and slow cooking is ready for your indulgence. Oh, and let's not forget to mention the Bourbon Bar because barbecue and bourbon is the new peanut butter and jelly!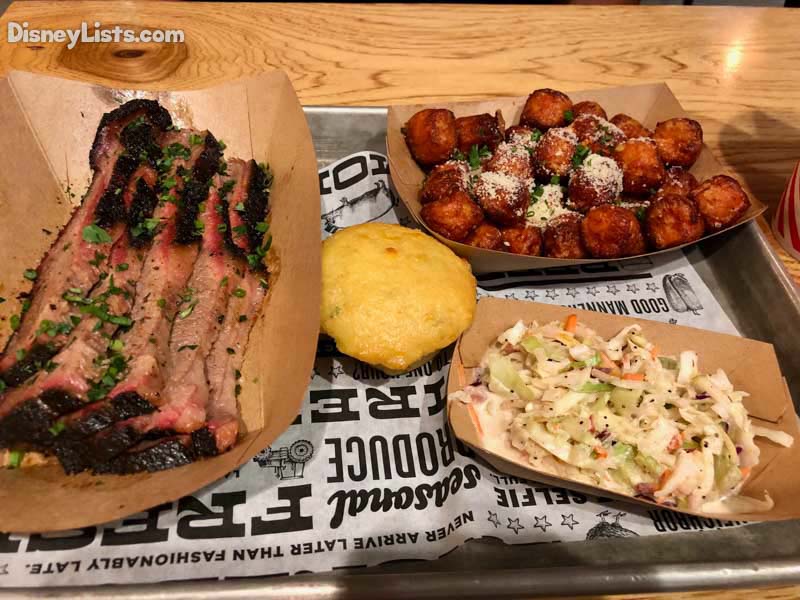 7 – Morimoto Asia Street Food
Chances are if you've strolled through Disney Springs, you've spotted the stunning Morimoto Asia Restaurant located in The Landing. While this table service restaurant is one worth snagging a reservation for, sometimes you just need to eat on the move. Get your Pan-Asian dishes at the Morimoto Asia Street Food. Ramen, egg rolls, sushi, and noodles – you're sure to get that Asian flavor fix in a quick-service way.
6 – Earl of Sandwich
One of the oldies on this list… Earl of Sandwich has been located at Disney Springs Marketplace before it was known as Disney Springs! You know it's an amazing quick service restaurant when it's been around for this long yet still draws a crowd. Standing the test of time, the hot and cold sandwiches, wraps, salads, soups, and easy grab and go sides and drinks at Earl of Sandwich make it a place we stop at regularly when visiting Disney Springs. Have some breakfast, lunch or dinner on the go, or take a break at one of their many tables located inside or outside. Earl of Sandwich remains a family favorite of ours for taste, variety, and convivence.
5 – Chicken Guy
Why, hello Guy Fieri! The Food Network Channel Star and Chef has stepped into Disney Springs with a bang. Not only are we fans of what he's done with the Planet Hollywood renewal, but we must also say he hit it out of the park with Chicken Guy located just below Planet Hollywood in Town Center. "Welcome to flavor town" as Chicken Guy is the place for all things chicken and the opportunity to mix and match flavorful sauces along the way. The sandwiches, chicken tenders, and salads are on the affordable side as well, which surely makes it all taste even better. We especially love the Sauce Boss Sandwich and always feel a need to wrap up our meal with one of Chicken Guy's Triple Double Mint shakes.
4 – D-Luxe Burger
Any burger fans out there? Located in Disney Springs Town Center, D-Luxe Burger is a burger fan's place to be. The meat is fresh, seasoned and cooked perfectly every time we eat at D-Luxe. Our only complaint here is trying to select which burger to throw down! If you aren't in the mood for one of their signature burgers, you can select a chicken sandwich. Around for breakfast? D-Luxe has you covered with breakfast items like their Classic Breakfast Burger. The burgers are obviously the stars here, but the fries and shakes are worth enjoying as well.
3 – 4 Rivers Cantina Barbacoa Food Truck
Food trucks are what's trending right now! Thankfully, Disney Springs has upped their food truck game with the addition of 4 Rivers Cantina Barbacoa Food Truck. 4 Rivers is located on the Marketplace side of Disney Springs and can't be missed with their vibrant, red colored truck. If you get anything here, we'd recommend trying the Taco Cone! You read that right. It's a taco, shaped in a cone for easy holding. You pick your fillings and they create the masterpiece. If the Taco Cone is too much of a challenge, enjoy their nachos, quesadilla, or bowls. Someone put a boot on this truck – we want 4 Rivers to stay around for a long time!
2 – Pepe by Jose Andres
Check out this newbie at Disney Springs! It's bringing the heat – savory Spanish heat that is, to the West Side. Nestled next to the table service restaurant, Jaleo, both share food by the famous Chef, Jose Andres. Jose knows what he's doing with a packed quick-service menu at Pepe where you can take control your Spanish cuisine cravings. Serving up lunch and dinner, the sandwiches are outstanding! Pick from cold and hot sandwich options that are anything but the norm with their unique Spanish twist. Not the "BLT" but try the "B.E.L.T" with bacon, egg, lettuce and tomato fresco. Another popular sandwich is the Bikini Quatro Quesos which is a grilled cheese with a side of honey mustard. The salads, hot dogs, and even soft-serve ice cream are worth a try too. Put Pepe on your list for your next visit to Disney Springs.
1 – Blaze Fast-Fire'd Pizza
Wait, what? Yep – a pizza joint is our number one pick for quick service restaurants at Disney Springs. Of all the cuisines available, we narrow our top pick to Blaze Fast-Fire'd Pizza in Town Center for numerous reasons. First, this pizza is GOOD… and we mean, really, extremely, good! Fresh ingredients and a wide selection of toppings and sauces offered, it's all about the taste here. Build your own pizza or choose from one of their signatures like their yummy BBQ Chicken! If the taste isn't enough of a reason – it's truly fast, a filling meal on a budget, and the atmosphere is on point. This isn't your everyday pizza joint, so step in and get your fill!
Happy eating Disney Springs travelers!
For a no obligation, FREE Quote on a Disney vacation package, please contact our travel partner Magical Vacation Planner at 407-442-0227 (407-442-0215 for Spanish). You can also request a FREE quote online by Clicking HERE.