One of the many benefits of being an annual Walt Disney World Passholder is getting unique character magnets throughout the year. This year we've already gotten a Pluto and Daisy magnet during the Epcot Flower and Garden Festival. We've been eagerly awaiting the magnets for the Epcot Food and Wine Festival. We've now got the details on those magnets and a surprise magnet that will be available at Disney's Animal Kingdom. Catch all the details below.
Here are all the details from Disney Cast Member Jennifer Fickley-Baker:
Fall is an amazing time to visit Walt Disney World Resort, especially if you're a fan of the annual Epcot International Food & Wine Festival and all the delicious opportunities that pack the park during those months.
Annual Passholders planning to visit Epcot this fall won't want to miss out on special offerings planned exclusively for them. Read on!
Complimentary Magnets & More
Walt Disney World Annual Passholders visiting the Epcot International Food & Wine Festival are eligible to receive a complimentary Chef Minnie magnet (August 29- October 14), and a Chef Remy magnet (October 15-November 23). On the Annual Passholder's fourth visit to the festival, they can also receive a complimentary Chef Minnie wooden coaster set. Each of these Passholder exclusive items can be picked up at Mouse Gear or Disney Traders and are available while supplies last. Passholders must present a valid annual pass and photo I.D. One Chef Minnie magnet, one Chef Remy magnet and one coaster set per Passholder.
Passholder Exclusive Merchandise & Discounts
Not only do Annual Passholders receive a 20% discount on merchandise, but there have also been several festival items created exclusively for Passholders, including tees, caps, mugs, pins and more. Passholders can also receive a 10% discount on Eat to the Beat Concert Series dining packages.
Exclusive Gift Card Offer 
When Annual Passholders purchase this $100 Disney Gift Card (perfect to use at the Food & Wine marketplaces!), they'll also receive a $10 digital bonus to use at select Table-Service restaurants at Epcot, including: Akershus Royal Banquet Hall, Biergarten Restaurant, Coral Reef Restaurant, Garden Grill Restaurant, Le Cellier Steakhouse and Rose & Crown Pub & Dining Room. (And yes, Passholders will still receive a 10% discount at these dining locations). This gift card can be purchased at Mouse Gear, Disney Traders, the Bridge Kiosk or Port of Entry. Passholders must present valid annual pass and photo ID. One Disney Gift Card can be purchased per transaction.
Beginning August 29, additional Annual Passholder opportunities will launch at both Epcot and Disney's Animal Kingdom.
On August 29, Annual Passholders will be treated to special character greetings. Passholders can meet Winnie the Pooh at Christopher Robin's room in the United Kingdom at Epcot, while over at Disney's Animal Kingdom, Passholders can meet Baloo, as well as Tarzan and Jane. Both parks will also feature special Disney PhotoPass opportunities.
Sip and savor time with other Passholders and enjoy Passholder-exclusive hidden menus available for purchase at Disney's Animal Kingdom. From August 29 to September 2, dip into Dawa Bar, Thirsty River, Restaurantosaurus Lounge and Nomad Lounge from 3-6 p.m. and be sure to ask the server for the special menu.
Passholders visiting Disney's Animal Kingdom can also pick up a complimentary Simba magnet starting August 29 at Discovery Trading Company. Passholders must present a valid annual pass and photo ID. One magnet per Passholder. Available while supplies last.
RELATED ARTICLE: Top 10 Planning Tips for a Fall Disney World Trip
by Mike and Jamie Sylvester
There's no doubt about it – the fall season is our absolute favorite! The way nature begins to ease away from the heat of summer and prepares for the crisp winter is so soothing and cozy to us. The cool air starts moving in; the leaves are gathered into a pile to be jumped in; we put together our costumes for the Halloween festivities; and join family for Thanksgiving. Wherever you may call home, Disney (you're home away from home) is calling your name this fall! But before you slide on your fall boots and grab a pumpkin spice latte, you'll want to keep in mind a few planning tips to make the most of your fall Disney World trip!
1 – Look for Discounts
With school back in full swing, many families take the bulk of the fall season to focus on academics and athletics. While this isn't the case for major school breaks such as Thanksgiving, we will say the crowd level is much more tolerable and enjoyable during the fall season at Disney World. Disney, therefore, knows how to boost attendance and typically offers pretty fantastic discounts over the fall season. During the summer months, a Free Disney Dining promotion is usually launched for fall visits which require the purchase of tickets and a Disney resort stay. Other discount packages are typically available as well. Just be sure to see what's available and don't hesitate to ask Disney for their best discount!
2 – Plan your Epcot visit around the Food & Wine Festival
The Epcot International Food and Wine Festival is a fantastic event that is definitely something you'll want to experience when visiting Epcot. The festival typically runs from late-August to mid-November. Epcot is filled with extra venues and kiosks with flavors from all around the world to excite your taste buds – plus, there are special entertainment and merchandise worth checking out. Plan to visit Epcot with the Food and Wine Festival as a focus if this is your cup of tea.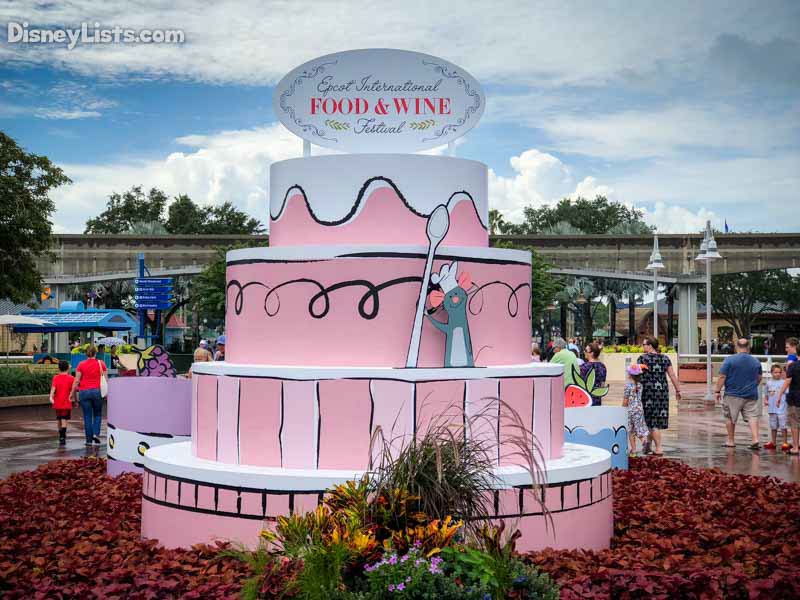 3 – Get in Shape for a runDisney Race
Yep, you can stay fit while enjoying all the Disney goodies! Over the fall season (typically the first week in November), the Wine & Dine Half Marathon is offered. Speaking from personal experience, we can say the Wine & Dine Half Marathon is a blast! If a half marathon is a little intimidating, you can go for the Wine & Dine 5K or 10K run. Put on those running shoes and jog in to fall.
4 – Purchase Mickey's Not-So-Scary Halloween Party Tickets in Advance
Make the most of the fall season with Mickey's Not-So-Scary Halloween Party at Magic Kingdom. This special ticketed event provides guests a chance to wear costumes and trick-or-treat through Magic Kingdom – no matter what the age. The special parade, fireworks, entertainment, merchandise, and food are absolutely "Spooktacular"! Purchase your party tickets well in advance before the night you are seeking sells out.
5 – Order an In-Room Celebration
Continue the Halloween spirit with a special in-room celebration. Disney Floral and Gifts has special Halloween-themed celebrations that can be ready in your Disney Resort room upon arrival. It's a memorable experience entering your resort room to a special surprise! Prices can range from Mickey's Halloween Celebration for $400 to small Halloween themed balloons and candy costing anywhere between $7 and $15 per item.
6 – Make Minnie's Seasonal Dining Reservations
Hollywood and Vine Restaurant at Hollywood Studios offers seasonal dining for both lunch and dinner. The "Halloween Dine" usually runs from early-September until mid-November. Minnie and her favorite friends will haunt Hollywood and Vine as they make their way from table to table to greet diners. This makes for fun Halloween photos and is a great opportunity to see some of the most popular characters in their Halloween finest. Book your reservations 180-days in advance as this character dining experience does fill up fast.
7 – Reserve an Eat to the Beat Dining Package
While we're talking about dining reservations – be sure to check out the Eat to the Beat Dining Package. This is a great opportunity to eat at one of Epcot's excellent table-service restaurants while securing VIP seating for the Epcot International Food and Wine Festival's Eat to the Beat Concert Series. Be sure to check out the concert line up well in advance and select from one of the many Epcot restaurants. You're going to eat anyway – might as well get a great seat for the concert out of the deal!
8 – Budget for Christmas Shopping
While you're in the midst of planning for the entertainment and dining above for your incredible fall trip, you may want to budget for Christmas shopping. If you're anything like us, you'll find the fall season a perfect time to start gathering gifts for friends and family. You'll start to see Christmas merchandise hit the shelves at Disney during late fall. You can also find Christmas merchandise year-round at Disney's Days of Christmas in Disney Springs and Ye Olde Christmas Shoppe in Magic Kingdom. Everyone loves a gift from Disney under the tree!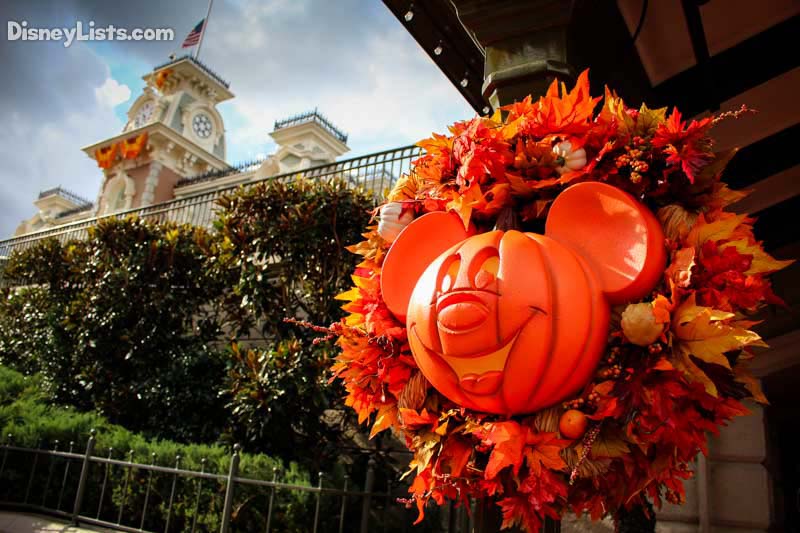 9 – Prep for Cooler Mornings/Evenings
As September slows to an end, thankfully, so does all that Florida humidity! It's a beautiful time of year to be in Florida. With mid to high 70's and low 80's, you'll find yourself able to enjoy flipflops but may want to plan to bring a light jacket along for the early mornings and evenings. The best part is that while you may be able to slip on a jacket every now and then, you can still pack your bathing suit for a dip in the resort pool! That's right – Disney keeps their pools heated. It's really a great time to enjoy the Florida weather.
10 – Get Your Camera Ready!
Last, but not least, be sure to bring along your camera. Of course, every season at Disney is a stunning season – but for people that love fall as much as we do, you'll especially fall in love with all the fall décor featured throughout the parks and resorts. The splash of orange, yellow, and brown are just about everywhere, right along with the Mickey shaped pumpkins. Capture those memories on film so you can recall your amazing fall visit to Walt Disney World time and time again!
Enough planning… let's get to enjoying a memorable fall at Walt Disney World!
For a no obligation, FREE Quote on a Disney vacation package, please contact our travel partner Magical Vacation Planner at 407-442-0227 (407-442-0215 for Spanish). You can also request a FREE quote online by Clicking HERE.