Do you like ketchup? And we mean – LOTS of ketchup?! Well, have we got the perfect restaurant for you! Ok, but seriously, even if you don't like ketchup, Whispering Canyon Café is a resort restaurant you won't want to miss. Check out these eight things to know below… including why we're talking about ketchup!
1 – A Stately Location
Whispering Canyon Café is a table-service restaurant located in one of Disney's most stunning lobbies at the rustic, yet stately, Wilderness Lodge Resort. Once you enter the Wilderness Lodge, look to your left to easily spot Whispering Canyon Cafe. One of the best parts of dining here is the open atmosphere as you can look out over the impressive resort lobby while you dine. The rustic appeal flows throughout the restaurant in the floor to ceiling woodwork. The western décor shines through with Cowboys and Indians in the wall art and on the chairs. Around the corner from the main dining area, you'll find a few nooks that provide a more intimate dining experience, including a cozy fireplace. Even if you aren't staying at Disney's Wilderness Lodge, this is one resort restaurant that is worth dropping in for.
2 – The Antics are Alive and Well!
Editor's Note: During the phased reopening of Walt Disney World, sharing of ketchup bottles has likely been temporarily suspended.
You may have heard through the rumor mill that Whispering Canyon Café has cut down on their silly antics. For many, this was a game-changer and according to Cast Members we spoke with – the rumors really hurt Whispering Canyon's business. We are thrilled to say that the silly antics we love about Whispering Canyon are still alive and well! When you ask for ketchup, the server will shout out "WE NEED KETCHUP!". Every ketchup bottle in the restaurant will end up on your table as people from other tables rush it over. The servers also play along with silly comments and fun attitudes. Our most recent server said he would be happy to head down to the pond outside and get us some pond water when we asked for a glass of water! Anytime he refilled, it was always "More pond water for ya?". It's definitely a fun, lively place that will keep you on your toes!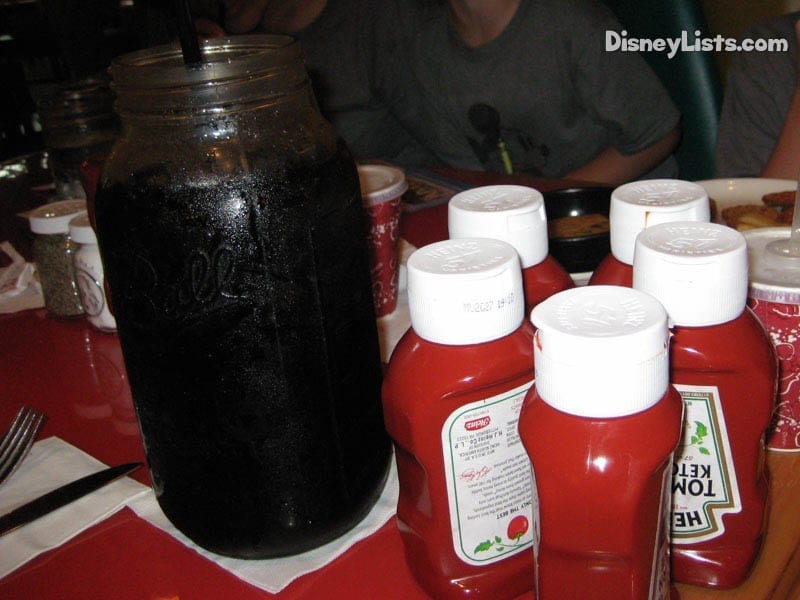 3 – So, What HAS Changed?
With the above being said, the Cast Members we spoke with at Whispering Canyon say a few things have changed. The rumors of no antics began when they were told they needed to keep the antics volume down, particularly in the breakfast hours because of the guest rooms above the resort. The noise from the restaurant was too disturbing for those staying in the rooms above. The restaurant has also made an effort to avoid wasting food and paper products. For example, in the past, you may have had a mound of straws dropped on your table when you simply asked for one. Or if you asked for more tea, a couple of pitchers of tea would show up on your table. The cut down of waste doesn't take away from the silly antics in our opinion! Lastly, Cast Members are making more of an effort to read their guests. There are some people that dine at Whispering Canyon Café that don't want to hear jokes or be part of the antics. The servers are careful not to overstep by attempting to understand their audience.
4 – Kids Will LOVE It
With two children of our own, we can say this is a favorite stop for young ones. Whispering Canyon offers more than just some crayons and coloring menu for kids! If you have to wait for a table, the kids can keep occupied with the table full of Lincoln Logs in the waiting area. Whispering Canyon also has horse races for children where a child can gallop around the restaurant for some fun. Who knows, a sing-along may even break out! The kiddos will love the atmosphere and the great children's menu including the all-you-care-to-enjoy kids' skillet and other kid-friendly favorites!
5 – Yummy Signature Skillets
While the fun atmosphere above is a huge highlight, we must say the food is AMAZING at Whispering Canyon. The cuisine matches the theme of the restaurant with western-inspired, hearty dishes for any hungry Cowboy or Cowgirl. Breakfast, lunch, and dinner have different menus that are taste bud worthy! The star of each menu goes to the all-you-care-to-enjoy signature skillets. If you order a skillet, an actual skillet of food comes to your table and is replenished as often as you'd like.
Breakfast: For breakfast you can order from one of three skillets including The Heritage, The Carnivore, and The Lighter Side. The food for each skillet varies but may include items such as Mickey waffles, biscuits, eggs, bacon, sausage, ham, fruit, and potatoes. The cost is $22 per person.
Lunch: Lunch service has a one-skillet option which includes BBQ pork ribs, pulled pork, herb chicken, mashed potatoes, corn and more. The cost is $24 per person.
Dinner: When dinner rolls around, the skillets turn it up a notch in variety with four skillets to choose from including The Traditional (beef brisket, ribs, pork, chicken, veggies), The Pig (it's all about the pork!), The Land and Sea (salmon, chicken, veggies), and Plant-Based (a veggie fan's delight). The cost is $34 a person.
A skillet is the way to go, especially if you are hungry! It's a great variety and really like dining at a buffet without having to get up out of your seat.
6 – Not a Skillet fan? No Worries!
If you aren't looking for that all-you-care-to-enjoy meal, Whispering Canyon's menus still have a great variety of goodness without the skillet. At breakfast, you can order an omelet, eggs benedict, oatmeal, pancakes and more. For lunch, the sandwiches are delish with selections like a turkey sandwich, pulled-pork sandwich, and grilled chicken sandwich. A burger and salads are also available. The dinner menu really features the skillets but also has a couple of entrees like the New York strip, salmon, and quinoa cakes.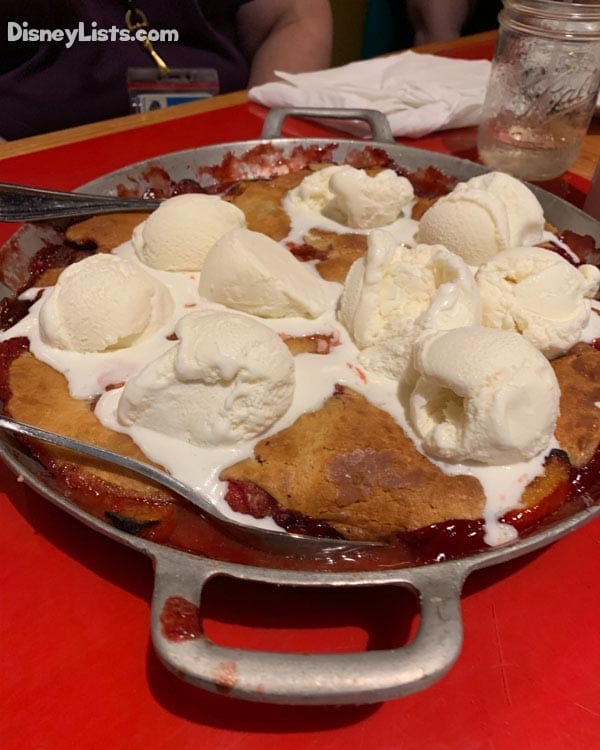 7 – Dessert and Cocktails
One of our favorite desserts on Disney property is the Whispering Canyon all-you-care-to-enjoy shakes with strawberry, chocolate, and vanilla flavors. Order your dessert at the start of your meal and sip away with as many refills as your heart desires! If you aren't a shake fan, try the warm Granny Smith apple pie or the Pioneer chocolate cake. And let's not forget the adult beverages! Whether it's a mimosa at breakfast, a Mountaineer Margarita at lunch, or a glass (or bottle) from the long wine list at dinner – you're sure to find that cocktail that is right for you.
8 – A Few Tips
Editor's Note: During the phased reopening of Walt Disney World, dining plans are temporarily suspended. Also, the dining booking window is 60 days. 
Make the most of your Whispering Canyon experience by letting loose and enjoying the antics! Here are a few tips to keep in mind:
Reservations aren't required but are highly recommended. Go ahead and book your dining experience 180 days in advance. With this being said, there have been times Whispering Canyon is a good last-minute reservation to snag when needed.
The Disney Dining Plan is accepted as one table-service credit. It's a great bang for your buck when ordering a skillet!
If you don't want to be in the mix of the main dining room, ask to be seated in one of the back areas, near the fireplace for example. You can also let your server know if you prefer to enjoy a quiet meal. They will cut the silly antics back for your table. Of course, you'll still need to understand there will be some fun, silliness happening around you.
Visiting Disney's Wilderness Lodge over Christmas is a wonderful time because of the beautiful decorations, especially the massive Christmas tree in the lobby! This is an ideal time to dine at Whispering Canyon as you can overlook the gorgeous tree while you dine.
Easter and Mother's Day are other excellent times to dine as Whispering Canyon tends to offer special menus for these holidays.
Have a great time horsin' around and dining on some "chuck wagon" grub!
For a no obligation, FREE Quote on a Disney vacation package, please contact our travel partner Magical Vacation Planner at 407-442-0227 (407-442-0215 for Spanish). You can also request a FREE quote online by Clicking HERE.