Disney's Coronado Springs Resort has developed into a hot spot! We thought Coronado Springs was a nice moderate resort before, but it now ranks up there as one of the most desirable moderate resorts Disney has to offer. The addition of the Gran Destino Tower has made this resort property burst with activity and excitement. And where there are people, there must be food of course! We were happy to try one of the restaurant additions called Three Bridges Bar & Grill. Check out these 8 reasons you'll love dining here!
Editor's Note: During the phased reopening of Walt Disney World, not all resorts are operating. Disney's Coronado Springs resort is scheduled to reopen on October 14, 2020.
1 – Truly THREE Bridges
One of the most apparent qualities that draws guests to Three Bridges Bar & Grill is that, yes, there really are three bridges leading to this island of a restaurant. The restaurant is situated in the center of the beautiful Lago Dorado ("Lake Golden"). The three bridges connect different areas of Coronado Springs Resort, including El Centro, Casitas, and The Dig Site, with Three Bridges Bar & Grill being the hub of the connection. It's a beautiful sight to stroll across the bridge to your dining destination!
Tip– looking like rain? Take an umbrella as none of the bridges have shade/rain coverage as you come and go from the restaurant.
2 – Open Air Dining
Thankfully, Disney Imagineers did everything in their power to make the most of the island eatery by making it an open-air restaurant. No need for walls or windows! There is nothing but straight views of the water and the surrounding buildings. It was raining the day we dined here, which made us wonder if it was a good idea with the open-air concept. We were glad we did as it was a beautiful thing to dine in comfort while watching the Florida storm blow through.
Tip– ask to sit in the corner that is closest to the Gran Destino Tower. This spot has the best views, in our opinion!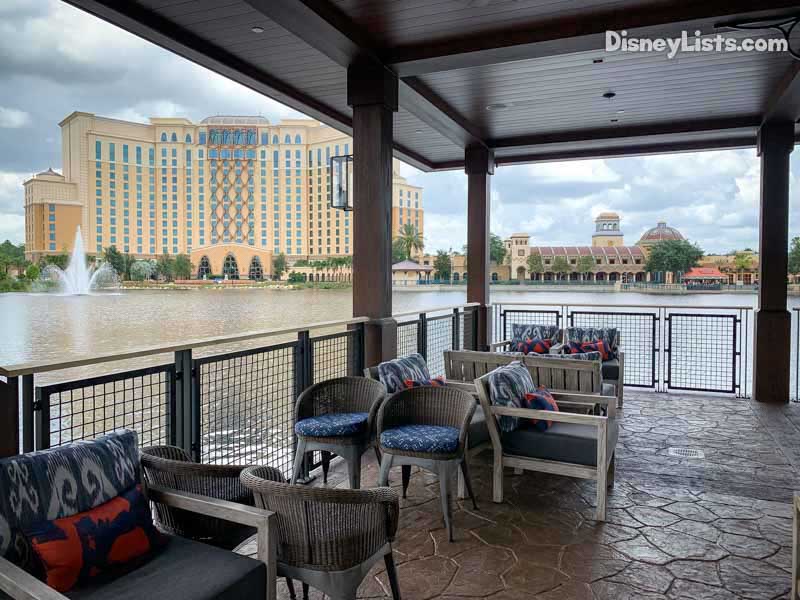 3 – Pick Your Seating Preference
Do you prefer to be seated at a table with chairs or in a lounge-style seating with couches and comfy seats? At Three Bridges Bar & Grill, you get to choose! If both seating options are available at the time of dining, you can request your preference. The seating here and open-air concept reminds us of Geyser Point Bar and Grill at Disney's Wilderness Lodge. It truly breathes relaxation!
Tip– have kids? Trust us… a table is the way to go!
4 – Impressive Bar and Cocktails
And maybe you don't want the tables or the couch style seating? No worries! Check out the impressive bar at Three Bridges! Pull up a stool and be in awe of the stunning details. The countertops and light fixtures are a décor masterpiece. The best part, however, is the excellent service and even better, the drinks to order! It's a full-service bar so you can pick your favorite beverage or go with one of their signature cocktails such as the Red, White, or Rose Sangrias.
Tip– the Spanish twist on their specialty cocktails is YUMmy!
5 – The FOOD!
Three Bridges is open for dinner only, but it's a meal worth waiting the day for. The flavors to expect here are a Spanish-American bite that leaves that spicy taste but in a manageable way. If you're friendly and like to share, you are welcome to try one of the "Shareables" (Appetizers) such as Szechuan Peppercorn Wings or Warm Manchego and Oaxaca Cheese Dip. Or smack the hands away from your dish with an entrée such as the Braised Pork Tacos (so, so good!), Grilled Skirt Steak, and Three Bridges Signature Burger. The menu is simple, which we were ok without the fluff. You can wrap up your meal with warm Churros or Vanilla Custard Mickey Tart! The kids' menu is fairly limited, and the two sides are super-duper small. Our youngest enjoyed the portion size, but our almost tween child wanted more. Just something to keep in mind when dining here with children.
Tip– Gluten allergy? Our Celiac family member didn't get much to eat. Three Bridges has an allergy menu, but there wasn't much available for gluten-free.
6 – Hidden Gems
Take a look around! Sure, the views are spectacular, but there are a few hidden gems not to be missed. For example, on the wall where you enter the restaurant, you'll find Duck Tales comics. Look up at a select column's metalwork, and you'll spot a Hidden Mickey. Look at the detail on your table, and again, you may spot another Hidden Mickey. Plus, check out the fire pit. Go ahead… touch the flame! It's not a fire at all but water mist that changes color and just looks like fire.
Tip– Don't tell your children this and watch them panic when you reach in to touch it! #BadParenting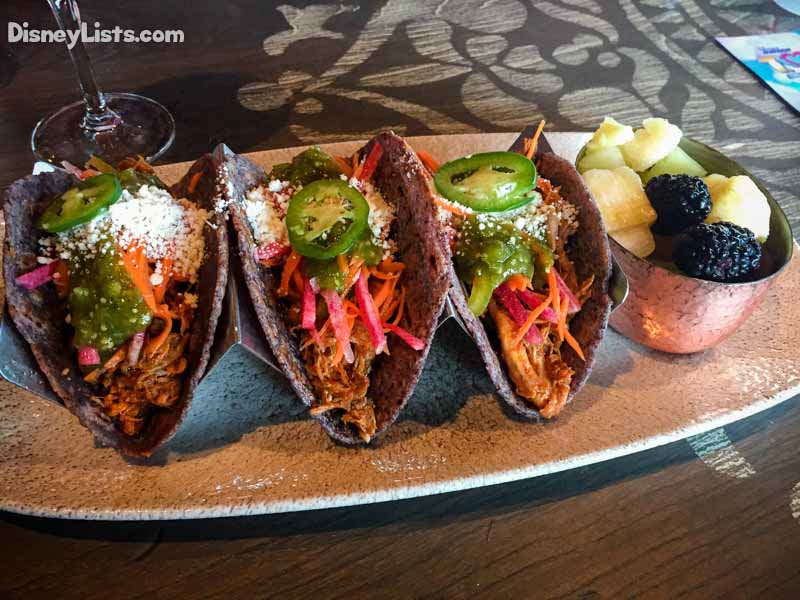 7 –  No Reservations
Currently, no reservations are available for Three Bridges. It's a walk-in dining experience only! This means you don't have to worry about booking this one 180-days in advance. It's a perfect drop-in location. We arrived close to opening, and there were multiple tables available.
Tip – Keep in mind, the earlier you arrive, the better chances you have at getting seated quickly.
8 – Plan a Party or Have a Meeting!
The island-building Three Bridges Bar & Grill is located in is known as Villa Del Lago. The restaurant is on one side of this building. The other side has two meeting spaces, including The Art Garden Court (seats 40) and The Palm Court (seats 50). Both are known for being serene meeting spaces. Go ahead and plan your next meeting or party in this space.
Tip– Don't forget to invite us along for the pitchers of Sangrias!
Stroll the bridges and get ready for some inspiring views with delish food!
For a no obligation, FREE Quote on a Disney vacation package, please contact our travel partner Magical Vacation Planner at 407-442-0227 (407-442-0215 for Spanish). You can also request a FREE quote online by Clicking HERE.