News
NEWS: Hundreds of Plant-Based Dishes are Coming to Disney World and Disneyland Resorts!
The food choices at Disney Parks are amazing. There are so many different kinds of foods from savory to sweet and flavors from all of the world. However, if you follow a plant-based diet, dining at Disney Parks can be a challenge. This is about to change! Disney has announced the addition of hundres of plant-based dishes coming to Walt Disney World and Disneyland Resort. Catch all the details below!
Here are all the details from Disney Cast Member Thomas Smith:
Exciting news for our foodie fans! We're thrilled to announce that ALL of our major quick and table service restaurants will soon be serving up plant-based options at Walt Disney World Resort and Disneyland Resort – along with a new plant-based menu icon coming to Disney dining. Our guests will now be able to choose from hundreds of sweet and savory creations, including many brand-new dishes destined to become fan favorites!
We're always looking for ways to bring more flavor, innovation, and creativity to the Disney dining experience – and guest feedback is first on the menu when we evolve our menus and develop new dishes. Our guests have embraced our plant-based offerings at our parks around the globe, inspiring us to expand our menu and introduce a new menu icon, a green leaf, that will make it easier than ever to find these creations during your visit.
These fun and flavorful options are made from plant-based ingredients like vegetables, fruits, grains, nuts, seeds, and legumes – and are made without animal meat, dairy, eggs or honey. From comfort-food classics to exciting new dishes for the adventurer in all of us, everyone will find something to delight their tastebuds.
On October 1 at quick-service locations and October 3 at table service locations, Walt Disney World Resort will launch the plant-based menu icon and introduce new options at our theme parks and resort hotels. If you're craving tasty plant-powered snacks and treats during your visit, you can explore more than 400 craveable dishes!
Steamed Asian Dumplings from Le Cellier at Epcot – You'll love these plant-based meat dumplings, served with bok choy, Chinese long beans, red peppers and radish in a delicious and fragrant Asian broth.
Shiriki Noodle Salad from Jungle Navigation Co. LTD Skipper Canteen at Magic Kingdom Park – This refreshing salad is made with noodles, edamame beans, mushrooms, green mango and cucumber, tossed with a sweet chili sauce.
Felucian Garden Spread from Docking Bay 7 Food & Cargo at Star Wars: Galaxy's Edge (Disney's Hollywood Studios at Walt Disney World Resort and Disneyland Park at the Disneyland Resort) – Made with plant-based "kefta," herb hummus, tomato-cucumber relish and pita, this is the perfect bite for your visit to a galaxy far, far away.
Chili-Spiced Crispy Fried Tofu Bowl from Satu'li Canteen at Disney's Animal Kingdom – This taste of Pandora features crispy tofu, seasoned with chili-spice and topped with a crunchy vegetable slaw, boba balls and your choice of base and sauce.
Plant-Based Cashew Cheesecake from California Grill at Disney's Contemporary Resort – Just one of many scrumptious plant-based desserts available at Walt Disney World Resort.
We can't wait for you to discover hundreds of delectable plant-based options at our parks and resort hotels. Whether you're visiting Magic Kingdom Park, tasting your way across the globe at Epcot's World Showcase, or grabbing a bite in a galaxy far, far away, you're sure to find a plant-powered dish to enjoy.
Don't worry, Disneyland fans – the menu icon and many new plant-based options are coming in spring 2020, so you won't have to wait long to savor exciting new flavors. And across the world, we're serving up delicious plant-based cuisine, including Risotto-style Spelt with Mushrooms at Disneyland Paris, Pan-fried Vegetables with Plant-based Dumplings at Hong Kong Disneyland, or Caramel Mix Nuts Banana Cake at Shanghai Disney Resort. When sailing the high seas with Disney Cruise Line there are bites to find, from a Plant-Based Chili Dog and Plant-Based Eggs to Chocolate Truffle Cake.
RELATED ARTICLE: Top 10 Rookie Disney World Dining Mistakes
by Mike and Jamie Sylvester
Rookies – you aren't alone! We've been there, and understand that overwhelmed, yet excited feeling that goes into planning the Disney World vacation of a lifetime. You are, however, an advanced rookie which shows as you read up on articles such as this to make the most out of Disney. So, way to go! Since dining experiences at Disney World have been some of our most memorable moments, we thought best to share these top 10 rookie dining mistakes. We'll happily let you learn from our blunders!
1 – Missing The 180-Day Mark
What are you doing 180 days from today? Typically, we don't have a grasp on our crazy schedules that far in advance, but when Disney World is involved – we do! The 180-day time frame is so important for both Disney resort and non-Disney resort guests because you can start booking your dining reservations 180-days in advance. If you are a Disney resort guest, you do however get an added benefit of booking dining reservations for the entire length of your stay – up to 10 days. This means you could technically have a 10-day jump on non-resort guests to snag those hard to get reservations! Reservations open at 6:00 am online and 7:00 am by phone. Want a coveted Be Our Guest Restaurant reservation? You'll want to be logged into your My Disney Experience account and ready to book your reservation at exactly 6:00 am.  TIP – download a countdown app to keep track of your 180-day mark.
 2 – Lack of Budgeting in Advance
One of our biggest rookie mistakes was forgetting to check out the menus and budget for meals in advance. There is nothing worse than getting the bill at the end of a memorable meal only to be blindsided by the total! Menus are available on the Disney website and prices are typically included. Budget in advance so you'll know exactly what to expect! TIP – looking to save a little money? At Quick-Service locations, we like to order a kid's meal. It's lighter on the stomach and on the wallet!
3 – Not Calculating Dining Plan Options
The dining plan is especially popular when "Free Dining" is offered. In order to receive a free dining plan, you'll need to purchase a Disney room and ticket package by staying during their allotted timeframe and at select resorts when the promotion comes available. Outside of free dining, Disney resort guests can purchase one of three dining plans. Ranging in price and meal/snack allotments – you'll want to be sure the dining plan will in fact save you money. When calculating the dining plan options for our family, we've personally found the dining plan would cost us more than regular dining costs. Some people however live by the dining plan and it saves them in the long run! TIP – look over menus in advance and get a rough idea of what your meals will cost you. Compare your vacation total to the total cost of the dining plan. Which wins out for your family?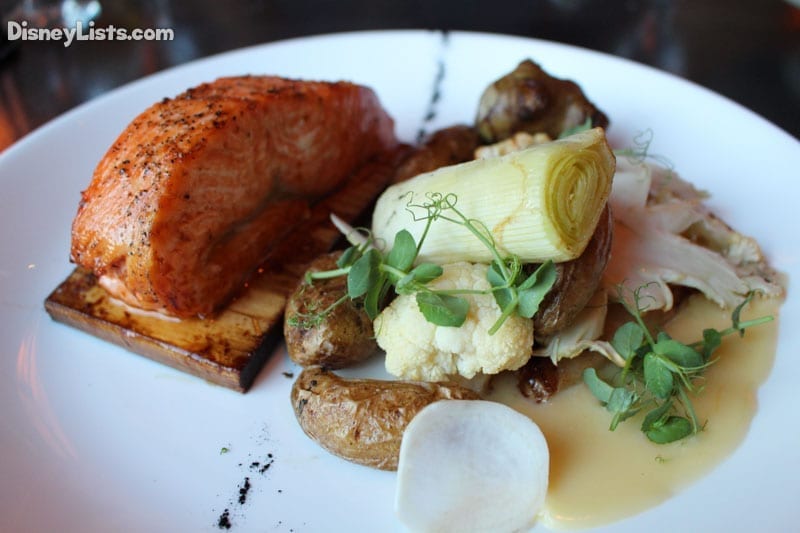 4 – Lack of Discounts
A percentage here and there can really add up! Check to see if you are eligible for discounts in advance. Some of our favorites discounts include Tables of Wonderland, Disney Chase Card, Disney Vacation Club Member, and Annual Passholder Discounts. TIP – a Disney Chase Card is one discount just about everyone can do, and the perks are truly awesome!
5 – Passing the Mobile Ordering Button
Mobile Ordering is easily our favorite addition to Disney World dining! We can't say enough about how efficient and easy the process is. Download the My Disney Experience app and pull up a quick-service restaurant like Satu'li Canteen or Pizzafari. If mobile ordering is available, you'll see a mobile order button. It's a simple step by step process of browsing the menu, adding the meals to your cart, and checking out by making the payment right there on your phone. Arrive at the restaurant, let them know you are there, and your food comes out super-fast! It's brilliant. TIP – an easy way to stay occupied while waiting in an attraction line is by placing your food order for later that day!
6 – Eating at Prime Hours
It's as if Grandma rang the dinner bell and everyone comes a' running! Avoid the prime eating hours if at all possible, especially at quick-service locations. Prime hours for breakfast are 8am – 9am, lunch is 11:30am-1:00pm, and dinner is 5pm-6:30pm. Quick service restaurants are especially a bad idea during the prime hours because of lack of seating and long lines. TIP – eating at weird hours can be a change-up from your routine. Pack a couple of simple snacks that will hold you over between meals.
7 – Forgetting About Resort Restaurants
So excited to hit the theme parks that you haven't stopped to think about what your Disney Resort offers for dining? From in-room dining to superb high-end restaurants, check out your resort dining options in advance and add them to your reservation list. Some of our very favorite restaurants like 'Ohana, California Grill, Olivia's Café, and Whispering Canyon are located at Disney Resorts. TIP –  even though it is a Disney Resort restaurant, reservations do fill up quickly for some locations. Book at the 180-day mark for resort restaurants too!
8 – Skipping Character Dining
At least once, if not a bunch more… we recommend trying character dining. We've heard time and time again that couples without children pass on character dining. Sure, it might be geared towards children but that doesn't mean adults won't have an awesome time. The food is bountiful and delicious and the experience is well worth the price! TIP – looking for an entertaining meal without Disney characters? Check out one of the two most popular dinner shows: Hoop-Dee-Doo Musical Revue or Spirit of Aloha.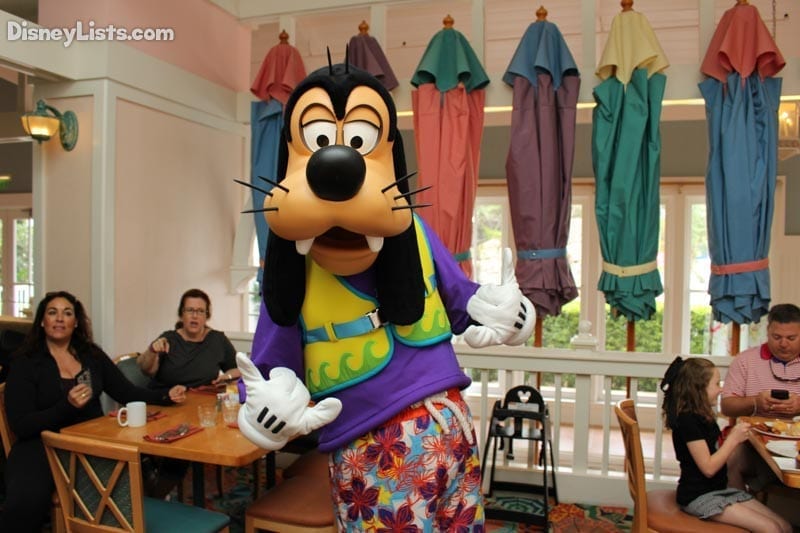 9 – Not Trying Something New
To put it bluntly, we've seen some funky things on restaurant menus around Disney World. What we might consider funky might be another's favorite, however! From duck liver, to wild boar belly, and even bone marrow – chances are Disney has it. Whether you want to be super adventurous or stick with the basics, Disney has menus filled with variety. Go ahead… try something new! TIP – buffet meals are the best way to try new food items because it's all included in one price.
10 – Filling Up Before Dessert and Drinks
Yes, the entrees at Disney are delicious! While we've had some better than others, we can't say we've had a disappointing meal at Disney. A huge rookie mistake, however, is to get the largest entrée you can only to be too full to enjoy a dessert or specialty drink. Save room so you can taste it all! TIP – mistakenly fill up at a meal? Find a dessert or drink cart/kiosk in an hour or so when your stomach has time to settle.
 Not a rookie to Disney dining? We'd love to hear your dining tips!  
For a no obligation, FREE Quote on a Disney vacation package, please contact our travel partner Magical Vacation Planner at 407-442-0227 (407-442-0215 for Spanish). You can also request a FREE quote online by Clicking HERE.