The word "Itinerary" might not be commonly used at home, but when planning a Disney Cruise, chances are you've been chatting about what your cruise itinerary includes. Many Disney Cruise Line voyages include what is known as a "Day at Sea" mixed in the itinerary among the Ports of Call. If you're like we were – you may be thinking, well, what are we supposed to do on the ship for a full day? To our pleasant surprise, there is so much to do – we're not sure getting it all done is possible! Let's just say the Day at Sea might be one of the best days of your entire cruise experience. Check out these tips and tricks for navigating the best Day at Sea on a Disney Cruise.
Editor's Note: Disney Cruise Line has suspended sailings aboard the Disney Fantasy through April 24; the Disney Dream through April 30; the Disney Magic through May 9; and the Disney Wonder through May 12. We present this article for future cruise planning.
1 – Take a Dip
If you have kids, you know they'll want to swim during your Day at Sea! The Disney Cruise Line (DCL) fleet of ships has an array of pools, splash pads, and water slides. Since the pools are extra crowded on the Day at Sea, get ready to make the most of your swim time by arriving early to the pools when they are less crowded. If you can't make it early in the morning, the late evening if your next best option. TIP– Adults, needs some time away from kids? Check out the adult-only swim areas, which are almost never crowded.
2 – Join in the Pool Side Activities
Not in the mood to take a dip? There are still things to do on the pool deck, including poolside activities. Energetic Cast Members will offer numerous games throughout the day for kids and families to play along. Some games may include being in the pool, but typically participants are sitting on the edge of the pool or close by. If games aren't your thing, you can always watch the Disney film being played on the massive outdoor screen above the pool deck. TIP– Even though you are not in the pool, don't forget the sunscreen!
3 – Enjoy the View
It's easy to get caught up in the go, go, go mentality. It sounds simple enough, but stop for a moment and take in the views. It's easy to forget that you are out in the middle of the ocean. Take a moment to go up on deck and look out at the vast blue water that surrounds you. Some of the most memorable moments are watching nature at its finest! TIP– We especially recommend this during sunrise or sunset.
4 – Become a Detective
Onboard the Disney Cruise Line, you'll find a scavenger hunt game called "Midship Detective Agency." This game features different scenarios and characters that need a detective to help solve the mystery! Sure, it's perfect for kids – but us adults enjoy it too. The game will have you going all around the ship to many different areas to find clues to solve the mystery. This is an excellent way to explore areas of the ship you may not have seen yet. If you solve a mystery, you can always solve another as the games have multiple outcomes. TIP– Be aware that this is a highlight during Day at Sea. Pack your patience as you may have to wait to figure out your next clue while those in front of you go first.
5 – Work Up A Sweat
Feel the need for some fitness and competition? Check to see what type of recreation your DCL ship has available. Shoot some hoops, play a round of foosball, or knock the ball around with mini-golf. It's crazy to think of the many recreational activities you can play while in the middle of the ocean! Plus, you'll want to check out the Fitness Center. Top of the line equipment awaits with floor to ceiling views of the ocean. TIP– We're pretty sure you're a superhero if you find time for fitness on the cruise. Give yourself a pat on the back!
6 – Challenge Yourself to Trivia
How well do you REALLY know Disney? Whether you are a super fan or just getting to know Disney, there are multiple trivia opportunities available during the Day at Sea. Some trivia may challenge your Villain knowledge, Disney music knowledge, or even Disney facts. Have fun with it, and let your inner Disney nerd out! TIP– Don't forget to check to see if these are adults-only or welcome families, as some are offered later in the evenings in the adult lounges.
7 – Chat DVC
Maybe you've always wanted to know about Disney Vacation Club (DVC) but have never had the time to stop in the Disney parks and ask about it. Now is your chance! DVC events are held regularly throughout the cruise, including the Day at Sea. Get all sorts of free DVC goodies and a chance to see what the DVC hype is about. TIP– It might not be a bad idea to do a little DVC research in advance. While we recommend DVC and are DVC members ourselves, you don't want to get caught up in the excitement and feel differently when your feet are back on land.
8 – Eat Something New!
Food is included in your cruise package. Make the most of it and eat whenever your stomach gives the go! You can stick with regular meal times or mix it up and snack throughout the day. This is also a great time to try something new if you or your kids have never had something on the buffet. While you don't want to waste a bunch of food, you can sample all sorts of new bites for your taste buds' pleasure. TIP– Have a food allergy? Speak with a Cast Member, and they will provide you with some allergy-friendly options.
9 – Play at the Kids Clubs
Children of all ages need a break from Mom and Dad from time to time! If your child is looking for a fun experience away from the parent's shadow, look no further than the Kids Clubs aboard the DCL ships. Included in your cruise package, kids can take part in the many games and activities with highly trained Cast Members. Parents – now is the time to have a moment for yourself! TIP– be sure you have the Cruise App downloaded as the Kids Club Cast Members can reach you if needed via this app.
10 – Relax at the Spa
Aahhh… yes – the spa! You are on vacation, after all, so make the most of your Day at Sea with pure relaxation at Senses Spa. Massage, pedicure, manicure, hair, skin treatments – the list goes on and on. There is no shortage of selections to sit back and have a moment just for you. TIP– Splurge and book one of the Spa Villas in advance. This is a designated space for ultimate relaxation for one or two guests, depending on what you book.
11 – Go to the Movies
Go see the latest Disney movie – on the ship! Each DCL ship has a movie theater that shows the most recent Disney movies, sometimes films that are out in theaters back home. The great thing about the theater is that it's FREE of charge. The snacks, however, will cost you. TIP– Popcorn fan? Purchase a refillable popcorn bucket to have refilled throughout your cruise for a small fee.
12 – Be in awe of Theatre Performances
While theatre shows are typically available every evening on the DCL, the Day at Sea is a perfect time to make sure you hit the performance showing for the night. The performers are outstanding, not to mention the impressive costumes and stage props. The theatrical arts are alive and well on the DCL!
TIP– Arrive early to snag that perfect seat. We like the center of the theatre, halfway up from the front of the stage.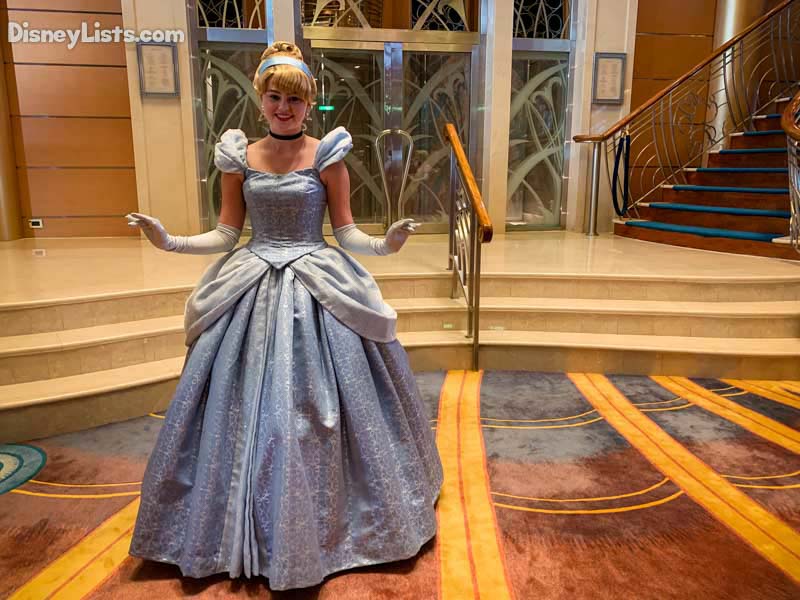 13 – Take Photos with Characters
Want to take home a memorable souvenir? What better way than to have photos of your family with the many Disney Characters found throughout the ship. Check your Cruise App for locations and times and plan to arrive early enough to avoid a long wait in line. Characters dress up in different outfits and are known to change outfits regularly. The various outfits make meeting characters a unique experience with memorable photos! TIP– Bring your own camera as Cast Members are happy to snap photos for you. Otherwise, plan to purchase the cruise photos the day before debarkation.
14 – Party on the Deck
Disney knows how to throw a party on land – but they've also brought that to sea! Get ready to dress up to match the party theme (Pirate Night, for example) for a deck party. Most parties start with a deck show where you may spot Disney characters and performers. Once the deck show is over, you may experience the DCL fireworks which are launched right from the ship. Fireworks end with a DJ taking over with dance music. Join the party as you shake your hip right along with fellow Disney cruisers! TIP– Bring some glow accessories from the dollar store at home to glow along with the party.
15 – Have Adult Time at the Night Clubs and Lounges
Go have a relaxing and fun time unwinding at one of the many adult-only night clubs and lounges. Experiences range from dancing the night away to sitting back with a beer watching sports at the bar – and everything in between. Live music is normally available, as are special sipping experiences. TIP– Have kids? Now is the perfect time for your kiddos to go explore the kids' clubs mentioned in #9!
Still, think you'll be bored on the DCL Day at Sea? We think NOT!
For a no obligation, FREE Quote on a Disney vacation package, please contact our travel partner Magical Vacation Planner at 407-442-0227 (407-442-0215 for Spanish). You can also request a FREE quote online by Clicking HERE.