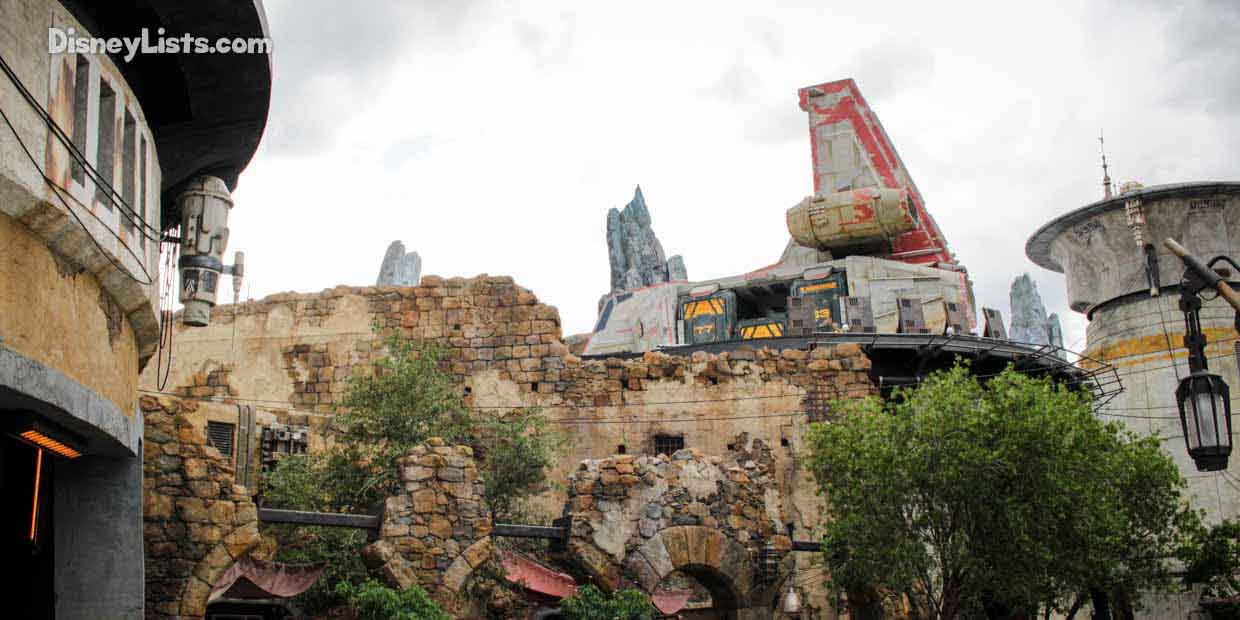 This restaurant boasts "galactic grub," and if you're confused as to what that means, well, you probably aren't alone. However, I found the food here surprisingly refreshing, and while I did not enjoy it as much as the space-themed food over at Pandora: World of Avatar, the meals offered at this local Black Spire eatery will be sure to fulfill some cravings and keep you charged during your visit to Galaxy's Edge.
7- Learn the Backstory
The restaurant is themed after a spaceship hangar bay, and there are cargo crates and space decorations lining the floor and the walls. All your food is cooked by Chef Strono "Cookie" Tuggs. Chef Tuggs has docked a food freighter filled with fresh supplies at this hangar and is prepared to impress locals and visitors alike with exotic dishes. Thanks to his travels among the planets, he has acquired a lot of recipes with unusual flavors. Now, he's ready to show them off and serve hundreds of hungry visitors at the edge of the galaxy.
6- Soak in the Theming 
Docking Bay 7 may be seen as just a counter-service restaurant, but it does have some incredible theming. There are multiple rooms filled with shipping crates and barriers, and there is plenty of "space junk" to look at. Don't forget to look up at the shelves lining the walls for some rather interesting containers and cookware. There are also barrel seats and though they aren't exactly comfortable, they are neat-looking. The restaurant's design feels slightly industrial, almost like you're in a pilot's garage- but there is also a lot of colorful décor to keep this space from feeling washed-out and bland. The utensils even stick to the theming as well- you get to dine with some pretty cool-looking sporks, though they can sometimes be a little tricky to eat with.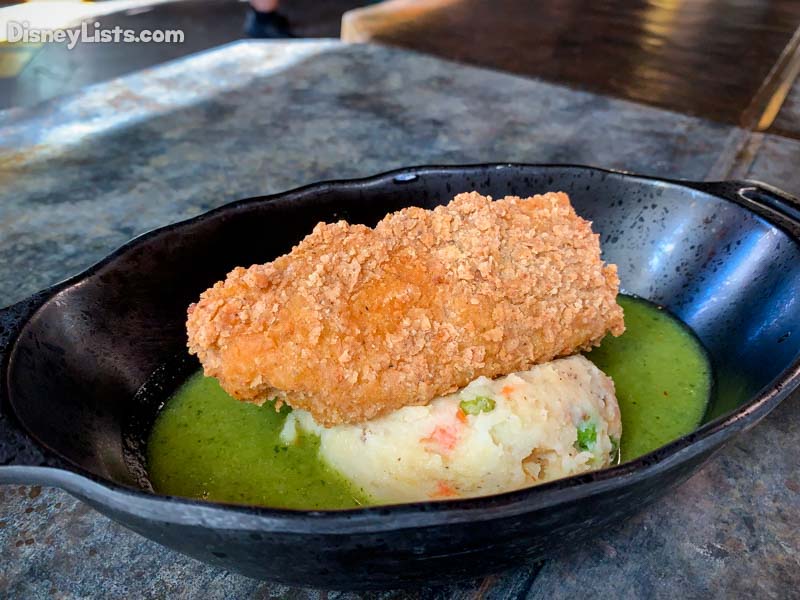 5- Study the Menu Beforehand and Use Mobile Ordering 
Mobile ordering comes in handy in this regard- you can truly take your time browsing the menu on your phone. They also offer an allergy-friendly menu, as well as a kid's menu, so there are a fair few options to choose from. The great thing about this restaurant is that all of the options are reasonably priced, and they do serve breakfast and dinner, even though we were only there for lunch.
After careful consideration, we ordered the Shrimp & Noodle Salad, which is chilled shrimp, marinated noodles, and vegetables. They do give you a lot of shrimp, but it all tasted a little plain. This was one of the dishes that I found a little awkward to eat with the spork. I also ordered the Fried Chicken, which is fried chicken, roasted vegetable potato mash, and herb gravy (the gravy is green, which threw me off at first, but it tasted pretty excellent). I would have preferred the chicken more if it was cut up into strips, but even though it didn't taste like anything extraordinary, it was nice and filling. I wouldn't necessarily rush to order either of these two dishes again, but I would like to try some of the other menu options.
4- If Possible, Order Drinks Elsewhere
To drink, we ordered a coke and a Moof Juice, which is orange juice and fruit punch with pineapple. To be completely honest, I didn't enjoy this at all; in my opinion, it tasted a bit like the cold medicine I used to take as a kid. I suggest, if you can, to save your drink orders for Oga's Cantina or the Blue and Green Milk outside at the Milk Stand. Also, if you're going to get a soda, get one from a cart outside. These come in cool grenade-type bottles. They taste the same (even better, in my opinion, since it's not watered down with ice), you'll be able to carry it with you, and you'll have a fun bottled souvenir to bring home from your trip!
3- Learn the Lingo
Like everywhere else in Star Wars: Galaxy's Edge, locals serving guests in Docking Bay 7 use different phrases. Of course, you'll want to say "Bright Suns" for good morning or "Rising Moons" for good evening to those taking your order. The Cast Members will ask you for credits rather than money and have different terms for passholder discounts and the dining plan. Also keep in mind that if you'd like to use the restroom after your meal, just ask for directions to the "refresher," and if you need to fill up a water bottle, ask for the "hydrator." Don't worry- if you're used to regular earth terms like I am, the Batuuans will still point you in the right direction, and will make sure to get your order correct!
2- Save Room for Dessert
For me, the best part of the meal was the Batuu-bon, which is chocolate cake, white chocolate mousse, and coffee custard. I thought this was delicious, and would definitely order it again. It was also really pretty, with purple and black shimmery layers topped with a piece of chocolate. The texture was smooth and creamy and didn't feel too heavy on a hot day.
1- There is Plenty of Indoor and Outdoor Seating 
The indoor seating area is inside of the large hangar, with different seating options. Larger parties can sit inside cargo crates, and smaller parties can sit at various tables scattered throughout the restaurant. I loved the look of the rural outdoor seating area, which is lined by crumbling walls and feels as though you are dining in a Moroccan marketplace…in space. Unfortunately, this area was too hot to sit in during lunchtime, but I'm sure it's a great place to sit and eat at night. It felt nice to be in a new land and not have to struggle to find a seat, even during prime lunchtime hours.
For a no obligation, FREE Quote on a Disney vacation package, please contact our travel partner Magical Vacation Planner at 407-442-0227 (407-442-0215 for Spanish). You can also request a FREE quote online by Clicking HERE.