New experiences at Disney World are announced continuously, to the point where it feels as though there's a new attraction, restaurant, resort, or show opening every few weeks. This is definitely not a bad thing, but it can be overwhelming! How does one make sure to experience everything new that Walt Disney World has to offer? Luckily, Disney opened a slew of amazing new experiences that guests can easily experience with a little planning and a lot of patience. There will be plenty more experiences on the horizon, but in the meantime, here are some new things you should definitely add to your next Disney World vacation itinerary!
8 – Toy Story Land
As part of the massive overhaul of Disney's Hollywood Studios, Toy Story Land is one of two new sections added to the park, allowing guests to "shrink" down to the size of a toy and explore the 11-acre wonders of Andy's Backyard. This land is full of oversized building blocks and game board pieces and includes two new attractions: Slinky Dog Dash and Alien Swirling Saucers. Slinky Dog Dash is definitely an instant favorite of mine- it's a family-friendly roller coaster on a track that appears as though it was built by Andy using a Mega Coaster Play Kit. Alien Swirling Saucers is a tame spinning ride set to some fantastic music from the Toy Story films (with a techno twist) and features everyone's favorite little green aliens.
Woody's Lunch Box is a tasty quick-service location within the land serving creative treats that Andy's mom might have packed for his lunch that day. The Green Army Man Drum Corps march through the land several times a day and often stop to play games and entertain guests. In addition to all the new features, you'll want to revisit Toy Story Mania, which has a brand new entrance themed after a carnival game box. The land even gets a festive makeover during the holidays, so no matter what time of year you're planning on visiting Disney World, make sure Toy Story Land is at the top of your To-Do list!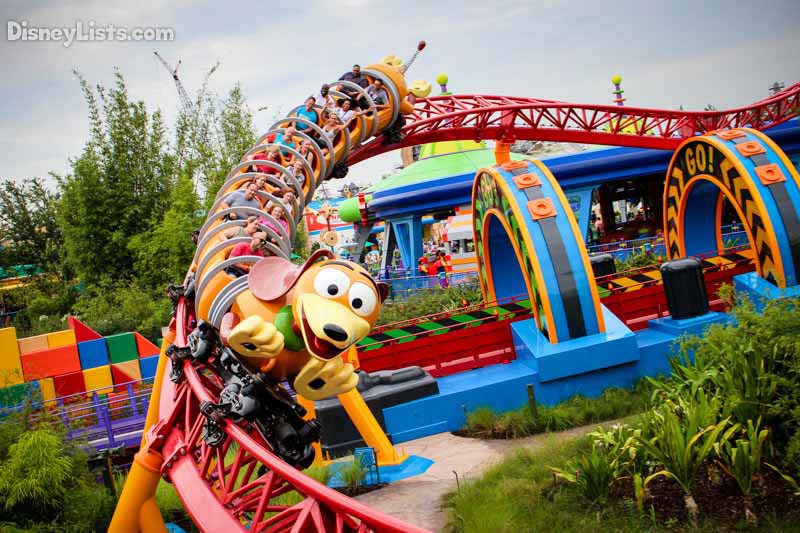 7 – The NBA Experience at Disney Springs
The NBA Experience opened in August of 2019 at Disney Springs, replacing Disney Quest and offering a brand new experience to visitors looking for something outside of the theme parks. Guests are made to feel as though they've stepped into an NBA or WNBA arena and can partake in activities, competitions, and games. For example, you can test out dribbling a ball, practice dunking a basketball in a height-adjustable basket, and use an oversized slingshot to launch balls at hoops of different heights. You can also partake in photo opportunities, arcade games and play NBA/WNBA trivia to learn more about various teams and players. Adjacent to the NBA Experience is the NBA Store, which fans will definitely want to check out before leaving. The NBA Experience does cost an extra fee for a one-day admission ticket, but it's definitely a new, refreshing addition to Disney Springs that is worth putting on your list.
6- Gran Destino Tower at Coronado Springs 
Celebrating the cultures and landscapes of Spain, Mexico, and the American Southwest, this new hotel combines modern-day design with old-world traditions. The resort opened in July 2019 as a new Tower on the grounds of Disney's Coronado Springs, offering a new arrival experience for visitors and new restaurants and lounges. The Tower also offers 545 modern guest rooms, meeting venues, and a rooftop restaurant with amazing views of the parks (and the fireworks at night). The Gran Destino Tower takes its name from the Disney film "Destino," and offers a glamorous new addition to Disney's lineup of on-property resort hotels. Even if you don't plan on staying here, it's worth a quick tour, or at least a drink or meal in one of their restaurants!
5- Rivers of Light: We Are One
Rivers of Light: We Are One is an updated version of the original Rivers of Light show presented at Animal Kingdom. The show still incorporates illuminated lantern floats, special effects, and an inspiring score, but now guests will get to see Disney stories and characters interwoven into the show. Through water screens, guests will be treated to the imagery of familiar animal characters from Disney animation and Disneynature films. The music for this show has always been my favorite, and now the soundtrack will be updated to include nostalgic Disney songs along with the original score. If you're in Animal Kingdom at night, be sure to check the showtimes and grab a seat in the Discovery River Amphitheater well before showtime for a good spot!
4- Lighting McQueen's Racing Academy
The stars from Pixar's Cars trilogy finally became a presence at Hollywood Studios in March 2019 with Lighting McQueen's Racing Academy. While not a huge E-ticket attraction, this interactive show is impressive, entertaining, and best of all, comes with air-conditioning Guests enter a show building and face a 17-foot-tall wraparound screen with a stage, where they come face-to-face with Lightning McQueen himself. Throughout a ten-minute show, McQueen teaches guests about racing, along with the help of Mater, Cruz Ramirez, and other familiar characters from Radiator Springs. This show does have some impressive elements, along with a new story and animation, and guests can meet Cruz Ramirez on the way out. This is a great way for fans of Cars to immerse themselves in the world of Radiator Springs and Route 66, and it's definitely something to check out along with the other heavy hitters at Hollywood Studios.
3- Cookie Dough and Everything Sweet Food Truck
While there are tons of food offerings and restaurants now open at Disney Springs, the "Cookie Dough and Everything Sweet" food truck offers something completely new- desserts featuring edible cookie dough! Located at the West Side across from Candy Cauldron, the food truck offers many delectable treats such as the Springs Candy Taco, which has monster cookie dough in a waffle taco, served with chocolate sauce, whipped cream, and a cherry. There is also the Minnie Mouse Taco served with peanut butter fluff cookie dough and a chocolate Minnie bow, as well as the Mickey or Minnie Funnel Cake and the Celebration Parfait (complete with a Mickey cake and vanilla custard). Cookie dough is also available by the cup or cone, and the treats almost look too pretty to eat!
2- The Animation Experience at Conservation Station
Rafiki's Planet Watch at Disney's Animal Kingdom has been under a lengthy refurbishment- until the summer of 2019 when it reopened with the addition of The Animation Experience at Conservation Station. This experience is a 25-minute long drawing class hosted by a Disney animator. There are nine sessions throughout the day, and the characters being drawn are different for each class (through right now, the animators are focusing on The Lion King). The class is surrounded by a beautiful mural featuring dozens of Disney characters, and guests can learn more about the animation process- especially when it comes to drawing real-life animals.
Screens are set up for those who can't see the animator, and capacity is limited. FastPass+ is recommended for this experience in case the class fills up, and it is highly recommended for those who like to draw or those who are just looking for something new to experience at Disney's Animal Kingdom. Plus, you get to keep your drawing at the end, which always makes for a cool souvenir!
1- Star Wars: Galaxy's Edge
Star Wars: Galaxy's Edge has been the most highly anticipated new Disney World land and is finally open to guests! Guests will get to experience two new attractions, the first of which is Millennium Falcon: Smuggler's Run– if you've ever wanted to actually fly the Millennium Falcon as a pilot, engineer, or gunner, then this is your chance! Star Wars: Rise of the Resistance opened on December 5, 2019, and it puts guests in the middle of a battle between the First Order and the Resistance! Aside from the attractions, guests also get to experience this immersive new land by exploring the open marketplace sipping on blue or green milk, drinking unique cocktails at Oga's Cantina, or by building their very own droids and lightsabers. The immersive adventures extend to interactions with cast members and character meet and greets, and it really feels as though guests have been transported to the planet of Batuu. This is sure to be one of the most talked-about new experiences to open at Disney World, and I can't wait to keep returning for multiple visits to this galaxy far, far away. Bright suns!
For a no obligation, FREE Quote on a Disney vacation package, please contact our travel partner Magical Vacation Planner at 407-442-0227 (407-442-0215 for Spanish). You can also request a FREE quote online by Clicking HERE.