One of the best parts of planning a Disney World vacation is deciding where to eat; after all, there are so many options! However, when you're on the Disney Quick-Service Dining Plan, planning meals becomes trickier. You'll want to make sure you're getting the most value out of a quick service meal, and you also need to consider the quality of the food and whether there's a menu option for everyone in your party. The Disney Dining Plan can save you a lot of money and stress; you'll have more fun ordering food without agonizing over menu prices, and you may even get to enjoy some pricier entrees that you wouldn't have considered before. However, it's also important to do some research before you go. Luckily, there are many great places to eat on the Quick Service Dining Plan where you can get the most value for your credits, and eat meals that everyone will enjoy!
15- ABC Commissary: Hollywood Studios
ABC Commissary, like the rest of Hollywood Studios, is currently going through a few transformations- for instance, in June of 2019, ABC Commissary started serving dinner, and there have also been a few menu changes since then. Despite the modifications, however, ABC Commissary is still a solid place to eat if you're spending the day in Hollywood Studios. The BBQ Rib Platter is a yummy option, with the Land and Sea Platter a close second. I've always liked the sides and desserts offered here as well, such as the S'more Cookie.
14- Landscape of Flavors: Disney's Art of Animation Resort
This food court may be located in a value resort, but the Art of Animation is beautiful and colorful, and Landscape of Flavors offers amazing variety and quality menu options; it's almost worth going out of your way for (if you don't happen to be staying here). Plus, it's a fun place for kids and a refreshing place for picky eaters. For breakfast, I love the Challah French Toast, and for dinner, the Chicken Pomodoro Pasta is my top choice. You can choose entrees from different stations such as the Burger Shop, Pizza and Pasta, and World of Flavors.
13- Pecos Bill Tall Tale Inn and Café: Magic Kingdom
It's hard to pick a Magic Kingdom quick-service restaurant that boasts great value and quality, but I love Pecos Bill and I think it's worth a few quick service credits. The Fixin's Bar alone is worth it- you can add salsas, pico de gallo, peppers, limes, onions, corn, and sour cream onto almost every entrée. The various Nachos, Rice Bowls, and the Fajita Platter are some of the best menu items here. I'd even be so bold as to say that you could purchase some Tortilla Chips with a snack credit, and turn that into a meal by loading it with toppings!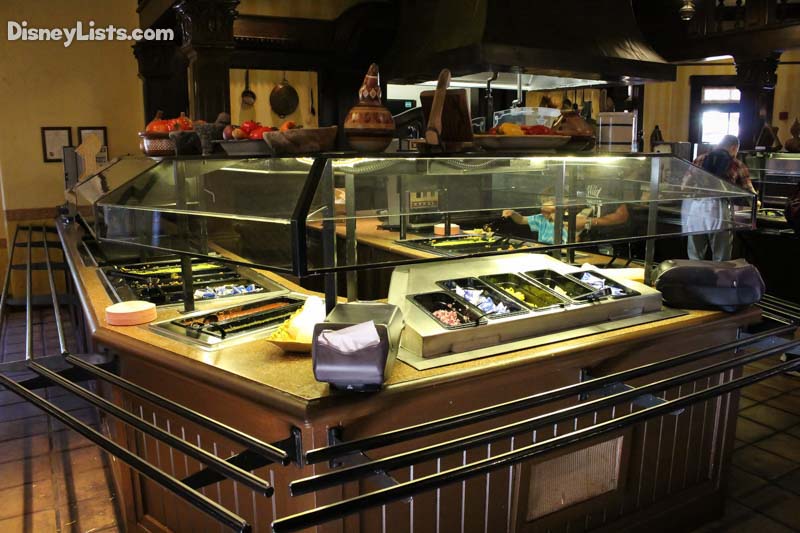 12- Katsura Grill: Epcot
Located in the Japan Pavilion at Epcot, this is not only a good quick service dining option; it's actually a really serene and beautiful place to eat. I love eating here while overlooking the koi pond and footbridges, and just enjoying the ambiance of the pavilion (bonus points if the Taiko Drum show is going on in the distance). My picks here are the Shrimp and Chicken Teriyaki, or the Tokyo Sushi Combo. For a hot day, it feels lovely to end your meal with some Green Tea Ice Cream, and if you're feeling the Japanese spirit, you can treat yourself to Plum Wine or Sake.
11- El Mercado de Coronado Food Court: Disney's Coronado Springs Resort
If you're going to choose a resort to eat at, and have some quick service credits to burn, then Coronado Springs would be the best option. Formerly called Pepper Market, El Mercado de Coronado still has the same fresh, colorful, open-air quality and atmosphere of its predecessor. There are a lot of options for breakfast, but I like coming here for lunch and/or dinner. At lunch, you can get burgers such as the Texas Bacon Burger with garlic parmesan fries, plus pizzas, sandwiches, and salads. Dinner has a few extra menu items, such as the Yucatan Roasted Chicken and the BBQ Ribs. This isn't a typical Disney resort food court meal, and I love it.
10- Tangierine Café: Epcot
This is a tasty, unique restaurant located in the Morocco Pavilion at Epcot, and it's one that I've always deemed too expensive when paying out of pocket. When you're on the Dining Plan, however, it's a very good use of a quick service credit. The platters and wraps come in fairly big portion sizes, and the flavors vary greatly from your traditional theme park food. To get the most bang for your buck, order the Shawarma Chicken and Lamb Platter or the Mediterranean Sliders Combo.
9- Yak and Yeti Local Foods Café: Animal Kingdom
Located in the Asia section of Animal Kingdom, this counter-service portion of the Yak & Yeti Restaurant serves a bunch of unique meals and makes a great option for using some quick service credits. It's open for breakfast, lunch, and dinner has a fairly large outdoor seating area and offers various types of Asian cuisine such as Pork Egg Rolls, Teriyaki Beef Bowls, and my favorite, Honey Sesame Chicken. To get the most out of the Quick Service Dining Plan, you'll want to look at ordering the slightly pricier American Kobe Beef Hot Dog and the American Kobe Beef Cheeseburger.
8- La Cantina de San Angel: Epcot
You really can't go wrong with the quick service dining options at Epcot, and thankfully, they're all worth a quick service meal credit or two (okay, well, maybe not the Electric Umbrella, but anywhere else). In my opinion, the food here is actually better quality than the food at San Angel Inn, which is the table service restaurant located inside the Mayan pyramid. Though La Cantina de San Angel is located outside, it's right on the World Showcase Lagoon, and you can order plenty of tacos, nachos, and ensaladas that will leave you completely satisfied. Aside from the entrees, you can get churros with caramel sauce (using a snack credit), traditional Mexican sodas, and prime alcoholic beverages like the Blood Orange Margarita on the Rocks.
7- Woody's Lunch Box: Hollywood Studios
This may be my new favorite place to eat at Hollywood Studios, and this is coming from someone who loves the atmosphere of the Sci-Fi Dine-In Theater Restaurant. Yes, Woody's Lunchbox may be problematic in the daytime, but I love the scenery at night. Plus, the food is awesome and totally worth your quick service meal credits. It's open for breakfast, lunch, and dinner, and offers solid choices like the BBQ Brisket Melt and the "Totchos." However, the true stars of this place are the desserts- the Ice Cream Float with Root Beer and Vanilla Soft Serve is amazing, and the gourmet pop tarts (called Box Tarts, served with a Chocolate-Hazelnut flavor and a seasonal Lemon-Blueberry flavor) are awesome and adorable for pictures.
6- Blaze Pizza: Disney Springs
The sad truth is, there are not a lot of good pizza places in Disney World. Blaze Pizza in Disney Springs is the exception, and they also take Quick Service Dining Plan credits. You can make your own pizza and choose from a bunch of different toppings, cheeses, and sauces. Plus, the Blood Orange Lemonade is a great beverage to pair with your pie. The pizzas are, in my opinion, large enough to share (but of course, no judgment if you want one all to yourself). There are even to-go boxes available to take a few slices back to your hotel, which can potentially save you future credits in lieu of leftover pizza.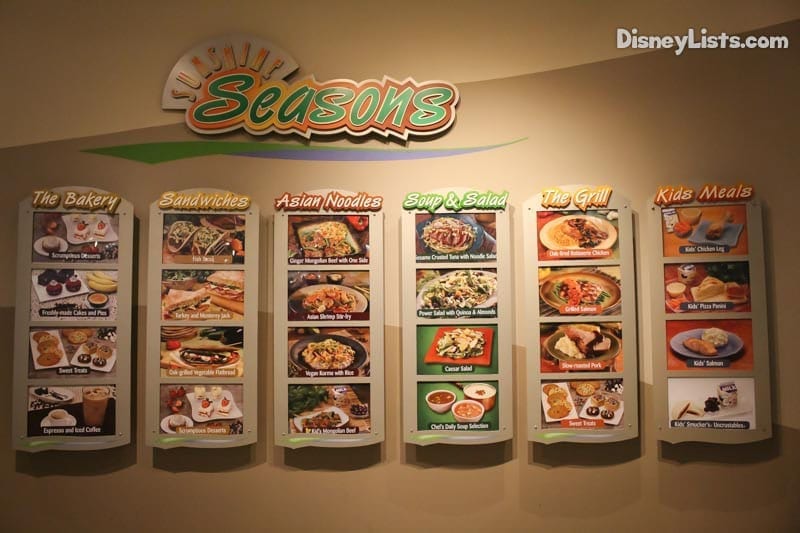 5- Sunshine Seasons: Epcot
I love coming into the Land Pavilion, just because Sunshine Seasons always smells so good. If you have the Quick Service Dining Plan and are spending a full day in Epcot (and you have a lot of people in your group with a lot of different tastes), then the Sunshine Seasons food court is a safe bet. The menu options are fresh, interesting, and of good quality. Plus, it's got ample seating in the air-conditioning. Breakfast has limited options, so to get good value for your credits, go for lunch or dinner. The Mongolian Beef is a good choice, as is the Slow-Roasted Pork Loin. To top it off, there are always some fun options available for dessert (such as limited-time, Instagram-worthy cupcakes).
4- Satu'li Canteen: Animal Kingdom
If you're looking for something other than traditional theme park food, you definitely have to visit Satu'li Canteen located in Pandora-The World of Avatar. Not only is it a great quick service option, but I've found that the combination bowls with grilled beef and chicken are large enough to share (ergo, saving you credits for later). Basically, if ordering a bowl, you choose a meat, a base, and a sauce, and the regular menu prices range from $12.49 to $13.99 (for combination bowls, you get two types of meat). There are many chances to mix and match food items to appease picky eaters, and other menu options are tasty as well (I'm looking at you, Chili-Garlic Shrimp Bowl).
3- The Polite Pig: Disney Springs
The great thing about this fairly new, modern barbecue quick service dining location is that there are a ton of menu options and drinks, and it's an awesome non-park locale. Most everything on the menu is worthy of a meal credit, but my top picks would be the Baby Back Ribs, the Cedar Plank Salmon, and the Half Chicken. Each of these comes with a side to go with them, which is a $6 value. You'll definitely be getting a value here with the Dining Plan, as opposed to paying out of pocket. Aside from the value, the meals here are well-flavored, good quality, and are served quickly.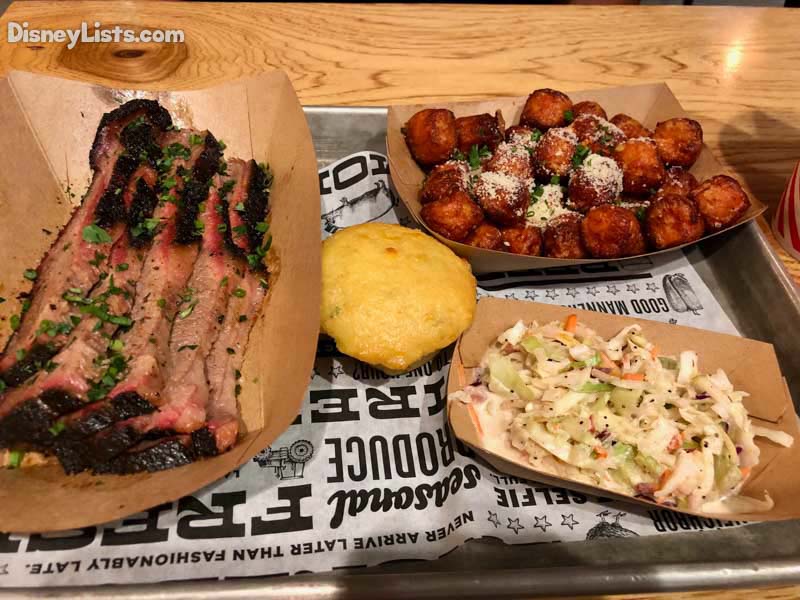 2- Regal Eagle Smokehouse: Epcot
Epcot's newest quick-service restaurant has some of the best barbecue on all of Walt Disney property. The restaurant is an exceptionally worthy place to spend some quick service meal credits- especially if you're open to sharing! American Platter is huge and can easily be shared between two people, saving you a credit to use on another meal later. The BBQ Burger is also a mouth-wateringly good choice. Aside from the food, there is ample indoor seating with decor that celebrates the restaurant's namesake, Sam Eagle!
1- Be Our Guest Restaurant: Magic Kingdom
While Be Our Guest is strictly table service for dinner, you can still take advantage of the Quick Service Dining Plan here by coming for breakfast or lunch. Just make sure to get a reservation first (easier said than done). However, as elusive as reservations may be, breakfast is a terrific use of quick service meal credits. Entrees (such as the Feast a la Gaston and the Croque Madame) cost around $28 out of pocket, and the entire meal begins with a serving of yummy pastries. Lunch is slightly less expensive, with sandwiches, salads, and soups on offer (the priciest option is the Braised Chicken). Both breakfast and lunch offer numerous beverage options, whether you're looking for a simple hot chocolate or mimosa, or craving a fancier, on-brand glass of wine. And plus, you just can't beat the atmosphere of dining in the Beast's ballroom!
For a no obligation, FREE Quote on a Disney vacation package, please contact our travel partner Magical Vacation Planner at 407-442-0227 (407-442-0215 for Spanish). You can also request a FREE quote online by Clicking HERE.