October 1 is a big day in Walt Disney World history. Magic Kingdom opened its doors on October 1, 1971, and Epcot, opened on October 1, 1982! This year, October 1 marks a shift in many entertainment offerings throughout Walt Disney World. Many of these changes were expected as the almost year-long celebration of Mickey's 90th Birthday came to a close on September 30 ending many temporary offerings. We've got a rundown on all of the changes and what you can expect when you visit Walt Disney World. Catch all the details below.
1 – Magic Kingdom Park
Mickey and Minnie's Surprise Celebration was a fun, way to celebrate Mickey and Minnie's 90th Birthday. It was a fantastic celebration and will be missed by many. This celebration was always a limited-time event and the closing of meeting Mickey and Minnie together at Town Square Theater is not a surprise. Also ending is the meeting with seldom-seen Disney friends at the flagpole in Town Square.
Mickey, Minnie, and Pluto*–
Mickey, appearing as a Magician, is greeting guests in Town Square Theater as he did before the celebration.
Minnie Mouse has returned to Silly Pete's Side Show in Storybook Circus as she did before the celebration.
Pluto, is no longer at Silly Pete's Side Show and is currently not on the schedule for Magic Kingdom. However, we found Pluto roaming Storybook Circus. Until Pluto finds a permanent home, your best bet is to look for him here. Ask a cast member if you don't see him. You can also find him at Hollywood Studios and Epcot.
*For up to date character locations, always check the My Disney Experience App. Character appearances are always subject to change.
The "Move It! Shake It! MousekeDance It! Street Party" will continue with 2 showings per day. For now, the parade is retaining its birthday celebration theme with Mickey and Minnie in their celebration outfits.
2 – Entertainment at Epcot
Over at Epcot, "Illuminations: Reflections of Earth ended its nearly 20-year run at World Showcase on September 30, 2019. While we're sad that Illuminations is ending we are so excited for the brand new nighttime spectacular, Epcot Forever, which will debut October 1. We'll be there for the first show! Be sure to follow us on Instagram to follow our Story of the debut of the show. We'll also have a full review up here shortly on our site.
While it's not entertainment related, a brand new experience also opens on October 1 that you don't want to miss. Over at the Odyssey Events Pavilion, you'll want to catch Walt Disney Imagineering presents the Epcot Experience. As we prepared for the historic transformation of Epcot we'll have a chance to learn more about what's coming. Here you'll discover engaging and interactive exhibits that showcase the relentless innovation, energy, and excitement driving the park's future throughout the unprecedented period of transformation.
3 – Disney's Hollywood Studios
With the ending of Party with Pixar Pals at Disney's Hollywood Studios, the 'Super Shindig' dance party with Mr. Incredible, Mrs. Incredible, and Frozone has ended. However, you can still meet Mike and Sully at Walt Disney Presents as well as Edna Mode in Pixar Place. The Neighborhood Bakery in Pixar Place is also still operating.
4 – Disney's Animal Kingdom
While the 'Hakuna Matata Time Dance Party' has ended its run at Disney's Animal Kingdom, the park is still celebrating 'The Lion King' anniversary. Take in the grandeur of the Tree of Life at Disney's Animal Kingdom as it awakens anew each night with scenes inspired by "The Lion King," or snap a photo in front of special "Lion King" backdrops perfect for sharing on social media. Also at Disney's Animal Kingdom, see the nighttime show "Rivers of Light: We Are One," now featuring additional imagery and familiar animal characters.
RELATED ARTICLE: Top 15 Bucket List Must-Dos for Your Disney World Vacation
by Mike and Jamie Sylvester
Visiting Walt Disney World may be on your lifetime bucket list, but what happens once you arrive? Plan to get the most out of your Disney World vacation with a "Disney bucket list" of must-dos! Let's take this Disney trip from simply memorable to truly EPIC!
1 – Catch A Fireworks Show –
Happily Ever After @ Magic Kingdom
Disney doesn't just do fireworks… they do projections, lasers, fire, and music! All of this combined with the nighttime Florida air and those you love close by make for a perfect way to wrap up a night at Disney World. Happily Ever After at Magic Kingdom is our preference for a bucket list must-do, but we also highly recommend IllumiNations at Epcot and Star Wars: A Galactic Spectacular at Hollywood Studios. No fireworks at Animal Kingdom, but the Tree of Life Awakenings is beautiful!
2 – Enjoy Classic Entertainment –
Fantasmic! @ Hollywood Studios
Disney knows how to set the stage! Outside of the fun rides, Disney is loaded with awesome entertainment and shows. From Beauty and the Beast – Live on Stage at Hollywood Studios to Dapper Dans performing at Magic Kingdom, we can't get enough of Disney's entertainment. Our bucket list must-do for entertainment would have to be the nighttime show, Fantasmic! at Hollywood Studios. Sorcerer Mickey battles some of the evilest of Villains. This show includes water screens, projections, music, and a plethora of Disney characters.
3 – Dine With Characters –
Cinderella's Royal Table @ Magic Kingdom
Character dining is the way to go because instead of waiting in line, the characters come right to you! A few top picks include Chef Mickey's, Cape May Café, Crystal Palace, Trattoria al Forno (breakfast), and 'Ohana (breakfast) just to name a few. Enjoy a variety of cuisines and characters! But, our absolute bucket list must-do is Cinderella's Royal Table. There is just something magical about eating INSIDE the Cinderella Castle and getting a warm welcome from Cinderella while you're at it!
4 – Stay At A Disney Resort –
Disney's Polynesian Village Resort
Stay on Disney World property at one of their many resorts and chances are you'll have the stay of a lifetime! The resort guest perks such as complimentary MagicBands and earlier FastPass selections are just the start of good things to come. Different theming is available at the many different resorts, but our bucket list must-do resort is the Polynesian Village Resort for all of their superb amenities.
5 – Photos With The Icons
Cinderella Castle @ Magic Kingdom
Don't forget to stop and pause for a moment in front of one or all of the four Disney World theme park icons. Our bucket list must-do is a family photo in front of Cinderella Castle at Magic Kingdom. The Tree of Life at Animal Kingdom is breathtaking; Epcot's Spaceship Earth is impressive; and Hollywood Studios Chinese Theater or Tower of Terror are great icons! Capture the moment both day and night as all the icons change drastically once the sun goes down.
6 – Ride The Mountains
Space Mountain @ Magic Kingdom
The trio of original mountains includes Space Mountain, Big Thunder Mountain Railroad, and Splash Mountain. They are all timeless and still take our breath away! We could even add Expedition Everest, Seven Dwarfs Mine Train, and Summit Plummet to the list of Disney Mountains. But, as thrilling as all of these are in their own way – our bucket list must-do mountain is Space Mountain!
7 – Check Out The Latest
Pandora – The World of Avatar @ Animal Kingdom
Whether it's a new restaurant or a totally new land, we find ourselves easily adding the newest Disney excitement to our bucket list must-dos. New technology and gifted Imagineers are always amazing us with the latest! Right now, we can't get enough of Pandora – The World of Avatar, the newest land in the Animal Kingdom theme park. Avatar Flight of Passage, Na'vi River Journey, Satu'li Canteen, interacting land and plants, and walkways that glow at night… you won't be disappointed to check out the latest!
Toy Story Land @ Hollywood Studios
You are a toy! You won't believe how fun it is to shrink down to the size of a toy and play in Andy's backyard. Through the immersive theming you'll "play big" and have a fantastic time meeting Woody, Jessie, and Buzz. Slinky Dog Dash, a family-friendly coaster, quickly became a fan favorite and must-do very quickly. Alien Swirling Saucers is a fun spin ride, and Toy Story Mania's remains as popular as ever! You don't want to miss visiting this new land!
Star Wars: Galaxy's Edge @ Hollywood Studios
Star Wars: Galaxy's Edge is the largest and most technologically advanced single-themed land expansion ever in a Disney park. The 14-acre land transports you to the remote planet of Batuu, full of unique sights, sounds, smells and tastes. You become part of your own Star Wars story as you experience galactic food and beverages, such as iconic Blue Milk and Green Milk. You can craft your own lightsabers or build your own droids in immersive, interactive retail experiences. You can explore an intriguing collection of merchant shops and may even come across iconic Star Wars characters. In one of the land's signature attractions, Millennium Falcon: Smugglers Run, you take the controls of the most famous ship in the galaxy as pilots, gunners or flight engineers in an exhilarating experience that responds in real time to the actions you take. A second anchor attraction, Star Wars: Rise of the Resistance, will debut December 5, 2019, at Disney's Hollywood Studios. In the most ambitious, immersive and advanced attraction ever imagined, you will become part of the action during a climactic battle between the First Order and the Resistance in an experience that will blur the lines between fantasy and reality. With so much to see and do you won't want to miss this amazing new land!
8 – Collecting Creative Souvenirs
Pin Trading
Pin Trading and/or Penny Pressing are great ways to enjoy your souvenirs during and after your Disney vacation! Pin Trading is on our bucket list must-do because it's a wonderful way to meet people from all over and interact with Disney's excellent Cast Members. Penny Pressing is fun for the whole family and makes for a great scavenger hunt throughout the theme parks and resorts.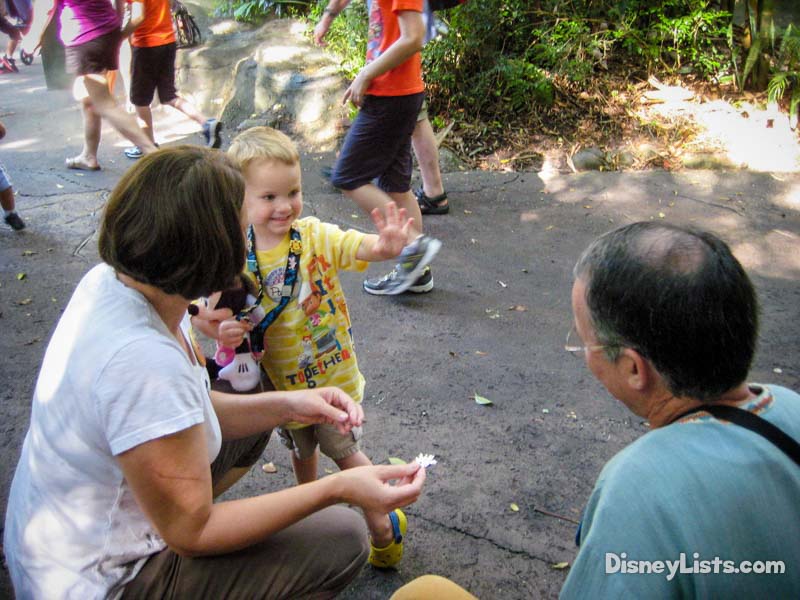 9 – Tasting A Sweet Or Salty Treat
Mickey Premium Ice Cream Bar
With endless tasty treats available throughout Disney's theme parks, we can't help but add this to our bucket list must-dos! Heaven comes in Mickey ear form with the Mickey Premium Ice Cream Bar. While this ice cream might be our favorite memorable Disney treat, we also can't get enough of Dole Whips, Churros, and of course the Mickey Pretzel!
10 – Tour The World Showcase
World Showcase @ Epcot
We might not be able to afford traveling around the world regularly, but Epcot's World Showcase gives us the opportunity to visit 11 countries! Each country has unique architecture specific to its' homeland, themed music, shopping, a wide array of cuisines, assortment of drinks, and excellent entertainment. Touring the World Showcase is definitely for our bucket list must-dos.
11 – Ride The Classic Attractions
Pirates of the Caribbean @ Magic Kingdom
It's ALL about the classics! Disney's most magical, pixie dust filled attractions are the classic ones in our opinion. We especially love knowing that Walt had a hand in many of these attractions. Our bucket list must-do is Pirates of the Caribbean at Magic Kingdom. There is something just wonderful about having "Yo Ho, Yo Ho, A Pirates Life For Me!" stuck in our head for the rest day!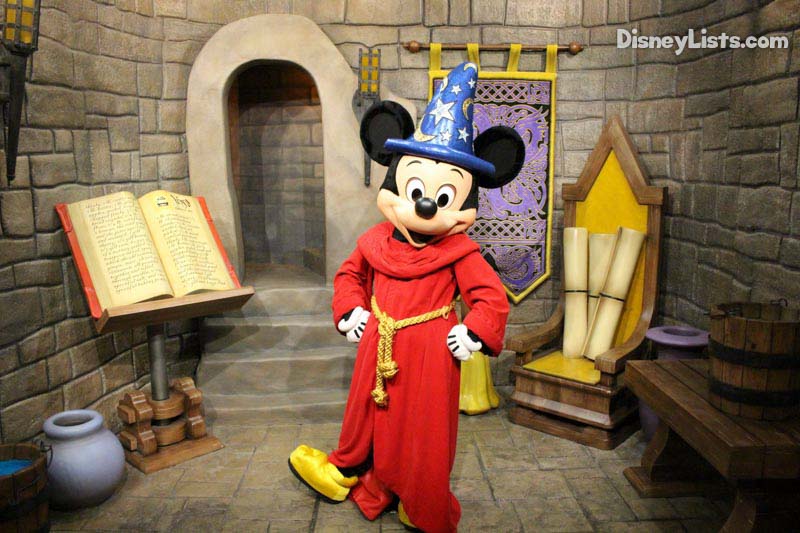 12 – Meet The Characters
Mickey Mouse @ Magic Kingdom or Hollywood Studios
An absolute bucket list must-do is meeting the characters that make us feel like young kiddos again! We especially love meeting the Mouse that started it all. Mickey Mouse greets guests at Town Square Theater on Main Street U.S.A. at Magic Kingdom. We also love meeting the classic Sorcerer Mickey at Hollywood Studio's Red Carpet Dreams.
13 – Watch The Parades
Festival of Fantasy Parade @ Magic Kingdom
We already said how wonderful we think Disney does fireworks… well, their parades are just as superb! The Festival of Fantasy Parade at Magic Kingdom is our bucket list must-do parade. Huge, tremendously detailed, floats ride by with all of our favorite characters and memorable music. Don't skip out on this one!
14 – Visit A Lounge
Top of the World Lounge @ Bay Lake Tower
We've covered meals, desserts/snacks – but we highly recommend a visit to one of Disney World's numerous lounges. One of our favorite ways to start off a trip and to end a trip is with a visit to a lounge. It's a perfect way to unwind with a refreshing glass in your hand. It doesn't have to be an alcoholic beverage either! Our bucket list must-do lounge is the Top of the World Lounge at Bay Lake Tower. Keep in mind, you either need to be a Disney Vacation Club Member or be friend with one to gain access! The drinks served here are exceptional and the view (especially during Magic Kingdom's Happily Ever After fireworks) is outstanding.
15 – Take A Ride With Disney Transportation
Monorail
Our kids especially appreciate this one! Using Disney's complimentary transportation makes the trip to and from the parks a fun one. Plus, you don't have to worry about directions! Boats and buses are all part of the experience, but the Monorail is our choice for our bucket list must-dos.
What are your Disney World bucket list must-dos? We'd love to hear from you!
For a no obligation, FREE Quote on a Disney vacation package, please contact our travel partner Magical Vacation Planner at 407-442-0227 (407-442-0215 for Spanish). You can also request a FREE quote online by Clicking HERE.