Calling all Frozen fans! In anticipation of the release of 'Frozen 2' next month, Disney Parks has released a brand-new merchandise collection that will be sure to tempt you. Catch all the details below!
Here are all the details from Disney cast member Anthony Armenia:
In celebration of #FrozenFanFest, we are elated to share that new merchandise inspired by "Frozen 2," the highly anticipated animated feature from Walt Disney Animation Studios, is available now at Walt Disney World Resort in Florida, Disneyland Resort in California and online at shopDisney.com!
From apparel and costumes to accessories, Disney Parks have a wide assortment of merchandise inspired by Anna, Elsa, Olaf and more, including new characters from "Frozen 2" to gear up for the big screen debut on Nov. 22, 2019.
Check just some of our "Frozen 2" favorites for you and your little ones:
Young ones can prepare for a journey beyond the gates of Arendelle with a sequined sweater featuring Anna, Elsa, Kristoff, Olaf and Sven and a bomber jacket featuring Anna and Elsa calling girls to "Believe in the Journey!" And to top it off, complete the look with light up bows featuring Anna and Elsa.
All four of these products are available now at Walt Disney World Resort and Disneyland Resort with both bows and the sequined sweater available now and bomber jacket coming later this fall to shopDisney.com!
Kristoff fans can embrace the magic of the trolls with this shirt featuring none other than Kristoff himself, available exclusively at Walt Disney World Resort and Disneyland Resort.
Anna and Elsa plush dolls are also available at Walt Disney World Resort, Disneyland Resort and online at shopDisney.com! And if you look closely at the right hand pictured above, you'll see an assortment of "Frozen 2"-inspired Pandora charms coming on Oct. 10th that we revealed earlier this week!
Deck out your phone case and show your fearless side with this brand-new iPhone case available at Walt Disney World Resort, Disneyland Resort and online at shopDisney.com!
Those looking for a little Olaf flair won't want to miss this Alex and Ani charm bracelet featuring the huggable snowman himself! This bracelet is also available now at Walt Disney World Resort and Disneyland Resort and coming later this fall to shopDisney.com!
Everyone's favorite snowman is back and better than ever with a sequined Olaf Loungefly backpack and Olaf print leggings to go with it!
The Loungefly backpack is now available at Walt Disney World Resort, Disneyland Resort and online at shopDisney.com, while the leggings are available now at Disneyland Resort and online at shopDisney.com and coming later this fall at Walt Disney World Resort.
Just in time for Halloween, new costumes based off Anna and Elsa's new outfits from "Frozen 2" are available at Walt Disney World Resort, Disneyland Resort and online at shopDisney.com, as well as in Disney Stores nationwide!
"Frozen" fans can celebrate the release of these products and purchase them at both Disneyland Resort in Anaheim and Walt Disney World Resort in Orlando. Fans in Anaheim can enjoy "Frozen"-themed photo opportunities while guests in Orlando have the chance to purchase special "Frozen"-themed food and beverage offerings throughout the weekend.
For those of you located in Southern California, you'll find these products and more at World of Disney in the Downtown Disney District, Disney Showcase at Disneyland park and Off the Page at Disney California Adventure park! Located in Central Florida? You can find a flurry of products at World of Disney in Disney Springs, The Wandering Reindeer at Epcot, Sir Mickey's at Magic Kingdom Park and Frozen Fractal Gifts at Disney's Hollywood Studios and Island Mercantile at Disney's Animal Kingdom.
Keep your eyes peeled over the next few months as even more products roll out from "Frozen 2" including a MagicBand, pins and even more apparel!
Don't forget to use #FrozenFanFest and showcase your "Frozen 2" style with us ahead of the film's debut on Nov. 22, 2019!
RELATED ARTICLE: 10 Things You Need to Know About Frozen Ever After at Disney's Epcot
by Christy Caby
The Frozen Ever After attraction is open to guests at the World Showcase in Epcot.  The closure of Maelstrom sparked very strong opinions and reactions on social media, but after riding the new, upgraded attraction, I definitely feel like there is a new life to the attraction that is good for the area.  Here are some great things to know about the attraction, but be warned that there are spoilers ahead:
10 – The same voice talent as the movie recorded for the attraction.
We all love the music and the amazing voice talent that brought Frozen to life for us on the big screen.  Well the great news is that the same cast returned to record all of the music and voices that is used on the attraction.  There are even areas with a few updated lyrics that had to be recorded for the attraction.
9 – You get to celebrate the joy of winter during summer.
The story behind the attraction is that Elsa brought a day of winter to Arendelle during summer in honor of Princess Anna's bravery from her act of true love.   So while it is actually summer in Arendelle, you will notice the ice and snow all over the scenes thanks to Elsa's magic.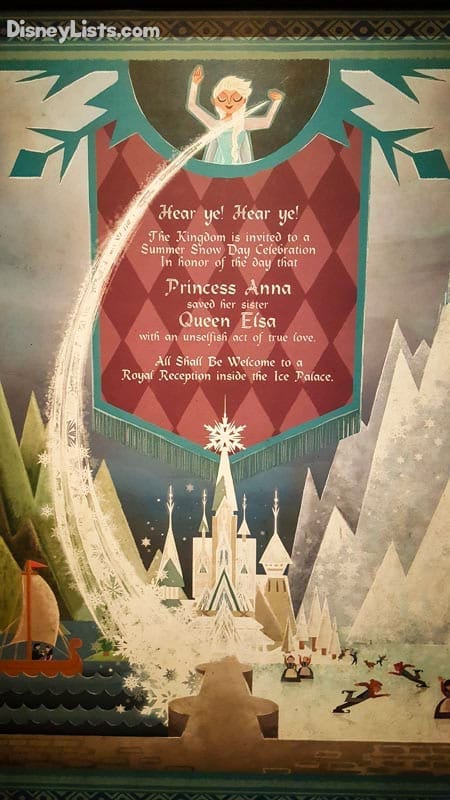 8 – "Let It Go" and ice magic is there.
In case there was any doubt, you will definitely get to belt out "Let It Go" with Queen Elsa and watch her user her magical icy powers.  It is amazing how Disney pulled off the effect and helped you to feel in the middle of the magic.  It was definitely one of my favorite groupings of scenes.
7 – Pay attention to all the little details in the ride queue.
Be sure to read all of the signs, wall art, etc.  It explains the theme for the attraction and the wonderful story of the two sisters.  You will find Oaken's Trading Post as part of the ride queue and you get to walk through it, and see various trinkets from his shop.  One of my favorites was a sign when you first enter the queue that says, "Official Ice Master & Deliverer of Arendelle".  (It definitely IS a thing!)
6 – The ride now loads where it used to unload.
If you were a Maelstrom fan and remember the ride fairly well, you may notice that you actually load (and unload) the new Frozen Ever After attraction where you used to unload at Maelstrom.  The area has been totally redone and incorporated with the brand new ride queue, but I was able to tell we were standing where we used to unload. There is no unloading in a different area either, as you load and unload right in the same place.
5 – The attraction is a mix of Frozen and Frozen Fever.
The attraction isn't just a rehash of Frozen, it incorporates bits and pieces of Frozen as well as portions from the Frozen Fever short that was released after the film.  We love the adorable little mini snowmen from Frozen Fever, and they are definitely there, along with Marshmallow!  You also get to see the sisters in their dresses from Frozen as well as their dresses from Frozen Fever!  It is a great mix of some of your favorite moments, and all your favorite characters (minus the bad guys), from both!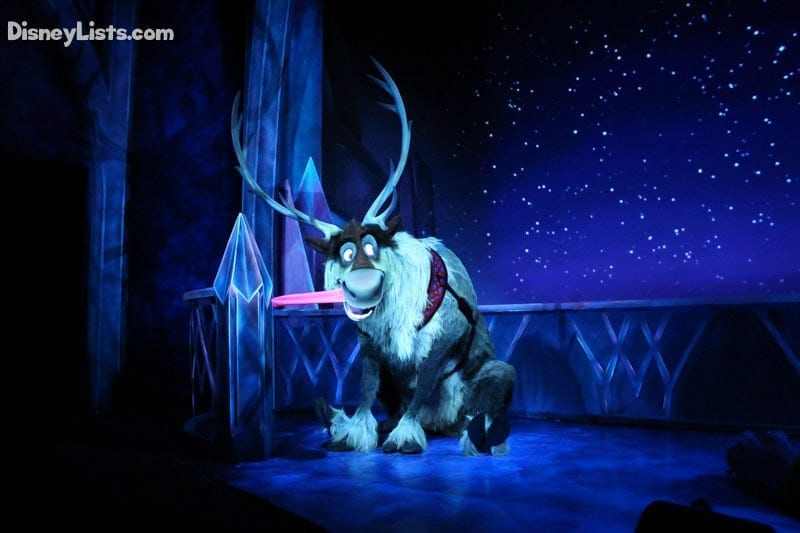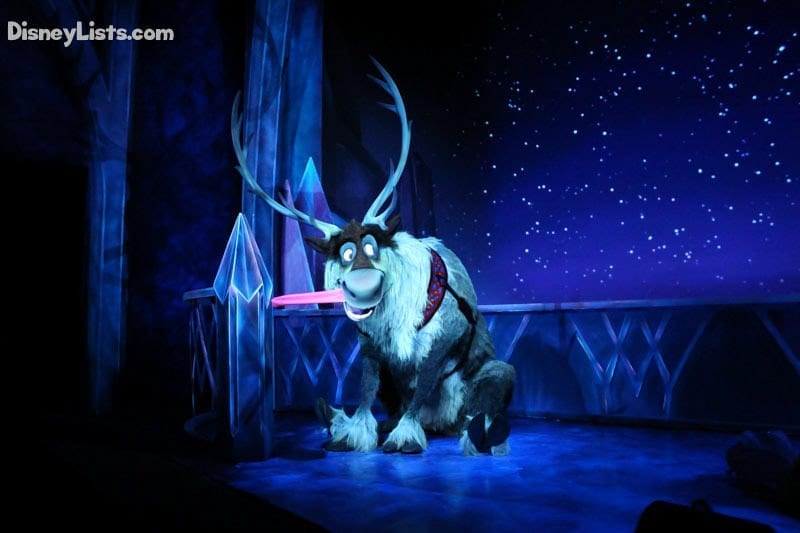 4 – The ride track is the exact same as Maelstrom.
There is absolutely zero change, other than the load/unload areas that we mentioned.  The ride track is the exact same ride with the same slightly backwards drop as well as the forward drop.  If you remember Maelstrom, you can still visualize where everything was.  (Although, you really won't want to since the attraction is really well done, and has amazing technology!)  If you really can't get over losing Maelstrom, at least you know that you can still close your eyes and experience it again as far as the actual ride goes!
3 – The animatronics are spot on.
Everyone raved about the animatronics on the Seven Dwarfs Mine Train when that first opened, but Frozen Ever After really takes it to a whole new level in my opinion.  The characters really look almost like they are real and brought to life right in front of you.  Their movements and faces are spot on, and it makes the experience even more amazing just seeing how well done the characters are.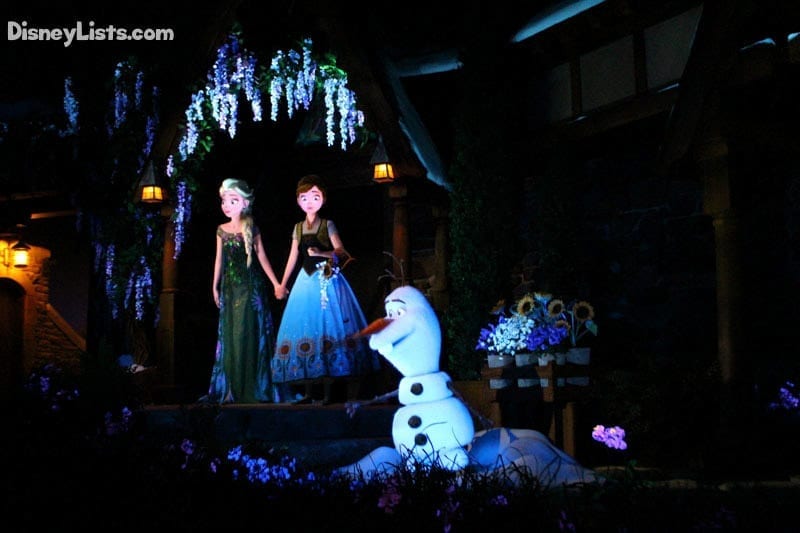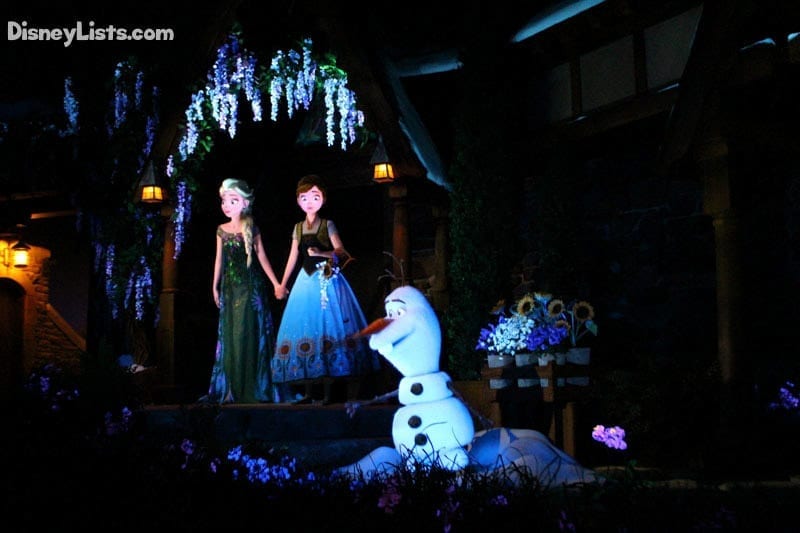 2 – There is an Attraction Photo
There is an attraction photo on the ride towards the end of the ride. After you see the frozen Marshmallow and the frozen Snow-Babies you'll go down a small hill. It is during this descent that the photo is taken. Like the newer attractions, there is no photo viewing area in the ride exit. Your photo will automatically be uploaded to your MyDisney Account through your Magic Band.
1 – Make a FastPass+ for the attraction as soon as possible, or plan to wait.
This attraction usually has anywhere from a 45 minute up to a 2 hour wait time.  I highly recommend that you grab a FastPass+ selection for this attraction as soon as you possibly can.  If you can't get one, then try to get there first thing in the morning and head right for it to help minimize the long waits in line.  You can also try to catch it on Extra Magic Hours.  If none of these work out, you may want to grab a beer (or soda) and plan to enjoy a wait!
For a no obligation, FREE Quote on a Disney vacation package, please contact our travel partner Magical Vacation Planner at 407-442-0227 (407-442-0215 for Spanish). You can also request a FREE quote online by Clicking HERE.