We love that Walt Disney World is in the heart of Florida… but WOW… it gets HOT! Not to mention, the weather is super unpredictable with regular rain showers. Taking a break from the heat and rain by finding shade is a must from time to time. Disney has several indoor attractions for this very reason! Here are our top picks of the best indoor attractions at Walt Disney World.
13 – Spaceship Earth
Despite the current construction and massive overhaul of Epcot, Spaceship Earth will remain as the park's icon. Currently, the attraction consists of the history of human communication from the Stone Age all the way to the birth of computers. This is a great attraction to sit back and relax as you wind through the "ball" with a calm narration and interesting animatronic filled scenes. Spaceship Earth was scheduled to have changes made to the attraction for the 50th Anniversary of Walt Disney World. However, those plans have been postponed indefinitely. 
12 – Na'vi River Journey 
Pandora – World of Avatar is a stunning land is Disney's Animal Kingdom. Inside the land are two attractions, one being the Na'vi River Journey. Peaceful is the perfect word to describe this one. Take a slow boat ride down the Na'vi River through the Pandora surroundings that could be described as something from a dream! Bioluminescent lighting lights the way. Pandora creatures stir close by. Na'vi natives welcome you on your journey. It's a beautiful indoor attraction that lets you totally forget you are anywhere but this new, enticing land.
11 – Frozen Ever After
Anna, Elsa, and Frozen friends invite Epcot guests to join them in Arendelle! You'll find Frozen Ever After nestled in the Norway Pavilion around the World Showcase. As your boat sails through Arendelle, the Frozen animatronics sing, and dance. Don't hesitate to join in with the music! The boat ride is mostly mild but does pick up speed on certain parts of the attraction, such as when you go backward. This is one indoor attraction where you can let the hustle and bustle of the outdoors go!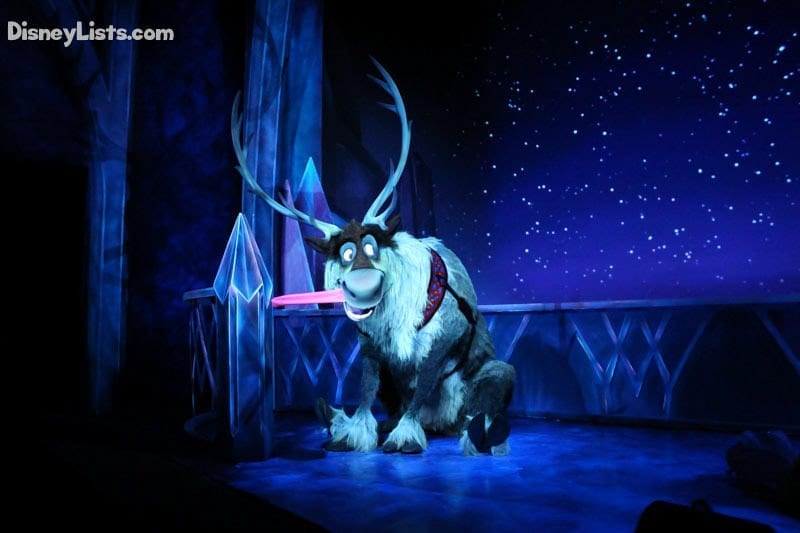 10 – Pirates of the Caribbean
"Yo ho, Yo ho, a Pirate's life for me!" Calling all mateys for a boat ride amidst some swashbuckling pirates. Head on over to Adventureland in Magic Kingdom, where you'll find the classic Pirates of the Caribbean attraction. A great way to get out of the heat, this indoor attraction will have you winding through dark paths until you reach the ride. Climb aboard your boat and sail through multiple scenes of animatronic pirates. You'll be ready to sign up to join the pirates league in no time!
9 – Rock 'n' Roller Coaster Starring Aerosmith
Unlike the attractions above, this one isn't for all ages! If you've been on a roller coaster that loops and corkscrews, chances are you were outside in the open air for this experience. Rock 'n' Roller Coaster, in Disney's Hollywood Studios, is an indoor rollercoaster that provides a dark atmosphere, making for a unique experience filled with unexpected twists and turns. You're late for an Aerosmith concert, so the super stretch limo is called in. Have a seat and hold on tight as your stretch limo goes from 0 to 57 mph in 2.8 seconds!
8 – Twilight Zone Tower of Terror
Enjoy the thrills that Rock 'n' Roller Coaster has to offer? Check out its' neighbor! Twilight Zone Tower of Terror is also located in Disney's Hollywood Studios, as it towers terrifyingly above Sunset Blvd. Step into the Twilight Zone and become one of the mysteries. Take your place in the haunted elevator and get ready for one unpredictable ride. You'll go to the top of the tower only to be dropped, shot back up and dropped again… and again… and again. It's terrifying alright, but also extremely fun as it's never the same experience with the random timing of drops. While this is an indoor attraction, you will get a peek of the outside when you reach the top floor… you know, just before you drop to the bottom!
7 – Toy Story Mania
Toy Story Land is one of the most popular lands in all of Walt Disney World and for good reason. You'll find this land calls Disney's Hollywood Studios home and includes two popular outdoor attractions – Slinky Dog Dash and Alien Swirling Saucers. One of our very favorite indoor attractions is located here as well! Toy Story Mania is such a fun attraction that guests of all ages love. Take a ride through a 4D, interactive game where you use a blaster to shoot targets to earn points. A colorful attraction with Toy Story pals ready to encourage you along as you compete with the person in your vehicle to see who can earn the most points.
6 – Millennium Falcon: Smuggler's Run
The famous Millennium Falcon has landed in Star Wars: Galaxy's Edge – the newest land in Disney's Hollywood Studios. We finally get a chance to not only ride but help FLY the "fastest hunk of junk" in the galaxy! No Star Wars experience would be complete without unexpected troubles around every corner so don't expect your ride on the falcon to be any different. The force is strong with this one!
5 – Haunted Mansion
We'd be "foolish mortals" if we didn't include Magic Kingdom's Haunted Mansion as one of the best indoor attractions! While this one isn't nearly as thrilling as the Tower of Terror we mentioned above, the Happy Haunts here are classic and not to be missed. Enter the mansion and have a seat in a doom buggy. Your Ghost Host will guide you through the mansion as there are ghosts happily haunting around every corner. While the ride is all indoors, don't forget to take your time walking through the impressive outdoor graveyard before entering.
4 – Space Mountain
Another indoor coaster has made the list! Space Mountain in Disney's Magic Kingdom has no loops and doesn't go nearly as fast as Rock 'n' Roller Coaster mentioned above, but it still has a classic kick to it! Take a ride through the dark space – so dark in fact, you won't know if you are turning left, right, up or down next. Get ready for the swirling wormhole as that is our favorite part!
3- Soarin' Around the World
This may be an indoor attraction, but you'll feel like you are outdoors as you soar around the world. Soarin' is in The Land portion of Epcot and an easy favorite indoor attraction on this list. Have a seat in your "hang glider" and get ready to feel the rush of flying as your seat moves towards a massive screen. The breeze hits your face, the smells are so real, and the views are stunning as you fly above impressive locations throughout the world.
2 – Avatar Flight of Passage
Number one on our best indoor attractions goes to the most popular attraction at Disney's Animal Kingdom, Avatar Flight of Passage. Located in Pandora – World of Avatar, Flight of Passage is an indoor attraction that feels like anything but indoors. You'll become an Avatar for a chance to fly on the back of a Banshee. Straddle what looks like a motorbike and put on your 3D glasses. Before you know it, you'll be flying above the Pandora landscape on your banshee. Feel the power of the banshee beneath you, the breeze surrounds you, and even the mist of water close by. This is an extremely exhilarating attraction and unlike any other experience, you'll find at Disney World. Take note however as those prone to motion sickness may feel it on this one.
1 – Star Wars: Rise of the Resistance
Star Wars: Rise of the Resistance sets a new standard for what a Disney theme park experience can be, as guests become heroes of the Resistance in a climactic battle with the First Order. In one of the most immersive, ambitious and technologically advanced attractions ever created for a Disney park, guests launch into space aboard a transport shuttle, only to be captured by a Star Destroyer and pursued by Supreme Leader Kylo Ren as they frantically search for a way to escape the clutches of the First Order. This new attraction inside Star Wars: Galaxy's Edge draws guests into a sprawling Star Wars narrative that blurs the lines between fantasy and reality, as jaw-dropping sights brimming with vivid detail create surprises around every turn. In one of the longest Disney attraction experiences ever, Star Wars: Rise of the Resistance delivers thrilling action driven by cutting-edge technology and innovative design that gives guests the feeling of stepping inside a Star Wars film. It's by far the best attraction at any Disney Park!
For a no obligation, FREE Quote on a Disney vacation package, please contact our travel partner Magical Vacation Planner at 407-442-0227 (407-442-0215 for Spanish). You can also request a FREE quote online by Clicking HERE.