Disney's Animal Kingdom has introduced the biggest holiday season in its two-decade history, with festive new entertainment and holiday décor in every land. Daytime and nighttime, guests can experience the majesty of nature and holiday magic. We recently enjoyed exploring the latest offerings. Keep reading to discover the seven ways to celebrate the holidays at Disney's Animal Kingdom.
1 – Christmas Tree at the Park's Entrance
There are so many beautiful Christmas trees to see around the Walt Disney World resort, and all four theme parks have their own unique tree. Disney's Animal Kingdom tree is located outside the park entrance. The tree is decorated with traditional ornaments and hidden animals. It is perfectly themed to the park. Usually, you'll find Disney PhotoPass photographers near the tree to take photos with the tree as a backdrop. As you leave the park at night, the tree lights sparkle and twinkle. You will definitely want to stop at this tree both day and night!
2 – Discovery Island
You'll want to plan on spending time exploring Discovery Island during your visit to Animal Kingdom, especially during the daytime. First, you'll find a merry menagerie of life-sized animal puppets interacting with the guests. This was my absolute favorite holiday experience. You'll find reindeer, foxes, polar bears, and penguins roaming about. The polar bear sniffed my phone since he wasn't sure what that was all about. Guests posed with the puppets for photos. I heard a lot of laughter, and the puppets sniffed children and allowed themselves to be petted. There was also a violinist performing holiday music that really added to the atmosphere. Be sure to get to Animal Kingdom early enough to see these puppets. They are beautifully detailed and a lot of fun to experience. They should be out from 10 am – 5 pm, but always check the Times Guide for up to date hours.
Click here to watch a video highlighting the amazing puppetry.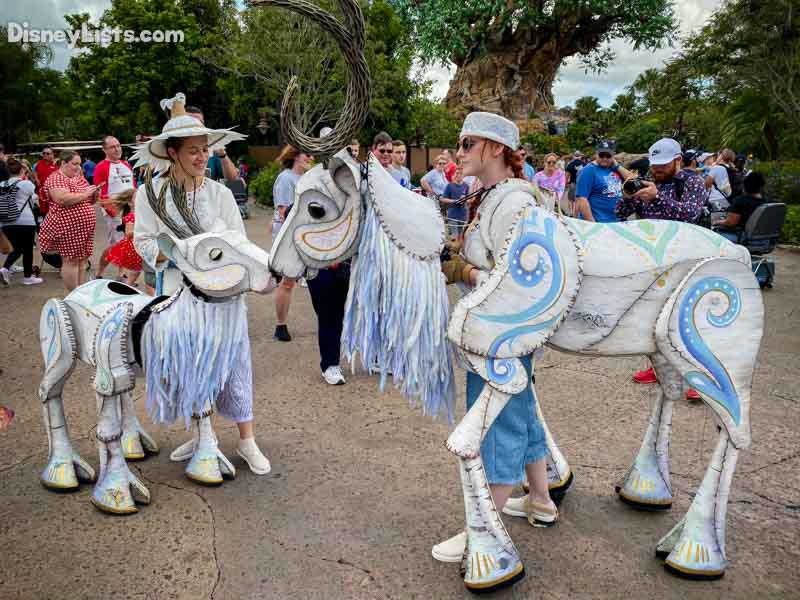 Around Discovery Island, you'll find a lot of great decorations, including rooftop luminaries in animal shapes and bird lanterns that bring a warm glow to the village at night. They are stunning, and the artistry is amazing.
Also, Russel has decorated his Wilderness Explorers Clubhouse with two very unique Christmas trees. I especially loved Dug's tree. The tree topper is hilarious! Russel and Dug greet guests during daytime hours (check the Times Guide), so be sure to visit before it gets dark if you would like to greet them in the Clubhouse.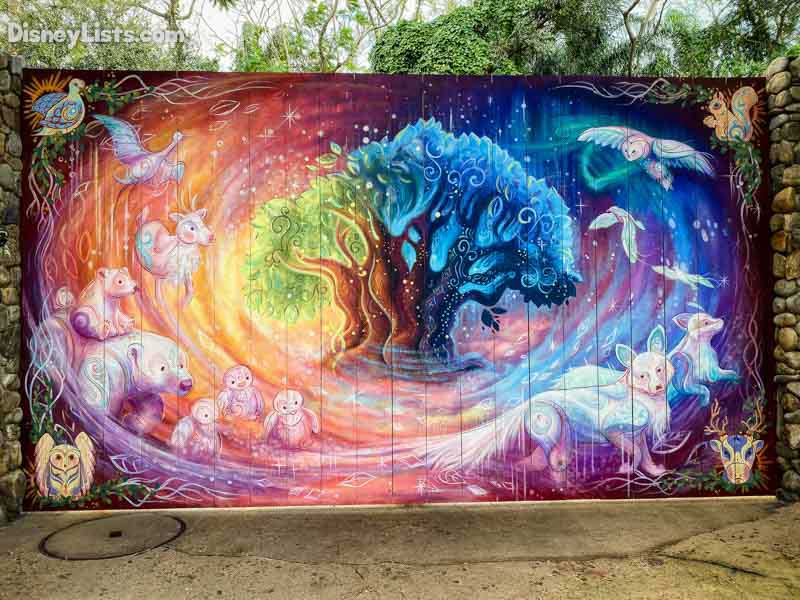 Also on Discovery Island, you'll find a brand-new "Disney wall" that offers a fantastic backdrop for a photo. It features the Tree of Life and some wintry animals. You'll find it across from Tiffins on the way to Pandora – The World of Avatar.
Finally, while visiting Discovery Island, you'll want to make sure and visit with Mickey and Minnie Mouse at Adventures Outpost. The room where you meet them has been decorated for the holidays, and both Mickey and Minnie's outfits have touches of festive cheer. They are subtle and, I think, just right. These two are always popular, so if you want to ensure you'll be able to meet them with a short wait time, considering securing a FastPass for this meet and greet.
3 – Pandora – The World of Avatar
You might not expect to find holiday decorations on an alien planet. Still, there are new decorations have been added to bring holiday cheer. Ex-pats living and working on the moon of Pandora rolled out seasonal cheer with a display at Pongu Pongu of whimsical holiday décor, pairing vintage pieces from Earth with items handcrafted from materials indigenous to Pandora.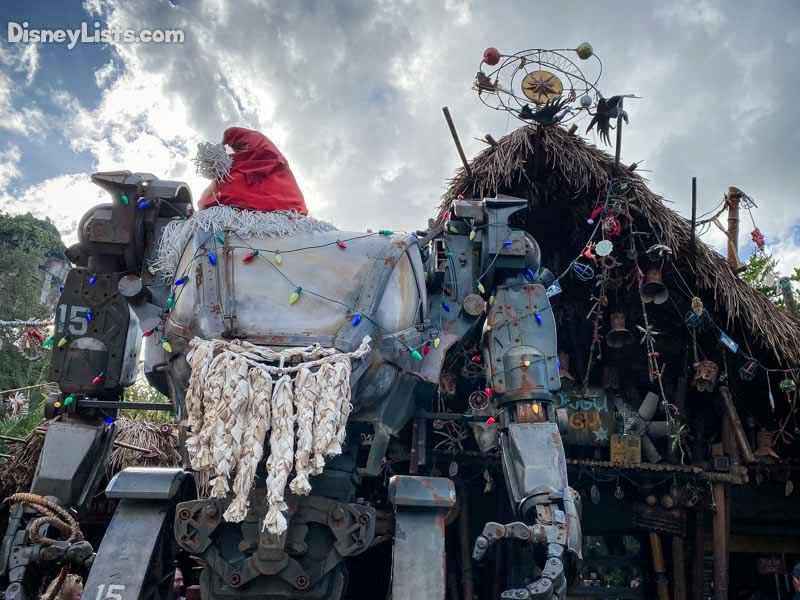 4 – Africa
The village of Harambe in Africa welcomes guests with a unique holiday presentation, fusing Western traditions with the colors and texture of authentic African celebrations, colorful costuming, and new music flavors. We really enjoyed the unique decorations, particularly the many different wreaths seen throughout the village. You'll want to spend some time exploring the village to enjoy the décor.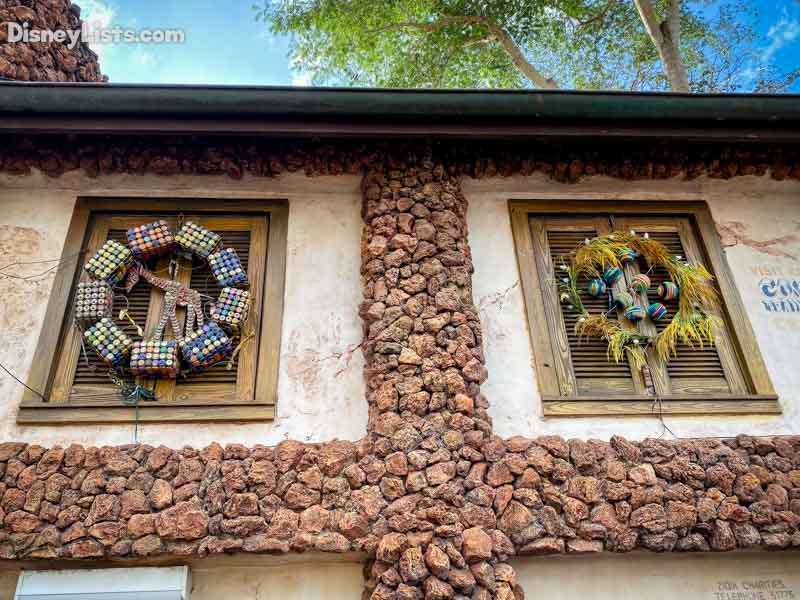 Also, in Africa, Tusker House diners are now treated to a holiday overlay as Safari Donald Duck, and his pals spread holiday cheer during the dinner hour. If you're looking for a great buffet-style meal, Tusker House is a great option
5 – Asia
Over in Asia, Diwali, the Holiday Festival of Lights in India, has inspired the residents of Anandapur to decorate for the holidays. You'll find glowing flowers, lanterns, and more that illuminate the main square leading to the waterfront stage, home to authentic and colorful cultural performances. While we visited this section of the park during both daytime and nighttime hours, we enjoyed visiting at night the best. It was most beautiful at night with all of the glowing lights!
6 – Dinoland U.S.A.
Dinoland, U.S.A is an area that you'll want to visit both during the day and evening. Throughout the land, characters gathered for "Donald's Dino-Bash!" have gotten in the holiday spirit with colorful costumes. Decorations and Christmas trees can also be found in the greeting areas. Daisy's pink designs were especially fun. Check the times guide for greeting times for these characters. As you might expect in this area, there is a lot of fun and bright décor, and it comes alive a night!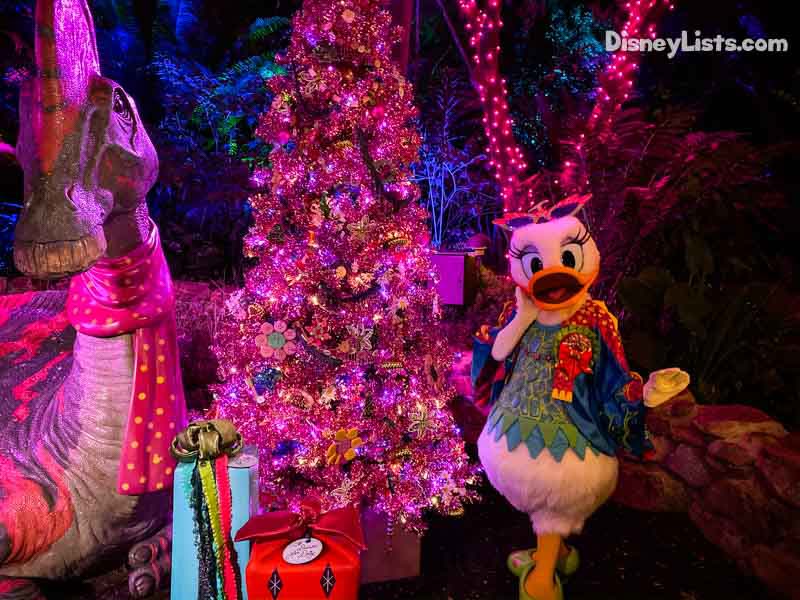 While visiting Dinoland U.S.A., be sure to stop by Dino-Bite Snacks for a delicious seasonal dessert. We really enjoyed the double-chocolate peppermint ice cream sandwich. This dessert features vanilla ice cream served between double chocolate cookies rolled in peppermint candy bits. It was delicious! It costs $6.99 and is a snack credit. I'll need to go back this season and get that again! Click here to see photos of the ice cream treat.
7 – Tree of Life
Finally, as the sun sets, the Tree of Life awakens with a series of wintry tales emerging from within, backed by a familiar and heartwarming holiday musical score. Between awakening moments, the Tree of Life will shimmer and sparkle throughout the night, alive with the magic of nature and the spirit of the holidays. We were thrilled to discover that the tree awakens on both sides! We, along with many others, enjoyed our viewing in Asia. We even found some chairs to sit and relax as we watched. There are a few different scenes, and they replay throughout the evening. It really is amazing the technology behind this. The awakenings are beautiful and are not to be missed!
Click here to watch a wintry scene of the Tree of Life Awakens on our IGTV channel.
Click here to see the highlights of our day at Disney's Animal Kingdom!
We had an amazing time exploring Disney's Animal Kingdom and the holiday offerings. If you are visiting Walt Disney World during the holiday season, you won't want to miss it!
Editor's Note: The Disney Company provided us with complimentary admission into Disney's Animal Kingdom. However, the thoughts and opinions contained in this article are completely our own.
For a no obligation, FREE Quote on a Disney vacation package, please contact our travel partner Magical Vacation Planner at 407-442-0227 (407-442-0215 for Spanish). You can also request a FREE quote online by Clicking HERE.