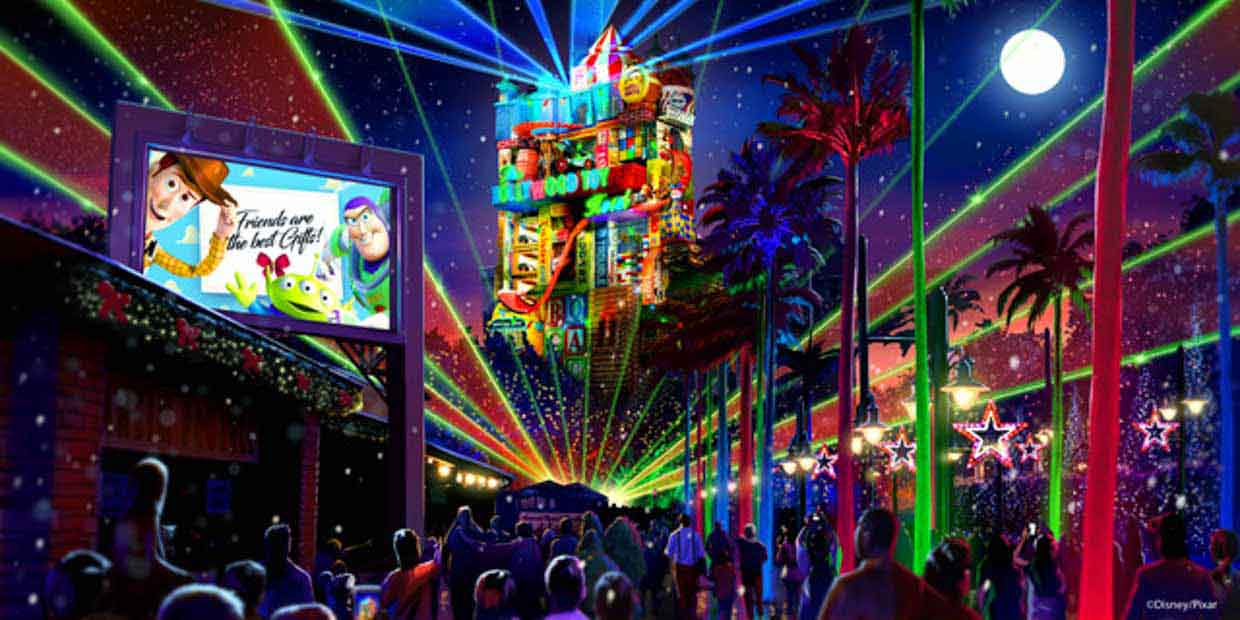 We see you Hollywood Studios! Magic Kingdom has Mickey's Very Merry Christmas Party, Epcot has International Festival of Holidays, and Hollywood Studios is sledding into the holiday action by calling for a "Flurry of Fun"! Sure, we may miss The Osborne Family Spectacle of Dancing Lights which blinked its last light in January of 2016, but THIS… this "Flurry of Fun", shows Hollywood Studios is still anything but disappearing from the holiday scene! Ski with us through these nine flurries of fun you can expect this holiday season at Hollywood Studios.
1 – "Sunset Seasons Greetings"… What All The Holiday Cheer Is About!
Back again this year and is Hollywood Studios "Sunset Seasons Greetings" which will be taking place from November 8, 2019, through January 5, 2020. Many of us know Sunset Blvd as the road we scurry down to climb aboard two of Disney World's most thrilling attractions, Twilight Zone Tower of Terror and Rock 'N' Roller Coaster. We are thrilled now that we'll have an amazing reason to slow down as Sunset Blvd takes center stage once night falls for all things appropriate for this season's greetings. This 15-minute show runs continuously throughout the evening beginning at nightfall. Be sure to watch for the laser effects to complement the spectacular projections. A few key features include the following:
Billboards and Hollywood Tower Hotel Tell Tales: You may have noticed that Sunset Blvd is lined with two billboards that make the street feel even more like it's taken straight out of California. Plus, Hollywood Tower Hotel (Tower of Terror) is an obvious focal point of this strip. These billboards go LED and Hollywood Tower Hotel transforms for Sunset Seasons Greetings as they move and tell tales! Memorable characters share their love for the season through tales and the motion of the images align perfectly with the stories.
Character Moments: Special characters you will hear from on the billboards include sweethearts, Mickey and Minnie, reminiscing about a hometown Christmas. Toy Story characters show off their wrapping skills. You'll also hear from the Swedish Chef from The Muppets boasting about his gingerbread masterpieces… if you can decipher his babbling! And, worth waiting for (and melting for), Olaf channels his inner Elsa and freezes the winter wonderland.
Snow: Maybe you've been fortunate enough to experience snow falling on Magic Kingdom's Main Street U.S.A. during Mickey's Very Merry Christmas Party, well Hollywood Studios took a chapter out of the Magic Kingdom book! As if the beautiful Christmas music and dancing lights over the palm trees isn't enough, it snows on Sunset Blvd! Heads up, however, as these are not flurries to stick your tongue out and catch. It's actually a form of soap!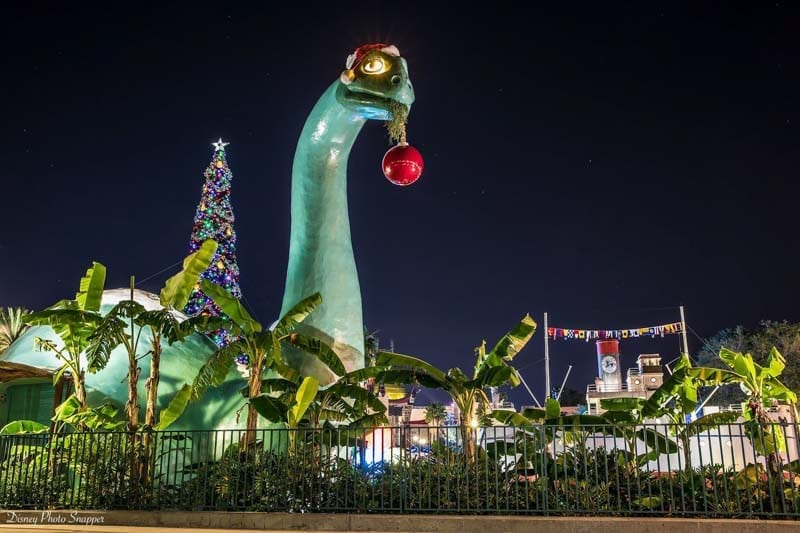 2 – Holiday Décor Around Echo Lake
Sure, Sunset Blvd is the star of the show when it comes to holiday décor at Hollywood Studios. We can say however that Echo Lake is following suit with holiday decorations worth pulling your camera out for. Boasting over-the-top ornaments, colorful garlands, and a lovely, giant Christmas Tree centered right in the middle of Echo Lake… this scene is enough to put Gertie, the big Dinosaur, into the festive spirit!
3 – Jingle Bell, Jingle BAM
Jingle Bell, Jingle BAM is back! Holiday fireworks, awesome projections of classic and new characters, and superb Christmas music… this is an easy one to put on your holiday must-do list! Hollywood Studios rolls out the red carpet nightly for Jingle Bell, Jingle BAM beginning November 8, 2019, until January 5, 2020. Showtimes vary by the day. Check your Times Guide well in advance! This 14-minute show is hosted on the Chinese Theater and is narrated by the Prep and Landing cast. Catch scenes from Mickey's Christmas Carol, Beauty and the Beast, Pluto's Christmas Tree, Tim Burton's The Nightmare Before Christmas and more.
Jingle Bell, Jingle BAM! Holiday Dessert Party: Take your viewing of Jingle Bell, Jingle BAM one step further with a reserved viewing area and a "jolly spread of specialty sweets and sips"! This special ticketed event is available with a reservation from  November 8, 2019, until January 5, 2020. Cost for guests November 8 to December 21 is $89 per adult; $53 per child ages 3 to 9. Cost for guests December 22 to January 1 is $99 per adult; $59 per child ages 3 to 9. Cost for guests January 2 to January 5 is $89 per adult; $53 per child. Tax and gratuity are included. Enjoy this festive and tasty event with holiday-inspired desserts, snacks, beer, wine, specialty alcoholic and non-alcoholic beverages. Some desserts offered include candy cane brownies, holiday Mickey and Minnie sugar cookies, warm pumpkin pie spiced bread pudding, and sweet Yule Log.
Star Wars: A Galactic Spectacular: Star Wars fan, don't fret! Check the Times Guide in advance as Star Wars: A Galactic Spectacular still lights up the sky on occasion during the holiday season, typically a couple of hours after Jingle Bell, Jingle BAM on select nights. Star Wars: A Galactic Spectacular will go back to a regular schedule on January 6, 2020.
4 – Minnie's Holiday Dine
The table service restaurant, Hollywood and Vine, located in Hollywood Studios near Echo Lake is well known for terrific food and their beloved seasonal dining. This holiday season, Minnie is offering a "Minnie's Holiday Dine" from November 8, 2019, until January 5, 2020. Reservations are highly recommended as they do fill up fast! Minnie, Mickey, Daisy, Donald, and Goofy are typically available for the lunch and dinner celebrations and are known for sporting their holidays best which makes for awesome pictures! You can expect to pay around $54 per adult and $32 per child, plus tax and gratuity. Some dining plans are accepted if you prefer to go that route!
5 – Holiday Cheer in Toy Story Land
Holiday fun arrives in Toy Story land where guests become honorary toys and enjoy attractions, food, and entertainment inspired by Woody, Buzz Lightyear and friends. Decor includes an oversized cranberry-and-popcorn garland, a 10-foot-tall Hamm sugar cookie at Woody's Lunch Box, as well as green alien ornaments near the entrance to Alien Swirling Saucers, just to name a few. Plus, guests will hear sleigh bells ringing on Slinky Dog Dash, while Alien Swirling Saucers will offer two holiday tunes with themed lighting. Toy Story characters will don holiday looks for the season, too, as Woody and Jessie will wear special holiday vests and sprigs of holly on their hats, while Buzz Lightyear will sport a snazzy Santa hat. Bo Peep is also wearing some holiday attire.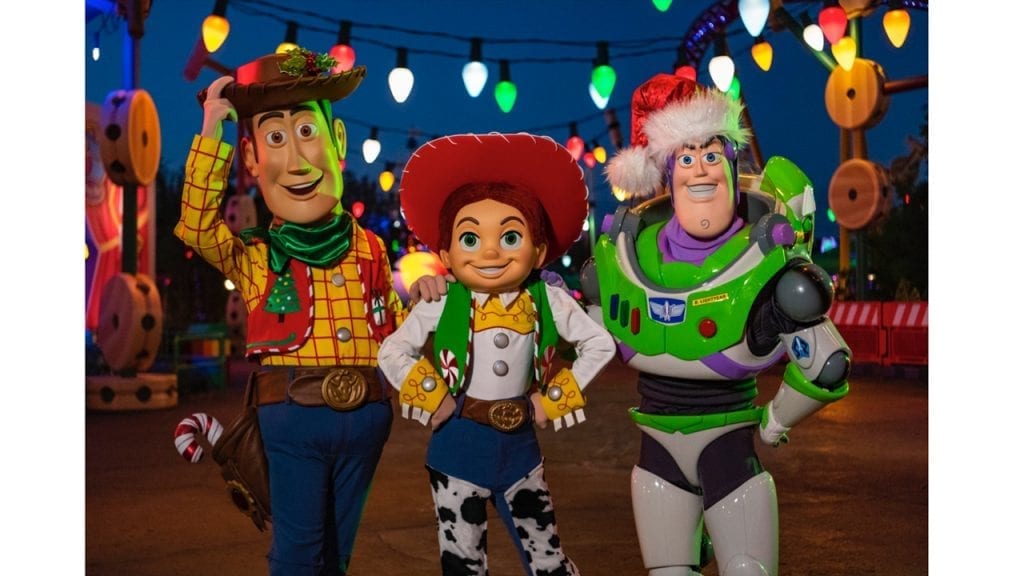 6 – Santa Claus (and Santa Goofy!)
Of course, Walt Disney World has an "in" with the jolly, big man himself… SANTA CLAUS! Santa is headed to Hollywood Studios to listen to your Christmas wish-list as well as pose for photos. Santa is available on Sunset Blvd inside Once Upon a Time from November 8 to December 24, 2019. Santa heads out Christmas Eve to deliver presents to all the good girls and boys while Santa Goofy steps in at Hollywood Studios to share his "goofy" Christmas joy from December 25 to 31, 2019.
7 – Chip 'n' Dale
Chip 'n' Dale also get in on the holiday fun by greeting guests in holiday attire. You can find them at the front entrance in the afternoon and early evening. Check the Times Guide for up to date greeting times.
8 – Holiday Treats
While you are enjoying all of the holiday cheer, you'll likely work up an appetite. This year, Disney's Hollywood Studios has a fantastic selection of holiday treats to satisfy your cravings. Here is a list of what is available and where you can find the items.
Pizzerizzo
Strawberry Mint Verrine
Winterberry Margarita
Baseline Tap House
Elsa's Magical Macarons
Gingerbread Cookies
Rosie's All-American Cafe
Goofy's Hot Chocolate, Not Hot Chocolate Verrine
Winterberry Margarita
Catalina Eddie's
ABC Commissary
Strawberry Mint Verrine
Mickey's Santa Hat Chocolate Mousse
Holiday Wreath Cookie
Winterberry Margarita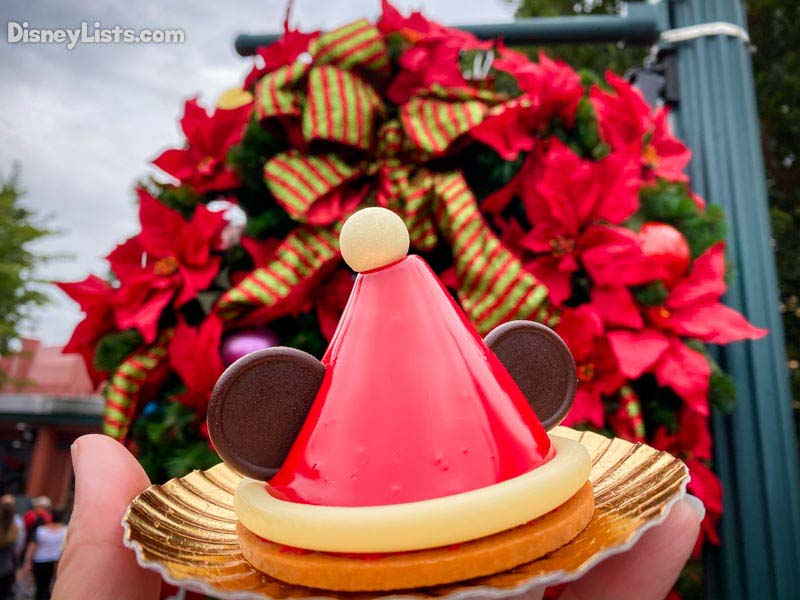 Fairfax Fare
Olaf's Chocolate Marshmallow Verrine
Hot Cocoa Flight
Market
Elsa's Magical Macarons
Gingerbread Cookies
The Trolley Car Cafe
Prep and Landing Cupcake
Chocolate Chestnut Pinecone
Dockside Diner
Gingerbread Cookies
Hot Cocoa Flight
Woody's Lunch Box
Backlot Express
Chocolate Chestnut Pinecone
Goofy's Hot Chocolate, Not Hot Chocolate Verrine
Holiday Blondie
Carts
Outdoor Bars
9 – Sing-Along To Olaf's Frozen Adventure
Everyone's favorite snowman from the hit Disney film "Frozen" will bring more holiday fun to the Hyperion Theater as Anna, Elsa and Kristoff welcome Olaf to this popular sing-along celebration. Just for the holidays, the show will include a seasonal finale featuring Olaf and three songs from the animated featurette, "Olaf's Frozen Adventure."
Well, that's a wrap! Have an amazingly, flurry fun-filled holiday at Hollywood Studios!
For a no obligation, FREE Quote on a Disney vacation package, please contact our travel partner Magical Vacation Planner at 407-442-0227 (407-442-0215 for Spanish). You can also request a FREE quote online by Clicking HERE.