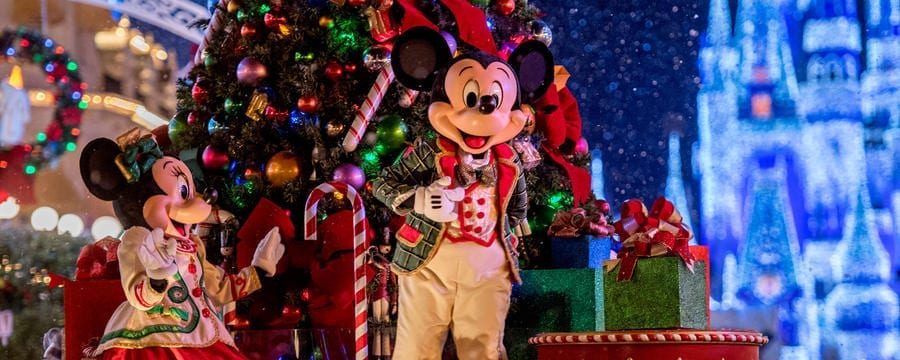 Mickey's Very Merry Christmas Party at Magic Kingdom features favorite Disney characters in their yuletide finest, a shimmering Cinderella Castle, festive sweets and treats, and enchanting holiday entertainment – there's even snowfall on Main Street, USA! We recently enjoyed the third party of the 2019 holiday season and loved every minute of it. Based on that experience, here is everything you need to know about this year's Mickey's Very Merry Christmas Party.
1 – Basics
Mickey's Very Merry Christmas Party is a separately ticketed event, complete with snow flurries and complimentary holiday treats, amazing Disney entertainment, and holiday magic. The party begins at 7 pm, after regular park hours.
Remaining dates for this year's party:
Nov. 14, 15, 17, 19, 21, 22, 24
Dec. 1, 3, 5, 6, 8, 10, 12, 13, 15, 17, 19, 20, 22
Like Mickey's Not So Scary Halloween Party, it's an opportunity to enjoy holiday-themed entertainment and activities in Magic Kingdom Park.
 2 – Come Early
While the party does not officially begin until 7:00 pm, you may enter with your party ticket at 4:00 pm. We highly recommend you do this for several reasons. First, you'll have time to enjoy the decorations and Main Street USA with some daylight. It will get dark shortly before 6:00 pm. Second, there is a lot to do at the party. We recommend getting there early, eating dinner, and even getting a few rides in before the party begins. That way, when the party officially starts, you'll be ready to enjoy the exclusive party offerings.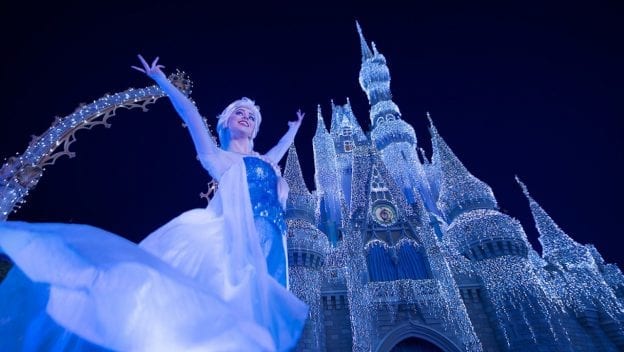 3 – Watch the 6:15 pm Show of 'A Frozen Holiday Wish'
Part of the evening's entertainment is the popular, A Frozen Holiday Wish. Anna, Olaf, and Kristoff encourage Queen Elsa to transform Cinderella Castle into a special holiday display. During the party, the show takes place at 8:15 pm. However, this is not the only time you can catch this show. While Magic Kingdom will close for regular day guests at 6:00 pm, there is a performance of A Frozen Holiday Wish at 6:15 pm. By catching the 6:15 pm show, you'll free up time during the party for other offerings. Be aware that since day guests may stay for this show, it will be crowded, and you'll want to grab your spot about 20-30 minutes before the show. It's a great show you don't want to miss. Click here to see the finale of this show on our Instagram account!
4 – Enjoy Complimentary Treats
We hope you come hungry and ready for sweets and treats because this party has got a lot of them. Here are the complimentary Holiday Treat Locations you can visit throughout the evening. All locations, except for Market Street, are open until 12:00 am.
Market Street
Welcome Holiday Treat (open until 8:00 pm)
Adventureland
Snowman Soft Pretzel & Fanta at Tortuga Tavern
Ginger Molasses Cookies at Jingle Cruise
Frontierland
Snickerdoodle Cookie at Golden Oak Outpost
Peppermint Cookie at Miner's Cove
Liberty Square
Chocolate Chip Cookie and Eggnog at The Diamond Horseshoe
Fantasyland
Snickerdoodle Cookie, Hot Chocolate, and Fanta at Pinocchio Village Haus
Chocolate Chip Cookie at The Friar's Nook
Snowman Pretzel at Storybook Circus Snacks
Tomorrowland
Peppermint Cookie, Hot Chocolate, and Apple Cider at Cosmic Ray's Starlight Café
Ginger Molasses Cookie and Apple Cider at The Lunching Pad
The complimentary treats are a nice bonus to the party. The cookies are individually wrapped so you can take them home with you later if you desire. The soft pretzel at Tortuga Tavern and Storybook Circus Snacks are the same as the Mickey pretzels in the park, just a different shape. This was a nice alternative to the cookies.
5 – Catch an All-New Fireworks Show
This year the party has an all-new fireworks show, 'Minnie's Wonderful Christmastime Fireworks Show'! Hosted by Minnie Mouse, the holiday extravaganza invites guests to come together in a celebration of heartfelt moments and the magic of Christmas.
Disney cast member Nathaniel shares more about this magical new show:
The show is presented during Mickey's Very Merry Christmas Party. (The fireworks are also presented nightly December 23-29). The show was fantastic, and I really enjoyed it. While there are castle projections, they are not as essential to the story of the fireworks show. So, you really can enjoy the show throughout the park since the main focus is the fireworks! It was great to see so many fireworks in the sky over Cinderella Castle. Since this show is new this year, we highly recommend you watching these and not skipping them!
6 – Don't Miss the Other Entertainment
The entertainment during the Christmas Party is top-notch. There are two stage shows: 'A Frozen Holiday Wish' and 'Mickey's Most Merriest Celebration!' Hopefully, you've watched 'A Frozen Holiday Wish' at 6:15 pm, so you have more time to enjoy other party offerings. If you're up for staying up late, we suggest watching the 11:55 pm show of 'Mickey's Most Merriest Celebration!,' which also frees up more party time. Of course, you don't want to miss Mickey's Once Upon a Christmastime Parade. We recommend the second parade as it usually isn't as crowded as the first.
Click here for a video clip of Mickey's Once Upon a Christmastime Parade.
Other entertainment options include:
Club Tinsel – a dance party at Cosmic Ray's Starlight Café
The Edge Effect – an a cappella holiday concert with amazing vocal harmonies
Storybook Circus Disney Junior Jingle Jam – a dance party for the little ones with Timon and Vamprina.
7 – Enjoy Attractions with a Holiday Twist
During the party, you'll want to experience select attractions that have been given a "Holiday Twist" during Mickey's Very Merry Christmas Party. Attractions include Tomorrowland Speedway, Space Mountain, and Mad Tea Party. The Space Mountain overlay was fantastic. I might like the Christmas version more than the Halloween version, and I didn't think that could be topped. If you're a Space Mountain fan, you don't want to miss this!
Disney cast member, Brian Alvarez shares more about the enhancements below:
Another attraction with a fantastic holiday twist is the Jingle Cruise in Adventureland. However, the Jingle Cruise is offered all day long during the holiday season. So we suggest you enjoy this attraction during the 4 pm – 7 pm hours, or on another day, so you can save your party hours for exclusive offerings that you can't get any other time.
8 – Rare Disney Character Meet & Greets
One of the biggest highlights of the Christmas Party is the chance to meet rare characters or characters in holiday costumes. Here is the complete list of character meet and greets.
Adventureland
Aladdin, Jasmine, Genie, and Abu
Captain Jack Sparrow
Moana
Peter Pan
Frontierland
Liberty Square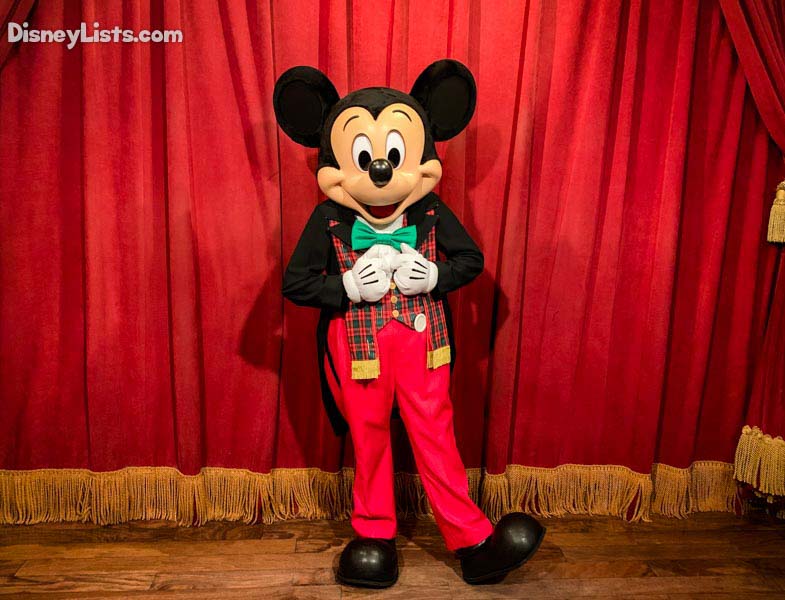 Main Street USA
Santa Claus
Mickey Mouse
Jack Skellington and Sally
Fantasyland
Ariel and Prince Eric
Rapunzel and Flynn
Cinderella and Prince Charming
Belle
Pooh and Friends
Snow White and Prince
Aurora and Prince Phillip
Elana of Avalor
Minnie Mouse and Daisy
Tianna and Naveen
Donald and Scrooge McDuck
Tomorrowland
Reindeer and Polar Bears
Nick Wilde and Judy Hopps
9 – Specialty Foods
In addition to the complimentary holiday treats, there are other special holiday treats available for purchase. They include special cupcakes, cookies, cinnamon rolls, hot-dogs, ice cream, sundaes, and eclairs.
We had a chance to chat with Disney Chef Julie, and she shared with us some of the amazing food options you can find at Magic Kingdom throughout the day and some exclusive items to the party. Watch below to learn more.
10 – Party Merchandise
There is plenty of festive event keepsakes available for purchase. The full event collection includes apparel, ornaments, an event trading pin, and a MagicBand. Here are the shopping locations:
Full Event Collection
Emporium, Main Street USA
Big Top Souvenirs, Fantasyland
Mickey's Star Traders, Tomorrowland
Trading Pins and MagicBand
Frontier Trading Post, Frontierland
Select Event Merchandise
Ye Olde Christmas Shoppe, Liberty Square
Disney cast member Morgan, walked us through some of the holiday merchandise being offered throughout Walt Disney World. Learn more by watching the video below.
11 – Get Some Magic Shots
During the Christmas Party, Disney PhotoPass Photographers will be making merry photo opportunities. In addition to the six onboard attraction photo capture opportunities and character greetings, there are "holly-jolly props," Magic shots, Animated Magic Shots, and scenic photo spots adorned in holiday décor. The locations are all over the park. Simply ask each photographer you visit which Magic Shots are available at that location. Also available this year is the Disney PhotoPass Studio inside Sir Mickey's in Fantasyland. Here you can pose in front of a holiday backdrop with seasonal props! Christmas card photo, anyone? No reservations are required.
12 – Stay Late
We recommend staying late and enjoying everything the party has to offer. So, enjoy the magical holiday atmosphere and stay as late as you can. The party will go on right through 12:00 am. As long as you are in line for an attraction by 11:59 pm, you'll be able to ride that attraction.
Finally, don't be afraid to stick around Main Street USA for photos after midnight. We left the party at 12:30 pm, and it was still very busy with many lines for PhotoPass photographers more than 10 minutes long. The cast members will gently move you along when it's time to go, but you can enjoy the atmosphere and get photos taken through 1 am. Just be respectful of cast members and security directing you to leave.
13 – Have a Plan in Mind
We have good news and bad news about the party. The good news is that there is so much to do at Mickey's Very Merry Christmas Party. Between amazing entertainment options, enjoying Magic Kingdom attractions, snacking on complimentary treats, and meeting your favorite Disney characters in unique outfits. The bad news is that there is so much to do that you will not be able to enjoy everything the party has to offer. You simply can't. Before arriving at the party, talk with your family about what everyone wants to do most and go from there. If this is your only time at Magic Kingdom, then you might want to focus on the attractions. If you've been to the party before and have seen the parade, then perhaps you'll skip that for some character greetings. If you're not into meeting the characters or don't mind skipping attractions, then perhaps you want to camp out on Main Street USA or the Hub for the stage show, the fireworks, and the parade. There are lots of ways to experience the party. Having a plan in mind beforehand will hopefully set the stage for a perfect evening!
14 – Overall Thoughts
Overall, we really enjoyed the party. Magic Kingdom is a very special place to celebrate Christmas. The entertainment and decorations are top-notch. If you'll be visiting Disney World during the holiday season, attending Mickey's Very Merry Christmas Party is an excellent choice!
Editor's Note: The Disney Company provided us with a complimentary Mickey's Very Merry Christmas Party ticket and media-specific experiences throughout the evening. However, the thoughts and opinions contained in this article are entirely our own.
For a no obligation, FREE Quote on a Disney vacation package, please contact our travel partner Magical Vacation Planner at 407-442-0227 (407-442-0215 for Spanish). You can also request a FREE quote online by Clicking HERE.