The Epcot International Festival of the Arts at Walt Disney World Resort will unveil its annual global celebration of visual, culinary and performing arts January 17 and continue for 39 days through February 24, 2020. The event features visiting artists, an array of foodie delights and opportunities for guests to embrace their own inner artists. Learn more below:
1 – Disney on Broadway Concert Series Returns with New Performers
The popular Disney on Broadway Concert Series returns to America Gardens Theatre with three daily performances headlined by Broadway stars who reprise favorite songs from past performances in award-winning shows. This year's talent-rich lineup includes Kissy Simmons, who starred as Nala in "The Lion King," and Kevin Massey of "Tarzan." The show-stopping schedule currently features:
17, 20, 21, 24 and 25 – Kissy Simmons and Alton Fitzgerald White ("The Lion King")
18, 19, 22, 23 and 25 – Heidi Blickenstaff ("The Little Mermaid"; "Freaky Friday") and Gavin Lee ("Mary Poppins")
25 – Special performance featuring Simmons, White, Blickenstaff and Lee
26, 28, 29; Feb. 1, 2, 5, 6 and 9 – Kara Lindsay ("Newsies") and Kevin Massey ("Tarzan")
10, 12, 13, 18, 19, 22, 23 and 24 – Ashley Brown ("Mary Poppins"; "Beauty and the Beast") and Josh Strickland (Tarzan)
Additional January and February performances still to be announced.
All shows are included with theme park admission. The best way to experience a performance is by reserving a Disney on BroadwayDining Package, which guarantees seating for one show on the day of the dining experience. Packages are available to book starting Nov. 14, 2019, at participating Epcot restaurants; guests can visit ArtfulEpcot.com or call (407) WDW-FEST to make a reservation.
2 – Food Studios Serve Up the Culinary Arts
Twelve festival Food Studios plus additional food and beverage locations will take culinary arts to the next level with scrumptious, imaginative dishes – artistically sculpted and ready for camera closeups.
Festival guests will discover seven-days-a-week fun including a colorful new interactive mural, that everyone in the family can help paint, workshops, artful photo ops, art galleries and mesmerizing performance art like the daily Epcot Living Statues and Art Defying Gravity shows.
3 – More to See, Do and Eat During the Festival
Indulge in new culinary fun at the Le Cellier Brunch in the Canada pavilion, a leisurely prix fixe bounty each Saturday and Sunday in the relaxing Canadian chateau. Reservations required.
Explore the Green Landing Family Play Zone where Wall-E and Eve invite the entire family to enjoy a lush, green environment built for exploring.
Jump into photo-ops located throughout Epcot, such as the Peter Pan Storybook installation by the United Kingdom pavilion where guests can flap their fins in Mermaid Lagoon or get their pirate on at Skull Rock.
Grab a paintbrush and add color to a wall mural along World Showcase Plaza.
Join Figment's Brush with the Masters, a scavenger hunt where the friendly dragon has painted himself into famous pieces of art in each World Showcase pavilion.
Marvel at and purchase works by Disney's iconic artists in displays throughout World Showcase.
Watch visiting artists as they create new pieces, from Disney-inspired works to creative art across diverse mediums.
Create festival-inspired t-shirts and candles.
Premium festival experiences that include Paint with a Disney Artist and the World Showcase: Destinations Discovered guided tour are available to guests for a fee. To book a workshop, guests can call (407) WDW-TOUR or sign up for openings still available the day of their festival visit. Visit ArtfulEpcot.com for details.
RELATED ARTICLE: The Epcot International Festival of the Arts: What You Need to Know
by Chad and Cindy Nykamp
Disney loves special events and festivals and the latest addition to the line-up in a brand-new festival celebrating the arts that takes place at Epcot. The festival is a celebration of visual, culinary and performing arts. You might be wondering if Epcot needed another festival (this makes four), but the answer is yes! We enjoyed walking around Epcot and taking in the sights, sounds, and tastes of this fun, new offerings. Here are the 8 things you need to know about the Epcot International Festival of the Arts.
1 – It's Time to Go to the Festival
Unlike its first year when the festival only ran on weekends, the Festival of the Arts will again remain open seven days a week from January 17 until February 24, 2020. The hours of the festival are 11:00 am – park closing. Most activities are free, only a few professional artist workshops require an extra fee.
2 – Get Your Supplies
You'll want to pick up a 2020 Festival Passport when you enter Epcot. If you miss it there, they have them all over the park. This is a very handy guide that will give you all the information you need to make your way around the festival. As with the other event passports, you can check off activities and food items tasted.
Disney also offers a scavenger hunt, Figment's Brush with the Masters. For a small fee plus tax, you can purchase a map at Pin Central, Disney Traders or World Traveler. During this scavenger hunt, you'll be searching for a Figment themed picture frame within each country pavilion. You'll place the appropriate portrait sticker on the right country on the map. After finding all the hiding Figments, turn in the map at Disney Traders for a prize.
3 – Explore Art Galleries Throughout the Park
Throughout World Showcase you'll find many tent locations featuring Disney and visiting artists. You may see some of the artists in action. These tents have a variety of artwork available for purchase. You'll also find Pavilion Exhibits.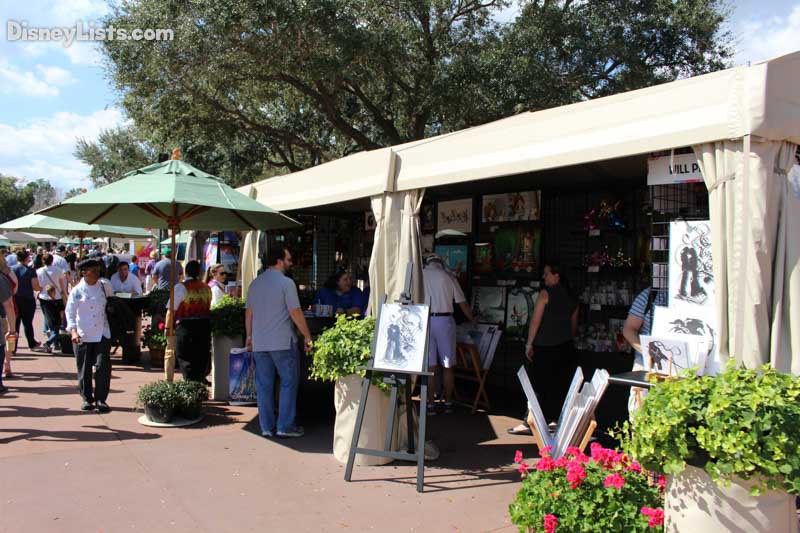 4 – Disney on Broadway Concert Series
Celebrating the performing arts, the Disney on Broadway Concert Series highlights songs from award-winning Disney on Broadway musicals. The concerts take place at the American Gardens Theater, every day of the week this year. Showtimes are 5:30 pm, 6:45 pm, and 8:00 pm. There is a dining package available for the concert series if you would like reserved seating. For more information and pricing call (407) WDW-DINE.
5 – Epcot Living Statues
One of the most interesting activities of the festival is the Epcot Living Statues. You'll find these statues at the Fountain View Stage and Plaza. Three statues, all with different theming, come to life in the most unsuspecting ways. It was very fun to watch the surprised guests and statue interactions. Quite a crowd gathers, but feel free to go up to the statues for a very fun photo opportunity! Check out the slideshow below for pictures of the statues.
[smartslider3 slider=119]
6 – Strike a Pose
If you've always wanted to be in a painting, now is your chance. Disney has created life-size portraits that you can step into. Think you can smile as good as Mona Lisa? Or cross the Delaware River as stoically as George Washington? Then plan on stepping in and strike a pose. Disney PhotoPass photographers are there to snap pictures so the whole family can get in on the action. Here is a list of the 2019 locations and paintings:
• France Pavilion: Luncheon of the Boating Party by Pierre-Auguste Renoir
• The American Adventure Pavilion: Washington Crossing the Delaware by Emanuel Gottlieb Leutze
• Italy Pavilion: The Birth of Venus by Sandro Botticelli, Mona Lisa by Leonardo da Vinci and The Scream by Edvard Munch
• Mexico Pavilion: An homage to Frida Kahlo
• And more!
7 – Food Studios
With the success of adding food and drinks to the Flower and Garden Festival, it's no surprise that Disney has added "Food Studios" to the weekend's line up. There are a total of 19 Food Studios that all have different art themes with the food presentation. There are also plenty of additional festival food items that are available throughout World Showcase. Festival food and drink prices vary. Your Disney Dining Snack credits would be well used here, though not all items are eligible as snack credits. Check the menu boards to see if it qualifies as a snack credit.
8 – Festival of the Arts Merchandise
What would be an Epcot festival without the opportunity to purchase event merchandise? All throughout the park, you'll find event merchandise that includes Tervis tumblers, hats, t-shirts, posters and more. Festival Merchandise can be found all over the park.
For a no obligation, FREE Quote on a Disney vacation package, please contact our travel partner Magical Vacation Planner at 407-442-0227 (407-442-0215 for Spanish). You can also request a FREE quote online by Clicking HERE.