Disney Springs is brimming with holiday cheer and beginning November 29, there is another spot you don't want to miss during your holiday shopping. Check out all the details below.
Here are all the details from Disney cast member Kelsey Noland:
If you're following @DisneySprings on social you probably saw a hint of a new holiday offering making its holly jolly debut at Jock Lindsey's Hangar Bar. Starting November 29, Jock Lindsey will be turning his trusty watering hole into Jock Lindsey's Holiday Bar complete with over-the-top décor and a limited-time menu filled with festive food and craft cocktails that'll have you feeling like your best "elf!"
Jock Lindsey has caught the holiday spirit in a big way this year and has decided to throw a party for all of his adventurer friends new and old. When you walk in, you'll notice the decorations are next-level and feature an array of gifts, lights, and little holiday nods to his love for aviation. Here ugly sweaters are not only welcome but encouraged along with holiday jokes and puns you'll never "fir-get."
Excited to hear more about the menu? Don't worry—I have all the details. From savory options to sweet, this holiday-inspired menu is filled with delicious Disney dining "yule" love that capture the adventurous spirit of the hangar. All these dishes are perfect for sharing with friends and family so you can give everything a try.
Drummer Boy Braised Lamb with Truffle: Mushroom and Manchego cheese, arancini, herb chimichurri, chili peppers coulis and micro arugula.
Holiday Caprese Wreath: Vine ripe tomatoes, heirloom cherry tomatoes, fresh mozzarella, basil, and balsamic glaze.
C9 Light Deviled Eggs: Colored eggs with shrimp and tobiko caviar.
Ugly "Sweeter" Bread: Cinnamon smear brioche and egg nog icing adorned with holiday light decorations.
Jingle Bell Pops: Three dark chocolate truffles, crushed peppermint, and peppermint syrup dipped in dark chocolate.
Pro-Tip: Make sure you're following us on @DisneySprings for a secret dessert menu item we'll be announcing soon. 
Of course, holiday eats are even better with holiday spirits and there's something on the menu for everyone to indulge in!
Cinnamon Bells: Knob Creek, Fireball, Frangelico, Cinnamon simple syrup, creamer garnished with a gold sugar rim.
Santa Hat Mojito: Bacardi, grenadine, mint leaves, simple syrup, lemon-lime foam garnished with a candy cane.
White Christmas Margarita: Rumchata, Malibu, Sauza Tequila, lime and white cranberry juices garnished with whole cranberries and a green sugar rim.
Jock's Holiday Nog: Tito's Handmade Vodka, Frangelico, Rumchata, vanilla creamer, garnished with a red sugar rim.
Jock's Holiday Bar will be serving up festive spirits and holiday magic through January 5, 2020, so add it to your Walt Disney World Resort must-do list. With all this excitement, incredible shopping, and the Christmas Tree Trail and Santa's Chalet, Disney Springs is sure to add some magic to your Black Friday weekend. Don't forget to keep checking our Disney Springs Digital Gift Guide for magical gift ideas for everyone on your shopping list.
What are you looking forward to tasting? Make sure you tag all your photos with #DisneySprings on social media so I can check out all your "elfies."
RELATED ARTICLE: Jock Lindsey's Hangar Bar: 7 Things You Need to Know
by Cindy E. Nykamp
Jock Lindsey's Hangar Bar is a welcome addition to The Landing area in the newly reimagined Disney Springs. Located next to The Boathouse, the Hangar shares a prime waterfront location and has (as usual) spectacular theming. The menu features food and drinks inspired by Jock's (Indian Jones's pilot) globe-trotting to all continents. We recently visited the Hangar Bar and had a fantastic time. Here are the seven things you need to know about Jock Lindsey's Hangar Bar.
7 – Relaxing Atmosphere
The Hangar Bar exudes a fun atmosphere with the story being center stage. The friendly staff adds to the storytelling of Jock's travel tales. In fact, we were told the Hangar was Jock's old bar and was recently "re-opened" by the staff. The story goes like this. Jock made a home at this waterfront property in the 1940s after discovering the charming little town while flying Indiana Jones over the Sunshine State in search of the elusive Fountain of Youth in 1938. As a member of the Society of Explorers and Adventurers, Jock often welcomed his globetrotting friends to his hangar for a drink and fun times. Now, Jock and Indy may be gone, but his legendary adventures live on at this exotic watering hole. And that's what gives the place its charm and a creative menu of adventurous tastes.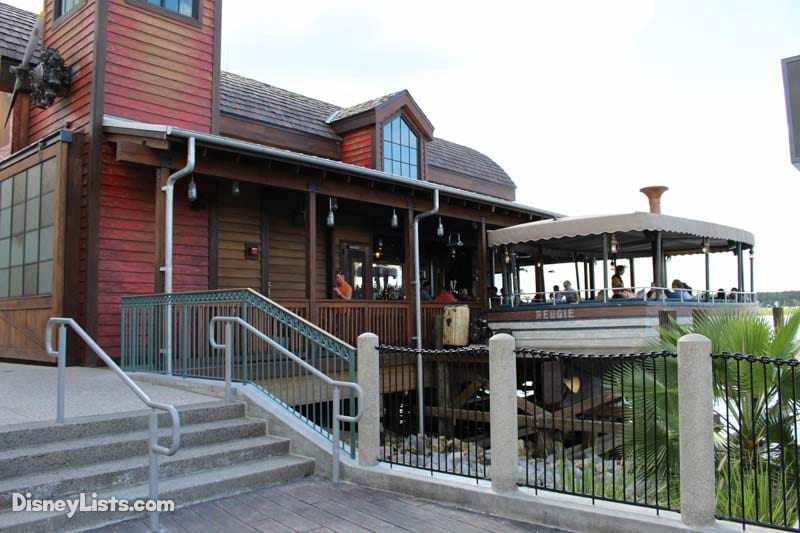 6 – Family Friendly
Since the Hangar is a lounge, you may be surprised to learn that the Hangar Bar is very family-friendly. Unlike Trader Sam's where children are not allowed after 8:00 pm, children are welcome at the Hangar at all hours. Also, strollers are welcome in the outdoor seating area. We saw a number of strollers parked next to tables.
5 – Plentiful Seating and Sights
The 150 seat lounge features an indoor and outdoor seating area. The indoor seating area has a great cozy feel with many options from seating at the bar to tables for 2, a secluded table for a larger party, and a couch area for mixing with other guests.
Inside the Hangar, you'll find airplane parts as well as relics of Jock's travels around the world. Be sure to look for special mementos from the Indiana Jones movies. Check out display near the bathroom for the medallion Indiana used to locate the Ark of the Covenant.
The outdoor seating area features excellent views of the water, fans, heaters (for the 3 days it gets cold in Florida) and is very enjoyable, except for one problem–the metal chairs outside are brutal on the hind parts. There is an outdoor bar with seating and tables for up to 4 people. Also, there is seating (with cushions) on Reggie's Boat which is a very cool space.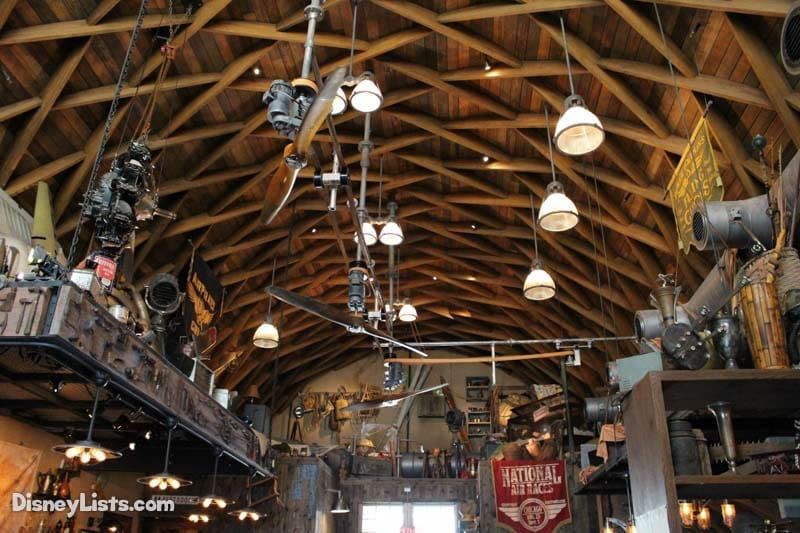 4 – Coaster Souvenirs
Our very friendly and knowledgeable server, Ashley from Delaware, shared three different coasters from bars that Jock has visited around the world. They found a limited number left over when they re-opened Jock's bar and plan to share them with guests. There are about 12-15 different designs.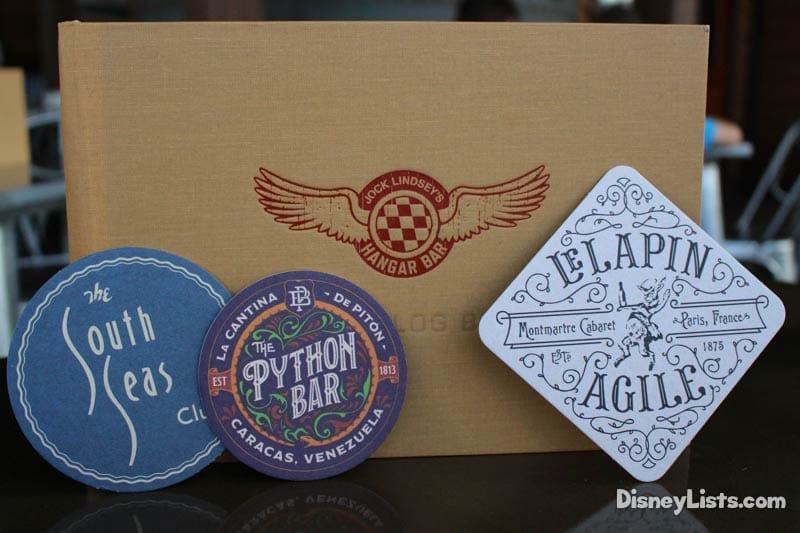 3 – Delicious Food
Since the Hangar Bar is a lounge and not a restaurant, there is not a full line up of food. (Also, because it is a lounge you cannot make seating reservations ahead of time). What does exist at the Hangar, is a fantastic offering of appetizers that are perfect for sharing with a group. We first enjoyed the Tanis Tacos. These are lightly fried, crisp flour tortillas, filled with falafel, topped with shredded lettuce, a cucumber tomato salad and finished with a Sirach yogurt sauce. The tacos were delicious with just a little bit of heat from the sauce.
We also sampled Brody's Brats. We were served five links that are similar to the brats served at the Epcot Food and Wine Festival in Germany. They are served with whole grain country Dijon mustard and pickled cabbage. Pleasantly spicy, the mustard has medium heat but is not crazy.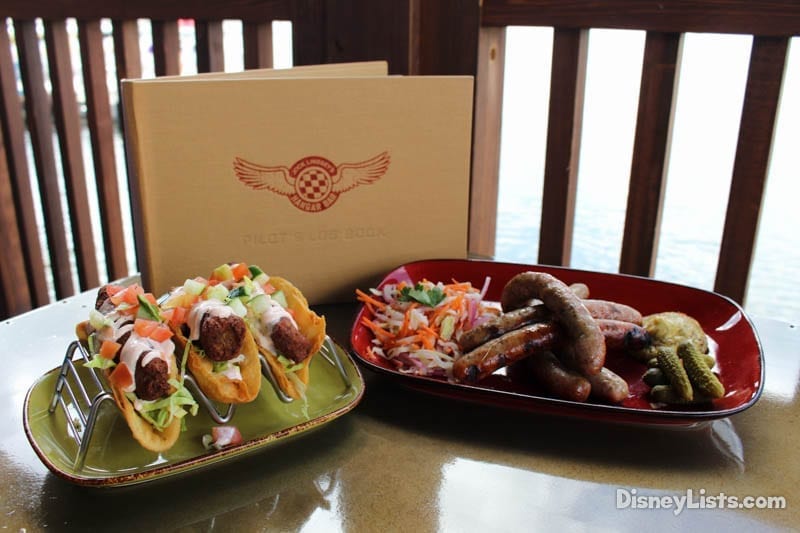 2 – Creative Mixed Drinks & Great Selection of Beers
The drinks at the Hangar Bar showcase more of Jock's travels. The menu itself is more like a travel logbook. You'll find each section of the menu is connected to a continent that Jock visited. Mixed specialty drinks are served on the rocks, and there is a very respectable selection of beers.
We tasted the Cool-Headed Monkey, which "according to the locals, this chilled concoction makes a fine punch." The drink is made of Starr African rum, Van Der Hum tangerine liqueur, fresh lime juice, watermelon, and pineapple juice. It was sweet and delicious and did not have an overpowering taste.
We also enjoyed Reggie's Revenge. Jock tells us that this drink is, "My signature jocktail with an extra little kick from my pet snake Reggie." Made from Florida cane 'Orlando orange' vodka, Midori melon liqueur, white cranberry ice, and fresh lime juice, it was very light and a bit sour. Perfect for a summer drink, you'll taste the melon and lime.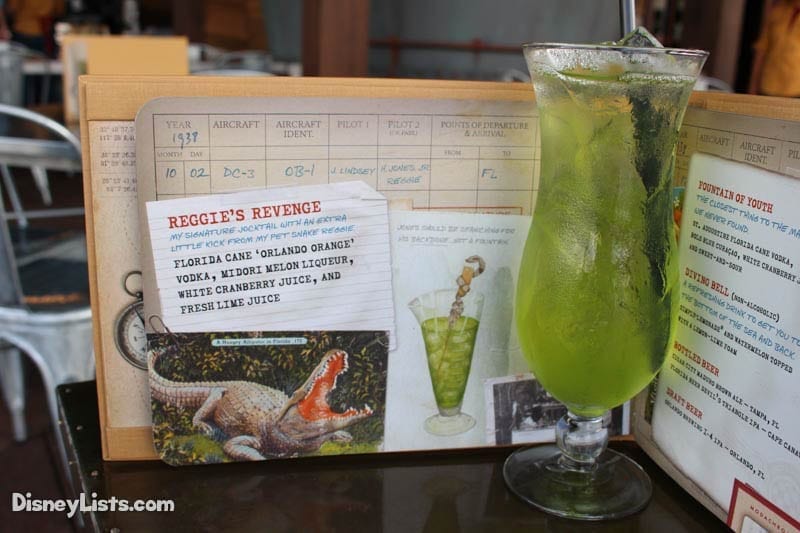 1 – Great Alternative to Trader Sam's
If you've been to Trader Sam's, you can't help compare the two lounges. Both are heavy on story, but the experiences couldn't be more different. While we enjoyed both, the Hangar Bar wins on relaxing atmosphere and location. It will also appeal to adults with younger children who would like to enjoy a lounge without wondering what they can do with their children. With more private seating, the Hangar Bar is also more enjoyable for a long afternoon drink or two. Overall, we are thrilled with this addition to the Landing are in Disney Springs!
For a no obligation, FREE Quote on a Disney vacation package, please contact our travel partner Magical Vacation Planner at 407-442-0227 (407-442-0215 for Spanish). You can also request a FREE quote online by Clicking HERE.