We are huge fans of barbecue so we are super excited for the all-new fast-casual barbecue restaurant that's coming soon at The American Adventure in Epcot. Disney has released some items on the menu along with some tantalizing photos of the dishes. We can't wait to check this place out. Get all the details below.
Here are all the details from Disney cast member Alex Dunlap:
Get ready to chow down on some good ol' classic American barbecue with Regal Eagle Smokehouse: Craft Drafts & Barbecue, coming to Epcot this winter! This new fast-casual barbecue experience at The American Adventure will offer up classic American backyard barbecue from around the United States as well as a variety of home-style craft brews.
On the menu are a variety of sandwiches and platters as well as a plant-based option. Chow down on a sliced Texas beef brisket sandwich with house-made spicy mop sauce on garlic toast or the South Carolina smoked sausage sandwich with tangy mustard sauce and caramelized onions.
You can also feast on Kansas City smoked chicken, Memphis dry-rub pork ribs, North Carolina chopped smoked pork butt, all available by themselves or as part of a delicious hearty platter. For a lighter option, you can grab the Power Greens Salad with chilled pulled chicken, fresh citrus, and a citrus vinaigrette. And if you're looking for an all-American burger, try the grilled burger topped with BBQ pork and a fried onion ring or take a bite out of the plant-based BBQ burger featuring a plant-based patty topped with BBQ jackfruit served on vegan garlic toast.
Of course, if you're like me, you'll enjoy slathering your entrée in a delicious barbecue sauce. Sauces include a spicy mop sauce, sweet BBQ, tangy mustard, and a vinegar-based sauce. The side items include your classic barbecue complements like french fries, beer-battered onion rings, mac and cheese, baked beans with burnt ends, house-made pickles, and creamy slaw.
Kids can enjoy their own fun-sized bites including a burger, BBQ chicken salad, BBQ chicken leg or chicken salad, and even a BBQ rib platter, all served with their choice of two sides.
And finally, satisfy your sweet tooth with a delectable dessert like banana pudding or a s'mores brownie as well as a cup of fresh watermelon garnished with torn mint – YUM.
All-American beverage offerings will include a selection of beer and cider from around the country, wines from the west coast, and specialty regional cocktails with and without alcohol. Coca-Cola® fountain beverages will also be available to quench your thirst. You'll also get to enjoy an outdoor bar pouring your favorite craft brews on draft, and the outdoor seating area will be a great place to sit back and sip on a Tennessee Lemonade Cocktail or a non-alcoholic Berry Sparkler!
Regal Eagle Smokehouse: Craft Drafts & Barbecue will open this winter at The American Adventure at Epcot. For more information visit the Walt Disney World Resort website or check out the My Disney Experience mobile app.
RELATED ARTICLE: Our Favorite Eats at Each World Showcase Pavilion at Epcot
by Mike and Jamie Sylvester
11 pavilions… 22 eats… what more could we ask for?! Epcot's World Showcase is a foodies paradise because within just a few steps you're in a totally different "country" – putting your taste buds in delicious mass confusion. Between table service restaurants, quick-service restaurants, and simple kiosks and carts – it's time to put on your favorite stretchy pants and eat your way around the world. Check out our 22 favorite eats around Epcot's World Showcase.
1 – Mexico
Esquites@ Choza de Margarita

Look for the small thatched-roof hut near Mexico's iconic pyramid which will likely have a lengthy line – that's Choza! Multiple frozen and "on the rocks" margaritas are on the menu, but be sure to snack while you enjoy a drink. The Esquites – a Spicy Corn topped with Chipotle Mayo, Queso Fresco and Tajin Chile-Lime Powder is our top eat here. It's just the right size for a snack and well, Mexican Street Corn is veggie goodness.

Taco Trio@ La Catina de San Angel

What's a visit to Mexico without tacos?! Make the most of your taco delight by devouring not one, but three tacos. The Taco Trio is where it's at with one Seasoned Beef, one Chicken, and one Fish taco, all served on a homemade Corn Tortilla with Mexican Rice, Black Beans, Red Salsa, Habanero aioli and slaw.
2 – Norway
Ham and Apple Sandwich@ Kringla Bakeri Og Kafe

While Kringla is mostly known for its yummy School Bread and Troll Horn, we actually favor a menu item here that's not a dessert. Our pick goes to the Ham and Apple Sandwich. Toasted on Multigrain Bread, get ready to bite into Ham, Apple and Jarlsberg and Muenster Cheese with a Sweet Apple Chutney. Snow White would surely approve of this one!

Tradisjonell Kjottkake@ Akershus Royal Banquet Hall

Try spelling that one without looking it up! In simpler words – this delicious eat is the Norwegian Meatballs served at Akershus Royal Banquet Hall. This one isn't a quick eat, however, so be sure to make a lunch or dinner reservation to taste this plate. Served with Mashed Potatoes, Seasonal Vegetables, and Lingonberry Sauce – plus, you'll get a chance to see multiple Disney Princesses which will greet you right at your table. It's a win, win.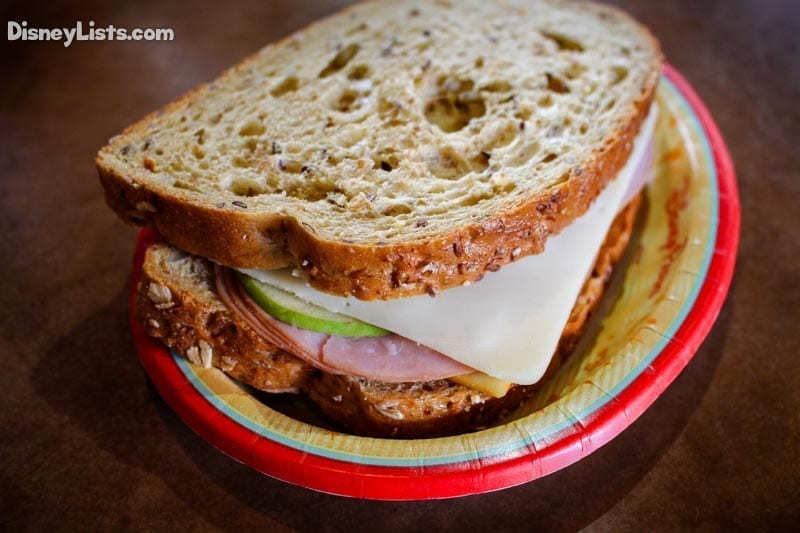 3 – China
Pot Stickers@ Nine Dragons Restaurant

Fried dumplings anyone? We simply can't get enough of the Pot Stickers served at Nine Dragons. These Pan-fried Chicken and Vegetable Dumplings served with Soy Dipping Sauce should come with refills.

Caramel-Ginger Ice Cream@ Lotus Blossom Café

While you can also get Pot Stickers at Lotus Blossom, for some reason they taste better at Nine Dragons. Our pick for the best eat at Lotus Blossom goes to the Caramel-Ginger Ice Cream. We are ice cream fans, but this ice cream is definitely different… in a good way. The mixed flavors leave a superb pop of refreshing taste.
4 – Germany
Bratwurst@ Sommerfest

If you have the opportunity to dine at Germany's table service restaurant, Biergarten, we highly recommend it. But if eating on a hurry, check out Sommerfest right next door. Of course, the Bratwurst makes our Germany list as it's served on a freshly baked Roll with Sauerkraut and House-made Paprika Chips.

Salted Caramel Cupcake@ Karamell-Kuche

You'll likely smell the wonderful aroma seeping out of Karamell-Kuche the moment you step foot into Germany. Get ready for caramel-filled treats galore! It's impossible to pick just one treat but we'd have to say the Salted Caramel Cupcake tops our list. The perfect sweet and salty treat!
5 – Italy
Gelato Sandwich@ Gelati

Italy equals Gelato, right?! Skip along to the Gelato kiosk for some true Italian Gelato. Better yet, sandwich that gelato between two chocolate chip cookies and enjoy yourself a Gelato Sandwich. This is literally one of our favorite kiosks in all of Walt Disney World.

Pepperoni Pizza@ Via Napoli

You're thinking – really, in all the eats around the World Showcase, you're picking pizza? Absolutely! This is Italian Pizza we are talking about that comes out of a wood-burning stove. Tomato sauce, mozzarella, and pepperoni… it may sound simple enough but it's definitely going to take your pizza love to a new level.
6 – The American Adventure
Jumbo Turkey Leg @ Fife and Drum Tavern

Let's get American real fast. Nothing screams American cuisine like a huge turkey leg in hand. So, go ahead… roll up your sleeves and bite into that turkey like a caveman. You'll be surprised at just how large these jumbo legs are, so you may want to bring someone along to share.
Editors Note: Liberty Inn has closed and an all-new BBQ restaurant will take its place. So until then we only have one recommendation in the American Adventure. If you visit during any of the Epcot festivals, you'll be able to enjoy the food at the seasonal outdoor kitchen.
7 – Japan
Tokyo Sushi Combo@ Katsura Grill

When in Japan one must try a Japanese cuisine favorite! Step on over to the quick service spot known as Katsura Grill to get your sushi fix. The Tokyo Sushi Combo comes with four California Rolls and three Nigiri.

Wafu Ribs@ Teppan Edo

For Teppan Edo you'll want to snag a reservation as it's not only a great place for a meal but also very entertaining watching the Chefs work their magic! Our delicious go to eat here is the Wafu Ribs. It's ginger-braised pork ribs with the perfect kick of sake and soy sauce. One "eat" we could eat endlessly!
8 – Morocco
Vegetable Platter@ Tangierine Café

As you can probably tell from this list, we typically prefer a good meat dish. There is something however about the Vegetable Platter at Tangierine Café that refreshes the palate. Fresh veggies come out as a Tangierine Couscous Salad, including Hummus and Tabouleh. Plus, it's good for the diet!

Chocolate Pyramid@ Spice Road Table

Views of the water and yummy food! Loads of fantastic Moroccan cuisine await, but a must-do eat while in Morocco is definitely the Chocolate Pyramid. Just go ahead and start with dessert here as the Chocolate Pyramid is an actual pyramid of rich and heavenly chocolate!
9 – France
Macaroons@ Les Halles Boulangerie-Patisserie

Are you ready for this? No really – when you walk into Les Halles and see the display cases of all the treats, it's easy to feel overwhelmed in the most wonderful way! You really can't go wrong with anything you select. Our favorite eat in France however is the Macarons at Les Halles. Light with a crisp shell and filled with fresh raspberry and lime cream in every bite – you'll want to get enough for the whole family so you don't have to share.

Cheese Board@ Chefs de France

Don't skip the appetizers when dining at Chefs de France! On the menu, you'll spot "Plateau de fromages de France" which we know and love as a Cheese Board. This is a fun family favorite that includes a variety of imported cheese with raisin and walnut bread. Family approved as a great France eat!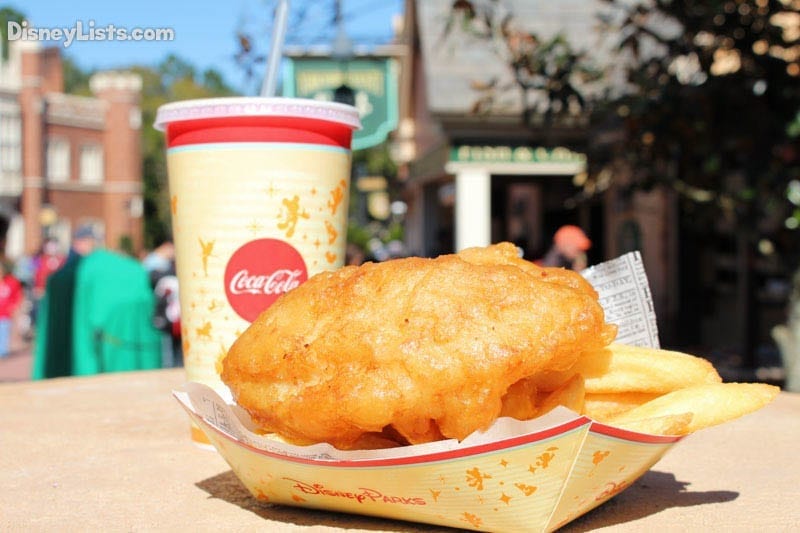 10 – United Kingdom
Fish and Chips@ Yorkshire County Fish Shop

You already knew we were going to list this one for the United Kingdom, didn't you?! We dare you to try to walk by Yorkshire without snacking on some of their delish food. The best eat here is no surprise… the Fish and Chips.

Shepard's Pie@ Rose and Crown

British fare at its finest! Go ahead and make a dining reservation that coincides with Epcot's nighttime spectacular to dine and watch the show all at once. The best eat here is the Shepard's Pie with Ground Lamb and Beef, Seasonal Vegetables, English Peas, and Mashed Potatoes with McCall's Irish Cheddar. YUM!
11 – Canada
Maple Popcorn@ Popcorn In Canada

In looking around Canada, there really aren't many dining options. But, we will say we are surprisingly pleased with the Popcorn Cart. Sure, it has the regular Disney popcorn – but there is a Canadian twist! Check out the Maple flavored popcorn and you'll feel like you're right at home in Canada.

Canadian Cheddar Cheese Soup@ Le Cellier Steakhouse

For this ever so popular eat, you'll need dining reservations. The intimate and timeless Le Cellier Steakhouse is a memorable experience because the food is mouthwatering good. The favorite eat here goes to the Canadian Cheddar Cheese Soup with Moosehead Pale Ale and Nueske's Applewood-smoked Bacon. It screams "Oh, Canada!"
There you have it! 22 of our favorite eats around Epcot's World Showcase. Do you have any you'd add?
For a no obligation, FREE Quote on a Disney vacation package, please contact our travel partner Magical Vacation Planner at 407-442-0227 (407-442-0215 for Spanish). You can also request a FREE quote online by Clicking HERE.