The first day of anything can be scary, confusing, and a little unnerving. At the same time, the anticipation and excitement can't be beaten! Let's alleviate those nerves and focus on the excitement, shall we?! Make the most of your first day on your Disney Cruise Line (DCL) cruise by checking out these "Do's and Don'ts."
Editor's Note: Disney Cruise Line has suspended all departures through May 2021 and Disney Magic through August 10, 2021. We present this article for future cruise planning.
1 – DO Download the DCL Navigator App
If you haven't already, go ahead and download the DCL Navigator App. Downloading this at the port with Wi-fi before you board will help the app download faster. It's a free app and will be very useful throughout your great DCL adventure!
2 – DON'T Forget Your Documents
Especially if you are a first-time cruiser, it can get somewhat overwhelming watching hundreds of people channel into the port when boarding the ship. Be prepared to go through security and stay together as a family. Cast Members will direct you to the appropriate, fast-moving lines. Here you'll show the proper documentation and get your photos taken before you board. Being prepared for this stage of the boarding process will alleviate much first-day stress.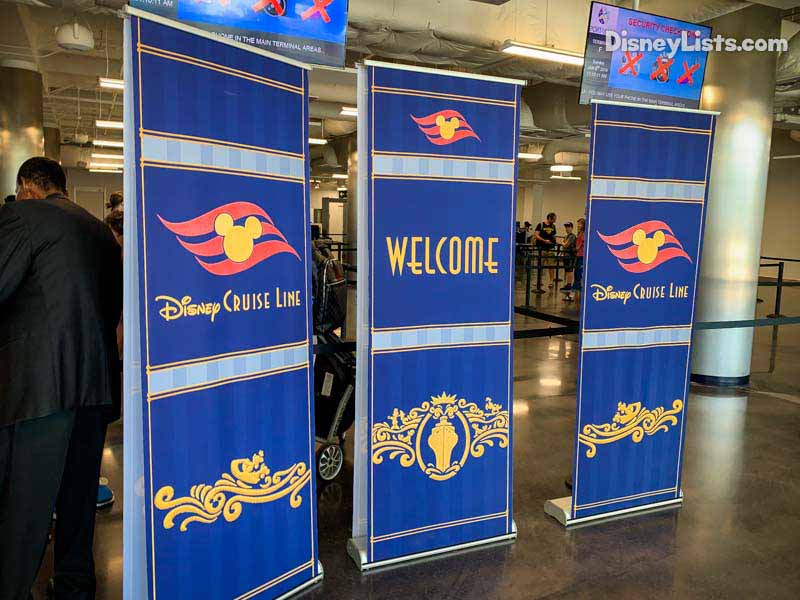 3 – DO Arrive Early
The earlier you can get on the ship, the better! Select an early arrival/check-in time and arrive even earlier than the time selected. This way, you'll be ready in line and one of the first on the ship. There may also be a meet and greet or two before you even board the ship. By arriving early, you can take advantage of any meet and greets and not worry about rushing through the line.
4 – DON'T Forget to Put your Phone into Airplane Mode
Once your feet step on to that boat, go ahead and set your phone into airplane mode. You don't want your phone roaming while out to sea. If you forget this step, you can expect to see a large phone bill when you get home! So, go ahead and tackle this first-day step asap.
5 – DO Bring a Carry-On
Upon arrival, you'll be leaving your luggage with Cast Members, unless you've already done so by transferring from Disney World on the DCL bus transportation. Either way, the bulk of your luggage will be out of reach for some time before you see it outside of your stateroom by the end of the day. Bring a carry-on with you that holds necessary items such as medications and extras like bathing suits if you plan to do some swimming.
6 – DON'T Skip Lunch
You may be thinking that food is the last thing on your mind but, we still say it's best not to skip lunch. Dining is included in your package after all, so take full advantage of it and get that first tasty meal under your belt (literally!). Keep in mind, lunch is crowded at this time, as everyone is eager to get that first bite in.
7 – DO Sign Up for Anything you Haven't Signed Up for Yet
Is there something you really want to do that you forgot to sign up for in advance? This may include port excursions or on-ship options like signature dining at Remy or Palo restaurants or Senses Spa and Salon. Unfortunately, by waiting to sign up until the first day, you may find only a few options, if any, available for your hopeful reservations.
8 – DON'T Be Late for the Mandatory Drill
Every Disney Cruise Line guest is required to attend a Mandatory Drill. You will be assigned to an assembly location. Here you will be instructed about safety procedures should there be an emergency. The review will go over life vests, safety boats, and other emergencies. Everyone is required to attend, so arrive on time as the rest of the cruisers would like to get this part of the first day over with too!
9 – DO Explore the Ship
Get oriented with the stunning Disney Cruise Line ship! Exploring the many areas and seeing what is available on your first day will set the stage for the rest of the trip. Attend one of the Walking Ship Tours if you feel you need guidance.
10 – DON'T Forget to the Day's Schedule
Remember when you downloaded the DCL Navigator App, as mentioned in #1? Find time to check the app to view the day's schedule. This will not only be an excellent habit for your first day but will be something to take advantage of every cruise day.
11 – DO Attend the Sail Away Party
It's time to party! You've worked hard for this cruise, so let your hair down and celebrate with the Sail Away Party each DCL ship has. As you sail away from the dock, wave to those on the shore, dance along with the DJ, and set your sight to the horizon.
12 – DON'T Pass Up the Drink-of-the-Day Souvenir Cup
It is a vacation, after all! On the ship deck, near the pools, you'll find a yummy drink-of-the-day. Typically, this is a fruity adult beverage that tastes as wonderful as it sounds. Go ahead and get the "drink-of-the-day" souvenir cup so you can have refills for the rest of the cruise at a reduced cost.
13 – DO Have Some Ice Cream!
While your sipping on your drink-of-the-day, you might just spot the soft-serve ice cream stations nearby. Get your first of likely MANY ice cream cones! Ice cream flavors may include vanilla, chocolate, strawberry, swirl, or even banana. Yum, yum, and yum!
14 – DON'T Miss the Adult Areas of the Ship
Traveling as adults-only or planning some time away from the kids? Check out the adult-only areas on the ship. Make plans to take a dip in the adult-only pools or hot tubs. Take a look at where you plan to get your competitive side on with some adult-only trivia time. And scope out where you'll have a chance to dance the night away.
15 – DO Drop-In for the Kid Area Open Houses
On the first day of your cruise, everyone and anyone is welcome to go explore the kids' play areas during their open house hour. These kids' clubs include the Oceaneer Club & Lab, It's a Small World Nursery, Vibe, and Edge. This is a great time to get your kids acquainted with the clubs with you by their side.
16 – DON'T Wait for the AquaDuck or AquaDunk
If you are on the Disney Dream or Disney Fantasy, you'll have a chance to experience a waterslide coaster called the AquaDuck. If on the Disney Magic, you can make a splash with the AquaDunk. During your cruise, you'll find these "attractions" to be extremely popular. The first day on the ship is typically the best time to avoid the long wait in line. Go ahead and pull that bathing suit out of your carry on and skip the wait you can expect to find later at the waterslides.
17 – DO Meet your Cabin Steward & Put Up your Magnets
You've arrived at your stateroom, and hopefully, your luggage is outside your door. This is also a great time to see if your Cabin Steward is around. These Cast Members are extremely friendly, and it's easy to get to know them by name. While you're at your room, go ahead and place any unique magnets you'd like on your door. This is a DCL favorite as the doors are magnetic!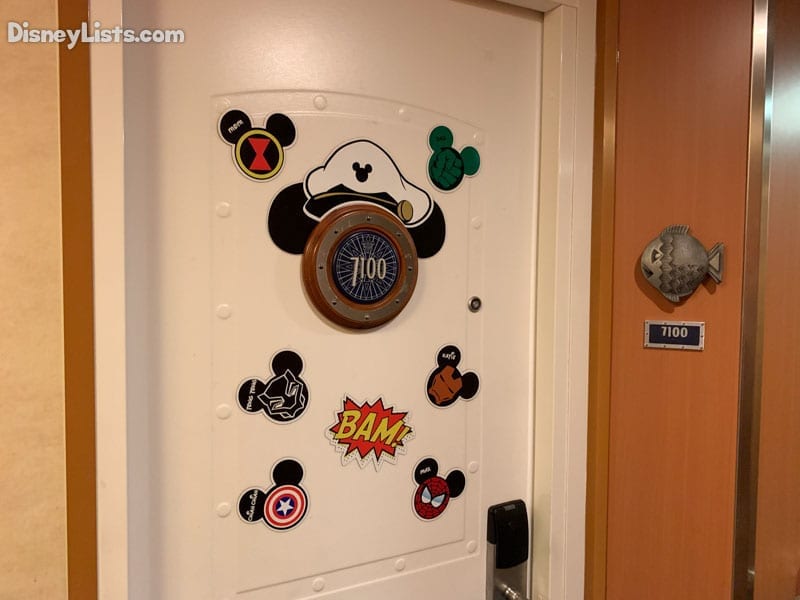 18 – DON'T Skip Your First Dinner
Yes! It's your first dinner! Don't skip it as trust us, you won't regret what's about to be served upon your plate. With the DCL's Rotational Dining, this may or may not be your one and only time experiencing the theming of this restaurant included in your cruise experience.
19 – DO Relax on your Balcony if You Have One
The first day can be an exhausting one. You may feel overwhelmed and could still be getting your "sea legs." Sometimes the most peaceful way to end the day is to do some much-needed relaxing on your stateroom balcony. No balcony? You can still rest and relax in your room away from people and noise.
20 – DON'T Forget About Room Service
Oh, and while you're at that whole relaxing thing… did you know Room Service is included in your cruise package? Order practically whatever your heart desires. If it's one of the included items in your package, it's free minus the gratuity to the room service attendant. Have kids with you – or just a kid at heart? Wrap up the first day of your cruise with some milk and cookies before closing your eyes for the magical dreams ahead.
We hope these tips to making your first day an exceptional one will set the stage for the fantastic cruise days ahead!
For a no obligation, FREE Quote on a Disney vacation package, please contact our travel partner Magical Vacation Planner at 407-442-0227 (407-442-0215 for Spanish). You can also request a FREE quote online by Clicking HERE.