It's been a couple of weeks since our Very Merrytime Cruise on the Disney Dream, and we've had time to reflect on our experiences. With this being our second Disney cruise, we were wondering if the same magic would still be there. Would we enjoy it as much? We're happy to report that our second cruise was just as fantastic as our first! Read on for our final thoughts of our Disney cruise below.
1 – Not Just Another Cruise
When you go on a Disney cruise, you'll get so much more than just another vacation. You'll get the "Disney Bubble" experience like never before, Disney magic is sprinkled all over the ship. Disney Cruise Line staterooms designed with families in mind, rotational dining, and exceptional entertainment are just a few spots where the Disney Cruise Line separates itself from everyone else. Not to mention, you'll visit many different ports of call and enjoy a fantastic tropical getaway on Disney's Castaway Cay. There is so much built into your cruise fare, you'll also get to enjoy merely showing up to your vacation without having to pay a bunch of extra fees all over the ship. This was our second Disney cruise, and the "Disney Difference" continued to impress us. Disney cruising is an amazing experience, and we were thrilled to know it wasn't just a one-time thing, but something we could expect with every Disney cruise.
2 – The Disney Bubble at Sea
If you've been to Disney World or have spent time reading a website like ours, you may have heard of the "Disney Bubble." The Disney Bubble is the totally immersive experience at Disney World that blocks out the real world for the duration of your visit. It's this short break from reality that makes a Disney vacation so unique. We love being in the Disney bubble during our vacations. It allows us to (mostly) forget about our everyday worries and concerns and really just enjoy being with our family on vacation.
A Disney cruise takes this "bubble" to a whole new level. A Disney cruise lets you leave your worries behind even more. This is especially true considering most guests will not sign up for the internet package—they will be even more disconnected from the outside world. This allows guests to focus on the here and now, their families, and the offerings of a Disney cruise. Disney magic is even more present on a Disney cruise—we felt it the entire week, and we left trying to figure out how quickly we could get back on another Disney cruise!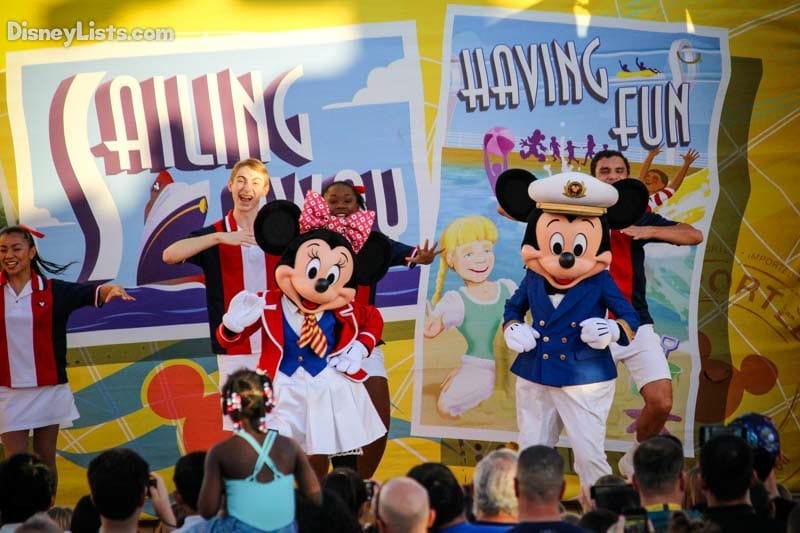 3 – Finding Disney Magic at Sea
A Disney cruise really is different in a few distinct areas. First, in addition to the "Disney Bubble," we talked about in #2, the entire vacation is sprinkled with Disney magic. The décor of the ship is infused with Disney magic. From hidden Mickeys in the décor to the amazing attention to every single detail, to fantastic family-friendly shows, there isn't a moment you won't feel you've entered somewhere magical.
Do you love meeting Disney Characters? If yes, then a Disney cruise is a fantastic way to meet all of your favorite characters, many of them in costumes that exclusive to the Disney cruise line. Waking up and going to meet Mickey or Minnie before playing for the day is a fantastic way to start the day. It's impossible to enjoy this cruise without bumping into Disney characters. No matter what your age, this is a bonus you'll only find on the Disney Cruise Line.
4 – Ocean Voyage with the Disney Difference
What makes a Disney cruise different than other cruise lines? More than you might think. First, Disney staterooms are unique in that they have two-bathroom areas: one room with a toilet and sink, and another room with a bathtub/shower and a second sink. This makes things so much easier, especially when multiple people are trying to get ready for the day at once. Also, the inclusion of a bathtub along with the shower is so important for families with young children!
The youth clubs on the Disney Cruise Line are a kids' dream come true! We toured all the youth areas during our cruise, and we were undoubtedly jealous! These areas are so cool that we wanted to play there! If you expect Disney to be outstanding in one area, it should be here—and they deliver. We overhead so many kids asking (and begging) to be able to go to the clubs. We also heard parents saying their kids didn't want to leave! Families will get a chance to spend lots of time together, but each age group will be able to enjoy their own time in their age-appropriate areas of the ship. Disney has a lot of great options for families looking to vary their time together!
We were able to take our two youngest teen children with us on this cruise. While they are sixteen and seventeen years old, they thoroughly enjoyed their time in Vibe, the teen area, along with the rest of the ship. While they admit to being "Disney Kids," they are also older and sometimes want a break from Disney. We were all pleasantly surprised at how much they enjoyed the cruise. They never felt like their time in Vibe was childish, and both looked forward to their time there every day. No matter what age your family members are, a Disney Cruise Line cruise offers age-appropriate activities for children of all ages.
5 – The Food on a Disney Cruise Wins Hands-Down
At Walt Disney World, there is a wide variety of food options from quick-service restaurants to award-winning signature dining. As we've said, we've cruised on other cruise lines, and for us, the food service on these different lines has been the most disappointing part of the cruise. We've found stale food without any real flavor. Having cruised with Disney before, we expected Disney to continue to be much better in the area of the food. Once again, we were not disappointed. Everywhere we dined, the food was fresh and had a lot of flavor. We tried the food at almost every location offered and were very pleased with what we found. We especially were thrilled with the restaurants in the evening. There was a lot of variety on the menu, and most importantly, the food was delicious. It was on par with what other cruise lines offer in their surcharge specialty dining. Knowing that you don't need to pay extra every night for great food is a huge plus and another great reason to cruise with Disney.
Disney also features rotational dining. Rotational Dining means you'll enjoy dining at different restaurants each night, but your serving staff stays with you. We especially enjoyed this aspect of the dining experience. It kept things from getting monotonous. Also, it was great to have the same servers with us each night. It made our meals more enjoyable because they got to know us and what we liked. (See more on Disney's exceptional service in #7).
Both the excellent food and fantastic service came together when we enjoyed brunch at Palo, one or two pay-extra food restaurants. The entire experience was so worth the small up-charge. We highly recommend adults dining at this restaurant at least once! It was the highlight of our cruise.
 6 – Entertainment with the Disney Difference
As you may expect, the entertainment offerings on a Disney cruise are top-notch. For us, the entertainment we enjoyed the most during our cruise were the three Broadway-style productions that were performed nightly. The cast was terrific, and the productions were incredible. The production value is high, and you'll get to enjoy multiple shows throughout your cruise. Our four-night cruise included three shows, all included with your cruise fare.
The Broadway-style shows are not the only entertainment you'll enjoy. The deck shows are also fantastic and not to be missed. Disney also offers first-run movies during cruises (included in your cruise fare). During our cruise, Frozen 2 debuted, and other current films played multiple times. Seeing movies can be expensive, and this is just another perk Disney cruises offer!
 7 – Disney's Exceptional Service at Sea
Disney's customer service is legendary, and as you would expect, the customer service on a Disney Cruise is no different. While we didn't have any particular needs, our friends at DisneyOver50.com had dietary restrictions. They told us that their servers were terrific at helping them find excellent food choices that supported her diet. From your room attendant to the servers that follow you in rotational dining, to the cast members who answer questions–every cast member interaction we had was a positive one. We felt pampered and spoiled by the staff all week, and there were always smiles to greet us. We can't say enough about the service on the Disney Cruise Line!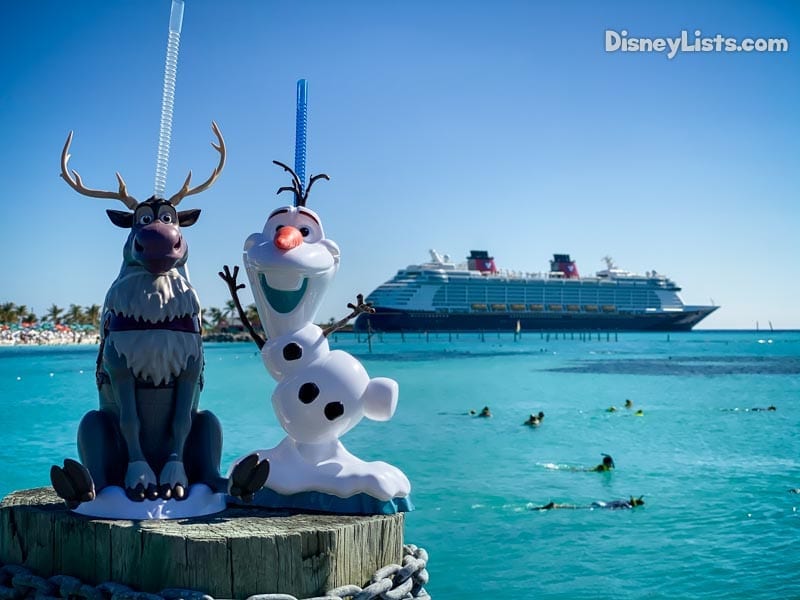 8 – Castaway Cay
Most Disney cruises that sail to the Caribbean include a day at Disney's private island, Castaway Cay. There was so much to love about Castaway Cay. This is so much more than a typical day at the beach. There are plenty of activities, food, and beverages that are included in your cruise fare. There are also plenty of activities to enjoy for a small fee. Read all about Castaway Cay by clicking here.
9 – An Amazing Vacation for All Ages Including Adults
Disney is known for being a great family vacation, but it is also an excellent option for Disney loving adults. Chad and I enjoyed this cruise with our teens but had plenty of time to enjoy some adult-only time. There were plenty of offerings for us to enjoy without any kids around. We enjoyed a fantastic brunch at Palo, the adults-only pool at Quiet Cove, the adults-only beach area, Serenity Bay, and the adults-only clubs in the evenings. We love Disney and were able to enjoy the magic of a Disney cruise, but also experience a fantastic vacation with time for just the two of us. It really is an excellent option for adults.
10 – Themed Cruising: Very Merrytime Cruise
Themed cruising is another excellent offering by Disney Cruise Line. Disney offers seasonal cruises like Halloween on the High Seas and Very Merrytime Cruises. They also offer Star Wars and Marvel Day at Sea cruises. We were so excited to go on a Very Merrytime Cruise. The holiday season at Walt Disney World is our favorite time of year, and we were so happy to discover the holiday magic on Disney Cruise Line. The decorations around the ship were beautiful, and the extra holiday shows and offerings made this cruise even more special. Be on the lookout for our full review article of the offerings on a Very Merrytime Cruise coming soon.
11 – Another Fantastic Disney Vacation Option
With all of the different Disney theme parks, a Disney Cruise may not have been on your radar. However, a Disney Cruise should be on your Disney bucket list for all of the reasons we stated above and more. You are going to get so much with a Disney cruise! The magic of Disney, the exceptional Disney service, Disney entertainment and characters, amazing ports of call, a tropical getaway on Castaway Cay, themed cruises, and so much more.
More Cruise Coverage:
Packing for Our Very Merrytime Cruise on the Disney Dream
Click here for our Day 1 Travel Log from Our Very Merrytime Cruise on the Disney Dream.
For a ton of photos and videos from Day 1, check out our Instagram Story highlight by clicking here.
Click here for our Day 2 Travel Log from Our Very Merrytime Cruise on the Disney Dream.
For lots of photos and videos from Day 2, click here for our Instagram Story highlight.
Click here for our Day 3 Travel Log from Our Very Merrytime Cruise on the Disney Dream.
Check out our Day 3 Instagram Story highlight for lots of photos and videos from our day!
Click here for our Day 4 Travel Log from Our Very Merrytime Cruise on the Disney Dream.
See lots of photos and video from Day 4 by clicking here for our Instagram Story highlight.
Click here for our Day 5 Travel Log from Our Very Merrytime Cruise on the Disney Dream.
For a no obligation, FREE Quote on a Disney vacation package, please contact our travel partner Magical Vacation Planner at 407-442-0227 (407-442-0215 for Spanish). You can also request a FREE quote online by Clicking HERE.
Editor's Note: Walt Disney Parks & Resorts provided us a complimentary Very Merrytime Cruise and special media-specific events during the cruise. However, as always, the thoughts and opinions contained in this article are entirely our own.