Planning
Don't Waste a FastPass on These 10 Attractions at Disney World
One of the most important parts of planning a Walt Disney World vacation is booking FastPasses. Whether or not you book FastPasses weeks in advance or decide to wing it the day of, one thing is for sure- you definitely want to use those FastPasses wisely! When you take all the planning into account and factor in that some parks have tiered FastPass selections, it makes deciding what attractions to use a FastPass on even more essential. Some attractions are just not worth a FastPass, but it doesn't mean that they aren't entertaining! Some are shows that can handle a large capacity at once, and others are attractions that typically move very quickly and cycle through a lot of guests with minimal downtime. If you want to make the most out of your day in the parks, here are the attractions that you can save a FastPass on.
10 – Disney and Pixar Short Film Festival
You definitely don't need a FastPass for this one! This theater is usually not very busy, and most guests only grab FastPasses for this because they see it on the My Disney Experience app, and aren't sure what it is. In my opinion, I'd rather watch these short films at home and spend my time at Epcot riding something more exciting. All of these shorts are incredible, but your time can definitely be better spent elsewhere!
9 – Finding Nemo- The Musical
The theater in the Wild at Animal Kingdom, where Finding Nemo- The Musical plays several times a day, is absolutely massive. The show is fantastic, but if you're not too fussed about getting a perfect seat, just give yourself some extra time to line up for the show and save a FastPass for Expedition Everest or Dinosaur on your way out. The theater holds a lot of people, so as long as you don't show up too long after the show has started, you should be guaranteed a good seat!
8 – Mickey's PhilharMagic
I love Mickey's PhilharMagic, and will never turn down a chance to see this awesome 4D show! Luckily, I've never seen it reach above a 10-minute wait, so you definitely don't need to waste a FastPass on this! When you enter the attraction, you grab your "opera glasses" and basically just wait until the doors open for the next show. The theater holds a lot of people, and the show is roughly ten minutes long. It's worth a short wait in the air conditioning, and there are so many other attractions in Magic Kingdom that are perfect for a FastPass!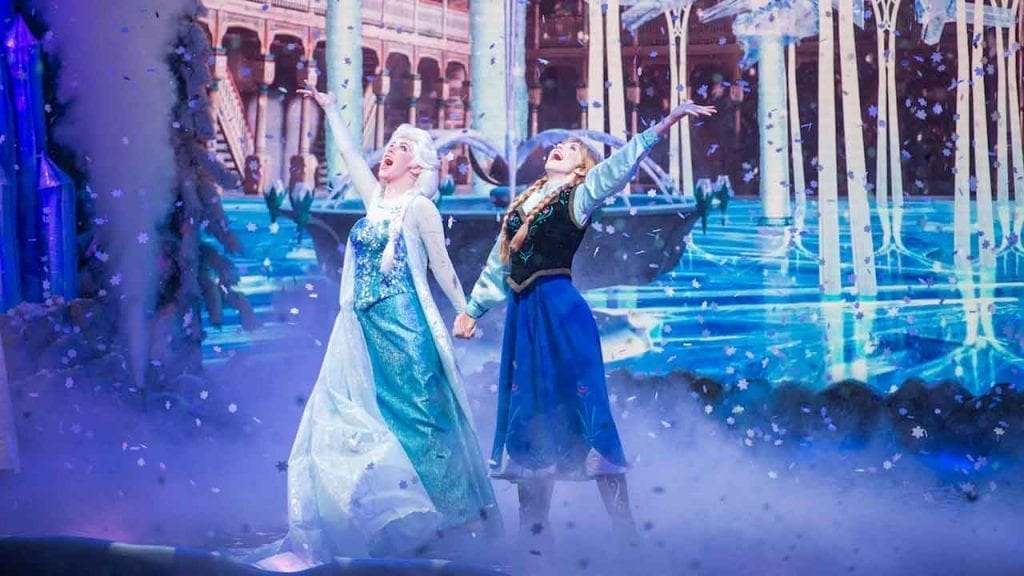 7 – For the First Time in Forever: A Frozen Sing-Along Celebration  
This sing-along show at Hollywood Studios is still pretty popular, thanks to both to the magic of Frozen and the humor presented by the royal historians of Arendelle (these hosts are definitely the highlight of this show). And while the theater can fill up, there are plenty of shows throughout the day. Make sure to check the showtimes and get in line early. However, last time I saw this show, I was able to get a seat just as the doors were closing. It was nice and air-conditioned, and as enjoyable as ever! So, save those precious Hollywood Studios FastPasses for attractions with longer waits, or for nighttime shows like Fantasmic!
6 – The Seas with Nemo and Friends
This is another attraction I love, but one that definitely does not need a FastPass! FastPasses always seem to be available for this ride, should you want one last minute, but lines move fast. The clamshell vehicles are continually moving, similar to the Doom Buggies in the Haunted Mansion. This keeps the wait times down. Plus, the queue is rather long, so even if the wait time says ten minutes, chances are by the time you reach the loading area, you'll be able to walk right on.
5 – Muppet*Vision 3D 
Like Mickey's PhilharMagic, Muppet*Vision 3D is hilarious and is definitely worth a watch if you have time. Like most shows in Disney World, the theater can pack a lot of people. So the wait time basically consists of letting the current show finish before you can enter the theater. And when it comes to the Muppets, it's almost worth waiting in line! The pre-show video never fails to crack me up, and I always get a little sad when I walk in and realize I've missed it. So, save your Hollywood Studios FastPass for a busier attraction, and go see the Muppets in between return times!
4 – It's Tough to be a Bug!
 I know a surprisingly large number of people who refuse to go on this attraction, mainly due to their phobia of spiders. To be fair, there is a portion of the ride that is very dark, filled with fog, and which features black widow spiders suspended from the ceiling. I'm not sure whether this has anything to do with the low wait times, but this 4D show never seems to go above a 15-minute wait, even in the busiest seasons. I think it has more to do with the fact that this show runs about every eight minutes and holds a relatively large number of people at once; also, the queue is long and winding around the tree of life, so it can take a good five minutes just to reach the pre-show room. So, if you're looking to get out of the heat, and if you think you can manage a few brief moments of darkness, definitely check out this show- just don't use a FastPass on it!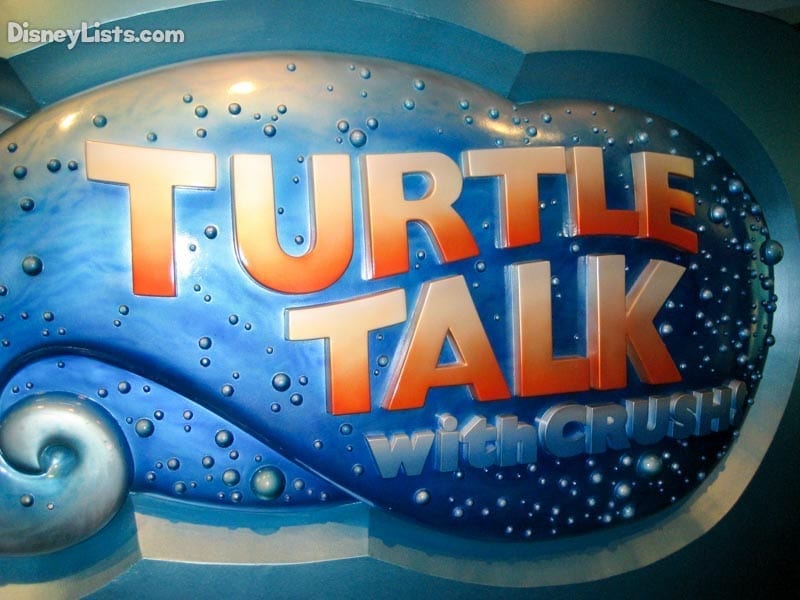 3 – Turtle Talk With Crush 
Tucked away in the corner of The Seas with Nemo and Friends pavilion, this is a cute, interactive show that is a hit for families with young kids. The audience gets to interact with Crush the sea turtle, and in most shows, there are a few jokes meant solely for the adults. Luckily, this show is continuously running, and the wait time between shows is never too long. Maybe the cast members know that the kids in the audience have short attention spans because they do an excellent job of cycling through Crush's sets and filling the small theater every ten to fifteen minutes. Save your FastPass for an attraction that will help get the words "totally" and "dude" out of your head for the rest of the day!
2 – Living with the Land
I love Living with the Land- truly and unironically. My husband doesn't like it as much. Luckily, he always agrees to ride it with me, and we're usually able to hop on this ride with a wait time of ten minutes for less. Now, to be fair, I've seen this attraction get pretty long lines around lunchtime. It is located next to the Sunshine Seasons food court. It is across from Soarin', so guests will usually hop in line for this ride after lunch or while waiting for a Soarin' FastPass. However, in the morning or in the afternoon/evening, the crowds definitely die down. It's a pretty fast loading attraction as well, and the boats hold a good number of people, so even if there is a line, it is continually moving. For those in your party who prefer thrills, they'll be happy to know that this one doesn't require a FastPass!
1 – Journey Into Imagination With Figment
Everyone seems to have firm opinions about this ride- either you love Figment, or, well…you prefer the original version of the attraction. No matter what you think about Figment or Eric Idle, however, you can pretty much always count on this ride being a walk-on. I think the longest I waited for this ride was five minutes, and that wait was only because there was a large party in front of us. I'm pretty ambivalent about this attraction; I won't kick and scream about having to ride it, but I won't be running toward it at rope drop either. Even if, by some chance, this attraction does have a long wait time, I've never had a problem booking a last-minute or late in the day FastPass- there are always plenty available! So, save your initial FastPasses for some of Epcot's other headliners, and give Figment some love via the standby queue.
For a no obligation, FREE Quote on a Disney vacation package, please contact our travel partner Magical Vacation Planner at 407-442-0227 (407-442-0215 for Spanish). You can also request a FREE quote online by Clicking HERE.